So it's a little belated, but it's only fair that our most recent inductee into the NBAMate Wall of Fame has a proper welcoming ceremony.
It was on May 25 2011 when I made the above Tweet, just after the Mavs had pulled off a 112-105 OT win against Oklahoma in the Western Conference Finals. Dirk has just completed arguably his best game of his entire 2011 playoff campaign – 40 points including 12 during a 17-2 run late in the fourth quarter to dig the Mavs out of a 15 point hole. It was insane, it was historic, and probably marked the peak of Dirk-o-mania during the 2011 playoffs. There was no way on earth I thought Dirk could keep playing like this, but I knew one thing for sure – if he did, he's earned a spot in our Wall of Fame. Without question.
So looking at him right now in the WoF, smiling proudly wearing his Championship cap, sandwiched between two Aussie legends in Bogut and Steve Carfino, it seems like the appropriate time to reminisce a little and savour the memories Dirk gave us during that incredible post-season run.
You might not remember, but before the 2011 Playoffs started the Mavs were given virtually no chance of hoisting the trophy in June. In fact, most "experts" didn't give them a hope in hell of beating the Blazers in the first round – and everyone in NBAMate's pre-season poll picked the Blazers. That just seems so silly now, but at the time it was a more than justifiable position. The Mavs finished the season in unconvincing fashion, giving up the 2nd seed to the Lakers after going 4-4 in their last 8 games. The Blazers on the other hand were storming home, having beaten the Spurs (twice), Thunder, Mavs, Lakers and Grizzlies over their last 11 games. They had split the season series 2-2 with the Mavs, and an upset seemed on the cards. There were just too many people questioning the Mavs mettle and resolve after so many playoff disappointments the last few years. Rightly so.
But no one expected Dirk to do what he then did. That being, one of the greatest post-season runs I've seen in my life. Against the Blazers he was sublime, against the Lakers and Thunder he was simply off-the-charts, and against the Heat in the Finals he was again brilliant, though admittedly couldn't continue the blinding form he maintained through the previous two rounds. Game 6 of the Finals turned out to be a mini debacle for Dirk (9-27 from the field and 1-7 from downtown), but we shouldn't let that take the shine off what was an astounding run, and he was a deserved Finals MVP in the end.
I already said everything I wanted to say about Dirk (and Lebron) in this post after Game 6, so I won't repeat it all here. Six months later, what strikes me as most interesting is the lack of reverence he and the Mavs seem to have earned. I don't think they are directly "disrespected", to quote Shawn Marion. But I do find it odd how short our memories have become, how quickly we forgot about Dirk's heroics, and how easily we have dismissed the Mavs again this season. I put this down to a few things… chiefly the lockout, partly because the Mavs lost their defensive anchor (Chandler), and partly because Dirk and Co. just aren't as sexy a story as Lebron and the Heat, Kobe and the Lakers, Paul and the Clippers, etc.
And you know what? That pretty much sums up everything you need to know about the 2011 season for Dirk Nowitzki. "Low key". Dirk waltzed through a 57-win regular season and then turned in a historic playoffs with about as little flair and fanfare as you can possibly imagine. He never imposed himself to satisfy his own ego. There wasn't a single Jordan-esqe moment or game that will be replayed on ESPN Classic for the next 20 years. But stroll through the history books and trust me, you will find his 2011 postseason littered with incredible games and stunning moments. And you will then ask yourself, how did I forget about all this?
One more thing. I'm really curious to see how Dirk backs up the title this season, and how the Mavs will fare come April and May. Winning the 2011 Championship tore a King Kong-sized monkey off Dirk's back that he was carrying for five years. With that huge weight off his shoulders, with his legacy now firmly intact as one of the greatest ever, and with those haunting playoff memories behind him and made irrelevant… how will Dirk Nowitzki respond? How hungry is he to do it all again? That to me is always the mark of the true greats. How they back it up.
Oh and if you're wondering who Dirk replaced in the WoF? Normally we'd put it to the wider community to vote, but facing off against Wade in the Finals made it just too perfect. No hard feelings Dwyane.
———
Last bit of news for the Wall of Fame. We know you gents have enjoyed staring at Megan Fox the last few years, but it's time for a change in our token female spot.  The candidates? You'll just have to stay tuned for a series of posts coming your way from JT. And trust me, you won't want to miss it.
Just enjoy Miss Fox while you can.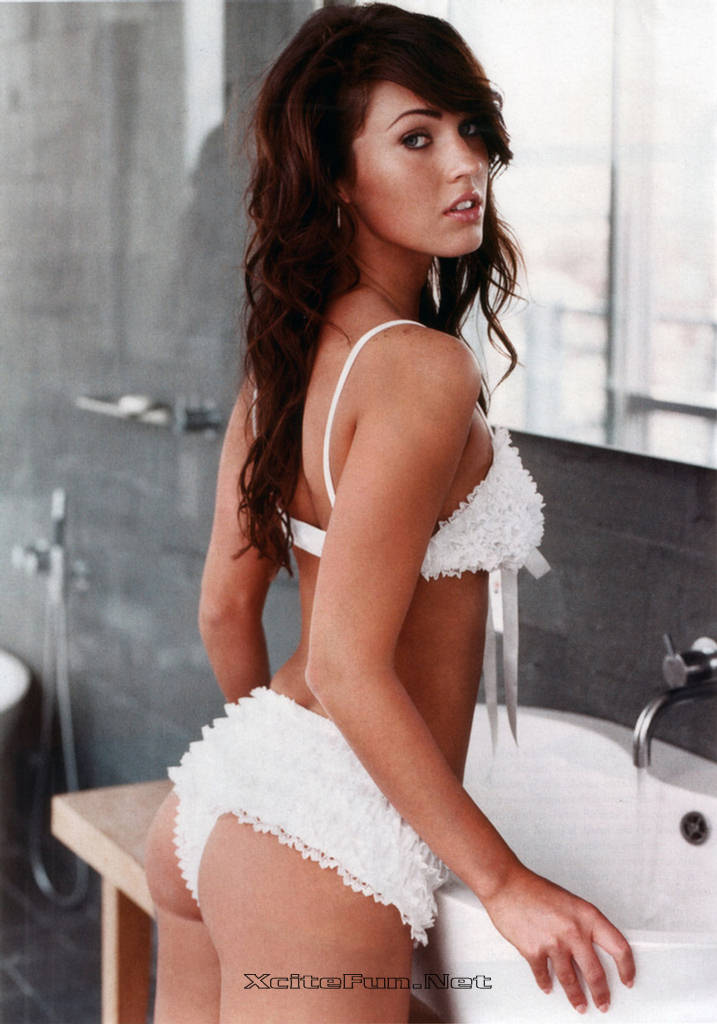 Tags: Dirk Nowitzki, Megan Fox, Wall of Fame
« « Previous Post: Whats Doin: J.R. is not the only headcase in the family
» » Next Post: It's time to go