For anyone unaware of happenings in the NBA blogosphere, today is officially Kobe Bryant Blog Day. Now being downunder in Aus, today is actually yesterday in the States so we are actually writing on Kobe Bryant Blog Day from the future. Yes, we managed to borrow the time machine Dirk has been working on.
Fittingly, Kobe finished his own blog day by putting in a vintage performance against the Raptors. The 34 points, 7 rebounds, 7 assists showed Kobe's all-round game, the 4 steals reminded us of his defensive prowess, and the 4-8 three point shooting a clear indication that Kobe's long-range game is as good as anyones. It may not sound like a stat-busting game, but let me hit you with some knowledge. Over the last 22 years, do you know how many games there have been where a player has at least 34-7-7-4 while making 4 threes and not missing a free-throw? The answer is zero. Zilch. Nada. So even when Kobe seems like he's had a solid yet unspectacular game, on Kobe Bryant Blog Day, he's managed to make a little history again.
In case you haven't checked out HP's running blog thread (we even got a mention!) or Dave McMenamin's marathon effort on NBA.com, today is all about showing a little love for KB24 and basically ganging up against all the Kobe-haters in the world. I feel like I've come full circle folks, because let me tell you something, I used to HATE Kobe Bryant. I've never revealed it before, only to my close friends, but it was pure, unadulterated hate.
Why I used to hate Kobe Bryant
I hated Kobe for the same reasons I use to hate MJ and the Bulls. They were the face of the NBA, everybody walked around the streets of Melbourne wearing Bulls caps and Jordan jerseys. They were also winning all the time which made me sick, and my natural inclination to side with the underdogs precluded me from EVER admitting I liked the Bulls. And I didn't. You name any decent team between 1988 and 1996 that seriously challenged the Bulls – these were my kind of teams. That's why I loved the Pistons so early on because they used to punish MJ and they clearly hated the Bulls. That's why I loved the Ewing/Oakley/Starks Knicks so much because they REALLY hated the Bulls. That's why I loved Barkley's Suns cos they were a chance to beat the Bulls, and also because they had Dan Majerle. That's why I loved the Hardaway/Zo Heat because I honestly thought they were good enough to knock off the Bulls.. and also cos they had Dan Majerle. In fact I really just liked Dan Majerle. But my point is that Kobe and the Lakers represented everything I despised about MJ and the Bulls, except 5-10 years later. Kobe was the darling child of the NBA, he was being labelled the "next Jordan" (and by this time I'd learnt to love Mike and the Bulls Dynasty for everything they did), every kid in town mildly interesting in basketball wore a Kobe jersey, and he was also a cocky, arrogant douche.
UPDATE: One blogger's explanation for why so many people hate Kobe Bryant – he reminds us too much of Michael Jordan
This was about the time I really started to hate Kobe and Shaq
My opinions started to change around here when I realised he was on another level. Guys that score 40 point games don't impress me. Guys that score back-to-back 40 point games don't impress me. But guys that score nine straight tend to get my attention. However, this brief love affair quickly turned to hate again because he did this against my team in the 2004 Finals. I have never cursed a player so much as I did after that shot, and after that game. Everything I'd come to appreciate about Kobe, his composure, his clutch shooting, his ability to take over down the stretch – it all was turned against me in a monumental gut-wrenching moment that left me completely shattered. I thought our Finals hopes were gone. As it turns out we won the championship so I didn't end up having to hate Kobe too much, and over the past four years I've been able to sit back and watch the Kobe show without feeling the pain. More than anything I've come to appreciate his technical brilliance, his intense competitiveness, his stubborn ability to respond to the critics, and his moves – Kobe's moves are really an another level. But more on that later.
That in a nutshell is the story of my little hate/love affair with the man they call Mamba. We're on good terms now, but expect that to change if the Lakers meet my Pistons in the playoffs cos I'm sure i'll be cursing his name again. So what better time than Kobe Bryant Blog day to take a trip down memory lane and list the top 10 games that stood out for me, the games that turned my hate to love, the games that made me do a double-take on the box scores, the games that defined his greatness.
Robd's Top Ten Kobe Bryant Games
Before we count down let me get one thing straight. Choosing Kobe's top ten games is like choosing your favourite underwear at a Victoria's Secret fashion show – it's very difficult because there are a lot of attractive options, and even when you make your choice you can't help but think you missed a better pair of undies. So I'll have to start with some honorable mentions, and if I've forgotten any games you think are worthy shoot me an email and I'll update this list – this can be our little shrine to KB24.
HONORABLE MENTIONS
The 12 threes vs Seattle – January 7th, 2003
One of those games where Kobe did something MJ never came close to – hitting a lot of threes. Not just a lot, a record-setting 12 threes, including a record 9-straight without miss. While we're talking records, MJ's for most threes in a game is seven and he did it once. Kobe has hit seven or more threes on eight separate occasions – it's not even close.
Lakers come back from 30 to beat Dallas – December 6th, 2002
I don't know how many players can score 21 points in the fourth quarter, helping their team to erase a 30-point defecit (Mavs still lead by 23 with nine minutes left in the fourth), and NOT have it amongst their all-time 10 best games. But Kobe can. Scoring 20+ points in a quarter isn't anything new from Kobe – he scored 30 in a quarter here and here. But doing it in the greatest comeback in Lakers history, including the game-winning shot with 8 seconds to go, makes it just one of the many memorable Kobe games you won't remember.
52 points vs Rockets in 20T – February 18th, 2003
This is another one of those forgotten games that came during Kobe's nine-game 40 point streak. The Lakers vs Yao and the Rockets, playing without Shaq, and Kobe playing on an injured right knee. It wasn't supposed to add up to a Lakers victory, but thanks to 52 from Kobe (including 17 in the OT periods) and a flat-out insulting dunk on Yao's head, it was one of their best wins of the season. Kobe's 52 points, 8 rebounds and 7 assists prompted Coach Rudy T to declare: "He's phenomenal. We tried a lot of different things on him. He was just phenomenal. He's been doing it all along. He's playing so good, it's sickening."
UPDATE 14/3/08: Cheers to LukeL for pointing out a classic Kobe game I missed. See, I told you it was hard

Kobe shuts down T-Mac, goes for 37 in 2nd half – March 15, 2004
While this game clearly demonstrated Kobe's ability to take over down the stretch and pour in the points, it also highlighted his defensive talent. T-Mac was on fire early in this game, and sick of seeing him blow by Rick Fox and Devean George, Kobe demanded to be put on T-Mac: "He wanted to guard Tracy McGrady coming out that halftime,"Phil Jackson said. "I told him I didn't want you expending all your energy guarding McGrady and not have enough to finish this game offensively. But he really scored most of points while he was guarding McGrady." Yes he did. 37 of them after halftime, helping the Lakers wipe a 19 point deficit in a season where no defecit seemed unsurmountable for this team (see Dallas game above). Check out out this highlight reel of Kobe's best defensive plays, some of which come against T-Mac in this game.

THE TOP TEN
10. The 55 vs MJ – March 28, 2003

This was the last time we saw Michael Jordan and Kobe Bryant step on the court together, and Kobe made sure MJ wouldn't forget it. Kobe broke the Lakers team record for most points in a half – Elgin Baylor's 37 – with 42, including a staggering 8-11 from three point range. I've got this game on DVD. If you want to see a display of Kobe's shooting range, go and watch this game. He starts launching them from about 33 feet and they hit nothing but net. Phil Jackson spookily said "It came to a point where there was that curiosity factor: Was he going to hit 80?" If only Jackson knew how prophetic he would be. And for an even more spooky effect, do what I did and watch the Bulls vs Lakers game from December 17, 1997 beforehand. You can see MJ schooling Kobe (literally, Kobe asks him during the game for some tips on his turnaround-J) and teaching him everything he ultimately uses against his mentor six years later.
9. The 56 in three vs Memphis – 14th January, 2002
This game often gets overlooked by Kobe historians. As far as big scoring games goes, this was Kobe's first. In hindsight it laid the seeds for what was to become a hallmark of Kobe's great games – scoring lots of points in a small amount of time. Before the 81, before the 62 in three, and before the 42 in a half vs MJ (above) there was this display: 56 points in a ridiculous 34 minutes. For the mathematically minded readers out there, that equates to 1.6 points per minute. If Kobe was to play at this rate for a full 48 minutes it would have given him 79 points for the game. Let me make that clear: four full years before Kobe's historic 81, he was already having games that put him on pace to score 80. When you combine that with the 62 in three and the 55 in three vs MJ (Kobe came back on late in the 4th but only for a couple of minutes) you start to realise that this guy could have scored in the 70's and 80's a bunch of times. That 81 vs the Raptors was no fluke – it was just the only time he got to play the full four quarters.
8. The back-to-back buzzer beaters vs Portland – last day of 2003-04 season
This may be the best dual buzzer-beating sequence I've ever seen. Not only does Kobe hit a ridiculous three in the face of self-proclaimed Kobe Stopper Ruben Patterson at the end of regulation. But he drains an impossible fall-away three in OT with Theo Ratliff running at him. The commentators reaction in this video pretty much sums it up – it's so amazing you kind of have to laugh. But the significance of this game was more than just a Kobe highlight-fest – it was the last day of the regular season and the Lakers had to win to secure top spot in the Pacific Division, thus securing no.2 seed out West. It was a fairytale finish to the season and set the Lakers up for their fourth title assault in five years – thanks to Kobe.
7.The 65 vs Portland – March 16th, 2007
If the Portland Trailblazers weren't having nightmares after the above game from '04, this one surely would have been burnt in their memories. There were all kinds of things going on in this game. The Lakers had lost seven in a row – the biggest losing streak of Phil Jackson's career. They were drifting out of the playoff picture after a blitzing start to the season. It came days after Kobe had been labeled a "dirty" player thanks to smacking Kyle Korver in the face and narrowly avoiding his third one-game suspension of the season (all cheap-shot related). Things were not looking good in Lakerland with a month to play in the season. But Kobe changed all of that. Beginning with this game against Portland, Kobe went on a back-to-back-to-back-to-back 50 point tear, something only Wilt Chamberlain has done before. Aside from being the first of the four, this game was by far the most impressive. Again Kobe's three point shooting was on display as he hit 8-12 from downtown, including several ridiculous shots down the stretch. Go and watch Kobe's form on the three at the end of regulation when he comes curling round that screen – tell me it isn't a textbook perfect jumpshot. Then go and watch the turn-around fade-away from the corner in OT and tell me ONE other player in the league who could hit that shot. You won't really appreciate how tough that shot is unless you've played basketball before – I've said it before, they should make a documentary on that shot. But for now, go read this blog on why Kobe has the best jump shot of any NBA player EVER (yes, better than MJ's). It says pretty much everything I was going to say, namely the fact that Kobe's J has the same form from 40 feet as it does from 10 feet. That was never more apparent than in this Portland game.
6. Kobe carries the Lakers without Shaq – Game 4, 2000 Finals
We're moving towards the top 5 so that means we're approaching games that really mattered. Taking into account context, this might be Kobe's biggest performance ever, simply because there's no other game in Kobe's career that was more responsible for his team winning a championship. A lot of young Kobe fans might have been in elementary school when this Finals series took place, so let me set the scene. The Lakers won games 1 and 2 easily, but Kobe injured his ankle in game 2. He missed game 3 which the Pacers went on to win, setting the scene for a huge game 4 on the Pacers court. Coming into game 4 Bryant's status was still uncertain, and he limped around in a relatively quiet first half which found the Lakers trailing 54-51. The teams would be locked at the end of regulation when the unthinkable happened – Shaq fouled out with 2:33 left in OT, the Lakers only up by 3. Without Shaq on the floor the Pacers pounded the ball into big Rik Smits who scored at ease. Kobe hit two jump shots, around another bucket by Smits to keep the Lakers in the lead. After Smits scored again to cut the Lakers lead to 1, Kobe ended up making the game-winning bucket by rebounding a Brian Shaw miss and getting the acrobatic put-back. He had scored 8 points in OT with Shaq watching from the sidelines – the first of many times Kobe would drag the Lakers to victory during their three-peat. The MJ comparisons started cropping up thanks to Kobe's heroic, injury-riddled performance. It wasn't quite on the level of the Flu Game, but it wasn't bad for a 21 year old in his first Finals series. Back in the 06-07 playoffs I blogged about how Lebron finally "got it" in that infamous game 5 vs the Pistons. Well, this was the game when Kobe "got it" and that makes it one of the most important moments in recent NBA history.
5. The 62 in three vs Dallas – December 20th, 2005
This is simply one of the most amazing scoring games of all time. It might even be more amazing than the 81 because Kobe sat out an entire quarter. I've got this game on DVD and it's more fun to watch than the Toronto game for a few reasons:
1 – Dallas is an elite team with an MVP-calibre player in Dirk – they were expected to easily account for the Lakers
2 – Dallas had some decent defensive players (i.e. Josh Howard) who were supposed to make Kobe's life a bit more difficult – as opposed to the Raptors who really had nothing… oh wait, they had Morris Peterson. Hmmm.
3 – Kobe's 30-point third quarter was more impressive than any quarter from the Raptors game, right down to the buzzer beating three he made. It's probably the best non-stop scoring assault in one quarter I've seen from any player
4 – He only took 31 shots for the game
5 – He outscored the entire Dallas team after three quarters. Yes the score was Kobe 62 –
Dallas 61 after three. That kind of thing should not happen in today's NBA game. This is not Wilt Chamberlain towering over everyone around him, dunking at will on tiny white guys, physically dominating his opponent in an era where opposition centres were just not equipped to handle him. This is a 6-7 shooting guard who dances around the perimeter and managed to score more than the sum of the opposition's point guard, shooting guard, small forward, power forward and centre combined. IT SHOULD NOT HAPPEN!
The big "what if?" was inevitable after this game – what if Kobe had played the fourth quarter? Could he have scored 70? 80? 90?! A lot of people criticized Kobe and Phil Jackson after that game for robbing us of what could have been the greatest scoring performance ever. Little did they know that one month later Kobe would top it. I have NO doubt that if Kobe had played the fourth quarter of this game he would have ended up with at least 85 points, but we really only have the Mavericks to blame. Failing to keep the game close meant Kobe was always going to sit the fourth quarter, just as he did against the Grizz three years earlier (see #9), just as he did against the Wiz two years earlier (see #10).
4. The Buzzer Beater – Game 4 vs Phoenix, 2006 Playoffs
Just to prove Kobe's best games don't necessarily involve him scoring 50 or 60, look no further than game 4 of the Phoenix series back in '06. Kobe didn't even score 30 in this game, but he produced what is arguably the most frenzied moment the Staples Centre has ever seen. The Lakers had beat up the Suns over the first three games of the series leading 2-1, and making everyone believe that a 2nd vs 7th seed upset was possible. Going back to LA for game 4, the Lakers knew that a win would put history on their side – no one comes back from 3-1 down, well, I can't remember the exact stat but its happened like 7 or 8 times… out of millions. So while playing the facilitating role that that had given the Lakers so much success, Kobe was sitting on only 18 points when the Lakers made a crucial steal in the final seconds of regulation. Thanks to Kobe sinking a weaving, looping drive (that was much tougher than it looked) with only seconds remaining, the game was headed to overtime. After Kobe scored with 11 seconds left to cut the Suns lead to 1, Luke Walton made the huge play by ripping the ball out of Nash's and earning a jump ball. The Lakers won the tip and Kobe collected the ball in the back court. As he approach the three point line, he dribbled right for the pull-up jumper over Bell and Marion. The buzzer sounded before the ball went in, and then all hell broke lose. Just watch this clip.
Everyone is going crazy for a reason – this shot really started to make Lakers fans believe. Being up 2-1 against the Suns is one thing but that could still quickly turn into a 4-2 Suns win. Going up 3-1 was on another level. All of a sudden Lakers fans (and players) realised this series was their's to win, and looking ahead the LA Clippers didn't exactly pose a terrifying road-block in round 2… and after that? The Western Conference Finals, and who knows what could happen there. That's what you see in this clip. You don't just see Kobe hit a buzzer-beater. You see hope. You see promise of a round 2, the Western Conference Finals… and maybe a Championship. We now know none of that happened, but even when I watch that clip today, I still feel like the Lakers can win the series. It's hope. And it's wrapped up right in that buzzer-beating shot by Kobe Bryant.
3. The Detroit Dagger – Game 2, 2004 Finals
I'll be brief with this game because every sentence I write is like another pin being rammed into my brain. This was the Finals the Lakers were never supposed to lose – the additions of Karl Malone and Gary Payton in this glittering HoF lineup was far more than the gritty, underdog Pistons could handle. Or so it was thought. The Pistons shocked the Lakers in game 1 on their home floor, and just when everyone started saying "its Philly vs LA from 2001 all over again" the Pistons looked headed to a 2-0 series lead with only seconds remaining. I remember the last minute so well I don't need to check the game recap. We were up by 6 thanks to a massive offensive rebound and putback by Big Ben in the final minute – a play that lead him to flex his muscles at the crowd and lead me to jump right off my couch (wearing my Ben Wallace jersey) and pound my chest like a randy caveman. Ben Wallace was (until turning into a Bull) my favourite NBA player, hands down. I didn't see how we could lose it from there, but the Lakers proceeded to show me how. Shaq sank a close shot while being fouled and remarkably made the free throw. We didn't get anything going down the other end and the Lakers had posession on the final play of the game. Kobe was given the ball and isolated on the perimeter. He hesitated a few times, with Rip right on his case (I still don't know why Prince wasn't out there) and pulled up a couple of feet behind the arc for the long three. It splashed in with a couple of seconds left and I almost fainted in disbelief. Kobe hadn't made a three all game, he was completely stinking it up – I would GLADLY have given him that shot. But he made it, and on reflection it's no surprise. Kobe has hit more clutch threes than any one in league history not named Reggie Miller. Fact. But it didn't stop there, with Prince swarming him Kobe lead the Lakers in the extra period on a series of tough drives, and some sweet passes to Shaq. The Lakers ran away with it and stole the game. "Oh boy here we go.. the Lakers have awoken, the series is over…"
/Ben Wallace jersey comes off and gets thrown on the ground…
Thankfully game 2 was but a small bump in the road, and our next three victories were so convinving that it has often been called the "5 game sweep". I guess it doesn't say much about Kobe that he couldn't lead his team to another victory – but I think the Lakers downfall in that series was more to do with the Shaq-Kobe ego feuding, Malone's injury, and the Lakers complete inability (read: Gary Payton's complete inability) to shut down Chauncey Billups. But that is all in hindsight. Right after that game, it seemed like Kobe had just played the most important game of his career and and hit the most important shot of his career. That buzzer-beater against the Suns (#4) put them one game away from making it out of the first round – this shot put them three games away from winning a Championship ring.
2. Game 4 – Western Conference Semis vs Spurs, 2004
"I don't see how he does it. He's a fabulous player, probably the best player that ever played the game"
– Shaquille O'Neal, after game 4 of this series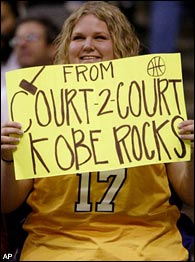 Kobe, Shaq and the Lakers had a lot of big playoff games during their reign. Quick mental calculation tells me they played in around 25 playoff series between 1998-2004, which probably makes for over 100 playoff games. It's easy to forget how many of those were classic Kobe games becauase a) there were so many and b) it was a long time ago (scary to think the Lakers won their first title 8 years ago). But my favourite non-Finals game from Kobe during this Lakers reign was undoubtedly game 4 vs the Spurs in the Western Conference Semi Finals in 2004. Remember it? You remember Derek Fisher's miracle 0.4 second shot vs the Spurs? Well that was game 5 – this was the game before that. With the Spurs leading the series 2-1, game 4 shifted to the Staples Centre in LA. It would have suited Kobe more if the game was in San Antonio because he spent his second straight day in a Colorado courtroom for his rape trial. He flew in for the game and arrived just two hours before tip-off, not ideal preparation for a playoff game of this magnitude. But it didn't hold him back. Kobe went on to have 42 points, 6 rebounds, 5 assists, 3 steals and zero turnovers, including 15 points in the 4th. It was a performance that lead Shaq to make the above quote and many people to marvel how Kobe could possibly play like this amongst the stress and sleep-deprivation of a court case. Remarkably, this wasn't the first time this season that Kobe had travelled straight from court to court (excuse the pun): Back in December he hit a game-winning shot to beat the Nuggets after arriving at the game with four minutes left in the 1st quarter. In March, he creamed the Kings with 36 points, 6 rebounds and 6 assists while arriving one hour before the game. And in L.A.'s first-round series against the Rockets, he scored 31 and added 10 assists in the series-deciding game, a game he rocked up to 26 minutes before tip-off. I remember thinking back in early '04 that Kobe almost seemed more focused when he was flying back for those games, kinda like how Jordan used to say that an illness helped channel his focus because you were too sick to concentrate on anything else other than playing basketball. Whether that's true or not, the fact is this game rates high on the list of classic playoff games by anyone over the last 20 years.
1. The 81 – January 22nd, 2006

Surprise surprise, #1 on my list of Kobe's top 10 all-time games is the highest scoring game of his career, and the second greatest individual performance in NBA history (behind Wilt's 100). You already know enough about this game so I won't go retelling the story, but in case you just thawed out from the ice age Encino Man-styles, here are a couple of links to get you started:
The box score
The ESPN Game Recap
The Kobe 81 Index on nba.com
The Daily Dime
Reactions to Kobe's 81
Marc Stein's take on why it's better than Wilt's 100
Another blogger's take on why it's right up there with Wilt
I'll never forget the day Kobe scored 81. I was doing what I usually did during that time in my life – neglecting my university studies by following the NBA play-by-play online. Unfortunately the Lakers v Raptors game was not one of the 1-in-63 games that gets shown on ESPN in Australia, so the play-by-play had to do. Another one of my great uni distractions was the Kickz101 TrashTalk Forum, and on this day, January 22nd 2006 (well, January 23 here in Aus) I went on to the forums just after half time, and posted the following comment which may be the most stupidest thing I've said in my entire life:
3:10pm – "how bout my man MARK JAMES!! [ed note: aka Mike James] 6-6 from 3-pt land, 22pts and 9 ass at the beginning of the 2nd half. this was billed as the big Kobe vs James match up, and at the moment James is dominating!"
Yes I'm aware how silly this looks right now, but you have to understand that at the time, with Kobe having scored only 26 points, I was well within my rights to make this comment… ok, so I made a dick of myself. My next two comments on the forum:
3:42pm - "I think he just scored 27 in the third?!? gimme a break. [ed note: it was 26]
4:01pm – "this is just stupid"
I couldn't refresh the live scores fast enough to keep up with Kobe in the end. I swear, every time my page refreshed he would have another five points. I couldn't believe it. It was surreal. I couldn't imagine how it looked live (I can now since I've watched the game a couple of times), or what on earth Toronto were doing to allow him to score that many points. I remember screaming at my mum when he was just about to hit 70 – my mum! who knows nothing about basketball and wouldn't care if he scored 150. But I just refused to believe it. When the game ended, Kobe on 81 points I messaged my mate Pete who knew a little more about the NBA than my mum. I remember the message I sent like it was yesterday: "kobe just scored 81 points in a game. read that again". My phone rang instantly and it was Pete. The conversation went a little like this:
Pete: "What the f–k?!"
Rob: "Yeah man, he just scored 81!"
Pete: "What?!"
Rob: "haha i'm serious!"
Pete: "What the f–k?! are you serious?"
Rob: "yes! he had 55 in the second half haha!"
Pete: "What the f–k?!"
Rob: "It's ridiculous man… I can't believe it."
Pete: "f–ken hell!!"
Pete mostly just said "f–k" in that conversation, but I thought it was a fitting reaction. It was ridiculous. It was confusing. What confused me the most, and what always crosses my mind in games like this, is why aren't they stopping Kobe from getting what he wants? When a guy is on a hot streak, or he's scored 25 in a quarter or whatever, just throw everything at him… make the other four guys beat you! But from watching the game I now understand that Sam Mitchell (Raptors Coach) did throw everything at him. They even played box-and-1 which should really not be necessary in today's game of basketball (for those that don't know what this means the defensive team plays a 2-2 zone, and has the fifth guy chasing Kobe Bryant around). There was literally no stopping Kobe in that game, and even though that's the same story to a lot of the other games mentioned in this top 10, this one is on another level because… well, it's 81 freaken points.
Does it deserve to be #1 on my list? Sure it does, and no one has summed this up better than Bill Simmons, who wrote the following:
Future generations will remember him for the 81-point game and his awesome 2005-06 scoring binge, not for being the second-best player on three championship teams. Hey, that's what they should remember. After all, plenty of NBA players have three rings. Only two NBA players have ever scored 81 points in a game. One is dead. The other lives on.
Long live Kobe.
Here ends Kobe Bryant Blog Day.
Comment posted by
at 3/21/2008 7:08:55 AM

[…] robd wrote a fantastic post today on "Kobe Bryant Blog Day Downunder"Here's ONLY a quick extractFor anyone unaware of happenings in the NBA blogosphere, today is officially Kobe Bryant Blog Day. Now being downunder in Aus, today is actually yesterday in the States so we are actually writing on Kobe Bryant Blog Day from the future. … […]

Comment posted by
at 3/23/2008 12:24:15 PM

kobe you are my inspiration.. i think youre the best player ..!!!! i like your way to improve basketball playing, sometime i wanna be like you, try to play like you.. hehehehe… so keep on fire my star..

Comment posted by
at 3/19/2008 11:16:18 PM

nice post. putting together a top 10 for Kobe's games is hard but you done it well.

neva heard of that playoff game against Spurs in 2004. or i don't remember it. lol Shaq calling him the best player ever!!

Comment posted by
at 3/20/2008 1:58:34 AM

Whether you love Kobe or you hate him, you have to respect what he has done for the game of basketball. Most players, even the great ones, have one defining game or moment that they will be remembered by. For Kobe, the 81-point outburst will probably be that moment. However, as you have reminded us with your list, Kobe comes up with a "legacy" game at least annually.

Kudos to a well-written and thoroughly-researched analysis. Keep up the good work.

Comment posted by
at 3/13/2008 9:07:55 AM

great post, really enjoyed it.

Hopefully I'll find torrents of the MJ and Memphis ones, somehow missed them.

Off the top of my head, another definite honorable mention would be against T-MAC and Magic on 15th March 2004. He comes on with about 10 min left in the 4th with Lakers down 10 or so. Scores 24, and locks down T-MAC like crazy.

Worth checking out.

Comment posted by
at 3/14/2008 8:27:02 PM

I'm catching up on Bryant blog day and I have to say that yours is one of the posts I've enjoyed most so far. With all the links (and links from there) I think I've been reading for about two hours here.

I'll be visiting this blog again
Tags: 81 points, buzzer beater, jump shot, Kobe Bryant, Kobe Bryant Blog Day, Michael Jordan, Thunder Dan
« « Previous Post: The MVP Candidates: Part I
» » Next Post: Congratulations Melbourne Tigers