I received more than a fair share of emails and messages since Part I was posted, mostly of a curious nature. I thought it best to respond to these before we get on to the Heat and LeBron.
Firstly, to those who asked, I do not hate Tim Duncan, and it was certainly not my intention to dismiss or disrespect him as a player or his legacy. But what I have found over the years, is that stories of Tim Duncan's career are mostly told through a glass-half-full lens. I suspect this is because he doesn't have the characteristics (supreme ego, selfishness or lack of self-awareness) that earn detractors in the way other superstars do – and I wanted to try and present a more realistic picture. I'm not anti-Tim Duncan. I'm just applying the same critical lens that the other all-time greats are regularly exposed to.
Secondly, for those wanting to know who I think is the "Best Player of his Generation", you obviously didn't read the part when I said it's a meaningless title. But given this was the most common question I was asked, here's my answer: If you put a gun to my head, I would pick Kobe, but if you extend the "generation" to 20 years from 1997 – 2017, it will almost certainly be LeBron (assuming he wins another title or two). See… meaningless.
Thirdly, to the man (who shall remain anonymous) who wrote to me suggesting Shaq "only had three good seasons" and "only played to his potential in three Finals series", you are a complete moron. This man's name was "Al" by the way. Al – I suggest you try watching a basketball game before you comment on the sport. I wouldn't normally gratify your kind of email with a response, but I'm taking the opportunity only because I do think you are unfortunately representative of a school of people who curiously forget how dominant Shaq was. If I had to pick any player's single year as the best from this "era", I would pick Shaq in 2000. No one has dominated like him since. Not even LeBron.
——–
The 2013 Miami Heat are a fascinating story. They gave us one of the most memorable regular season feats in NBA history with that 27-game win streak. They gave us LeBron James in his 4th MVP winning prime. They gave us perhaps the last great season from Dwayne Wade, one of the best second-banana seasons in NBA history (in February he averaged 23.9ppg, 6.2rpb. 5.5apg, 2.5spg, 1.3bpg, and 53.2% from the field… which is MVP worthy in case you're wondering). They gave us a glimpse into arguably one of the Top 5 teams in NBA history, before being challenged by the Pacers in seven games, and then being 30 seconds away from losing to the Spurs in six.
They did all this with a unique small ball system designed around LeBron, without a dominant centre or power forward (I'd hardly call Bosh dominant). Their point guard was Mario Chalmers, and while I love Mario Chalmers, you could replace him with about 15 other NBA point guards and it wouldn't change the end result. Their best two three-point shooters were 37 and 34 years old. They played Norris Cole 20 minute per game in the playoffs (that is not a typo).
They were a team so incredibly dependent on their best two or three players, yet a team whose depth we never questioned. Sure, we questioned their lack of size, interior defense and low-post scoring, but until late in Game 6 of the Finals we never really doubted they would win the title this season. Read that last sentence again. To list your weaknesses as "size, interior defense and low-post scoring" and still be crowned champions completely violates everything the NBA has taught us over the last few decades.
People liked comparing them to the Chicago Bulls of the nineties because they were led by two outstanding perimeter players and had no established centre or point guard. There are fundamental differences though. Firstly, those Bulls had two of the top 5 rebounding power forwards of that decade (for the record my list is 1. Rodman, 2. Malone, 3. Barkley, 4. Oakley, 5. Grant with Shawn Kemp a close 6th, a really underrated rebounder). Chris Bosh, Udonis and Haslem and Birdman are a laughable comparison.
Secondly, the Bulls always had serviceable 7-footers, many of them. Cartwright, Perdue, Wennington and Longley were no pushovers, and gave the Bulls the size they needed to deal with the endless list of Hall of Fame centers they regularly faced in that decade.
Of course, basketball was a lot more conventional in the nineties, and the Bulls wouldn't have survived without those 7-footers whereas in today's league you can. Having said that, conventional wisdom nearly caught up with the Heat in the Conference Finals when the Pacers tried to bully them down low. It almost worked, and though the Pacers didn't triumph, they did ultimately succeed in robbing the Heat of their invincible mystique.
And therein lies perhaps the biggest differentiator. Those Bulls teams that won 72 and 69 games never looked so vulnerable in the playoffs. They never left us questioning the relevance of their historically great regular seasons – they made us feel like the playoffs were just Act II of the same show.
This Miami Heat team was historically great in Act I, but merely great in Act II. A seemingly trivial distinction, if they hadn't set their own bar so high.
——–
Writing about LeBron at this time of year has not only become a routine (2011, 2012), but a signpost of the stories and subplots that line the road ahead in the NBA. That road, it seems, it destined to forever be a winding one. The narrative of LeBron James since he came to Miami has been in a constant state of flux, and nothing epitomised that more than the 2013 NBA Finals.
After the first three games Danny Green had scored more points in total than LeBron (sounds unbelievable now), and the entire world came crushing down on the once-crowned King. Those demons of the 2011 Finals were haunting him again, an MVP curiously shrinking in the moment. The haters came out in force, and the LeBron fans – and even impartial appreciators like me – were forced to scratch their head.
"I thought he finally got it after winning a ring last year… why is this happening?"
I cannot begin to tell you how hard it was to predict LeBron's next move at that crossroad, the Heat down 2-1 to the Spurs. I had faith in LeBron and thought he could pull it together, but I was in the exact same position two years earlier against the Mavericks, and we know that LeBron couldn't turn the corner.
Last year against the Thunder that crossroad never really appeared – it was a composed, controlled, focused LeBron from start to finish. His performance in 2012 was a natural evolution from 2011, the kind of logical step we have seen so many great players make. And as with all those great players, once that step is made, they tend to never look back.
I mentioned Shaq earlier. He went through some serious growing pains and tough playoff losses in the late nineties. The 2000 playoffs weren't exactly smooth sailing either, the Lakers needing that epic victory against Portland in the WCFs to finally make it to June, and ultimately toughing out the Pacers in 6 games (people forget how close that Finals was, and that the Pacers beat down the Lakers by 33 points in Game 5). That Shaq had a lot of similarities to LeBron. A guy that was unfairly physically gifted, amazingly talented, but who had his mentality questioned – some thought he was too goofy and not serious enough, others just questioned his toughness in the heat of battle. But when Shaq raised that trophy high in June 2000, he changed. You could see it in his eyes. He finally sat on the NBA throne, smack bang in the prime of his career (just like LeBron), with the giant monkey off his back. There were always ups and downs for Shaq, but when he got back to the Finals, that laser focus resumed and he made dominating a formality, a routine.
This is what left me so puzzled about LeBron halfway through these 2013 NBA Finals. It looked as though the memory of the 2012 Finals had been wiped from his brain. His memory of a dominant 2012-13 regular season. His memory that is no longer the ring-less king.
I knew the Finals end result was far from over at that point of the series, but I was still stunned at how it was unfolding. Or how it wasn't unfolding. This is what I said after Game 5 of last year's Finals:
From watching the NBA for 20 years, I've always believed that the only thing more powerful and more motivational than the hunger for that first NBA title, is the pride and confidence of a champion who's been there before. It's why former champions always pull off those against the odds victories, because they have some kind of collective muscle-memory they can draw on when it comes to crunch time in a big game. It's that "we know what it takes" swagger, and for some players it's intoxicating. I watched it with Chauncey Billups and Rasheed Wallace for years in Detroit, who despite whatever damming circumstances faced them, always walked around like they owned the place. And it translated directly into their game, playing with an entitlement and fearlessness that was almost disrespectful to the opposition, who often crumbled when faced with such offensive amounts of swagger (it was an absolute joy to watch by the way).

LeBron James is now a champion, but more importantly, will start to play like one. And for a guy who's psyche has been scarred by more crushing defeats and personal attacks than any other player in recent history, this might be the most liberating championship in any sport,ever. LeBron James playing with arrogance of a champion might just be the most unstoppable force we've ever seen."
Indeed, LeBron James might be the most unstoppable force we've ever seen, but I've never seen someone so unstoppable look so stoppable halfway through a Finals series. LeBron, it seemed, was just wired differently to every other champion I'd watched over the past 20 years.
And then Game 6 happened, and that fourth quarter barrage happened, and the obscene talent of LeBron was unleashed in full force. My mind was reaching back to haunting memories of Game 5 at the Palace, and I sympathised with the sense of helplessness every Spurs fan was experiencing. LeBron James finally showed up, finally started playing with the arrogance of a champion.
God help us all.
And then the narrative changed again.
Two costly turnovers in the final minute and three missed shots out his last four (including one that didn't hit iron). With less than 30 seconds to go in that game, the LeBron choke comments on Twitter were beginning to erupt at volcanic levels. My mind was mentally preparing for a world where LeBron had failed, and endless months of painstaking analysis of his Game 6 brain fades.
And then the narrative changed again.
Thanks to Ray Allen's miracle three – one of the five greatest shots in NBA history – the Heat escaped, and in Game 7 LeBron was brilliant and ended up deservedly winning Finals MVP, with the Heat deserved Champions. There is no question that on the whole, LeBron's back-to-back efforts in Game 6 and 7 of these Finals were absolute gems. If you look closely, sure, you'll find flaws in those gems. But a gem's beauty cannot be appreciated with a microscope.
——-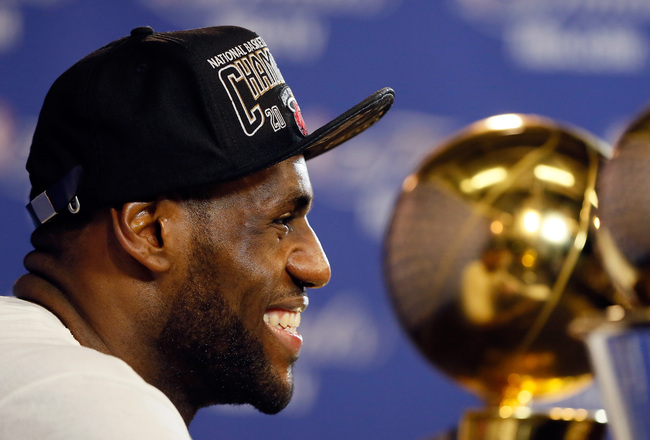 Ray Allen's miracle three, whilst deservedly the biggest moment of the entire series, also served to overshadow one of the more meaningful moments of LeBron's career.
In those final frantic 30 seconds, LeBron did completely brick that three point attempt, but when it came back to him after the offensive rebound, he nonchalantly stepped into it and buried it. That play fascinated me, and I will never forget it. Let me try and explain why.
We all watched LeBron make those turnovers, saw the desperate frustration on his face, saw the clock ticking down, saw the ropes encircling the court in anticipation of a Spurs celebration, saw him rise gloriously for that potential game-saving three, saw it miss everything, and in that moment everyone watching collectively gasped and thought the exact same thing… my God, LeBron has blown it.
You can bet no one was more aware of that sentiment than LeBron himself. That three was his last chance, and he blew it. Not just the shot, but the game. The Finals. The entire season. His legacy.
I cannot understate enough how difficult it must have been for LeBron to stay focused, to stay in the moment when that shot missed, especially when the moment has had a history of getting to LeBron. No sane person thought the Heat could win at that point, not when their MVP had just bricked such an important shot.
The Heat battled for the rebound and LeBron was given another chance. The fact he could compose himself and recover from the gut wrenching let-down just seconds earlier, and actually make that second shot, blows my freaking mind.
That shot, was like one of those electric shocks they give to dead people when they flat line. LeBron's legacy flat lined in front of all of us, only for a miraculous self-revival seconds later.
That shot, more than anything I've seen, gave me hope that LeBron truly was ready to play with the confidence and arrogance of a champion. That he might truly become the most unstoppable force we've ever seen.
Only thanks to Ray Allen, he'll never get enough credit for it.
So the winding road continues.
Tags: 2013 Finals, Dwyane Wade, Lebron James, Miami Heat
« « Previous Post: Down Memory Lane: Dwyane Wade destroys Varejao
» » Next Post: Down Memory Lane: Shaq punks Dudley, Dudley throws ball at Shaq