This post is deliberately a few weeks late because I had to let everything from the 2013 Finals soak for a little while. As I said in the Finals roundtable, it was an emotional rollercoaster, even for the neutral NBA fan. Now that the shock and awe of Game 6 and 7 has subsided, I wanted to reflect on the meaning of it all. With 5,000 words.
My singular overriding thought on these Finals is that the San Antonio Spurs blew it. That much felt obvious after Game 6, and even Game 7 after Duncan missed that bunny from under the hoop. But even now, weeks later, I can't shake that sentiment.
If you replay the end of Game 6 one hundred times, the Spurs win 99 of those – a statistical fact (in the past 15 seasons, teams up by 5 points with 28 seconds left are 1,850-27). I don't like to talk about "luck", because there's nothing lucky about Ray Allen hitting that shot when he's done it so many times before. The Spurs were not "unlucky". No, they just blew their chance when chance was overwhelmingly in their favour.
Which leads to the next logical question… did they choke?
Well, that is complicated.
On one hand, they were supremely brave and unrelenting throughout Games 6 and 7. I did not think they would come close to winning either of those games, especially Game 7, but every time the Heat made a run and it looked like the floodgates were about to open, the Spurs came back. They never gave up. They fought to the end. Those qualities are not usually associated with choking.
But on the other hand….
Manu and Kawhi missed crucial free throws, they couldn't secure the rebounds they needed to stop LeBron and then Allen nailing those threes, and Parker missed a potential game-winner at the end of regulation. In OT, the Spurs had their chances but they looked beat. And it's hard to blame them – how would you react in the ensuing minutes after losing a bet with 99-1 odds in your favour?
In the final minutes of Game 7 they had their chances too. Leonard missed a three with 1:25 left that would have secured the lead, and Duncan missed the unthinkable with 46 seconds left that would have tied the game. To top things off, Manu threw the ball away on the next possession, and LeBron sealed it from the line (note: he did what Manu should have done in Game 6).
Those last two paragraphs do not sound like the San Antonio Spurs team that built a commanding 3-2 lead in the series. A team with a decade of playoff experience together, a team that prides itself on making the right plays down the stretch. I have never see a Spurs team blow such a commanding position to win a big game, to win a title.
So if you define choking as squandering a commanding lead in the late stages of a big game, then yeah, the Spurs choked.
If your definition implies a mental weakness or nervousness, then it's harder to categorically say. For the record, I don't really care how you define choke. Just know that in the case of the San Antonio Spurs in Games 6 and 7 of the 2013 Finals, I have absolutely no problem using the word.
——–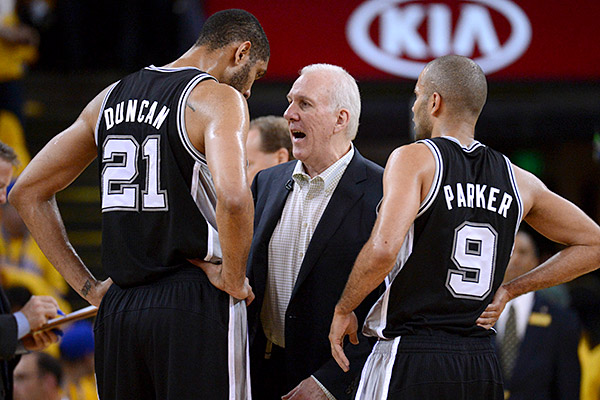 What does it mean for the Spurs and their legacy?
It's a black mark, with an unenviable caption of "Team that came closest to winning a championship that didn't". It was their first Finals loss which takes the lustre away from their previously sparkling record. I exchanged emails with a couple of my friends who support the Spurs, and whilst trying to dissect their state of mind in the aftermath, I encountered one common view: losing in less heart-breaking nail-biting circumstances would have been far more acceptable.
Imagine, had the Spurs lost convincingly in 5 or 6 games. The "too old too slow" mantra would have played out, with an honourable fall from grace for Tim Duncan and Co. at the hands of LeBron James. We would have applauded them and consoled them… "no shame in losing to this Heat team".  Instead, the Spurs tantalised us and had the nail half-buried in Miami's coffin. It became their series to lose, which was never supposed to happen, and the shock of being on the verge of victory, combined with the shock of then spectacularly losing, has had a very peculiar effect on the NBA community.
Impartial observers who thought the Spurs had no chance (like me) are forced to accept they blew their chance, putting our egos aside. Impartial observers who thought the Spurs would win had the "I told you so" champagne on ice, before watching it embarrassingly explode in their face. Spurs fans had to accept devastating defeat after being in a position they could have only dreamed of, whilst arrogant Heat fans are forced to celebrate less arrogantly than they would have hoped.
This is all the result of a narrative that was relentlessly changing with every game, every quarter. Here's just the highlight ones… "Danny Green is unstoppable"… "What is wrong with LeBron James?"… "Is Parker the real MVP?"… "Don't forget about Dwyane Wade"… "What is wrong with LeBron James? (Part II)"… "Vintage Tim Duncan"… "What the hell is wrong with Chris Bosh?"… "Ray Allen!" … "What the hell is wrong with Manu Ginobili?"… "LeBron James in unstoppable"… "What the hell is wrong with Danny Green?"… and I think you get the idea.
I can't recall a Finals that was so wildly unpredictable game to game. Interestingly, the last Finals I remember that fluctuated so widely involved the Spurs, in 2005. In that series, the Spurs absolutely demolished the Pistons in Games 1 and 2, with Ginobili playing the best back-to-back games I have ever seen him play. Their winning margin as 15 and 19. In games 3 and 4 Detroit returned the favour, winning by 17 and 31. After that fourth game, no one had a clue how the next three games would unfold. I would have believed any possible outcome at that stage. It was flip-a-coin stuff.
These 2013 Finals felt very similar. Every time I thought I knew what would happen next, I was wrong. Reflecting back on why that happened, I can only blame one person – LeBron James. My confidence in the Heat largely stemmed from them having the greatest player in the world in his prime, coming off the most remarkable season of his career. I thought he was ready to dominate at a rarefied level only few in NBA history have achieved. I thought he had drowned the demons of his Finals past and would be ready to embrace every big moment. Four games into the series it appeared I was blatantly wrong, but then thanks to his redeeming efforts in Game 6 and 7, I'm not sure I was. I'll have more to say on LeBron in Part II, but for now here's my point: It's no coincidence the 2013 Finals were so wildly unpredictable game to game, because so was LeBron James. The Heat go as he goes.
——–
I wanted to say a bit on Tim Duncan, because something tells me I may not have many excuses left to write about him again before his career ends. For the record, I thought he was great in these Finals, especially in Games 6 and 7. For a guy of his age with that many miles, he had no right to single handedly be stealing the show from LeBron which he did for much of Game 6. In an ideal world, Duncan would have been able to rely more on a healthy Tony Parker, but as it was, he had to push his 37 year-old body to the limit and he's simply too far beyond his prime to be able to carry the Spurs like he used to. Since 2009 I've maintained that the Spurs cannot win a title if Tim Duncan is their best player.
I also observed a peculiar Tim Duncan love-fest leading up to, and following, these 2013 Finals. I think a lot of this sentiment stemmed from the "Best Player of his Generation" arguments that became very popular in late May / early June this year. Bill Simmons was a big proponent of this. I will admit, "Best Player of his Generation" arguments annoy the shit out of me. From what I can tell, they are used to conveniently describe a 15 year period commencing from any arbitrary point in time at the convenience of the author. Never mind that 15 years is far too short to define a "generation" anyway, but what is the point if there are no commonly agreed "generations" that we can debate? If you say "Best Player of the 2000s" I can have a discussion with you. If you say "Best Player of his Generation" I don't know where to start.
But I'm happy to roll with it for the sake of a good argument. Let's assume the "Best Player of his Generation" window for Tim Duncan starts from 1997 when he debuted, and ends this year in 2013. That's sixteen seasons. In that time, Duncan didn't have the most Finals appearances, win the most titles or MVPs. He never even made back-to-back Finals, something which Kobe did 4 times, Shaq did twice, LeBron did twice, Jason Kidd did once, and even the Billups-lead Pistons did once (old readers of this blog will know I highly value "back-to-back Finals appearances" when it comes to any argument of NBA greatness).
People like to bring up the consistency of Duncan's teams throughout his era. A lot of that is due to his brilliance, no doubt, but some of that is due to the simple fact he never had to play with a hopeless supporting cast like Kobe, KG or LeBron did. I've heard stats like "Duncan has been on more 55+ win teams than any other superstar of his generation" – it's true, he's done it 11 times which is remarkable. But to be the "Greatest Player of his Generation" I would have expected him to have capitalised on that stat and dominated in Finals appearances, or at least Conference Finals appearances. Duncan hasn't.
Let's play one more game. I want you to name me the three weakest Finals teams over the last 16 years. Most people would agree on the following two – the 1999 Knicks (8th seed, lockout season), the 2007 Cleveland Cavaliers (had no right to be there, swept accordingly). Then it's probably a pick between the 2002 or 2003 New Jersey Nets – officially the 2003 team was worse, winning only 49 games compared to 52 the year earlier (which is when Kidd finished 2nd in MVP voting). Honourable mentions to the 2001 76'ers (Iverson at his peak though) and the 2009 Magic (Dwight in his DPOY prime).
I think you can see where I'm going here…. Duncan and the Spurs were fortunate enough to line up against the 3 weakest Finals teams of the past 16 years. Now, you're only as good as your opposition, and the East was notoriously weak during those years. Conversely, the West was extremely tough and surviving the West in the 2000s was almost deserving enough of a ring. But it's a fact – when the Spurs did face tough opposition in the Finals (2005 and 2013), they were pushed to Game 7s on both occasions, and went 1-1 (and would have been 0-2 if not for Robert Horry).
If you're still not convinced or just angry at me for bad-mouthing Tim Duncan, ask yourself this. How many times did you say "holy shit this guy is unstoppable!" when watching Tim Duncan? I said it about Shaq more times than I can count. I said it about Kobe every time I watched him drop 50 or 60. I say it about LeBron James almost every time I see him play. And I can probably name another 5-7 players I said it about more times than Tim Duncan (off the top of my head: Iverson, Vince, T-Mac, Wade, Durant, Dirk). To me, that matters. More than being a nice teammate, more than being highly efficient.
We remember players of previous generations because of the impact they made, the way they made us feel in those immortal moments. In thirty years' time I'm pretty sure you'll remember Kobe's 81 or LeBron's Game 5 at the Palace or the way Shaq detonated three straight Finals. I'm also pretty sure you will remember Tim Duncan as a four-time champion, the master of the low-post, and a rock of consistency. But if you're arguing today that he's the Greatest Player of his Generation, something tells me that thirty years from now, you won't remember why.
Tags: 2013 Finals, Lebron James, San Antonio Spurs, Tim Duncan
« « Previous Post: Howard touches down in Houston
» » Next Post: Top rookies in uniform