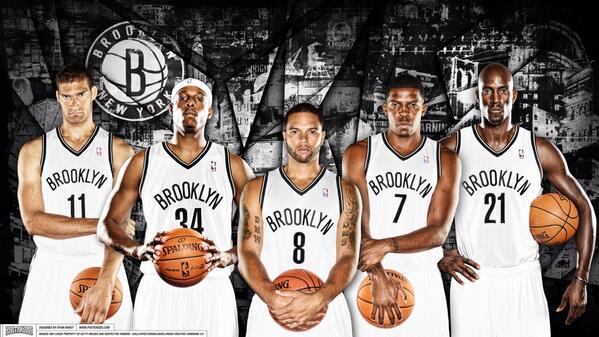 I'll discuss the draft at some point over the weekend, but there's one thing I have to talk about first.
That is of course the massive Nets-Celtics trade which sent Kevin Garnett, Paul Pierce and Jason Terry to Brooklyn for Gerald Wallace, Kris Humphries, MarShon Brooks, Kris Joseph, Keith Bogans and three No.1 picks.
All you need to know is that I skipped a night off at the pub to write about it as soon as I had the time.
I'll cover the Celtics first quickly. It was obvious that this was the off-season they were going to rebuild, and this trade finally brings the curtain down on a great era in Boston. With that said, I don't love this trade for them. If you're trading a highly paid star with rebuilding in mind, it's foolish to take back long term money like they did with Wallace, who's washed up and has a terrible contract for 3 more years. I know they had to for cap reasons…but it's a bad move. Apart from the faint glimmer of hope that MarShon Brooks will turn into something, the rest of the guys are a mix of role players who aren't much use on a lousy team, bodies and the 3 No.1s. The 2018 one may become valuable but the two before it probably won't.
Their challenge now is to see whether they can move Wallace for something – anything – before the season. Honestly, I'd package the 2014 Nets' pick or the Clippers pick they got for Doc Rivers to get rid of him. Those picks won't amount to much and they need to get him off their cap.
Of course, the next question to ask is whether they're going to trade Rondo. I don't think they'll do so this off-season unless they get an amazing deal, but I wouldn't be surprised to see him moved before the trade deadline for a good deal should one be forthcoming.
Now onto the Nets. It doesn't get any clearer than this that Mikhail Prokhorov wants to win a title and is going all in to do so, with no care for anything else.
But will KG and Pierce be enough to get them over the hump?
Well, firstly I'm excited as to what they bring to the table. The biggest issue with the Nets last year was that they lacked defensive intensity or a consistent effort on both ends. In KG you get one of the toughest, most intense players to ever set foot on a court. He will not stand for any nonsense, neither will Pierce. Their mere presence will get the Nets playing tougher.
With that said, the point is to make the Finals and win. A starting 5 of Deron/JJ/Pierce/KG/Lopez is impressive and one where all the players compliment each other fairly well, but the one problem is that there's no LeBron there. So automatically they lose the paper ECF to Miami.
However…the Heat aren't unstoppable and Indiana and San Antonio proved that in the playoffs. If you meet them on the right day, with your best players playing out of their skin…they're beatable. This trade makes the Nets one of the teams (along with Indiana, OKC, Chicago, possibly the Clippers) who can beat the Heat in a playoff series under this scenario.
Of course, it certainly doesn't make them more likely, but at least Brooklyn now have a puncher's chance. One they didn't have before.
Tags: Boston Celtics, Brooklyn Nets
« « Previous Post: Adams rocks the Thunder jersey
» » Next Post: Whats Doin: Kyrie does Auzz