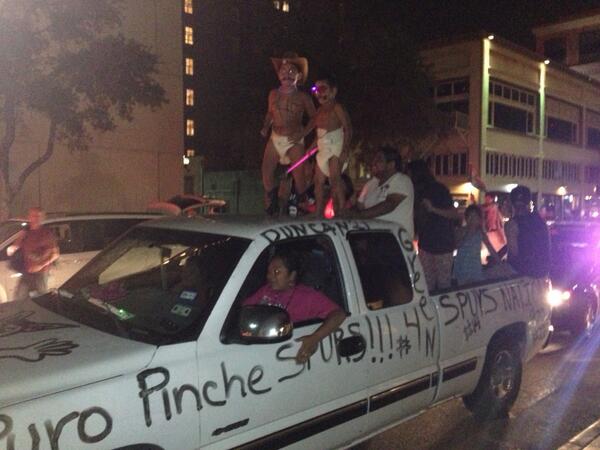 A weekly wrap of the things you should know in basketball.
* Yahoo! Sports' Adrian Wojnarowski on Dwyane Wade's Game 4 performance: "As much as Wade's dominance was a validation of his greatness, it was too an indictment of the parade of pedestrian and poor performances that had come before it." Well said.
* Diapered, moustachioed cowboy children celebrate in the streets after the Spurs' Game 3 victory.
* Fair-weather Heat fans exposed on Jimmy Kimmel.
* Jason Kidd to coach the Brooklyn Nets. I think he'll do alright, but he can't turn water into wine.
* Dwyane Wade and Manu Ginobili are two guys who need to adapt their game if they want to survive and thrive over the coming years.
* Manu Ginobili's Tim Duncan impersonation.
* Why the Boston Celtics should let Doc Rivers walk.
* Andre Drummond dunks on Chris Brown.
* Truehoop's Henry Abbott chats to Jeff Van Gundy.
* An interesting interview with Stephen Jackson.
* Rob Mahoney at SI's Point Forward believes Andrew Bogut could make a successful transition to NBA head coach after his playing days are over.
Tags: Whats Doin
« « Previous Post: Dwyane Wade is back!
» » Next Post: Gregg Popovich brings his A-Game to today's press conference