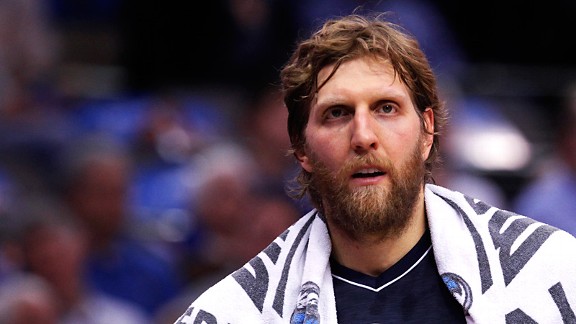 A weekly wrap of the things you should know in basketball.
* What I wouldn't give to see Dirk Nowitzki cultivate a Harden-esque beard.
* Grantland with a terrific feature on Andrew Bogut – 'How an Emerging Andrew Bogut Could Be the Playoff Difference for the Warriors'. They're certainly singin' from the same hymn sheet that we are.
* A fan tries to snatch LeBron's headband right off his head.
* Check this out – Chris Paul converted an entire bedroom of his house into a "shoe museum" to hold his vast collection of Jordan's.
* It's been a sensational week for dunks – Derrick Favors, Avery Bradley, DeMarcus Cousins, Kobe Bryant, Paul George and Jimmy Butler.
* LeBron James returning to the Cleveland Cavaliers in the summer of 2014? Get outta here; I don't buy it and neither does ESPN's Mark Stein.
* Nicolas Batum destroys Gerald Wallace.
* Is Larry Sanders becoming the new Rasheed Wallace?
* LeBron videobombs Ray Allen.
* The Portland Roundball Society debates the state of the Trail Blazers and whether or not they have locked themselves into mediocrity.
* Game winners – Jeff Green, James Harden and Chris Paul.
* Some footage of Derrick Rose playing one-on-one with teammates.
* Could the Denver Nuggets really be a legit contender?
Tags: Andrew Bogut, Chris Paul, Derrick Rose, Dirk Nowitzki, James Harden, Larry Sanders, Lebron James, Nicolas Batum, Whats Doin
« « Previous Post: The Andrew Bogut Bobblehead is awesome
» » Next Post: An Easter Special – Barkley's 56-point game