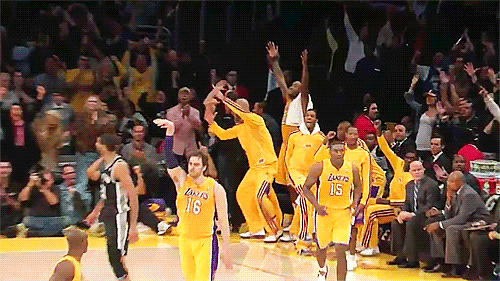 A weekly wrap of the things you should know in basketball.
* This is gold – Robert Sacre working on his bench game.
* Jared Sullinger in seventh grade. Yowza!
* The Toronto Raptors do the 'Harlem Shake'. (UPDATE: Here's one from Miami as well)
* Mark Cuban was shit stirring with his recent comments about amnestying Kobe Bryant, but he also had a valid point – that is, the Lakers are in big trouble financially in the coming years. CBSSports' Ken Berger explains why. It's not a pretty picture.
* Tyreke Evans tries to punk Dwyane Wade and fails miserably.
* Amazing footage of Bill Russell on a fast break leaping over a defender near the free-throw line.
* Toronto Raptors fans need to lighten up on Andrea Bargnani (he was booed the other day just for taking a shot with a second left on the shot clock). Sure, he stinks, but he didn't pick himself number one in the draft and then hand himself an outrageous $50 million extension. Our pal Bryan Colangelo deserves all the scorn here.
* LeBron throws down a couple of crazy dunks in the lay-up line – here and here.
* An average schmo (Trey Kerby from TBJ) dons the Warriors' new skin-tight jersey. Yeah, I agree, don't think they'll catch on.
* Ok, I destroyed him in the previous article but I won't deny a great play when I see it – here's Monta Ellis with an unbelievable game winner against Houston.
* Speaking of Monta, here's a must-read piece on the guy from Hardwood Paroxysm.
* I recently aired my gripes about complaining at officials and now TrueHoop weighs in; Henry Abbott puts coaches in the crosshairs and suggests that it's getting out of hand. No kidding.
* A decent little dust-up in the Warriors v Pacers game.
* Ricky Rubio is getting his groove back.
* Check out Tony Parker's shot chart. Now that's an efficient point guard!
* Derrick Rose is dunking again but it shouldn't matter; the Bulls aren't a serious contender until they tidy up this roster and Rose is back playing at 100% and that won't happen for another year, so there's nothing to be gained by bringing him back this season.
Tags: Andrea Bargnani, Bill Russell, Derrick Rose, Jared Sullinger, Monta Ellis, Ricky Rubio, Robert Sacre, Tony Parker, Tyreke Evans, Whats Doin
« « Previous Post: Stay wise to the negativity surrounding Bogut
» » Next Post: Quotes of the Month – February 2013