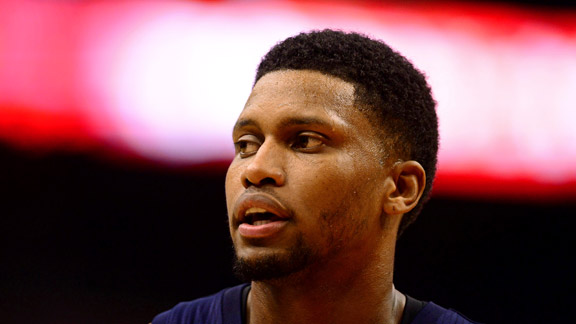 It's been more than 24 hours since we knew Rudy Gay was going to be a Toronto Raptor, and for the life of me I still can't figure out the logic behind the deal for any party.
Well, maybe that's a bit harsh. Detroit have done pretty well in getting Jose Calderon for Austin Daye and Tayshaun Prince. Calderon is one of the 10 worst defensive players in the NBA, but he's a veteran mentor for Brandon Knight who can also play. He's always been a good shooter who can distribute the ball and run an offense for stretches. On a crappy team like the Pistons, his defensive issues won't be as big a deal either. The fact that he's an expiring contract means that the Pistons are finally able to do something about their clogged cap situation.
It's also not the worst deal for Gay himself. He has his flaws – doesn't give his all on D, inefficient, overpaid – but he definitely has his strengths. Every night, he can get you 20-25 points a game, he makes tough shots and steps up on defense against the biggest guns. In Memphis, he was on a very good team that was best when playing an inside-out style that wasn't really suited to his game. With that said, when the team has needed him to step up in the past (most notably in the 2012 playoffs against the Clippers) he hasn't managed to do so. It's not unfair to suggest that the ability to turn it on when it matters is the mark of a truly elite player, something which Rudy Gay probably is not.
On the surface, it's an OK deal for Memphis. It's no secret that their new owners weren't going to pay the luxury tax and Gay's contract was bloated. His trade also means that the team can continue to play the way in which their offense is most effective without having to worry about getting Rudy his shots – less square pegs in round holes.
Here's my quibble. You're the Grizzlies. You're a top-4 team in the Western Conference right now. Most analysts have you a bit behind OKC, San Antonio and the Clippers but in terms of talent, you have at least a fighter's chance against those three teams should enough things go your way. You have Rudy Gay. Whatever else comes with him (especially that contract) he's still a consistent scorer who can get his own shot (you don't really have many other guys like that on your team). You want to make a run for the Finals and could realistically do so should enough breaks fall your way and the team plays hard enough. Why mess that up by trading Gay? Why not go all-in this season, make a run for the Finals (where you'd most likely play Miami, who's biggest weakness happens to be, wait for it, interior defense) and, if it fails, trade Gay away in the off-season?
In terms of what the Grizz got – it's not an ideal haul for a team that traded away a young borderline All-Star small forward, but Tayshaun Prince is a proven big-game player who's been stuck on the bad Detroit teams of the last few years. His contract is about fair but the question is whether he can still consistently contribute. Austin Daye and Ed Davis are both young and raw prospects, but both have shown the ability to contribute at this level (especially Davis this season). Both of them at least boost Memphis' depth, something they conceded a lot of in a money-saving trade with Cleveland.
I'd give the Grizzlies about a C+ on the deal – it wasn't necessary but at least they got something out of it. Toronto, though…it's a straight F.
Last night JT re-tweeted a Sports Illustrated article discussing the haphazard nature of the Raptors roster created by Bryan Colangelo. In many ways, it looks like he's tried to build this team like a fantasy squad – getting together a bunch of guys who put up pretty numbers but who don't fit together as a team. (See: Kings, Scaramento for another example of this flawed strategy).
Rudy Gay is an interesting case. He reminds me in some ways of Monta Ellis when he was on the Warriors in that he's a ball-dominant scorer who's too good to be a sixth man but probably not good enough to carry a team on his own. By nature, Gay is a slasher who can also hit mid-range jumpers but doesn't have a consistent 3 ball. Guys like that need a team built around them if you're going to make them a centerpiece. You need to surround them with spot-up shooters, rebounders and guys who play solid D and run plenty of iso ball if you're going to succeed with a Rudy Gay-type as your No.1 option. An example would be the current Knicks, who are built around Carmelo (who is a far more rounded offensive and frankly, better player than Gay) in this fashion.
The Raptors? Their other core guys are a ball-dominant PG in Kyle Lowry, a young wing who is too similar to Gay in DeMar DeRozan (only not quite as good) and a soft jump-shooting big man in Andrea Bargnani. They're well coached and put in effort defensively but the limitations of most of their team keep them average at best on that end.
In short, it's a poor fit. Colangelo clearly made this trade thinking that it would be enough to push the struggling Raptors (who many, including myself, viewed as a playoff contender) into contention. Theoretically, it's still possible – but Gay would not only need to take a leap as a player but show a more multi-faceted game than he ever did in Memphis. It's not impossible – if there is more to him than we realize, it's probably because he's spent the last few years as a compliment to the Grizzlies' big men and Mike Conley.
Somehow, I don't think this is the case.
Tags: Bryan Colangelo, Detroit Pistons, Memphis Grizzlies, Rudy Gay, Toronto Raptors
« « Previous Post: Set the Celtics on fire
» » Next Post: Quotes of the Month – January 2013