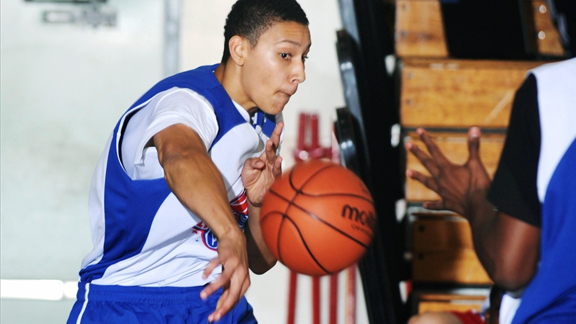 A weekly wrap of the things you should know in basketball.
* Anthony Davis meets his unibrow twin in London.
* Some CSKA Moscow players (Kirilenko, Krstic, Khryapa, Gordon and Shved) dancing on stage. But really, if you're watching those guys (instead of the hot blondes) then you may need to re-evaluate.
* Ben Simmons, son of Melbourne Tigers legend Dave Simmons, is Australia's top basketball prospect coming through the ranks and he's considered to be a top 5 player in the class of 2015. Check out some footage of Ben tearing it up at the Adidas Nations skills camp in the US. By the looks of it, the kid can ball.
* Yahoo! Sports Adrian Wojnarowski with his usual bang on take (although slightly over dramatic) of the Dwight Howard trade to LA.
* LeBron James dances up a storm after their gold medal victory against Spain. That's unbridled joy right there.
* Here's some footage of Amar'e Stoudemire working on his post game with Hakeem Olajuwon….in short shorts.
* Rajon Rondo leaps on to a tall box, from a standing start.
* TrueHoop tsar Henry Abbott with a typically brilliant piece about the Lakers acquisition of Howard and the subsequent "it's not fair!" reaction circulating around the league.
* Jerry Stackhouse gets creamed in a pick-up game. And check out the second video; a beefy Rasheed Wallace whining at the ref. Some things never change.
* Jason Terry gets a Celtic leprechaun tattooed on his arm, alongside the well publicized trophy tattoo. Too bad if he gets traded this season.
* After their disappointing Olympic campaign the French men's basketball team boozed it up at a London nightclub, and spent $20k in the process.
Tags: Amare Stoudemire, Anthony Davis, Ben Simmons, Dwight Howard, Jason Terry, Jerry Stackhouse, Lebron James, Rajon Rondo, Rasheed Wallace, Whats Doin
« « Previous Post: Down Memory Lane: The Shawn Kemp dunk
» » Next Post: Ben Simmons interview