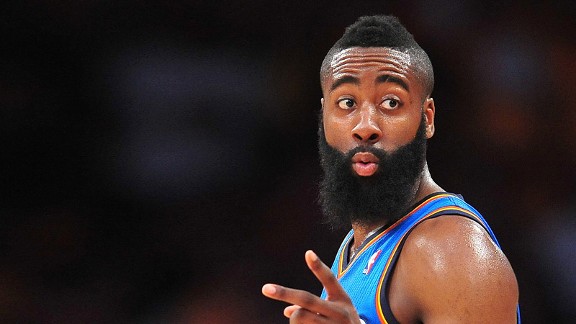 Some random observations from the previous month's action:
* I'm surprised that so many people are dumping on James Harden for his Finals performance. Sure, he was disappointing, but let's be realistic here; he's a third year player in this league and only 22 years old. I'll repeat that, he's 22 years old. And he did have to guard LeBron James for long stretches during the Finals, which is a pretty tall order for anyone, let alone an inexperienced 6-5 shooting guard. Regardless, James Harden is a phenomenal basketball player.
He was caught short on the Finals stage, but with his age and inexperience that shouldn't surprise anybody. Remember, LeBron struggled in both his first and second Finals. And if we learnt anything from this season and the LeBron saga in general, it's that success in the NBA is a process, and great players like James Harden will rise to the top when their time is right. After all, he's still about 5-6 years off his prime (and the same applies to Westbrook and KD). People just need to calm down and get a grip.
* I'm a big believer in Austin Rivers, but in respect to his fit in New Orleans there's an elephant in the room here that no one seems to be discussing. That is, how the hell is he going to work in the same backcourt as Eric Gordon? Correct me if I'm wrong, but isn't Gordon their franchise cornerstone (together with Davis), who they're about to break the bank for in free agency?
Don't believe this nonsense that Rivers can play the point; he's no more a point guard than O.J. Mayo is, or even Eric Gordon for that matter. And just like Gordon, he's a slightly undersized scoring two-guard. But to maximise the talents of Anthony Davis, someone will need to get him the ball in the right spots at the right time, and neither of these guys can play that role.
Don't get me wrong, Gordon's great (when he's healthy) and I think Rivers will be too, but duplication of parts seems to never work out in the NBA, so I'm predicting trouble ahead for the Hornets in that regard (i.e. one of them will need to be dealt at some point).
* Thinking that Miami would fall just short again this year I was all set to write a piece on how the formation of a 'super team' is not the best way to build a team in today's NBA. Well, the Miami win put the kibosh on that, but I think we all understand now that a caveat applies when great players come together – the pieces have to fit, or, they have to adapt to fit each other in order to win.
The Miami Heat ultimately succeeded for two reasons: 1) the greatness of LeBron James, and 2) all three guys adapted their games – LeBron developed a post game, Wade handed the keys to LeBron and Bosh embraced doing the dirty work down low. And that's why it worked; they adapted to each other, developed a pecking order and put the team first. It took a bit longer than most expected but after two years they figured it out.
The struggles that Miami endured during their first two years demonstrate that you can't just throw great players together and expect it to work. Skills have to compliment one another and a player's limitations must be offset by the other's strengths. And more importantly, the players have to be willing to alter their games and do what's best for the team (ahem, Melo..).
The Boston Big Three is probably the perfect blueprint for how it should be done. They brought in a monster defensive big (Garnett) and an elite shooter (Allen) to surround their closer (Pierce), and all three were willing to make sacrifices to their individual games to make it work. It produced immediate results and five years later they're still going strong (they would have won more than one title if not for injury).
What's happening with the Knicks and Lakers at the moment is probably an example of how not to do it. They have overlapping skills, duplicate positions and are top heavy to the point where they have no depth. And the New York pairing of Anthony and Stoudemire is just illogical (or "clumsy", as Phil Jackson put it) and will likely never bear fruit.
But a super team in the Miami mould (three max players joining forces) is unlikely to happen again anytime soon, because the new, more restrictive CBA has virtually snuffed that out – unless a) players take huge pay cuts to make it happen, or b) teams are willing to pay enormous luxury tax bills. This may happen in some instances, but it will be rare.
* Speaking of the Knicks, I'm stunned that they re-signed the very average Mike Woodson, and in the process ignored some elite-level coaches who are looking for work, in Jerry Sloan, Stan Van Gundy, Nate McMillan and Phil Jackson. In his Atlanta days Josh Smith ran roughshod over Mike Woodson so I'm struggling to see how he's going to keep a lid on Melo going forward.
But this whole thing tells you all you need to know about the Knicks – i.e. they're more concerned with hiring a yes-man, pandering to Melo and keeping their dysfunction in-house, than making the right basketball moves which could actually lead to real success. It's a shame.
* Those teams who have injury prone stars (ex. Chicago/Rose, LAC/Paul and to a lesser degree Miami/Wade) would be wise to follow the Spurs' model of limiting their minutes during the regular season (to about 30-35 mins a night), to keep them fresh for the playoffs and prevent injury. Both Rose and Paul have been plagued with injuries the last two years, and this year in particular their team's fortunes nose-dived because of it.
It's imperative that these teams have depth behind these guys in the form of a quality back-up, who can share the load and give them the rest that their body obviously needs. Although he could be a major trade asset, the Clips would be wise to hang on to Eric Bledsoe to share duties with Paul, and Chicago could probably get by with Watson, Lucus or Teague (depending on who they re-sign) splitting time with Rose. Miami on the other hand should probably promote the younger (and healthier) Chris Bosh to second option behind LeBron, allowing Wade to take a step back in terms of responsibility and workload, which should benefit his health.
But these teams need to proactively manage the situation otherwise they will be forever at the mercy of that player's creaky body. San Antonio has figured that out, so why hasn't anyone else?
* So, was it worth it for the Utah Jazz? That is, sacrificing a lottery pick in the deep 2012 draft (by making the playoffs as the 8th seed in the west) for the chance to be unceremoniously swept by the Spurs in the first round?
Argument for: their impressive young guys like Favors, Hayward, Burks and Kanter get valuable playoff experience early in their career. Argument against: they sacrificed an opportunity to land a potential stud in the draft to further bolster their young nucleus.
You can go either way on that I suppose, but to me that's a huge opportunity missed for a rebuilding club to miss out on a first round pick in this year's draft. Especially since it appears that if you know what you're doing (and that discounts 75% of the league), there was some real value to be had in the mid-first round.
* In regard to restricted free agency, it baffles me why a team doesn't immediately state their intentions to match any offer for their player (regardless of whether they actually will or not), with the goal of discouraging other teams from making an offer.
If right from the tip a team comes out and says something to the effect of "this player is vitally important to our franchise and we will be matching any offer he receives" (again, whether or not they actually mean it), then you'd figure that it would discourage other teams from making an offer, and thus reduce the chance that the incumbent team will have to overpay to retain that player.
That's the thing with restricted free agents; to steal them away from their current team you basically have to overpay them to ensure that the offer won't be matched (ex. Wesley Matthews from Utah to Portland), because history says that any reasonable offer will be matched.
And the incumbent team does hold a stick in the process. Once the offer is made, the player's current team can wait up to three days before they decide on how they will proceed, thus tying up the offering team's money during that period (i.e. they can't go and offer this same money to another player). So if a team gets a sense that their offer will be matched by the current team, then they're unlikely to make the offer in the first place, which should therefore ensure that the player is not overpaid. Clear as mud?
Tags: Austin Rivers, Chris Paul, Derrick Rose, Dwayne Wade, Eric Gordon, James Harden, Lebron James, Miami Heat, The things I learned, Utah Jazz
« « Previous Post: Quotes of the Month – June 2012
» » Next Post: Some rookies show off their new threads