"I just got caught up with women throwing themselves at me. When a girl sends me 100 pictures, I have to send something back every now and then. I'm not an asshole."
- Former Blazer Greg Oden in a recent interview, explaining why he sent out the infamous nude picture of himself to a female friend.
Yeah, we can all relate to that……
"Tim Duncan, like we have for the last 15 years."
- Before Game 1 of their series against the Jazz, Spurs' coach Gregg Popovich was asked whom he'd be starting at center, and that was his answer. And there you have it; thus ends the great charade in San Antonio. After two decades of being called a power forward and of showing up on All-Star ballots as a power forward, the Spurs have finally come clean – Tim Duncan is a center and always has been.
Hilarious, but no shit.
"It's fun coaching him. I've got my hands hanging on his coattail … and he just keeps dragging me around wherever I'm at. Every time I walk around the house once a month, I tell my wife, 'Say thank you, Tim.' I'm serious."
- Popovich on Tim Duncan.
His honesty is golden.
"Because Jack has absolutely no idea what he's doing. And so neither does the offense."
- Popovich, when asked why Stephen Jackson was effective at disrupting Kevin Durant in Game 1 of the WCF.
More hilarity from Pop.
"Some of the stuff we do on defense, we actually have one thing we call on the pin downs, we say we're going to 'Del Negro it' and that's in his honor and we've done that for 15 years. We have a Del Negro defense out there because he couldn't play a lick of D. At times we had to invent something just to hide him, so we call it 'Del Negro' and you do certain things on the court and everybody has to make up for that guy who's the 'Del Negro."
- Popovich.
I swear, this is not the 'Popovich Quotes of the Month'.
"I thought I played well, especially with the kind of season it was. We had the best record again in basketball, won our division again, had the top seed again, that's all that matters, yo."
- Chicago's Carlos Boozer, when asked to assess his season after their Game 6 loss and elimination to Philly in the first round. Their $75 million 'power' forward laid an egg in the final game, going just 1-for-11 from the field, scoring three points, and was benched for the entire fourth quarter.
I would absolutely despise this guy if he was playing for my team.
"Stan is one of the best strategic coaches in the NBA, but the job requires more than that."
- Orlando Magic CEO Alex Martins, on why he fired Stan Van Gundy.
Like kissing Dwight's arse.
"Dwight did not want to be part of this decision, he didn't make this decision, he never asked me to make this decision."
- More tripe from Alex Martins.
Incredible.
"I hate to see anyone lose their job. Me and Stan … we had our ups and downs … but for the most part we had one goal … to win a championship in Orlando, but we fell short. I'm glad [Orlando Magic CEO Alex Martins] confirmed I had nothing to do with it."
- Dwight Howard.
Dwight, we don't believe a word that comes out of your mouth.
"To hide behind the fact to make everyone believe that Dwight Howard didn't have a part in this is absurd. Just say, 'Hey listen, we fired this guy because we felt this was our best chance to keep Dwight Howard. Dwight Howard and I decided to fire him.' To do anything else is to play a game of semantics. It really is."
- Jeff Vandy Gundy weighs in on his brother's firing.
Yeah, "absurd" pretty much captures it.
"But actually he does that a lot. He runs into people's elbows when somebody's dunking; he puts his chin right there. He did it to Tyson Chandler."
- The Lakers' Metta World Peace, blaming James Harden for 'the elbow'.
The guy really has lost his marbles.
"I don't shake substitutes' hands. He doesn't start."
- Metta, when asked if he was going to converse with Harden prior to their second round matchup in Game 1.
Perfectly reasonable…
"Mike wasn't out there guarding Kevin [Durant]. That was me. Kevin scored on me. Mike didn't miss that 3-point shot. I missed it. Mike didn't come into camp out of shape. Wait … he did come in out of shape. Mike is a fat ass."
- Metta is not blaming coach Mike Brown for the Lakers' playoff departure.
That is pretty funny.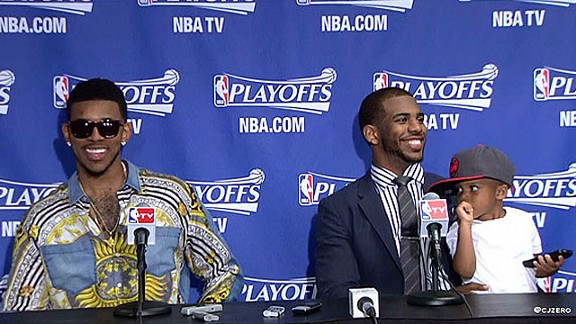 "Dress like a fool and you have to show it."
- The Clippers' Chris Paul to teammate Nick Young. Paul made him come to the post-game press conference after their Game 4 win over Memphis to show off his outfit.
CP's kid clearly agrees.
"If we're winning championships, I have no problem with it. That's all that matters."
- The Thunder's James Harden, when asked about his future with OKC and his sixth-man role.
No pressure, OKC.
"I hope Sam's got enough money to sign him, because he's going to be in high demand."
- Mavs' coach Rick Carlisle, on impending restricted free agent, James Harden. He's referring to Sam Presti, the Oklahoma City GM.
As I wrote back in March, if Harden hits the open market he's pulling in max money, no question.
"All that [expletive] that I had to deal with John and everything, it was a total cluster [expletive]. Listen, I understand the business: I hadn't coached before, and my first job was in Chicago, where I had absolutely no [management] support. Then I came to this situation, where the history spoke for itself. But I knew it was important to keep working at the craft."
- Clippers' coach Vinny Del Negro, on his time as coach of the Chicago Bulls and working under Bulls president John Paxson.
Whoa, don't hold back Vinny.
"It would have been torture. I probably wouldn't have lasted there very long."
- The Spurs' Tim Duncan, when asked what would have happened if he had been drafted by the New York Knicks.
"Torture" to play for the Knicks. That's funny.
"He has not played for a year against anyone with that ability, so he's not that good right now."
- Brendan Suhr, the head coach of the US 'legends' team which toured China in April and May, on Allen Iverson, who was a member of the team.
What a sad sight that would be, to see a washed up AI chuckin' up bricks in China.
"We know Mike has made more shots in this series than he made all last year (with the Heat). Send that to Mike."
- Miami's Dwayne Wade zings former teammate Mike Bibby during the Miami/NY first round series.
He's not wrong.
"I definitely want to be in basketball again whether it be coaching or as a general manager. My gift is basketball. I would love working with the kids. If it's the right college program, I would consider it. If it's the right GM job or coaching job in the NBA, I would consider it."
- Isiah Thomas.
Delusional.
"Garnett, he's a dirty player. He gives me a lot of elbows, and I can handle that. I was prepared for that. I already knew how KG was going to come at me. They're a whole bunch of mess-talkers."
- Atlanta's Ivan Johnson, on the match-up with Kevin Garnett and the Celtics in the first round.
True; they can 'mess-talk' with the best of them.
"I have no life at this point. I go home, get treatment, come back in here, study tape, film — no life at all. This is what it is."
- Boston's Kevin Garnett on his routine during the playoffs.
Good to see he makes some sacrifices for his $21.2 million.
"I'd die out here if I had to and that's real talk."
- Garnett again.
Yeah, that's rational.
"I would love to know who Adrian Wojnarowski source is bc he knows more about what I'm thinking then I do"
- Deron Williams on Twitter, in response to a Yahoo! Sports report that he is leaving the Nets, unless they get Howard.
Woj is probably correct in writing that but D-Will's response is bang on as usual.
"The only way [Kevin Durant] gets better than LeBron James is if he kills LeBron James."
- Charles Barkley.
Classic Chuck.
Now why no lenses in the frames? "I see better without 'em." Where'd you get the idea? "I've been knowing how to dress for a while."
- OKC's Russell Westbrook, answering some questions on his fashion sense.
Clearly.
"I know he wears a lot of weird (expletive). It's a generational thing."
- The Lakers' Kobe Bryant, on Westbrook's threads.
"I don't give a [expletive] what you say. If I go out there and miss game winners, and people say, 'Kobe choked, or Kobe is seven for whatever in pressure situations.' Well, [expletive] you. Because I don't play for your [expletive] approval. I play for my own love and enjoyment of the game. And to win. That's what I play for. Most of the time, when guys feel the pressure, they're worried about what people might say about them. I don't have that fear, and it enables me to forget bad plays and to take shots and play my game."
- Kobe Bryant.
Not a surprise.
"I'm not fading into the shadows. I'm not going anywhere. We're not going anywhere."
- Kobe, after the Lakers were eliminated from the playoffs.
You can be sure of one thing – this guy will not be going out gracefully.
"I learned from my predecessors, man. Pippen had a (messed) up back taking charges. Bird had a (messed) up back taking charges. I said, `I'm not taking charges.' I figured that (stuff) out at an early age. I've seen them take charges and lay there with a messed-up back. I've seen Michael not take one … charge and he's healthy his whole career, and the same thing with Magic. I might not be the smartest guy in the room but I can figure that (stuff) out……I don't take charges, Metta (World Peace) doesn't take charges. Steve (Blake) will take a charge every now and then, but most everybody else just stands up and plays."
- Kobe says he doesn't take charges and this is the reason why.
Only Kobe could get away with that.
"It always feels good to get a hug from Kobe. It means you did something right."
- The Lakers' Steve Blake.
Ah, the Kobe 'hug'. We should all be so lucky.
"We're better than Santa Claus giving out gifts. We like giving out gifts. We give out games, contracts and rings."
- The Lakers' Andrew Bynum, after they gave up a lead late in the fourth quarter of their Game 2 loss to the Thunder.
This guy is getting nuttier by the day.
"I'm not sure. It really doesn't matter to me. I'll play anywhere."
- Bynum, when asked whether he expected to sign a long-term contract with the Lakers, who hold a $16.1 million team option for 2012-2013 that they are certain to pick up.
In some ways that's a good attitude to have – in the NBA a trade could be just around the corner. But for Lakers fans, um, not so much.
"Close-out games are actually kind of easy. Teams tend to fold if you come out and play hard in the beginning, so we want to come out and establish an early lead and protect it."
- Bynum sprouts off before Game 5 in their first round series with Denver, with LA up 3-1. The Nuggets subsequently took them to seven games.
Candidate for dumbest quote of the year?
"Well, Duncan is smart."
- OKC's Kendrick Perkins, when asked what the difference is between defending Tim Duncan and Andrew Bynum.
Ouch!
"It's not about the money. These two leagues (CBA and NBA) are completely different. NBA players have no feelings, like a stone. And maybe people think the NBA is the best league, but I was there and I won't go back."
- Stephon Marbury, when asked if he would return to the NBA next season.
Ask a silly question (you know, because he was kicked out of the league years ago because he was a cancer and wasn't good enough) and you get a silly answer.
"I've been there before. I'm not going to stoop down to Lance Stephenson. Lance Stephenson? You guys want me to quote about Lance Stephenson? I'm not even going to give him the time. Knock it off."
- LeBron James when asked about Lance Stephenson's choke sign towards him during their Game 3 loss to Indiana.
The perfect response.
"I can't believe my team went soft. S-O-F-T. I'm disappointed. I never thought it would happen."
– Pacers GM Larry Bird after their Game 5 loss to Miami.
What did you want them to do Lar, start throwin' haymakers?
"They are the biggest flopping team in the NBA. It'll be very interesting to see how the referees officiate the series and how much flopping they reward. Every drive to the basket, they have guys not making a play on the ball, but sliding in front of drivers. Often times they're falling down even before contact."
- Pacers' coach Frank Vogel on the Miami Heat, prior to their second round matchup.
A pretty blatant attempt to manipulate the reffing.
"I always like to use baking a cake as an example. Nothing's going to come out of the first two minutes. You have to sit there and wait on it, for y'all who know how to bake. Some of y'all don't know how to bake, but don't worry about it. Ask your mothers and fathers or something — someone who knows how to bake. But it's very similar to that. You have to give it time for it to turn into what it's going to be. Time tells everything when the results come, and I'm just glad we're in a nice rhythm right now."
- Kevin Garnett, explaining that the Celtics coming on late in the season is like baking a cake.
He's a bit loopy, old KG.
"No. Do you think I let the team down?"
- Boston's Rajon Rondo, when asked if he felt like he let the team down after his Game 2 suspension against Atlanta in the first round for bumping a referee.
C'mon Rajon, getting suspended in the playoffs for a non-basketball play is not letting your team down? I love the guy but he's as stubborn as an ox.
"Our basketball IQs are through the roof. We understand each other, we know each other's games. He's just a good friend. We can talk about anything. But whenever we have conversations, they are definitely intellectual."
- Josh Smith, discussing his friendship with Rajon Rondo.
Yeah, a couple of real scholars, I bet.
"I thought he did a good job of containing himself when he got hurt and went to the bench."
- Grizzlies' coach Lionel Hollins, actually admitting that Chris Paul is unstoppable.
I like the honesty.
"I would probably say, `Gee, that's unexpected (to hear). I would have never thought that would have happened."
- Utah Jazz GM Kevin O'Connor responds sarcastically when informed that Raja Bell sounded off on the organisation and his relationship with coach Corbin, which he says is "fractured".
For someone who's washed up, Bell does seem to whine a lot these days.
"It would be great if we could rest and take our time and they could serve little drinks with umbrellas in it during timeouts and we could relax and watch beautiful women walk by and have a relaxed scenario but it's the playoffs.''
- The Heat's Shane Battier.
That would be pretty cool, although it's probably not conducive to playing good basketball.
"I had a bad night. It's my nature, and I was given this by my parents, to live for those big moments. I want big games to prove to myself that I'm a winner and not a loser. I didn't have just the world watching that game, but also my friends, my family and everybody in my home country knew I was coming out to have a big game. And I didn't."
- The Nuggets' Danilo Gallinari, after laying an egg in their Game 7 loss to the Lakers in the first round.
He was ruddy awful but I'm sure he'll bounce back.
Tags: Andrew Bynum, Charles Barkley, Chris Paul, Danilo Gallinari, Dwayne Wade, Dwight Howard, Greg Popovich, James Harden, Kevin Garnett, Kobe Bryant, Larry Bird, Lebron James, Quotes of the month, Rajon Rondo, Russell Westbrook, Shane Battier, Steve Blake, Tim Duncan
« « Previous Post: Day 31 – Spurs streak still alive
» » Next Post: Day 32 – Unibrow!