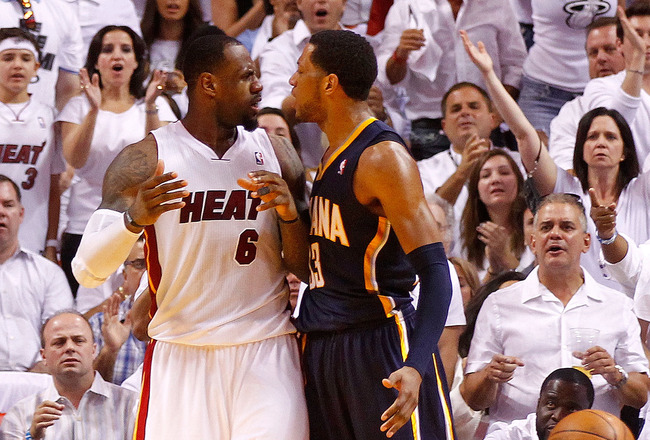 This is not how the story is supposed to go. Miami, title favorites for much of the season, are now in a 2-1 hole against the Indiana Pacers in the second round. Let me put that another way. The Indiana Pacers are 2 wins away from making the Eastern Conference Finals. The scary part? Right now, it's looks like they deserve to be there.
While we choose to only honor the best players each day here in the Playoff Diary, it's hard to talk about Day 20 without mentioning perhaps the worst. Dwyane Wade. It was, by any measure, the worst playoff game of his career. It wasn't just the lack of production that was worrying, it was the seeming lack of energy, the mouth-off with his coach, his inability to apply any defensive pressure whatsoever to the Pacers guards (who both had field days). It was incredibly un-Wade like, but it happened, in a huge playoff game.
Brian Windhorst is choosing to blame it all on injuries. But that is just too convenient. Today, the Heat had their asses handed to them by a superior Pacers team. A hungrier and tougher Pacers team. And in all my years of following the NBA, the hungrier, tougher teams always win out in the playoffs.
3 votes – Roy Hibbert. In game 2 Hibbert didn't explode the way many expected he would, given the absence of Bosh. I guess he was just saving it up for Game 3. Hibbert monstered the Miami bigs for 19 points, 18 boards and 5 blocks (just for some context, only 10 guys have gone 19/18/5 in the playoffs since 1986). And even those numbers don't do justice to how much he dominated on this night. He looked like a man amongst boys. He toyed with the Heat frontline. He demonstrated size but also some beautiful touch around the basket, especially on a couple of shots in the last quarter which turned into a party for Pacers fans. It goes without saying that if Hibbert continues to play like this, Miami quite simply have no answer for him
2 votes – The rest of the Pacers starters. They didn't get a lot from the bench tonight, but the Pacers didn't need it. West (14/9), Granger (17/7/4), Hill (20/5) and George (9/5) were all fantastic and all outplayed their direct Miami counterparts (yes, even Lebron was outplayed tonight). I just love the mix of this squad. From youth and athleticism, to size, to veteran smarts, they have it all. And they're matching up really well with the Heat. It's way too early to call this series over, but whatever happens from here, the Pacers are already one of the most memorable things from these 2012 Playoffs.
1 vote – Tim Duncan. Tony Parker was typically brilliant, but to me it was Duncan that set the tone of this game early and shredded the Clippers defense with ease. It was like a Timmy Duncan clinic of old in this game. His footwork, up-fakes, rebounding position, pivots, were all clicking seamlessly and DeAndre Jordan had no freaking clue what was going on. At the end of the first Duncan had 10 points, the Spurs lead by 9 (they lead by as many as 15), and while the Clippers made a valiant comeback in the second quarter, the Spurs did it easy in the end.
That's what I noticed the most in this game, just how easy the Spurs make it look for certain stretches of play. The only way I can describe their game is beautiful, almost basketball perfection. One one level, they're unparalleled in these playoffs. No other team gets the widespread and balanced contribution that this Spurs team does. No other team can interchange so many parts at various states of the game and still play with the fluidity and execution of their starting unit. I know both LA teams will put up a fight, but I just want OKC v Spurs to happen soon, because it's starting to look like that will decide our champion in 2012.
Tags: 2012 Playoffs, Indiana Pacers, Roy Hibbert, San Antonio Spurs, Tim Duncan
« « Previous Post: Day 19 – Fountain of youth
» » Next Post: Day 21 – Enter the Black Mamba