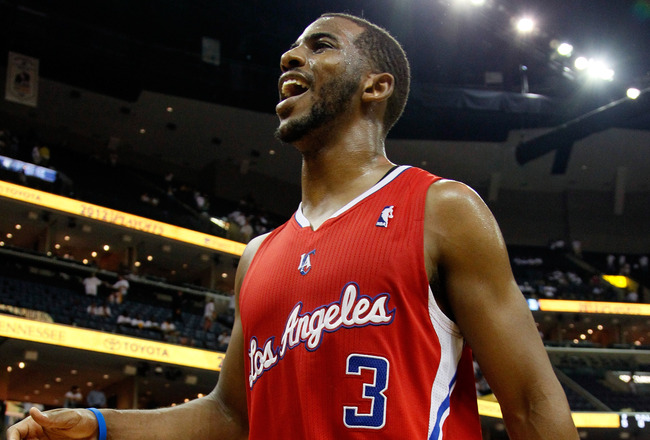 San Antonio Spurs vs Los Angeles Clippers
JT: The Spurs are a well-oiled machine so I can't see a beaten down Clippers' side getting in their way. Chris Paul, Blake Griffin and Caron Butler are all banged up, but even at full strength they'd still likely struggle against a well-rested Spurs' team; their too deep, too well-coached and just too damn good. But that Chris Paul/Tony Parker matchup at point guard will be something else. Spurs in 5.
Ash: The Clippers showed surprising grit to go into Memphis and finish the Grizzlies off. Can they keep it up against San Antonio, who can grind out wins better than anyone? If Chris Paul and Blake Griffin were fully fit, maybe. But with both of them below 100% I'm just not convinced they can find that sort of defense for four games and beat the Spurs. Spurs in 6.
SP: I picked the Clippers to win their first round series with the Grizzlies, expecting it would be a real battle. As Chris Paul pointed out in a post game interview with Doris Burke, while the Memphis series was about physicality, their series with the Spurs will be about mentality. While CP3 does have a mean streak, the situation he really thrives in is the half court game – making the most of each possession, limiting turnovers, and getting easy points by way of isolations or pick and roll. The Clippers will go as far as Chris Paul takes them, and in my opinion he has the ability to beat San Antonio at their own game. The Spurs have one of the most complete rosters in the league and this series won't be a cakewalk for either side, but if the Clippers can buckle down at the defensive end and keep these games close, I expect CP3 to get them over the hump. Clippers in seven.
Robd: I was genuinely stunned at the Clippers taking Game 7 in Memphis. That is the kind of victory that changes all your preconceived notions about a team and their limitations. This Clippers team is mentally tougher and hungrier than we all thought, and they aren't just "happy to be here" against the Spurs in the second round. If you couldn't already tell from our Roundtable a couple of months back, I'm not sold on the Spurs. They haven't been tested yet. I think their experience will get them over the line, and they're fortunate the Clippers are not 100% healthy or else this would be a lot closer. Spurs in 6.
Oklahoma City Thunder vs Los Angeles Lakers
JT: This could be a laugher. Similar to Boston, I think people have been drinking the Kool-Aid on the Lakers in recent months, and have conveniently glossed over a few crucial facts when discussing their title legitimacy. Forget for one moment their alarming performance against Denver in the first round , and focus instead on the things we do know about LA:  1) a deeper (and better coached) Lakers' side was swept by Dallas in the second round of the playoffs last year, 2) a very green OKC team gave LA all they could handle two years ago in the playoffs – the Thunder are now vastly improved across the board, 3) the Lakers have no depth, 4) no one to guard Westbrook, and 5) in Perkins, Ibaka and Collison, OKC have a front line that can legitimately challenge (to a degree) LA's biggest weapons, Gasol and Bynum. Add it all up, and to me it's no contest. Not only that, but it could get ugly (i.e. more bush league stuff when they're getting their arses handed to them). Thunder in 5.
Ash: OKC presents the same problems for the Lakers that Denver did (athletic, speedy, play best in transition) only they can actually run a half court offense consistently and have two legitimate closers in Durant and Westbrook. The Lakers were pretty unimpressive and I really don't see them doing much this series unless Gasol/Byumn give them four games like they did in Game 7 against the Nuggets. Are you brave enough to bet on that? Didn't think so. Thunder in 5.
SP: I won't be surprised if most people expect this series to be a wash in favour of Oklahoma City, but my feelings are quite the opposite. On a good day Los Angeles have three of the top 15 players in the league, with one of those guys being none other than Kobe Bean Bryant. This series should take a while but the Lakers have been in this situation before, and I still feel like the Thunder have to lose a couple more playoff series before they realise just how much they want this. Lakers in six.
Robd: It's so hard to get a read on the Lakers right now. Their performance against Denver was lacking the heart and energy you expect to see from a championship team. Then again, it was eerily similar t0 the Lakers-Rockets first round series in 2009 when LA went on to win the championship. It's very disturbing as to how much motivation the Lakers (and Kobe) had to generate going into that Game 7 against Denver. It just doesn't seem sustainable for LA right now. But I will say this – for 6 of the 7 games we've watched them in so far, they did not have Ron Artest. There's no question he changes the make up of this team. So again, I'm left confused… If Gasol and Bynum bring the energy they had in Game 7 against Denver, they will likely see another Game 7 against the Thunder. But this is the biggest "IF" in basketball right now, and I just can't bet on it. Thunder in 6.
Tags: 2012 Playoffs, Los Angeles Clippers, Los Angeles Lakers, Oklahoma City Thunder, San Antonio Spurs
« « Previous Post: Day 16 – The cream rises to the top
» » Next Post: Day 17 – Rust in Peace