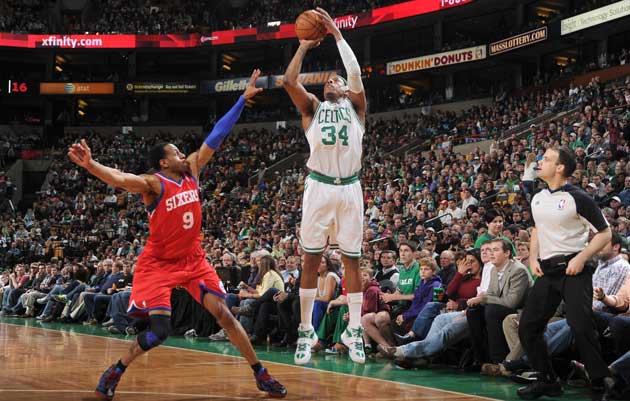 Round 2 is upon as! Well, at least for the Eastern Conference. Those Los Angeles teams out West just can't seem to take care of business.
For now, here are our thoughts and predictions for the two East series. We'll be back once the West match ups are finalised.
Boston Celtics vs Philadelphia 76′ers
JT: I'm a Boston fan but that doesn't mean I buy into the hype. To me, they're just not a legitimate title contender and their iffy performance against Atlanta is proof of that. Even at full strength, I see a team that struggles offensively (especially late), is a step slow and has no depth. That just won't cut it against elite competition in a seven-game series. But in saying that, I still expect Boston to dispatch Philly in the second round, because a team that barely beats Chicago without Rose and Noah is no threat to anybody.
Legendary Boston scribe Bob Ryan, put it best – "the Celtics are in year five of a three-year plan". Don't get me wrong, they're still a gutsy team, but their time has passed. And unfortunately, looking forward I see them being crushed by Miami in the ECF. Boston in 6.
Ash: The Sixers are young and tough and won't make it easy for the Celtics – but the only reason they're there is a Derrick Rose freak injury. They won't be able to shut down the Cs options as well and they just don't have a consistent scorer. Boston in 5.
SP: Well it's safe to say we didn't see this one coming. If it weren't for a devastating injury to Derrick Rose in game 1 of the series, the eastern conference playoff picture would look very different – but as it stands right now, it's extremely favourable for the Boston Celtics who should cruise in to the conference finals. Philly will probably pull off a schedule win, but I seriously doubt they give Boston much of a scare. Boston in 5.
Robd: Another bad match up for the Celtics, because the Sixers can exploit them the same way Atlanta did (you know, by having players that run and jump). The difference between Atlanta and Philly though, is that Philly actually has a game plan, and is damn good at executing it. And if the Celtics wanna get dirty and grind? Well the Sixers can play that game as well as anyone. So despite all the favouritism being with the Celtics, I think this series does have some upset potential. But before you bookmark this post and start plotting to make me eat my words, I will qualify it with one statement: if Ray Allen gets going in this series, it will be over quickly. The Celtics didn't get much from their sharp-shooter against the Hawks, and that is a huge X-factor. A sub-par Ray versus a hot-shooting Ray is a 1-2 game swing, because he helps space defense, keep Pierce defenders honest and makes Rondo not have to shoot as much. Boston in 6.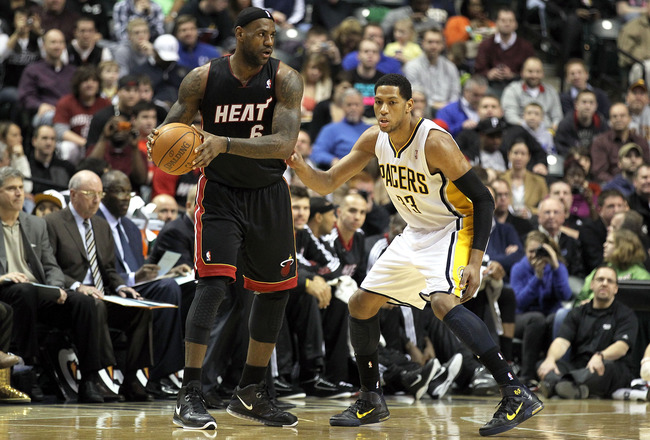 Miami Heat vs Indiana Pacers
JT: Back in early April in our Q&A Roundtable, in response to a question about which team will be the dark-horse in the post season, I went against the grain and said this: "I'll say Indiana. They have a well-balanced, deep team and should make one of the big boys work for it in the second round." In keeping with this statement, I do think Indiana will pose some problems for Miami and make it a tougher series than expected. It will be a hard fought, chippy affair and a real treat for NBA junkies. The Hibbert/West combo will expose the Heat's weakness upfront, and I expect their rangy wings –  George, Granger and Hill – to step up defensively and legitimately challenge James and Wade. In fact, I'll be surprised if Paul George is not a household name by the end of the series, and gets recognition as the burgeoning two-way superstar that he is.
But realistically, Miami has the two best players on the floor, so the chances that Indiana can take four games off them in a seven-game series is pretty remote. Miami in 6.
Ash: Basically, take everything I said in the last part, remove the bit about Derrick Rose's injury and replace Boston with Miami and Indiana with Philly. I do think, however, if Roy Hibbert gets going he could give the Heat some real trouble due to their lack of inside presence. So I'm giving them an extra game. Miami in 6.
SP: I watched Miami pretty closely in the first round of the playoffs. Throughout their series with the Knicks there were very few moments that suggested Miami would fall short of the high expectations I set for them a few weeks back in April. LeBron James is the best player in the NBA and there isn't a single player on the Indiana roster who'll be able to slow him down, let alone stop him. I still haven't bought in to the Paul George hype and I can't see Danny Granger making enough big plays to keep up with the seemingly unbeatable duo of James and Wade. Miami in 4.
Robd: I actually watched the Pacers victory over the Heat late in the season, and what I took away was the fact the Pacers absolutely have the pieces to bother this Heat team, and hurt them where it counts (the PG and C spots). But the playoffs is a different ball game, and the fact is this Heat team is more battle-tested and knows how to win in the post-season. I can see Indiana competing really hard, but I can't see them being smart enough, or composed enough, to win the close ones. And there's a good chance there won't be any close ones the way Lebron and Co. have been playing lately. Miami in 5.
Tags: 2012 Playoffs, Boston Celtics, Indiana Pacers, Miami Heat, Philadelphia 76'ers
« « Previous Post: Day 14 – We have game sevens
» » Next Post: Day 15 – Rondoooooooo!!!