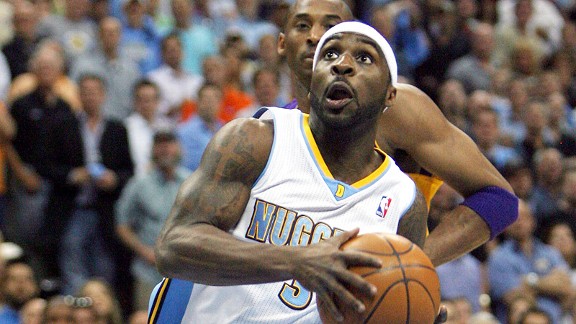 The first two games of today's NBA playoff action went to plan. In tight, defense-first battles the Celtics dispatched the Hawks thanks to a turn-back-the-clock game from Kevin Garnett, while the Sixers battled back from a fourth-quarter deficit to close out an ugly first round series against the Rose-less Bulls. Like most people, I expected the Lakers to similarly take care of bizness, Kobe's stomach bug or not – but Denver, motivated by a vitriolic home crowd, well and truly came to play.
3 votes – Ty Lawson. For as long as I can remember, the Achilles heel of this Lakers team has been speedy point guards who can destroy you off the pick and roll. In short, Ty Lawson. He's been pretty good all series but this was his breakout game, putting up 32 points, 6 assists and five rebounds. All night the Lakers had no answer for him, with their perimeter defenders getting abused and both Gasol and Bynum in a funk on both ends.
This was a game that, to a Laker hater like myself, was like basketball porn. Everyone heard about Kobe's stomach bug ad nauseam before the game – but he was the only Laker doing anything all night. Timofey Mozgov – yes, that Timofey Mozgov – looked like the white Russian Hakeem against Bynum at times. Even though Lawson was the catalyst, the entire team looked terrific. They looked like the 3 seed and the Lakers looked like the 6-seed.
Which is why I really can't wait for Game 7 of this series. Robd called it when he noted this one had some real upset potential. I didn't want to believe it then – I still don't want to believe it now for fear of fucking it up – but one thing's for sure. This Denver team completely believes they can go into a packed Staples Center with their playoff futures on the line and get deep under the Lakers' skin. Enough to win the series? Gotta wait and see.
1.5 votes – Kevin Garnett and Andre Iguodala. I know. I know. I could not separate these two. As I mentioned earlier, this was a vintage KG game and more impressive from a pure statistical standpoint – 28 points, 14 rebounds – but Iggy not only had a 20/4/7 game in the box score but he also made the two game-winning free throws.
Here's the thing on this series. I don't think it's going to be as one-sided as everyone thinks. Sure, I believe Boston will win. However, this is a young, athletic Sixers squad who plays good defense. For them, it's about attitude. If they go into the second round just happy to be there after Derrick Rose's injury – in short enter the playoffs with a Utah Jazz attitude – they will get swept. If, on the other hand, they go in with the mindset of the Nuggets the last three games they have a legit shot at not only winning a couple of games but sucking enough out of this Boston team to lead to them being drained to face Miami in the ECF.
I wish I had more to say on what were three very absorbing games. But I agreed to do tonight for Sam forgetting that I work Friday evenings. Hence the fact that its only come to you early Saturday.
Enjoy it anyway. Peace out.
Tags: 2012 Playoffs, Andre Iguodala, Kevin Garnett, Ty Lawson
« « Previous Post: Day 12 – Casualties
» » Next Post: Day 14 – We have game sevens