Some random observations from the previous month's action:
* I'm curious to see how the Chicago Bulls plan on keeping Taj Gibson. As a restricted free agent next season, if he can't agree to an extension with the Bulls during the year then he'll be free to accept offers from other teams in July 2013 (which Chicago can match). But with an expensive roster going forward (they will be over the cap the next few years), something will have to give if they want to lock him up long-term.
Gibson is without doubt a starting-caliber power forward; he's an elite defender, he's long/athletic and he has an underrated offensive game. He's more rounded, and quite frankly, a better player than Carlos Boozer. Boozer has the better offensive numbers, but Gibson's two-way play gives the Bulls a far better chance of winning basketball games. And the fact that coach Thibodeau frequently plays him in crunch time, is a pretty good indicator of that.
On the open market Gibson would likely fetch something in the $50-55 million range, and that's a big problem for Chicago because they can't afford it. Essentially, they're facing the same type of cap-crunch as OKC are with Harden and Ibaka (which I wrote about last month). Unless the Bulls are willing to pay huge luxury tax bills year in and year out (they're not; Bulls owner Jerry Reinsdorf is notoriously frugal), then moves will need to be made in order to create the necessary cap space to retain Gibson.
In today's NBA you just can't afford to be paying two guys who play the same position more than $10 million per year – Boozer is set to earn a staggering $16.8 million in 2014/15. So realistically the only way they can keep Gibson is by jettisoning Carlos Boozer, and that would have to come through trade or the amnesty provision. With his bloated contract Boozer will be hard to move, but history tells us that no one is untradable in the NBA so I would imagine that something could get done.
But any Boozer trade would likely result in Chicago having to take on a bad contract in return, so for that reason the amnesty option must be considered because it would allow the Bulls to simply wipe him off the cap (but they would still have to pay him). Personally, I'd do it in a heartbeat but the Bulls seem reluctant to go that route, which is probably due to the tight-fisted Reinsdorf.
But if they're committed to keeping Taj Gibson (which they should be), then the situation shouldn't be too hard to resolve: move Boozer out, pay Gibson accordingly as the starter and bring in the 6-10 Nikola Mirotic as Gibson's replacement on the bench. Mirotic, their first-round draft pick in 2011 (acquired from Minnesota), is currently tearing up the Euroleague with Real Madrid and looking like a legit NBA player.
Overpaying Carlos Boozer and Luol Deng was always going to come back to bite the Chicago Bulls, and that time is fast approaching with Gibson's looming free agency.
* Tyson Chandler is the Defensive Player of the Year and it's not close, so I don't know why people are still debating it.
Understand this: the New York Knicks, who ranked 23rd in points allowed per possession last season, have made an astounding jump this season with Chandler manning the middle, to fifth-best. And that's with their two headline 'stars' (Anthony and Stoudemire) being notorious defensive sieves.
As he did with the Mavericks last year, Chandler has single-handedly, and quite remarkably, transformed their defensive culture.
Give the guy his due.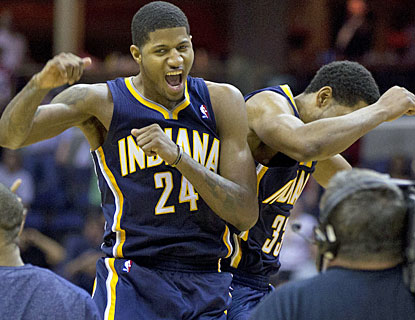 * I've always been a staunch supporter of the theory – if you're in the middle ground of the NBA, or as I like to call it 'the arse end of the NBA' (i.e. too good to land a high draft pick, but too bad to earn a playoff spot), then you should pull the trigger and blow it up.
But the emergence of the Indiana Pacers this season has made me rethink that theory, to a degree (although I'd probably still detonate most NBA rosters in this category). The Pacers were firmly stuck in this NBA purgatory from 2007 to 2010, and I for one thought they were nuts for staying the course and not opting to tear it down and start over.
But look at them now (I'm assuming they right the ship and dispatch Orlando in the first round). They earned the third seed in the eastern conference playoffs, and they have a well-balanced, deep young team with current (Hibbert/Granger) and potential All-Stars (George) on board, and they have a load of cap space going forward.
How did they do it? With terrific drafting in the mid-first round (Granger at 17, Hibbert at 17 (via trade), George at 10 and Hansbrough at 13), by acquiring some very good young players in clever trades (Hill and Collison) and by placing a premium high-character guys.
So perhaps teams like the Houston Rockets and Phoenix Suns should be given some leeway to pursue the path of 'competing' which they've chosen. If, and that's a big if, they make smart decisions in the key areas, then who's to say they can't become the next Indiana Pacers in 2-4 years.
People revere the OKC/Presti model of rebuilding, but the one undertaken in Indiana, whilst not as spectacular, may be just as impressive.
* Have you noticed that every time there's a GM vacancy in the league, the same retreads keep getting mentioned as possible candidates? I don't know about you, but I'm continually amazed by it.
The Portland Trail Blazers are currently searching for a GM and the apparent frontrunners are Steve Kerr (former Suns GM) and John Hammond (current Bucks GM). Can I ask, why exactly?
During his time in Phoenix, Kerr whiffed badly in every draft that he participated in (in 09 he took Earl Clark at 14, in 08 Robin Lopez at 15 and in 07 Alando Tucker at 29), he traded for the troublesome and over-the-hill Shaq, and was responsible for the Terry Porter hiring/mess. He seems like a top bloke and he's a tremendous analyst, but if you care to look (and they clearly aren't) there are some ugly stains on his GM resume.
And John Hammond? In 2010 he burned their current and future cap space by trading for serial loafer Corey Maggette and the $30 million remaining on his contract, and he inexplicably gave Drew Gooden $32 million and John Salmons $39 million in free agency. And it was this genius Hammond who thought it would be a good idea to pair Monta Ellis and Brandon Jennings in the same backcourt. He's screwed Milwaukee, no other way to put it.
And I've even heard Danny Ferry's name floated for possible GM openings. I mean, seriously? The guy was given five years (and unlimited resources) to surround LeBron with a capable supporting cast in Cleveland, and he failed miserably, which ultimately cost them LeBron. And yet he's still being considered to take the reins of other NBA franchises? Has the world gone mad?
It does demonstrate how inept some NBA owners are, and it reeks of cronyism. In recent years, GM hirings such as Billy King in New Jersey, Ernie Grunfeld in Washington (who can you believe has just been retained) and Rod Thorn in Philadelphia, are a prime example of it. And it wouldn't surprise me in the slightest if someone like Otis Smith gets another job once he's canned in Orlando. Regardless of the fact that he's turned this once promising Magic team into a quagmire, he's been a GM before and that's seemingly all that matters.
An astute owner would be looking for fresh talent that's waiting in the wings, like a Sam Presti or Masai Ujiri working behind the scenes, or heck, even take a look at some of the bright minds in the media. If I was in that position I wouldn't hesitate to consider, for example, someone like SI's Zach Lowe, a guy who is bang on with every aspect of the game. But I won't hold my breath for that kind of out-of-the-box thinking.
Tags: Chicago Bulls, Indiana Pacers, Taj Gibson, The things I learned, Tyson Chandler
« « Previous Post: Day 1 – We begin with drama
» » Next Post: Day 2 – It's a block party!