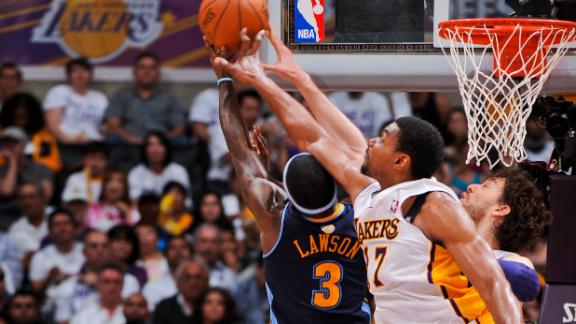 And you thought Day 1 had drama. Day 2 saw the Clippers pull off one of the most remarkable comebacks in NBA history, Andrew Bynum had a historic night in Los Angeles and Rajon Rondo's brain snap could see the end of the Celtics. Ah, the NBA playoffs, you gotta love it.
Let's get to it.
3 votes – Andrew Bynum. Kobe scored the points, but Bynum completely owned the paint as the Lakers scored a convincing win over the Nuggets. Bynum posted the Lakers' first playoff triple-double since Magic Johnson in the 1991 NBA Finals, with 10 points, 13 rebounds and an incredible 10 blocked shots, tying the postseason record. And how's this for an amazing stat: he blocked 11 percent of the Nuggets' 90 shots. That's just a phenomenal defensive effort and was the key to holding the highest-scoring team in the league to just 88 points.
With prodding from Mike Brown, it seems that Bynum is beginning to understand the kind of impact he can have on the defensive end, and that's a scary prospect for the opposition. After the game, he had this to say: "You know, it was very big. It shows I can do two things out there, offense and defense. Today, I was just being an animal out there on defense and we won by 15. So maybe, you know, note to self: The more I play D, the better we'll be."
You can't deny it, Bynum's been a prat this year; his All-Star success has clearly gone to his head. But I've got a soft spot for players who have suffered through injury and Bynum has experienced more than his fair share since entering the league. When he did play, you could see it was there; the skill, the talent, the demeanour. So for him to stay healthy and finally fulfil his potential as a dominant force down low, it's great to see, even for a non-Lakers fan. And as someone who loves watching the lost art of post play, I'm thrilled with his success.
2 votes – The Clippers. It's not fair to single out an individual when there were so many contributors. With this remarkable win, the Clippers tied the NBA playoff record for the largest deficit overcome at the end of three quarters, when they trailed by 21. Through sheer will and determination, and through a dodgy groin, Chris Paul put the finishing touches on the comeback (with 7 fourth quarter assists), but he wasn't the only one to step up; Reggie Evans' physicality was a game-changer and Nick Young hit some huge buckets down the stretch.
But throughout the fourth quarter, victory still seemed out of their reach. With 8 minutes remaining, they were down 24 points; 6:45 remaining, down 18 points; 3 minutes remaining, down 12 points. Whilst they kept inching closer, it just didn't look like it was going to happen. Then Nick Young hits three 3-pointers within a minute, and it's game on. From there, Chris Paul did what Chris Paul does – close. In the final minute he assisted on a Reggie Evans layup for their first lead, and then he hit the game winning free throws with 23.7 seconds left. And that was that.
I fear the Caron Butler injury dooms them in this series (not because he is a great contributor, he's not; but because it leaves them woefully thin on the wing), but regardless of the outcome, this game was one for the ages.
1 vote – Tony Parker. Parker was his usual ruthlessly efficient self, with 28 points and 8 assists. He imposed his will on the game by repeatedly driving into the paint, creating plays for himself and others and getting to the free-throw line (8-10). It was vintage Parker and vintage Spurs.
People seem to forget that Tony Parker is a Finals MVP (2007); he's a top-three point guard in this league and has been for 5-6 years now, and at only 29 years of age he'll be at that level for some time yet. But for whatever reason he just doesn't get the praise he deserves. Perhaps this year that will change.
Check out Rajon Rondo's meltdown
Tags: 2012 Playoffs, Andrew Bynum, Chris Paul, Nick Young, Playoff Diary, Rajon Rondo, Reggie Evans, Tony Parker
« « Previous Post: The things I learned in April
» » Next Post: Day 3 – No, Amar'e, you're supposed to attack the glass ON THE court