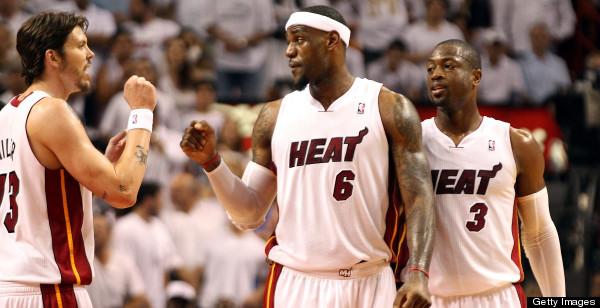 Reeling from the emotional high of watching the Thunder-Mavs game just moments ago, I sat down and loaded ESPN in my browser only to be confronted with the wincing face of Derrick Rose lying on the floor, his post-season finished before it had barely begun. Such were the highs and lows of a drama-filled Day 1 of the 2012 NBA Playoffs.
The day started with a seeming formality, Rose and the Bulls flying out of the gates and demonstrating their clear superiority over this Sixers team. It wasn't a dominant performance, it wasn't a blow-out, but the Bulls were always in control and with 1:30 left in the game a comfortable victory seemed on the cards. A few seconds later everything changed.
Rose, driving hard to the hoop as he so often does, came down awkwardly on his knee and immediately collapsed to the ground. There was no knock or bump, no collision with another player, and unfortunately the absence of such contact usually points to an even worse fate. Not long after we learnt Rose had torn his ACL, ending his season, and surely the Bulls championship aspirations in the process.
I'm depressed as I write this. It's terrible when anyone gets injured, but for Derrick Rose to be brought down like this, the reigning MVP, the humblest of players refreshingly devoid of that me-first superstar mentality, it just seems so outrageously unfair.
But there is a sick twist of irony about it of course. Through injury and countless missed games during the regular season, the Bulls were forced to galvanize without Rose and raise their game to a level beyond anyone's reasonable expectations. To a Conference-leading level. What they now know is that crusade was merely a training run. Nothing could have prepared them better for the Rose-less post-season that lies ahead.
We can debate just how far their post-season will continue without Rose, but for now, I'd rather not. The Bulls players might be ready for what lies ahead. Their coaching staff might ready. But I sure as hell ain't. The playoffs without Derrick Rose is not something I was prepared for.
3 votes – LeBron James. Believe it or not I actually woke up early on a Sunday to watch this game, and boy was I disappointed. Within half an hour the game was over, New York failing to put up a fight, and I was ready to go back to bed. And I blame LeBron James. He was ruthless. Early and often he seemed more concerned with stamping his authority on the game rather than getting his teammates involved. And I have absolutely no problem with that. He looked like a man possessed and he was clearly trying to prove a point. That point, was that LeBron James is ready this post-season and he wants to whoop your ass. He remembers what happened last Finals, he remembers the hurt, and now he wants to hurt you. I love this version of LeBron. I don't care if his assist and rebound numbers were merely half of his average. This is the LeBron the Miami Heat need. I just wish I didn't have to wake up at 6am to witness it.
2 votes – Derrick Rose. Perhaps making the injury even more unfair, was the fact Rose was turning in an absolute cracker of a game. 23-9-9 and a healthy 3-6 from downtown, Rose looked back to his best. With all the time away from the game he's had, you can't stress how huge it was for the Bulls to see their captain hit the ground running as if he never left. His six-point burst late in the second quarter was vintage Rose, MVP-esque Rose. He certainly deserved votes today, not that it's any consolation.
1 vote – The Thunder-Mavs game. Ok, so it's a cop out. But someone from this game deserves a vote, and its almost impossible to single out any individual after this epic affair. Jason Terry sparked the Mavs early and was everywhere. He shot 8-10 from the field, made a few key assists, and again showed off his giant testicles with countless big, ill-advised shots. Then there was Westbrook, who was simply the Thunder's most consistent player on the day – 28-5-4-3 and some huge momentum-swinging plays. You also can't forget Serge Ibaka who seemed to block about 15 shots tonight (it was actually five), hit a long three before the half, and made the epic three-point player with under a minute after posterizing Dirk. There was also Jason Kidd, who ran a point guard clinic in the last quarter and continues to genuinely amaze me (especially given his direct opponent who is about half his age). Not to be outdone, Dirk also chimed in with his usual late-game heroics (but unfortunately a few late fumbles as well).
And of course, there was Durant. Who, up until a few seconds remaining in the game, had been flat-out ordinary. He was shooting 9-26 at that point, and would have been the chief scapegoat had the Thunder lost. Even with Marion hounding him on that last possession he didn't look right, finally spinning to put an off-balanced one-handed shot that hit iron. Then backboard. Then net.
An amazing finish to one of the best playoff games of the past few years. Was it a lucky shot? Hell no. Great players make their own luck, and great shooters will get the roll. What I loved most was the fact Durant shot it, despite his terrible shooting night. That kind of stubbornness and self-confidence is Kobe-esque, and is the reason Kobe has delivered in so many late-game situations (despite not always being efficient). Durant added to his legacy on this night, and it could very well be the start of a long, long post-season run for this Oklahoma team.
Tags: 2012 Playoffs, Chicago Bulls, Dallas Mavericks, Derrick Rose, Kevin Durant, Lebron James, Oklahoma City Thunder, Playoff Diary
« « Previous Post: First Round Playoff Predictions
» » Next Post: The things I learned in April