Tomorrow is Day 1 of the 2012 NBA Playoffs. That means tomorrow is Day1 of NBAMate's annual playoff diary. That means it's time we put our balls on the line and made some predictions. Read on.
Western Conference
1-San Antonio Spurs vs 8-Utah Jazz
Ash: The Jazz are happy to be in the playoffs. This Spurs team is probably the best they've had since the early 2000s – definitely one of the deepest. Utah will be lucky if they can steal one game. Spurs in five.
SP: Utah have a pretty overwhelming front court, which proved to be something San Antonio couldn't handle last year when they took on Memphis. This season Pop made a concerted effort to ensure they'd be at full strength when it matters most. As a result they are healthy 1 through 12 and shouldn't have too much trouble taking care of the Jazz. Spurs in five.
Robd: In what may be a first in this millennium, I think the 8th seeded Western Conference team is actually the worst team to make the playoffs. No disrespect to the Jazz who showed a ton of spirit in their late season run, but they are fodder for this deep and experienced Spurs team. Spurs in four.
2-Oklahoma City Thunder vs 7- Dallas Mavericks
Ash: Talk about a battle royale – a rematch of last year's WCF. This time, however, I think the tables are turned. The Mavs' run last year was predicated largely on Dirk playing what may have been the greatest stretch of basketball of his career. He hasn't managed to match those heights this season and with key supporting cast guys like Tyson Chandler gone, you'd have to say the Thunder have it. Still, the Thunder are a couple of cold shooting nights and Westbrook hero-ball antics away from being in a dangerous position. One of those series where anything can happen. Thunder in seven.
SP: This is my pick for the best first round series of the playoffs. Dallas aren't the same team they were twelve months ago, but the Thunder kind of are. In their series last year, Dallas killed the Thunder with their persistent zone D and they'll attempt to do the same again this year. The OKC big three of Harden, Durant and Westbrook have all shown some progression this year (particularly Harden), but their late game decision making still worries me. The intricacies of Carlisle's offensive system is going to give the Mavs enough easy points to dishearten the Thunder, and ultimately, give them a slight edge in this first round series. Mavs in seven.
Robd: Part of me thinks the Mavericks will give themselves a huge chance in this series thanks to the psychological advantage of having owned this team last playoffs. The other part of me knows this is but a shadow of that Mavericks team, and the Thunder are simply better and – more importantly this time around – have more to prove. I said early in the season I was fascinated to see how Dirk and the Mavs respond as reigning champs come playoff time, because as an NBA rule, you never count out the reigning champs. Having said that… Thunder in six.
3-Los Angeles Lakers vs 6-Denver Nuggets
Ash: I like the Nuggets, I'd like to say they can beat LA and I think they're one of the few teams who can throw length and control the size advantage the Lakers have on many teams. But ultimately the Lake Show just has a bit too much class although they won't have it their own way. Lakers in six.
SP: I really like this matchup for the Lakers. Javale McGee simply isn't ready to handle Andrew Bynum down low, which is where the Lakers real advantage lies. Denver still struggle with the frustrating problem of not having a closer down the stretch. They have plenty of depth and a number of guys who could make in impact on this series, but ultimately, the Lakers front court will have an easy go of it in this series. Lakers in six.
Robd: This won't be a stroll in the park for the Lakers. The 3-1 regular season record doesn't tell the full story because each of those LA wins was very close, and perhaps more importantly, Kobe Bryant always seems to struggle against the Nuggets. I'm not sure if it's the lack of oxygen up there or just the pesky defense of Arron Afflalo (one of the best wing defenders in the entire league), but the fact remains some of his poorest shooting nights of the season came against Denver. Still, LA have the advantage inside (as they do against every team), and providing Gasol and Bynum get enough touches, they Lakers should be able to make up for the lack of Artest. Their size and class should prevail, but just know that this series officially reeks of "upset". Lakers in six.
4-Memphis Grizzlies vs 5-Los Angeles Clippers
Ash: The playoff matchup I'm most looking forward to. The Hollywood flash of the Clippers and Blake Griffin versus the tough, hard nosed Grizzlies. I really like Memphis. They did what I didn't think possible after their playoff fireworks last year – slid under the radar for most of the season – and they're peaking at the right time. I don't see the Clippers stopping them inside and Tony Allen can shut down anybody (including Chris Paul) on defense. It's gonna be a helluva series. Grizzlies in seven.
SP: Memphis were in a groove when they knocked out the Spurs last season, but they are at full strength for the first time in a very long time right now, which can't hurt right? The match-ups look pretty good for Memphis, but they don't have one thing that the Clippers do have, Chris Paul. I've been a CP3 fan since day one, and know as well as anyone that he's at his best when it matters most, in the playoffs. We all saw what he did with an undermanned Hornets team last year, and this time around he'll benefit from a healthier and more talented supporting cast. Paul's supposedly not 100% going in to the playoffs which makes this one harder to gauge, but assuming he is healthy, he's going to take advantage of the Grizzlies heavy footed front court in the pick and roll, just like he's done all year. Clippers in six.
Robd: It's great to see the Clipps back in the playoffs. It's just unfortunate they ran into the Grizzlies who are better built for playoff success, and after last year's run, are simply more battle-tested. I never believe in making playoff series about one player, but to me Chris Paul can single-handedly win this series for the Clippers because he is arguably the best closer in the league, and Memphis have a decisive lack of last-minute go-to guy (the fact that Zach Randolph may be this guy still scares me). So if the games are close I think the Clippers prevail, but thanks to home-court advantage I think the Grizz will just hold on. Grizzlies in seven.
Eastern Conference
1-Chicago Bulls vs 8-Philadelphia 76'ers
Ash: The Sixers can contain Derrick Rose defensively, but they can't score points themselves with any consistency. A bit of a sad end to what was a promising season in Philly. Bulls in four.
SP: The polite way of putting it would be that I don't plan on waking up at 3am for this one. The Bulls will really want to win this series as quick as possible to give their superstar Derrick Rose some much needed rest before the real playoffs begin. Apart from Evan Turner's mild breakout which lead to a couple of nice wins, Philly haven't shown me anything to suggest they are a playoff team since the All-Star break. They have a hard time putting points on the board, and Chicago happen to do a pretty good job of limiting opponents scoring. This one could get ugly. Bulls in four.
Robd: I love this Sixers team because they kind of remind me of my Pistons from a few years back. Their strength is unquestionably their strong team defense, and I'd argue they're the #2 defensive team in the league. It just so happens the Bulls are #1. What does this mean? It's going to be an ugly series folks. I don't think it will be a sweep, because good defensive teams usually find a way to win games in the playoffs. But it will be a good tune up for the Bulls ahead of a likely second-round matchup with the league's 3rd best defensive team, the Celtics. Bulls in five.
2-Miami Heat vs 7-New York Knicks
Ash: Fuck it. I'm gonna say it – I think the Knicks can and will beat the Heat. Why? Because Mike Woodson has this team playing defense on the perimeter – they can control LeBron/Wade, especially with Chandler at the rim, they have Carmelo firing and Amare just needs to get out of his funk, which I think he can do against Miami. The best basketball I've ever seen from him was the 2010 playoffs – the guy rises to the big occasion. And nothing's bigger than this playoff series right now. My Upset Special. Knicks in six.
SP: This will be the first round series everyone talks about. And I'm expecting it to be quite favoured by the folks at ESPN Australia. I don't really blame them. This series boasts some exciting match-ups, Bron vs Melo, Bosh vs Stat, D-Wade vs … Steve Novak? Miami will slug this one out, which is unfortunate for the Knicks when they would have matched up pretty well with any team in the East, except this one. Heat in five.
Robd: Sometimes I entertain the crazy notion in my head that the Knicks could win this series. Last night in the shower I had a vision of Carmelo Anthony nailing the series-winning shot at MSG in Game 6. And while it's not unusual for me to think about Carmelo Anthony in the shower, I'm afraid it would be extremely unusual for the Knicks to advance here. Lebron James' teams have always flown out of the gates in the playoffs. The Heat have so much to prove, whereas the Knicks would be happy to win a couple of games. I would love nothing more than to see the Knicks push this to 7, just so we get more Melo vs Bron vs Wade vs Melo storyline. So we get to see Steve Novak and JR Smith try to hit 100 threes between them. So we get to see Amare battle with Bosh in the best power forward of the '02 draft vs the best power forward of the '03 draft. So we get to see a true revival of the Miami vs New York playoff rivalry which was unquestionably the best playoff rivalry of the late 90's/early 00's.  I want to see as much Knicks vs Heat as possible. But I fear we'll be short-changed. Heat in five.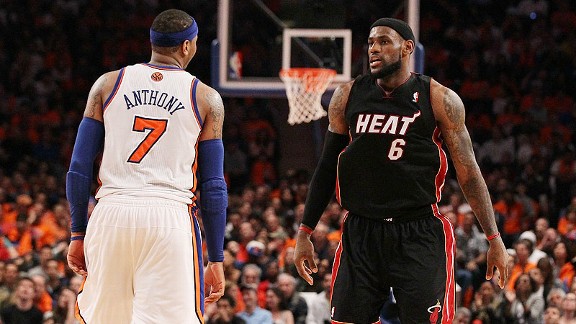 3-Indiana Pacers v 6-Orlando Magic
Ash: The Pacers aren't the greatest 3-seed ever but the Magic are dog meat without Dwight. Indiana run the no-star system better than anyone in the league and play great team ball – the Magic do not play great team defense. Pacers in five.
SP: The Pacers have become a sexy pick for the Eastern Conference sleepers, but I'm not yet sure if it's justified. Between Granger, West, George and Hibbert, they have a pretty balanced attack, and on any given night one of these guys will go for 25, while another will go for 5. They drew the big straw with the Magic in the first round. I'm expecting Orlando to have one of those games where they make five hundred threes and win, but all in all, they suck without Dwight Howard, so Indy will cruise through this series. Pacers in five.
Robd: Even with Dwight I'd still be tipping the Pacers in this one. This will be a formality for a Pacers team that is setting their sights on the Heat. The least interesting series for me. Pacers in four.
4-Atlanta Hawks v 5-Boston Celtics
Ash: Atlanta are who we know they are. This series depends on what the Celtics have in the tank. If they can keep up their late-season form through the playoffs they can beat the Hawks. I suspect that the Cs have just enough juice and more than enough will and determination to make one last run at the Holy Grail. Celtics in six.
SP: I feel like Atlanta haven't been given enough credit this season. They are no threat to win the title, and won't be for the foreseeable future, but they have once again been steady as a rock and earned themselves home court in the first round. Josh Smith has had what many consider an 'All-NBA' season and Joe Johnson is still impressive if you ignore his pay cheque. The problem for Atlanta is that Boston really aren't a 5 seed. The C's were woeful before the All-Star break, but from then on they've turned back the clock and are one of three legitimate contenders in the Eastern Conference. Celtics in six.
Robd: I've said it before, but watching this Celtics team in the playoffs is one of my favourite things in basketball. They compete, they fight, they scrap, they'll throw cheap-shots if necessary, they play team ball, but they have two of the best late-game heroes, and they seem to always turn in at least one all-time classic playoff game in every series. I don't want to sound like I'm discrediting the Hawks here, but I would be stunned if Boston don't advance. Just too much experience together as a unit, and ask yourself this question: do you think the Hawks genuinely believe they can win the title this year? No, of course they don't. But this Celtics team does. They always do. Celtics in six.
Tags: 2012 Playoffs, first round
« « Previous Post: Quotes of the Month – April 2012
» » Next Post: Day 1 – We begin with drama