With only a few weeks left in the 2011-2012 season and some teams having as few as 10 games left to play, we're well and truly on the home stretch. Perfect time then to check in with the NBAMate crew and pick their brains on all the big questions. Q&A stylez.
1. The Heat's recent slump – a little bump in the road or a tell-tale sign they are in serious trouble?
Ash: Bump in the road. The Heat still have the same issue as last year – they can't finish games in the clutch – but there's no question they're the best team in the East.
JT: They are vulnerable, no doubt. I still think they're the team to beat in the East, but if they can't figure out how to close tight games – and they're bloody awful at it – then they won't win the title.
SP: The Heat's recent slide to me looks like they might be a little bored of the regular season. People say 'will' beats 'skill' – but with the amount of skill on the Heat roster, I can't see them having too much trouble turning things around before the regular season concludes.
Robd: A little bump, but one that certainly makes them seem more vulnerable. It proved Miami is not far and away the best team in the league – over the past month they've probably been third best behind OKC and San Antonio. But  I suspect it might be the case of a brilliant team getting bored (as the Shaq-lead Lakers so often did early last decade), because more than any other team, Miami is aware of how meaningless the regular season is unless you deliver come June.
2. Believe it or not the Spurs are only 1 game behind OKC in the West rankings. Could they finish #1 out West? How seriously do we need to take the Spurs as a contender?
Ash: I constantly doubt the Spurs and am always wrong, so I'm just gonna say it – I think they're a legit title contender. They may be old but Popovich has them playing a style that suits exactly and wins in the playoffs. Plus, their younger guys are giving them enough production that it won't all be on the veterans' legs. If it comes down to a WCF between OKC and the Spurs…
JT: In my monthly article published this week I wrote extensively on the Spurs' title chances – in essence, I think they're a sneaky contender – so you can check that out here (I can't be arsed to rehash it).
SP: The Spurs have one of the deepest rosters in the league, and they're one of the winningest franchises in the league since they drafted Tim Duncan in 97. Everyone said the window had shut for both them and the Mavs last season, and we were wrong. Seems plausible that if any teams going to silence the critics, it'll be the Spurs.
Robd: Yes they could finish out #1 West, but honestly, I give the Spurs absolutely ZERO chance of winning the championship this season. Ever since Tim Duncan's decline from being elite (around two years ago), the Spurs championship window closed. I have a huge amount of respect for them, and Coach Pop is brilliant for getting them where they stand now, but there's a reason they were upset by Memphis last year, and swept by Phoenix the year before, and dumped by Dallas 4-1 the year before that. You can't win a championship when your best player is over the hill. You can't win a championship without a legit Top 10 player in the league, and don't tell me Tony Parker is because you know that's not true. You just can't, it's never been done in the modern era (and yes, Ben Wallace was a Top 10 player back in 03-04). So yeah, they could finish #1 out West, just like they did last season. And we all know how that turned out for the Spurs.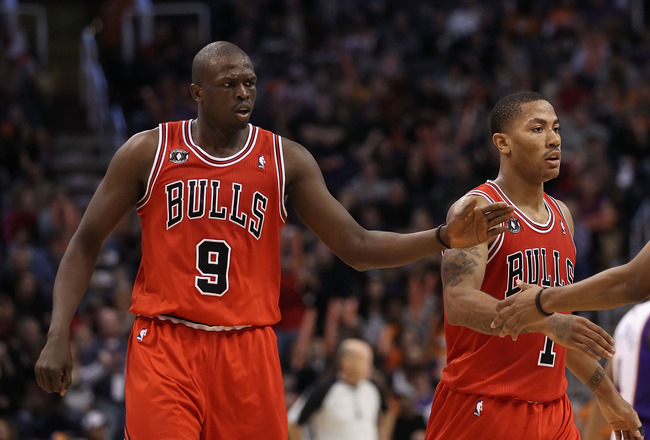 3. The Bulls have performed admirably without Derrick Rose in the line up. Can they hold on to the #1 spot out East and does it matter?
Ash: I think they can hold the #1 spot, and I don't think it matters. The fact is that Chicago won't beat Miami in a 7 game series until they find a real complimentary scorer for Derrick Rose. How they're gonna do that, I don't know.
JT: Yes, they can hold on to it, but against Miami in the playoffs it matters little. The Heat topped them 4-1 last year in the ECF when Chicago had home court advantage; it didn't help them then, and I don't think it will help now. Unless someone else can step up and give Derrick Rose some help in the clutch (and I can't see who that will be), the same fate awaits.
SP: It would be most ideal for the Bulls to finish with the top seed in the East, and barring a huge slide over their last ten games they probably will. Home court advantage is definitely a factor in the playoffs, so these next ten games should be as important to the Bulls as they are to any other team in the playoff hunt.
Robd: I think they'll hold on to the #1 spot because they try harder and work harder than any team in the league. That is what I love the most about the Bulls, just the passion and intensity they bring on every possession. Also, you take out Durant from the Thunder or Lebron from the Heat, and I guarantee you those teams aren't as competitive as these Bulls have been without Rose (who are 8-4 since Rose last played). It's just a pity they aren't equipped to get past Miami in a 7-game series, so no, finishing #1 for Chicago unfortunately does not matter.
4. Is Kevin Durant the MVP?
Ash: It's his to lose at this point. LeBron has put up a great statistical season but I can't help but feel his clutch issues will weigh on voters' minds.
JT: Yes
SP: A few weeks ago I would have said no, but now I'm saying yes. KD has been huge for the Thunder, and thanks to his ability to both co-exist with another superstar in Westbrook, and make big plays down the stretch in an isolation, his team has the best record in the West. I know statistically LeBron is having the best season of his career, but if stats are so important, give the damn thing to Kevin Love.
Robd: Just. But it will change game-to-game from here on. I thought Bill Simmons summed it up perfectly in his recent piece on the MVP – this season's MVP winner won't be a memorable one. It's a bit of a token exercise. Had the Clippers put a few more W's on the board then Chris Paul would be a deserved front-runner. Had Kobe, in his 16th season, played a bit more efficiently he wouldn't be as overlooked. Had the T-Wolves made a low playoff seed then Kevin Love's name would be at the top of the list. Fact is, those three stories would all be far more compelling from an MVP-voters standpoint than Lebron and Durant's predictable brilliance.
5. Does anyone other than Durant or Lebron still have a chance of winning MVP?
Ash: Unless the Clippers and Chris Paul go on an absolute tear for the rest of the regular season, no.
JT: No
SP: I'd like to think the aforementioned Kevin Love has a shot, but since Rubio went down the Wolves have dropped to the 10th worst record in the league, so he doesn't stand a chance.
The two stars of Los Angeles are the only other players I can see making a serious push for the MVP award. Chris Paul (somehow) has the Clippers winning again, he's having to take a bigger load on his shoulders than he did in New Orleans. Didn't think it was possible. Kobe's played/shot out of his mind all season, he's having one of the better scoring seasons of his career, and last time I checked he was leading the league in minutes played. The only problem for Kobe is most of the voters will probably think he's doing more than he needs for this Lakers team to have success. Bynum and Gasol are probably the best front court tandem in the league, and somehow their shooting guard is taking over 20 shots a night.
Robd: As I alluded to above, no.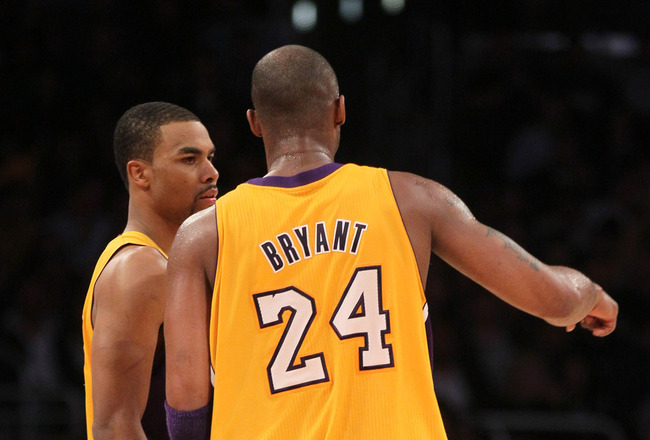 6. Do Kobe and the Lakers have one more ring in them?
Ash: The thought of betting against Kobe terrifies me more than anything, but other than him who's gonna do it on the Lakers? Gasol's been in a funk all season, Bynum is acting like a spoilt brat, Sessions is sparky but not suited to this grind-it-out team…
JT: I don't think so, unless someone takes out OKC in the west and Miami in the East, because LA isn't beating either team in a 7-game series.
SP: I'll never write the Lakers off. Since acquiring Ramon Sessions they don't really have a hole in their roster that's going to cost them a title. They are by no means deep, but in the Playoffs I'm expecting their four notable starters to log around 40 minutes a night and Brown will only play seven/eight deep.
Robd: I wouldn't rule it out. This is a team that knows how to get it done in the postseason, and they have a couple more weapons than they did last year (a much-improved Bynum and a proper point guard). I wouldn't tip them to beat the Thunder, but I think they can handle anything else that comes their way this post-season.
7. Are we foolish to overlook Orlando, Boston and Dallas – three teams that have recently been to the Finals? Or have they done their dash?
Ash: I'm not ready to write off Orlando. Sure, Dwight is a whiny little bitch – but the fact remains is that he's the one guy who the Heat have no answer for when he's completely on. If he and their shooters catch fire enough then frankly anything is possible. Of course, they could lose another first round series to Atlanta.
I haven't seen much of the Celtics lately, but I know that the Big 3 have more will than anyone to climb the hill one last time. Whether they can or not is another story.
Dallas, I don't think so. Half that team seems to be worrying about their futures, and Mark Cuban himself seems intent on going all in for Deron this off-season and seeing what a double D combo can do for the last couple years of Dirk's prime. Getting to the WCF will be a mountain for them against OKC, the Spurs and Memphis.
JT: I don't view either team as a genuine contender, so yep, they're cooked.
SP: Orlando have Dwight, and you'd be semi-foolish to overlook Dwight, but his team has been pretty horrible this season, and I don't recall a single player ever willing a team to a championship.
The Celtics could be dangerous if they draw the right match-ups. We've seen a KG this season that has been non-existent for a few years, Rondo's been big for them, Paul Pierce just came off a monster month, and Ray Allen is apparently a pretty good shooter. They play excellent team defense, which counts for a lot in the playoffs, and they have a handful of guys that will make plays when they matter most.
Dallas at this point are outsiders looking in, despite also being the reigning champs. They haven't shown huge improvements since the All-Star break, but if they time their run as well as they did last year, maybe they could turn some heads, maybe.
Robd: No, we're not being foolish. I would be utterly stunned if either of these three teams hoists the championship trophy come June. Pick of the bunch for me is the Celtics – I can see them beating the Hawks then Chicago in the second round, and if Miami stumble along the way (Indiana ain't no pushover) the Celtics could very well be looking at another Finals berth.
8. Does New York make the playoffs? How do you sum up their season?
Ash: The Knicks season? In one word, disappointing. This team may be a mismatched series of parts but no team with two of the 20 best players in the league and one of the top-10 defensive players should be struggling to make the playoffs. I think they make the playoffs unless Monta and the Bucks catch fire, but there's no way they get past Miami.
JT: Huge disappointment, but what's new for New York. Their only other competition for a playoff spot is an equally flawed Milwaukee team, so I expect them to get in. But they'll be first round fodder.
SP: The Knicks season has been a wet dream for the NBA. Storyline after storyline has kept the leagues biggest market talking about the league. From Linsanity, to the firing of D'Antoni, with some Melo Drama and Baron Davis' 'bulging dick' in-between, the Knicks have had a roller coaster ride of a season, a playoff berth seems fitting. And if I'm Chicago or Miami, I'd be far more comfortable facing the Bucks in the first round than these Knicks.
Robd: Absolute roller-coaster ride for Knicks fans this season. This team had more lofty heights and depressing lows in one season than most teams do in a decade. Yes they make the playoffs and they're only two big Carmelo Anthony games away from stealing any series, but it won't happen against the Bulls. Realistically they needed to finish 6th or higher to have any chance of winning a series this post-season.
9. Pick the dark-horse team from this pack that will do most damage in the post season: Indiana, Philadelphia, Memphis, Denver.
Ash:Memphis. We saw it last year – this Grizzlies team are built for playoff basketball. And this year they have Rudy Gay to give them the shot-creating wing they lacked last season. If Zach Randolph can find the magic he had in last year's playoffs – not completely beyond the realm of possibility – and OJ Mayo can find his 3 point shot consistently this is a team that could well make the Finals without anyone realising. Denver have some nice pieces and could spring a first round upset on a team who can't handle their speed (read; the Spurs) but their style isn't one which takes you deep into the playoffs. Out of the two East teams, I rate Indiana a bigger threat than Philly simply because I like the balance of this team more, but neither are really a threat to do more than spring a possible Round 1 upset.
JT: Memphis will probably ruffle a few feathers but something there doesn't sit right with me; too many headcases, loafers and chuckers. So I'll say Indiana. They have a well-balanced, deep team and should make one of the big boys work for it in the second round.
SP: Memphis are the only bunch from this pack I can actually see making it past the first round. When healthy, you would think they are one of the better team in the Western Conference, but we haven't really seen that yet. Maybe they figure things out in the playoffs, but I still think any series wins for the Grizzlies will be dependant on the match-ups.
Robd: Memphis without doubt, as they demonstrated against the Heat today. Such a well-balanced side, and built to play tough playoff ball. And don't look now, but Gilbert Arenas is actually playing good basketball…
10. What are your 3 most memorable things about the 2011-12 season thus far?
Ash: Linsanity, Blake Griffin's dunk on Kendrick Perkins, Dwight Howard becoming the first player to be more hated for staying with his team than leaving.
JT: 1. Dwight Howard revealing himself to be a gutless wonder. 2. Linsanity. 3. The renaissance in Minnesota – Kevin Love is the best power forward in the game and Ricky Rubio is Nash-esque.  All they need to do now is piss off that clown Kahn, and they'll be sweet.
SP: 1. As a fan of the Hornets, the CP3 trade drama will be burnt in my brain for an eternity. 2. That Jeremy Lin game winner against Toronto, I know it was Toronto, but that capped of the Linsanity era quite nicely and at the time it was pretty awesome. 3. The Hornets beating the Clippers in Chris Paul's return to New Orleans. The moment the buzzer sounded at full-time, CP3 pulled the Clippers jersey off his back faster than you can say 'BEAT LA'. That was a great day for Hornets fans and a horrible day for Chris Paul, I've watched that game like fifteen times.
Robd: Linsanity is #1 by a long way. Dwight Howard for all the wrong reasons. And Kobe, for the greatest 16th regular season I've seen anyone play.
Tags: Boston Celtics, Chicago Bulls, Dallas Mavericks, Denver Nuggets, Indiana Pacers, Jeremy Lin, Kevin Durant, Kobe Bryant, Lebron James, Los Angeles Lakers, Memphis Grizzlies, Miami Heat, MVP, New York Knicks, Orlando Magic, Philadelphia 76'ers, Q&A, San Antonio Spurs
« « Previous Post: Exposed
» » Next Post: The best fake NBA Twitter accounts