"Now that it's over, the doggone thing didn't work. We didnt get a (center) and it didn't work. We've heard for a long time that you can't play with two small guards. Well, we've now opened up some playing time for somebody at (shooting guard) that's not a small guard. We're going to be a more traditional looking team."
- Warriors' GM Larry Riley, on the Monta Ellis/Steph Curry pairing.
Bloody hell, I could have told him that two years ago.
"I'm not going to opt-in. It's not monkey-see, monkey-do……I'm not (going through the same things) because I've said all year I'm going to play this whole year out and see what happens. So I haven't been flip-flopping and gone back-and-forth. It's not even close to being the same situation."
- New Jersey's Deron Williams on whether or not he plans to 'opt-in' like Dwight Howard.
Unlike Dwight, D-Will is a straight shooter. Thank god.
"Michael (Jordan) has assured us that he's working harder than he ever has in his life & playing less golf."
- NBA Deputy Commissioner Adam Silver, on Bobcat owner Michael Jordan.
Did he say that with a straight face?
"Yes, we'll pick it up. We want him to be our coach forever."
- Sacramento co-owner Joe Maloof, on whether they intend to pick up coach Keith Smart's option for next season.
Caveat: Unless DeMarcus Cousins says otherwise.
"If I have a stat, I use it. Sometimes, if I need a stat and I don't have it, I just make it up."
- Former coach Jeff Van Gundy at the MIT Sloan Sports Analytics Conference in Boston.
Classic JVG.
"He plays a little bit like Kareem (Abdul-Jabbar), but he's a defensive Kareem more than an offensive Kareem."
— Nuggets' coach George Karl, on new acquisition JaVale McGee.
That's got me, I am speechless.
"I'm too loyal."
- Orlando's Dwight Howard during his announcement that he will remain with Orlando for at least another season.
Did he mean to say, "I'm too gutless"?
"Loyalty hahahahaha"
- Miami's Dwayne Wade on Twitter, mocking Dwight Howard.
Dead on.
"Financially, whoever pays me more will be the team that I decide to sign with."
- Milwaukee Buck and free agent to-be Erson Ilyasova.
Props for honesty.
"It's about the same. Nothing really changes. You've got to remember I have to forecast beyond what you guys see. It's OK that you guys are shortsighted; so you only see one thing at a time. That's fine. But I have to forecast beyond that. The term 'general manager' means something. It means you generally manage all of it. And that's what you kinda have to do. So I think things are going good. I think we're still having to forecast and try to put our team together not only for just this current [season] but moving forward."
- Magic GM Otis Smith, when asked if it's refreshing for him to be able to focus on basketball in general rather than the Dwight Howard situation.
Yeah, he's the master forecaster alright. Just recently he gave a washed up Jason Richardson $25 million and a knuckleheaded Glen Davis $26 million; in 2011 he took on the worst contract in the NBA in Gilbert Arenas and subsequently paid him $62 million to go away in amnesty; in 2010 he gave do nothing point guard Chris Duhon $15 million, and, took back the corpse of Hedo Turkoglu and the $40 million still remaining on his contract; and in 2007 he paid a role player (Rashard Lewis) $118 million. So yep, I real forward thinker is Otis….
"Meet me after, meet me after, I'll f*** you up."
- Portland's Joel Pryzbilla to Carlos Boozer during a game in March.
I'd pay to see that.
"I don't know what was bench-worthy about the shot, to be honest with you…I guess don't take 3's is the message. But I'm going to take some more. I just hope it's not the same result. I hope that I make it."
- The Lakers' Andrew Bynum when asked about his benching for taking an ill-advised thee-pointer against Golden State.
C'mon Drew, give it up man.
"Nah, I'm too tough for that."
- Miami's LeBron James when asked if he has ever suffered a concussion.
Poor form, LeBron.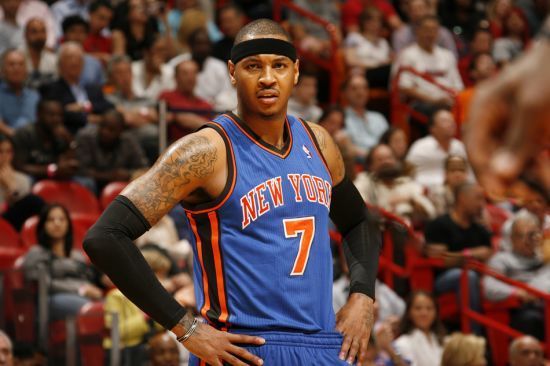 "I think in the last three games, my focus was to have an energy that I haven't had so far this season, especially on the defensive end. Everybody on this team knows, everybody in the world knows I can score the basketball. It's not that important to me."
- New York's Carmelo Anthony after their hot start under new coach Mike Woodson.
So Melo wasn't trying for D'Antoni, but he is now for Woodson? And he admits it? Good luck Knicks fans, you're going to need it with this fraud.
"He said, 'hand down, man down,' so you've got to know, got to get a hand up, that's the first thing."
- New Warrior Andrew Bogut at his introductory press conference, when asked what was said in his first conversation with head coach Mark Jackson.
Got to admit, he's a funny dude.
"It's about being professional. Not having arrogance. Respecting the media, the fans and the players. It's not an act for me. If you're nice to me, I'll be nice to you. If you're an -hole, I can be an -hole."
- Bogut again.
And tells it as it is.
"Frankly, I don't see a risk here myself. I don't. We get one of the best big men in the league. Period."
- Warrior's consultant Jerry West, on the Bogut acquisition.
The risk is his health, but he's bang on with the second part (if healthy).
"Hey, it's taken me eight years to realize that if I pass the ball outside and guys hit open shots, it helps free me up. I guess better late than never."
- Utah's Al Jefferson.
The penny finally drops.
"Losses pain me. If they want to fire me, please somebody, fire me."
- Orlando coach Stan Van Gundy.
Yeah, it shows.
"That's very nice of Jon and that also shows he's not the top analyst."
- SVG again, on ESPN analyst Jon Barry calling him Coach of the Year.
Again, classic Van Gundy.
"I like nothing about it. It's something I have to do, it's something I'm decent at and something I know how to do."
- Boston's Kevin Garnett on rebounding.
Surprising.
"It's always special to come back to true fans … But as far as that franchise, I have nothing positive to say."
- Garnett on playing in Minnesota.
Nothing positive to say? That's understandable on some levels but they did set you and your family up for life (about fifty times over) with a six-year contract extension worth $126 million. Ungrateful bugger.
"Would you jump off a bridge? It depends how high the water is (or) if there was a drowning baby in the water. I mean, because you (might) jump off in the summer, if it was warm out, (and) you know the water was deep underneath. It's all circumstantial, is the point I'm trying to make."
- New Jersey's Kris Humphries' response when asked about waiving his no-trade clause.
Er, ok….
"I told him, 'We're going to come to you. We're not going to do this play right here, we're going come to you, post you. Be strong. If they come and double, make the easy play. If they don't, do what you do."
- The Lakers' Kobe Bryant on his instructions to Andrew Bynum after a timeout before a crucial final possession against Boston. Bryant said he told Bynum to scrap the play that Mike Brown called in the huddle, to improvise a look that would find the ball in the big center's hands. Bynum subsequently delivered the winning jump hook over Kevin Garnett to provide the 97-94 final score.
Not a good look Mike Brown.
"I felt like I had a sauna on my face, like I was drinking my own sweat."
- Kobe on wearing the mask.
Nice.
"Look, we don't get five championships by being sympathetic towards each other and kissing each other's a– during the game. I'm going to demolish him. He understands that. If he switches off on me in the post, there's going to be problems. I'm sure he'll put an elbow right in my back, and that's why we love each other."
- Kobe when asked about the Lakers' upcoming game against the Thunder, and matching up against Derek Fisher.
That's the essence of Kobe.
"Jlin is covered by the blood of Christ. He's protected from the non believers in NY."
- Former Knick and current Chinese basketball legend Stephon Marbury on Twitter, on Jeremy Lin.
Yikes. He still has issues, obviously.
"He hasn't done anything to really give you a lot of faith that he's going to go out and do the job. He's gotten himself out of shape. He hasn't been as driven as you'd like so when a situation like this happens, it's time for someone to have their opportunity and get back in there."
- Minnesota coach Rick Adelman on Darko Milicic.
KAAAHHHHHHHNNNN!!!
"Roy Hibbert cannot out-celebrate me. So if they want to see some celebration when we win, I can show them some celebration."
- Chicago's Joakim Noah after the Pacers enthusiastically celebrated their win against the Bulls in Chicago.
I don't doubt him.
"Who cares? Hopefully he wants an extension this year, too."
- Mavs owner Mark Cuban, when asked what to make of the Spurs trading for Stephen Jackson.
That's actually pretty funny.
"I am not going to come back to the Suns if there isn't an improvement, if they're not ambitious, if they're not looking to upgrade the roster seriously."
- Phoenix Sun and free agent to-be Steve Nash.
And they held on to him, why? So they could sell some more tickets this year? Well, good luck selling tickets for the next 3-5 years when Nash leaves in the offseason and the team is in a shambles because they needlessly delayed their inevitable rebuild.
"I'm going to answer this as honest as I can, but I'm one of the best defensive players ever."
- The Laker's Metta World Peace, pumped up after beating Miami in LA.
Humble guy.
"I think the biggest problem has been I don't know if he has hired enough people around him who he will listen to. One thing about being famous is the people around you, you pay all their bills so they very rarely disagree with you because they want you to pick up the check. They want to fly around on your private jet so they never disagree with you. I don't think Michael has hired enough people around him who will disagree. I love Michael, but he just has not done a good job. Even though he is one of my great friends, I can't get on here and tell you he's done a great job. He has not done a great job, plain and simple."
- Charles Barkley on Michael Jordan's less than impressive run as Bobcats owner.
I wonder if he told him that to his face? Doubtful.
"And the other lowest point is when I played for the Clippers. … I just stopped liking basketball. And then you dribbling down the court and having the owner like cuss at you and call you an idiot. I didn't even look forward to coming to the games, and if the owner [Donald Sterling] came to the game, I definitely was not gonna have a good game because it was just like, how do you play when the main heckler in the gym is the owner of the team, and he's telling you how much he hates you and calling out your name?"
- Knicks' guard Baron Davis on his 'lowest NBA moment'.
He was getting paid more than enough to put up with that, but then again, Sterling is a jackass.
"When he comes back, we're going to find out very quickly where things are at. He's going to have to show us with his actions and attitude that he's in. Mark asks a fundamental question of anybody in our franchise: Are they in or are they not in? Our fans want to know that Lamar's in. Our players want to know that Lamar's in. It's not about how many points he's scoring or rebounds; those things are a factor. Our fans, our players want to see the guy playing like his pants are on fire and we haven't seen that so far and that's got to change. There is a personal issue here and we do not know the extent of it or the details of it. There is a fine line between compassion, which our owner is showing, and gross insensitivity. I'm disappointed with the way the whole thing's gone. We've worked hard with this kid. I'm a patient guy, Mark is a patient guy, Donnie is a patient guy, our team is a patent team, but patience has worn thin here. This is serious business. The business of winning NBA basketball games is serious business. This is not easy. It's not easy to win a game in the NBA. … We need people that are engaged and we need people that are into it. Our players will tell you the same thing. You ask Jason Kidd, you ask Dirk and they're going to tell you the same exact thing, and every night that you step onto the court or you step into that coaching box, it's a war and you've to got to be ready to go to war as a player and you've got to have people around you as a coach on your coaching staff, and ownership that are ready to go to battle with you and that's what we ask."
- Mavericks' coach Rick Carlisle on Lamar Odom, during his absence for personal reasons.
They're pissed off and rightly so; the guy has mailed it in.
Tags: Andrew Bogut, Carmelo Anthony, Charles Barkley, Deron Williams, Dwayne Wade, Dwight Howard, Kevin Garnett, Kobe Bryant, Lebron James, Quotes of the month, Steve Nash
« « Previous Post: A little 2012 draft analysis
» » Next Post: Let's Dance: We have a Winner!