Believe it or not, we are almost halfway through the 2011-12 season. So it's the perfect time to take stock and tackle some of the big questions on everyone's mind. How much longer can Linsanity last? How will Dwight's possible trade shape the season? Who got snubbed in the All-Star game? What will happen to Steve Nash?
We put these questions – and many more – to the NBAMate team, plus a couple of special guests. SP from Hoop Downunder is back again, and making his NBAMate debut is Shane – an old pal from the Kickz101 days and writer for the very excellent Mike or the Don blog. Enjoy.
1. No single team has been dominant thus far this season, but who is your #1 contender right now? Has it changed since your pre-season prediction?
JT: I predicted a Miami vs. Oklahoma City final, with OKC coming out on top. I stand by my finals prediction but I think it could go either way. The Maynor injury will hurt the Thunder in a seven-game series, and I am still not convinced LeBron will show up in crunch time, so both teams are vulnerable to a degree. But if my life depended on it and I had to chose, I'd switch to Miami.
SP: Miami . With the condensed schedule teams have had to deal with this season, it was pretty unlikely that any team would come firing out the gates, but Miami have shown that on a good day they are unbeatable, and I'm still positive that we will see LeBron kick it in to another gear come playoff time.
Ash: Nope, I still think Miami's got this. Chicago rely too much on D-Rose, OKC are still prone to melting down at bad times (see last week's game against Sacramento) and the Clippers don't play hard often enough.
Shane: I still consider Miami the team to beat, with OKC a close second. Not sold yet on the Bulls. The supernatural talent of LeBron keeps Miami on top. I think and OKC/MIA finals would be stellar, but OKC need one more piece in my opinion.
RobD: It's still Miami for me. They're like last year's squad but better and they'll storm to the Finals once again. I just fail to believe LeBron can lay another turd like he did last Finals, and I think the improvements we've seen in his game this year (more scoring in the post, less threes) mean he'll be better equipped come crunch time.
2. Which team has been the biggest surprise so far in 2011-12?
JT: Minnesota. Kevin Love's elite, Ricky Rubio's the real deal and Rick Adelman is one of the best coaches in the NBA. If they can turn their (many) spare parts into a respectable front line, its playoffs here we come.
SP: Houston. They are consistently a mediocre team in the West. They usually fall somewhere between 6th and 10th, and so far they are on pace to do that once again. But for the first time in quite a while, I was actually expecting that the Rockets wouldn't be in the hunt for a playoff spot at the halfway mark of the season. They lost Chuck Hayes, which took away their only inside presence on the defensive end, and they didn't do anything to clear up their backlog at the 3 spot, however they've once again found a way to stay competitive.
Ash: I'd say the Sixers but I knew that teams like them – deep, young and tough defensively – would thrive this year. So I gotta say the Spurs. Every year I think this is the season where they fall away and every year I'm wrong.
Shane: The answer has to be Philli, right? We knew Minnesota would be fun, but still end up towards the tail of the West. But I don't think anyone saw Philli coming. Their commitment to defence has come from nowhere, and although I don't think they're contenders, they're certainly turning heads.
RobD: The 76'ers. I thought they'd be good, but not this good. It's entirely plausible they end up with home court in the first round and no one predicted that. A bit less surprising but worth mentioning is the Spurs – they've been phenomenal the last few weeks and I didn't expect them to be sitting 2nd in the West at this point. Nine-straight wins in this super-compressed season is an incredible feat.
3. Which team has been the most disappointing so far in 2011-12?
JT: Detroit. Not because it was unexpected, I knew they'd be lousy, but because of how they're going about it. They stink, and it's clear to anyone with a brain that they need to rebuild, yet they persist in playing their flawed veterans. I cannot believe they've been starting Prince and Wallace (over Jerebko), two starters from their 2004 Championship team. It would be different if the team was good, but they're not, and they've been in a bad way for three years now. Joe Dumars has royally screwed them the last few years, and sadly there appears to be no one present in the organisation that's capable or willing to make the right decisions (i.e. getting rid of Joe). Robd, I feel for ya.
SP: Minnesota. I was hoping when my Hornets landed Minnesota's unprotected 2012 first round pick, it would be a top five at least, and they've been a disappointingly above average ball club.
Ash: The Nets. I thought that Deron would make them a playoff contender. Instead it looks like he has one eye on Dallas (possibly with Dwight) and their momentary hope for a big 2 is dashed. I would have said the Knicks pre-Linsanity.
Shane: I won't answer your question as much as defend my beloved Celtics, who will no doubt be considered 'most disappointing' by many people based purely on their current record. But we've turned the corner folks. Just you watch.
RobD: For me personally, the Pistons. They've shown glimpses and beaten some good teams (Orlando, Portland and recently Boston), but they're just painful to watch and it's really hard to see the light at the end of the tunnel. That said, Greg Munroe has been brilliant and would be getting far more credit on a decent team. He's averaging 16-10 on 53% shooting without being the focal point of the offense (and with all due respect to Lawrence Frank I don't know what the Pistons focal point on offense is) and should be putting up 20-12. At the end of the season the focus has to be building around this guy. It's the one little thing I have to be excited about as a Pistons fan these days.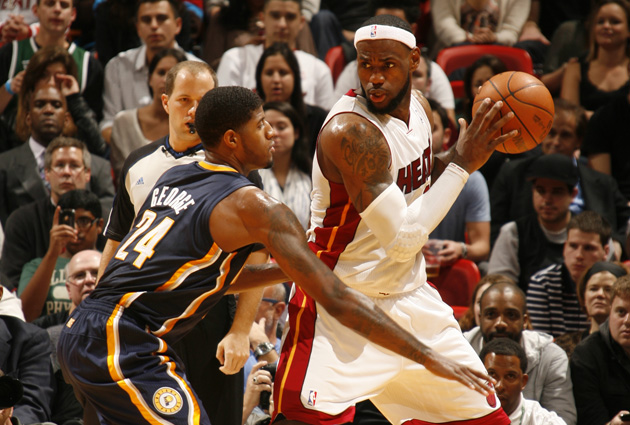 4. Who's been the MVP of the East and West so far this season?
JT: East: D-Rose, West: CP3
SP: East – LeBron James. West – Chris Paul.
Ash: LeBron in the East, Kobe in the West. My two most hated players in the league, but gotta give credit where its due. Kobe is carrying that average Lakers team in a way even he's never done before. LeBron is averaging a 28/8/7 season for the East's #2  seed.
Shane: East – LeBron James. West – Chris Paul. I've picked these two for slightly different reasons. LeBron because his current averages look like they've come from a video game, and Chris Paul because he takes the Clippers to the next level, making him 'most valuable' personified.
RobD: East – Jeremy Lin. Just kidding, it's LeBron. I had a few people writing to me earlier in the week telling me I was crazy for saying Wade could destroy Lebron's MVP chances. But I also had a Miami fan tell me the complete opposite – that Lebron can never win MVP with Wade playing at or near his best. Can you win MVP when your teammate is the 2nd or 3rd best player in the league? Will that play on the minds of MVP voters? It shouldn't, but these types of things invariable do when it comes to MVP voting.
Out West it's Chris Paul as long as the Clippers can stay near the top of the table. Durant is subtlety having a career-best season but unless the Thunder finish with the league's best record I don't think he has a compelling enough argument. Kobe is still second to CP3 in my opinion because the Lakers are actually far worse than everyone thinks (as Hollinger spectacularly proved) so he deserves cred for leading them to a respectable 17-12 record.
5. The Dwight Saga is still the biggest story of this season. Will his pending trade (if it happens) drastically shape the outcome of the 2011-12 season?
JT: No. I think it's pretty clear what's going to happen with Dwight. He will either be (a) traded to LA before the deadline, which will gut their team to get him, (b) traded to the Nets before the deadline, and ditto on the gutting, or (c) the Magic foolishly hang on to him for the remainder of the season, and then he (together with D-Will) signs with either the Nets or Mavericks in free agency. Neither scenario will shape the outcome of this season.
SP: Yes, but only if he ends up in Los Angeles (Clippers or Lakers). Either team will improve dramatically if they can land Howard at the right price. The Lakers will have the most powerful front court in the league if they can do a straight up swap of Bynum for Howard. And if the Clippers dare to move Griffin and Jordan for Howard and some throw in's they'll have one of the greatest pick and roll's in the history of the NBA.
Ash: Honestly my guess is that Otis Smith tries to ride the season out and hopes  Dwight  doesn't walk away from the extra $30 million. Is it a smart strategy? No, but Otis Smith is not a smart GM. He'll play out the season, get knocked out in the first or second round of the playoffs and go wherever Deron goes.  The only way I see this changing is if the Bulls offer Orlando everyone on their roster except D-Rose. I don't think that's gonna happen.
Shane: If it happens, sure. And I think it will. Otis Smith has to accept 60 cents on the dollar for Dwight, or he'll end up with empty pockets. Where is he going? I'm not brave enough to say…
RobD: Yes, but only if he goes to the Lakers and they manage to keep Gasol. That would be incredibly unfair and give the Lakers the best Big 3 in the league. Any other trade will overly deplete Howard's destination team and make them irrelevant when it comes to the 2012 title chase.
6. Bogut's injury was heartbreaking for all Aussies and NBA fans alike. What does the future hold for Bogey? Will he ever maintain "elite" status in this league?
JT: A trade to a non-joke of a franchise would help. He's only 27 years-old so I am confident he'll return to form and be a top-five center in the NBA. But if I were him I'd start pulling strings to force my way out of Milwaukee, before Brandon Jennings departs and leaves a train wreck in his wake.
SP: I don't think Bogut was ever set up to be an NBA superstar, but with the lack of dominant big's in the league, whenever he's healthy I'd consider him an elite Center in the NBA, so if he can find himself in good health for an extended period of time there's little doubt that he'll become an elite big once again.
Ash: Will he be elite? It hurts to say it, but if you define "elite" as top-15 or top-20 in the league, that ship has probably sailed for the Bogeyman. However, I do think he'll come back from this and continue to have a solid career, make a few All-NBA teams and possibly get an All-Star nod in a year weak for centers (remember, Chris Kaman was an All-Star a few years back).
Shane: I think Bogut can return as a top centre. Will he ever maintain "elite" status? Only if he's traded. Bogut will remain an elite defender, and can be an elite second-option… but it has to be someone better than Brandon Jennings in the Alpha role on offence. And so I ask this question on behalf of all Australians: Mr Skiles… you have a genuine post threat who possesses solid passing skills and great footwork… why do you run your offense through a glorified streetballer with the world's streakiest jumpshot?
RobD: A lot of people might say Bogut needs a new team and a fresh start to really get the appreciation and respect he deserves. But I disagree. What he really needs is his health and to put together a couple of 80-game seasons in a row. He made All-NBA Third Team in 2010 (arguably should have been Second Team) and was the block-leader last season. He was universally recognized as the league's second best big man, and this was all playing in a small-market Bucks team who has been average at best the last two seasons. Once he regains his health I have no doubt Bogey can get back to being an Top 3 center in this league, and I'd love to see him do it in Milwaukee and put them back in playoff contention. Because that is really how you earn respect and admiration in this league.
7. How much longer can Lin-sanity continue? Will he establish himself as a permanent starting-calibre player, or is he a one-hit wonder?
JT: I am a skeptic by nature but it's hard, if not impossible, to ignore the evidence; the 'yellow mamba' appears to be a legit starting-calibre point guard. He's got game, no doubt about it. Can he maintain it? Probably not at this level (who could?) but all indications are he's going to really help this team going forward. And boy, is he going to get paid this offseason.
SP: He's definitely not a one-hit wonder because he's already had several hits. But I doubt he'll be able to play with the same level of confidence for the rest of his career. He's never going to be an all-star calibre player but he's already earned his stripes as an NBA starter.
Ash: I'm writing about Linsanity once I get home tonight so I'll leave it for that.
Shane: I haven't seen Lin play yet, so I can't really comment. I will say this: Carmelo Anthony's return will be absolutely, undeniably fascinating. The ego is a funny thing.
Robd: He has already way exceeded any kind of fluke-streak you could imagine, so now we have to accept the fact that this guy is just a really solid baller. He won't need to put up crazy numbers once Melo returns, but everything I've seen of Lin is proof that he's a deserved starting PG in this league. He has great court vision, unselfishness, incredible poise, huge balls, and a very humble attitude – you can't ask for anything more and you certainly don't fluke those things for 7-games straight with all that pressure and expectations.  My buddy Tom (who's a Knicks fan) summed it up perfectly when he SMS'd me earlier in the week:
Has anyone ever done anything like this? He's gone from being a fringe player that didn't get playing time, to randomly starting, putting up star numbers and carrying a team to a 7-game winning streak without their 2 best players. It's crazy!
Crazy it is. I'm wrapped for Lin and the Knicks. It's one of the most amazing NBA stories I've seen in my life and I'm not sure I'll ever see anything like it again.
8.  Most trade discussions have focused on Dwight lately (rightly so), but what former two-time MVP Steve Nash? Will the Suns trade him? And what is the best outcome for Steve at this point of his career?
JT: If they don't trade him now they will lose him in free agency at the end of the season, so to me it makes zero sense to hang on to him (which they've indicated is the preferred option). He's an icon, sure, and still playing at a high level, but it's downright negligent to keep him for sentimental reasons when you are a lottery team that's headed for hard times. But really, that's why the Suns are where they are – incompetence.
SP: If any team is willing to take on Nash in exchange for draft picks and prospects than Phoenix should pull the trigger, but there's no point in trying to bring in assets to help the Suns 'compete' because their hopes of winning in the early days of the post-Nash era are slim.
Ash:  The best outcome for Nash at this stage is a trade to a contender. However, it's not gonna happen. Nash will play this year out and go sign with New York or Miami next year  to make a title run. He's not going to ask for a trade now and the Suns won't give him one.
Shane: Free Steve Nash! I know Dallas, Miami, Lakers etc all offer Nash instant title hopes… but I'm super intruiged by Memphis. Imagine what Nash could do with his unteachable distribution abilities and the likes of Mayo, Gay, Randolph and Gasol (depending on who'd be left after the trade chips land). I want this to happen. I don't think it will.
RobD: Phoenix should do Nash and all NBA fans a service by trading the guy to a contender. And it's not like they wouldn't get decent value in a trade, given how good Nash has been this season. Unfortunately Steve Nash is too nice a guy to ask for a trade (even though no one would hold it  against him) so I really won't be surprised when the Suns hang on to him until the end of the season. I just hope he doesn't go to Miami because then I would be forced to root for a team I don't want to root for.
9. Let's talk All-Stars. Who's your biggest snub? And who's your most un-deserving All-Star selection?
JT: Biggest snub: Tyson Chandler/Rajon Rondo, Un-deserving: Melo, Roy Hibbert.
SP: Biggest snub: Rondo – Still an elite player in this league who hasn't had any recognition through the first half of the season for carrying an ageing Celtics squad on his back and keeping them in the hunt.
Undeserving All-Star: Iguodala – The best player on an overachieving to me doesn't warrant an All-Star selection.
Ash: I have to say Monta Ellis here. I'm well aware of his flaws, but this is the All-Star game. Name me 10 more exciting players to watch than Monta in full flight. And I'm not just fanboying here. What more does he have to do to get picked? Also, how the hell did Dirk Nowitzki get selected when HE himself said he wasn't worthy of it?
Shane: I don't think there's been a snub this year, really. Rondo would've been a snub had he played more games, but overall it was actually pretty on-the-mark. My most undeserving? Blake Griffin. Don't get me wrong, he deserves a spot, but not starting ahead of Kevin Love or (especially) LaMarcus Aldridge.
RobD: Rajon Rondo is an All-Star in this league, there's just no question about it. He was snubbed. As for undeserving selection, I'm going with Joe Johnson. This was a real token selection in my opinion, based on Atlanta's record. Joe's output has dipped this season allowing his teammates to contribute more, which is the real reason Atlanta is where they are in the standings. Both Horford and J-Smith are having better seasons.
10. Gilbert Arenas or JR Smith – who makes the bigger impact and where do they go?
JT: The Lakers are anaemic offensively behind their Big 3, so they should take a flyer on Arenas. For J.R. Smith the options appear to be many (which surprises me; alot of teams must have selective memory), but he would be wise to choose the Clippers, who will go deep in to the playoffs and don't have a shooting guard on their roster. With Rip Hamilton's struggles (which wasn't hard to predict mind you, because he's ancient), Chicago should take a serious look because they're in desperate need of his skill set (shot-creator) to support Rose. But they won't. And I don't understand this New York talk. Correct me if I am wrong, but don't they already have the league's biggest ball-stopper causing problems on their team? Adding a headcase like Smith to the mix, who has never seen a shot he didn't like, is illogical. At some point, character must be an issue, especially on an erratic team like this one. To answer the question, Smith makes the bigger impact.
SP: JR Smith to LAC. Arenas to LAL. Gilbert has a broken body now and his confidence must be shattered after being tagged overpaid and overrated for the past two years and being amnestied at the start of this season. JR is still healthy and if he's in the right situation he could be a huge part of a playoff run.
Ash: Gilbert to the Lakers, JR to the Clippers. JR will make the biggest impact because, even if he's a little nuts (at least we know now it runs in the family) on any given night he can catch fire and single-handedly win you a game. Gilbert is pretty much done as an effective NBA force.
Shane: Wherever Gilbert goes, he'll end up at the end of the bench. He's washed up. JR Smith could have a huge impact, and rumblings that he's going to the Clippers have me excited and worried in equal measure. Excited because with the right PG (And Chris Paul is EVERYONE'S 'right' PG) and the right coach (*cue awkward silence*) he could average 18ppg and get three or four open threes a game. That also has me worried because it would take the Clippers into the truly undeniably elite level of NBA teams… and that makes the road to the title that much tougher for my Celtics!
RobD: Arenas still intrigues me because I refuse to believe someone as talented as he was can lose all the talent in two years, while still only being 30 years old. This isn't like an old washed-up Allen Iverson trying to make a comeback. If Arenas is committed and fit, he is a huge X-factor because no one really knows what he's capable of – potentially a lot. I don't think the Lakers will gamble on this because they need help at other positions on the floor. So I've really got no idea where he goes.
JR has always been a spark-plug off the bench, albeit an unstable one. I think he'll go to the Clippers and they'll hope Chris Paul's influence can set his head straight. He will win one or two playoff games through crazy streak shooting, but he will also probably cost the Clippers a game or two by being a complete dickhead. That's what you get with JR.
Tags: All-Star Game, Andrew Bogut, Dwight Howard, Gilbert Arenas, Jeremy Lin, JR Smith, Miami Heat, roundtable, Steve Nash
« « Previous Post: Whats Doin: Mo Williams has lost the plot
» » Next Post: Let's Dance: Southwest Division