Cam is the newest writer to hit the pine for NBAMate. He is a player, analyst and enthusiastic follower of the game. When he stopped growing at 6'1" in primary school, Cam realised he wasn't going to get drafted and instead, started writing on the game. Check out his website cameronlarkin.com and follow him on Twitter @CamLarkin.

This is not a photo of Cam
The Aussie Roundup is back folks. While Patty Mills and Nathan Jawai don't dominate NBA headlines like they used to, there's always plenty happening with Aussies in the world of basketball. Cam is your guide to those happenings.
Bogometer Shut Down
Andrew Bogut's season appears to be over. He could be back between late March to late April, but if you're Milwaukee would you activate the big man with just a handful of games left to play?  The Bucks have played like a rollercoaster since Bogut injured his ankle against the Rockets. With a Cleveland trip ahead of them, the Bucks in this current run have suffered losses to the Bulls twice, the Pistons and Suns however they were good enough to claim the scalps of the Los Angeles Lakers and the James led heat.
Something to watch out for is a possible trade between the Bucks and an Orlando Magic organisation that continually hears trade talk revolving around their star big man Dwight Howard. More to follow here.

Irving on Fire
Melbourne born Cleveland Cavs rookie Kyrie Irving continue to put up very good numbers and is fast becoming a game winner. In the Cavs 88-87 win over Boston, the one-and-done PG out of Duke was instrumental in the 12-0 final run. With 2.6 seconds to go, Irving scored two of his 26 points with a layup to snap the Celtics' four game win streak.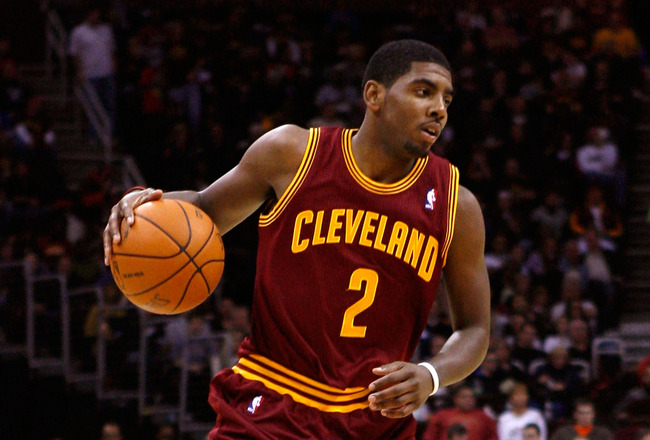 Irving came out several days later and again dropped a late game layup when the Dallas Mavericks came to town.  The Mavs were unable to stop the 19-year old with 15.8 seconds left on the clock – a big play that impressed Dallas G Delonte West, "Big players make big plays … Irving made some big plays down the stretch."
Irving is averaging 18.1 ppg, 5.0 apg, 3.4 rpg and has a PER of 22.15. Consider this … Derrick Rose had a 16.05 PER as a rookie. Irving is playing big.
College Scene
In the college system, we have a plethora of Aussies playing ball. Angus Brandt has scored double figures against Washington State, Washington, Chicago State, a high of 21 against Howard, 14 against Texas and 13 when his Oregon State took on West Alabama. I liked Brandt's game against Texas. In addition to dropping 14 points from 4-6 shooting including 3-4 from the three-point line, three boards, two assists, one block and one steal. Brandt is averaging 9.0 ppg, 3.4 rpg and 1.4 apg.
The Saint Mary's Gaels are on a 12 game win streak and only one of those games (v Portland) has Matthew Dellavedova not scored 10 or more points. Dellavedova and the Gaels go up against the 18-4 Gonzaga unit on Friday.
As the Gaels are running hot, Anthony Drmic's Boise State Broncos are very, very cold – 8 game losing streak. Drmic has had some solid games however his shooting has been only just a little warmer than the Bronco's play.
In the weak Horizon League, Ryan Broekhoff is starring for the Valparaiso Crusaders. On February 2, 6'7'' junior from Frankston scored 26 against Detroit in the 78-73 win. Broekhoff is just shy of averaging a double-double.
Tags: Andrew Bogut, Aussie Roundup, Kyrie Irving
« « Previous Post: Whats Doin: Where does Darko stash his cash?
» » Next Post: Let's Dance: Pacific Division