I know, it's a little early. But with most teams having played 8 or more games, it's enough of a sample size to get a feel for who will be the true contenders this season, and which teams are just making up the numbers.
The Contenders
1. Miami Heat – They couldn't have played their first 9 games any better, given how much court time their stars have missed. The triple-OT win against Atlanta was the gutsiest Heat win I've seen since the Big Three formed, and "gutsy" is not a word we would have used to described Miami last season. You can see it – the Heat are now trying to prove to themselves how good they can be, instead of worrying about proving it to the rest of the basketball world.
Lebron has been off the charts, even for him, and seems to have sacrificed a bit of ego and flair for the kind of high-percentage game opposition teams feared he would figure out one day. What's a little disturbing though is that despite Lebron single-handedly trying to explode the PER machine, the Heat needed his superhuman efforts to get over the line in close wins against the Bobcats and T-Wolves. So they're number 1 on the Contenders list, but they're not way out in front by any means.
2. Oklahoma City Thunder – Had them third on my list until they pulled off the three wins in three nights, proving that young teams like OKC can and will exploit this tighter schedule to their advantage. Despite some early season rumblings with the Durant-Westbrook feud (which was vastly exaggerated I might add), they now look like the team many predicted to go all the way in 2011-12.
You get the feeling they still haven't got the right balance offensively; Westbrook still tending to over-shoot, Durant shooting the least since he has in his rookie season, and Ibaka and Collison needing more ball in the post. But they have the whole season to figure that out and I think they will. Also keep an eye on Durant's career-high assist numbers – I've been imploring KD to become more of a playmaker over the last couple of seasons, and that near triple-double against San Antonio seems to show he's turning that corner. No reason a guy as talented as he is should have a sub 3-assist career average (which he currently does at 2.7).
3. Chicago Bulls – Opened the season with a statement game against LA and looked unbeatable during a 6-game streak before falling to the giant-killing Hawks. Two things prove to me this team is undeniable contender material: 1) Their league-best defense (ok the 76'ers have statistically been better but let's wait and see till they beat a good team, ok?) and 2) The fact that 5 of their 8 wins have been on the road, and any good playoff team needs to win on the road.
Despite his incredible start, you could argue Derrick Rose has been merely "average" over the past week or so, highlighted (or rather low-lighted) by his 8-point, 6-assist night against the Hawks. His shooting especially has been sub-par (he's shooting only 39% over his last 5 games), but Rose is still an MVP candidate and I'm sure we'll quickly forget this little dry patch once he gets going again.
4. Portland Trailblazers – Really hard to pencil in the 4th team on the list – the Hawks, Spurs and Nuggets all deserve to be this high. But the Blazers have been the most impressive of the lot in my opinion, given the quality of the opposition they've beaten, and the solid contributions they're getting across the board. No one expected this motley crew to pull together the way they have, a real credit to Coach McMillan.
LeMarcus Aldridge is continuing his MVP-like form from last season. Wesley Matthews has been rock solid as has Raymond Felton – go and watch how they played against Denver, they looked like an All-Star backcourt I tells you. Gerald Wallace is quietly playing the most efficient ball of his career and hasn't slowed down in the way I expected he would in his 12th season. Jamal Crawford has been the pick-up of the season and is doing Jamal Crawford things (you know, shooting too much, getting really hot for short periods of time, nailing long threes that aren't necessary, etc). The only issue with the Blazers for me is that they're not as deep as you think they are, and after their 7th best player (probably Camby) there's a steep drop-off. So I don't think they'll be on this list in a month, but I'd love them to prove me wrong.
5. Atlanta Hawks – I wasn't expecting much of the Atlanta Hawks coming into this season. My reasoning was that Joe Johnson is on the decline, Jeff Teague probably wasn't ready to be a starting point guard in this league, and pieces like Radmanovic, T-Mac and Willie Green would turn out to great disappointments (T-Mac most of all). How I was proved wrong. Teague has not only stepped into the starting five but is serving to make Kirk Hinrich completely redundant. He's getting Joe, Josh, Al and Marvin their shots and together they are – by far – the most offensively potent starting 5 in the NBA (go check the the 5-man +/- splits).
What's more, guys like Radman and T-Mac are actually contributing, and unlike the Blazers above, the Hawks truly do go 10-deep with their roster. So far this has meant the starters don't have to log heavy minutes and with the compressed schedule, the Hawks balance might serve them well come playoff time.
On the Cusp
Orlando Magic – Looks like I read a little too much into their first game of the season, because Orlando have bounced back and look more like the team that was a title threat the last few years. Somehow, inexplicably, Ryan Anderson has become their leading offensive player which contradicts almost everything I know about basketball. But when you think about it, what he's doing is not dissimilar to what Rashard Lewis did for that team back in 08-09. And that season turned out pretty damn well for the Magic. It surprises me they're here, but I expect them to enter a lull period very soon once Anderson comes back down to earth.
San Antonio Spurs – You always gotta respect the Spurs, and they always start strong despite most people thinking they're over the hill (which has been the last three seasons). The reason for their surprising early surge this year was partly the dynamic play of Manu Ginobili (really an amazing patch of form for Manu, albeit brief), and partly the youth movement of Blair, Neal and guys I've never heard of like Daniel Green, Kawhi Leonard and James Anderson. To the Spurs credit, they always seem to find good role players that can step in and contribute alongside their Big 3.
But as always the case, their success will hinge on the health of Duncan, Ginobili and Parker. Manu's injury just kills them because neither Duncan nor Parker can dominate like they used to. Some people will look at their record and romanticize that the Spurs have one run left in them. But realistically, the last proper run they had was in 2008 and they weren't even close to beating the Lakers in that series. I only keep them On the Cusp out of respect.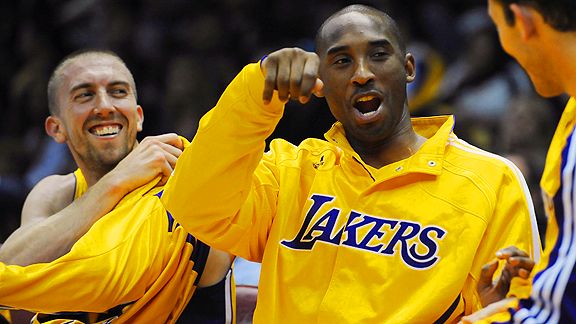 Los Angeles Lakers – It's hard to get a read on this team. They have played nowhere near their potential, but you can forgive them given the new coach and system they're trying to learn. Kobe's "over-shooting" dramas were typically over-analysed and sensationalized (like everything Kobe does), because the fact is he's still playing at an elite level averaging 27-6-6 with a shooting percentage only 1% less than his career average. The problem is, Kobe shouldn't have to be playing at this level with the teammates he has, given the wrist injury he's playing through. Sure it's heroic and admirable to an extent, but it's just not sustainable and if Kobe was ever going to "burn out" at any stage of his career, it will be this season if the Lakers keep playing this way.
But of all the teams on the Cusp, the Lakers are the only ones I can see being a legitimate title threat come June. When Mike Brown finds that right line up (seems like Matt Barnes is part of the answer) and Kobe starts picking and choosing his spots better (which he has done over the past few games), the Lakers will be dangerous. Right now they're a bit of a mystery though.
Pretenders… for now
Denver Nuggets – A true sum-of-their-parts team that is tough, deep, has a good mix of experience and youth, and also has no hope of getting out of the first round. Sorry, but there's just no go-to guy on that team or someone getting enough superstar calls for them to be a real threat come April/May. As a Pistons fan that in itself reminds me of our team circa 2004-2007, but we had the DPOY and at least two other legit All-Stars. This Denver team barely has one. Which makes them one of the most fascinating teams in the league this season.
Indiana Pacers – Looks like Ash was pretty spot on with his preseason predictions on the Pacers. They have bolted out of the gates to start 6-3, including a quality win over Boston. But they also lost to Detroit, so go figure. They continue to grow as a team despite Danny Granger playing nowhere near the level I thought he could/should. Oh, and Roy Hibbert is an absolute stud. By the end of the season he might prove to be their #1 guy.
Philadelphia 76'ers – It might be harsh putting them in the Pretenders group given how they've whooped the competition so far. But upon closer inspection that competition hasn't been very good, so I think their record appears a little inflated right now. Still, you gotta hand it to Doug Collins. This is another one of those true underdog teams that is getting it done with a balanced offense (no one is averaging more than 17ppg), a real commitment to defense (least points against in the league), and tough no-frills basketball. In that sense they're in the same category as Indiana, Atlanta, Denver and Portland, but its really hard to get a gauge on this team until they come up against some quality opposition. Another fascinating team to watch in 2011-12.
Tags: Atlanta Hawks, Chicago Bulls, contenders, Denver Nuggets, Indiana Pacers, Los Angeles Lakers, Miami Heat, Oklahoma City Thunder, Orlando Magic, Philadelphia 76'ers, Portland Trailblazers, pretenders, San Antonio Spurs
« « Previous Post: Channel Ten – Let em' have it!
» » Next Post: He's Back!