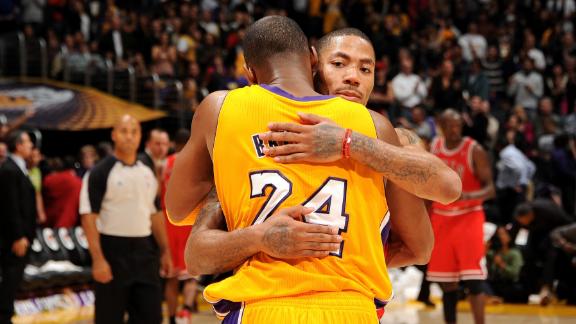 Note: This post was written last night after the first days' play.
Since the beginning of time, every season without fail, I've been posting up my "Things I Learnt from Day 1″ – a brief run down on the biggest stories and themes coming out of the season's opening games. But this year, thanks to the lock-out the first day of the season also falls on Christmas Day, and since the beginning of time we've also been doing our "What Kobe got for Christmas" post. So I was forced to throw one of those out the window and we're running with the Kobe theme. Why? Because no matter how old he is or what changes around him, Kobe Bryant never fails to make a good story.
As a bit of a recap first, I'll admit I didn't wake up early enough to catch the Heat v Mavericks – and man was I glad I didn't. Despite a few highlight reel plays and surprising Lebron James post moves (surely this isn't the season he finally does this?), I'll take three hours of quality sleep over watching the Heat ruthlessly bury the Mavs in a 35-point hole, a shadow of the team that won the championship barely six months ago. I didn't see it, so I won't comment, but everything I predicted in our season preview post is certainly on track – Heat winning it all, Mavs failing to make the playoffs (yes I know, early days yet).
The Thunder v Magic game was hardly less of a snore-fest. Don't get me wrong, it was great to see Durant and Westbrook and Harden on the big screen again. They looked like they've picked up exactly where they left off last season, which is kind of what we all expected. The Magic on the other hand were woeful. Actually that's a tad harsh. The best word I could use to describe them, is "tired", which is really really worrying in the season opening game. They look like a team going through the motions, especially Dwight. A team that has tried all this before, the same old formula (guys standing on the perimeter shooting around Dwight), a team stubbornly stuck in their ways when everyone else has moved on. Of course, so much of that is due to their personnel and Stan Van Gundy trying to extract as much as he can out of them. But come on, when Ryan Anderson takes five more shots than Dwight Howard, in what is supposed to be a defining season opening game, you know you're completely fucked.
And on Dwight, I'm telling you, he's checked out. Although just like Kobe in early '07, he's too good for you to really know he's checked out. Dwight got his DPOY numbers today (15 rebounds, 2 blocks), but he looked completely disinterested. For a second there, at the end of the first quarter when Dwight threw up a 55-foot attempt at the buzzer, I thought I was watching an exhibition game. Dwight looked like he didn't care. About the result, about his stats, about everything. "I'm kinda bored with this team so let's see if I can't drain a half-court shot". I'm probably reading too much into this, but I like to think I'm a pretty good reader of body language, especially of the guys I see play a lot. Dwight looked disconnected out there today. I'm not a Magic fan, or a Nets or Mavs or Lakers fan, but damn, I really hope this trade happens soon so I don't have to see Dwight like this.
Bulls v Lakers was the game I was hanging out for most. Partly to watch old-man Kobe and see how he would respond to the injury and the question marks about his team. Partly to see how the new-look Lakers would fit in (very well, I might add, but more on them later). But most of all, to see how the Chicago Bulls and Derrick Rose would respond after their disappointing exit (remember, a 5-game sweep) from last year's Eastern Conference Finals. And man, did this game deliver on all those fronts.
Firstly, Derrick Rose. For much of this game, I thought he was playing within himself. Playing a bit passively, trying to get his teammates involved and let them find rhythm early in the season. The right approach, I might add. Then, he started nailing treys, 4 of them to be exact, in a deadly exhibition of efficient long-range shooting. This is a part of his game we knew Rose could improve. Already deadly off the dribble, adding a reliable three-point shot would would make him an offensive nightmare to match up, and I might add something that Rose didn't really need to do. Derrick Rose could have played the rest of his NBA career as a low 30′s three-point shooter and still be a Hall of Fame player. Guards with his speed, athleticism and finishing skills don't need to be great three shooters. Point in case is Mr. Dwyane Wade, who has been shooting threes around the 30% mark for the last five years, and at this point of his career seems destined to be remembered as an "average" three shooter at best.
But Derrick Rose has already shown a terrific commitment to improving this element of his game, his 3PT percentages rising from 22% to 27% to 33% over the past three seasons. Another steady jump in 2011-12 would be scary, and watching him today against the Lakers it seems like he's ready to take that jump. It wasn't just his numbers, it was the confidence in his shot. He stepped into threes from 27, 28-feet from the basket today. These were deliberately fired bullets, not bail-out late in the shot-clock threes or "heck I'll shoot because I'm open" threes. Derrick Rose wants to hurt you from long range this season, and it was just one of the reasons he was able to score 22 points while only taking 13 shots today. A worthy MVP-performance.
I won't even talk about the ways he effortlessly got his teammates involved today, because that is what we come to expect from D Rose. But I will talk a little about that Bulls defense. It is, still, the best team defense in the NBA without question. Over the last three minutes of this game, they completely suffocated the Lakers in a manner that reminded me fondly of my Pistons back in '04-'06. Perfect defensive execution on every possession. The way they played the in-bounds, when Gasol fumbled Kobe's pressured pass – perfect. The way they played Kobe on that final possession, sending help and playing for the block rather than tentatively defending (as so often happens on a last-second shot) – perfect. Luol Deng should be commended for that block, because I can't think of anyone else in the league right now who would have made it, without fouling (and to keep the analogy going, Tayshaun Prince is the only guy who makes that block 5 years ago).
It's clear to me that these Bulls get a kick out of playing great defense. When Kobe's blocked shot sailed out of bounds and the buzzer sounded, they jumped up and down and started shouting ecstatically. Rightly so. But I think right there, you're seeing just as much the Bulls' pride in defense, in successfully completely their negating assignment, as much as you're seeing their content with the win. Tom Thibodeau has bred a culture where not only is defense rewarded, but where it is actually the motivating force that binds this team. This is why the Bulls will be contenders yet again this season, despite not being the popular pick for the championship, just as my Pistons were for about five straight years last decade.
Before we get onto Kobe, a couple of quick words on the new/young Lakers. I thought Josh McRebound was great, and he'll help make up for some of Gasol's softness from time to time. With more confidence, I think he can become a poor man's Horace Grant for this Lakers team. Devin Ebanks and Andrew Goudelock were both very impressive, shooting the ball well and playing with confidence beyond their years. With Steve Blake also nailing a couple of treys, the Lakers almost looked like they had a decent outisde threat which is something their offense has been missing since… well, since Fox, Fisher, Rice and Horry graced the floor together. Troy Murphy looked in really good shape, and as the season goes on I think he will become very handy for them.
All up, it was a very encouraging performance from this new-look Lakers side. In a game where I thought Kobe would be tempted to take over given the absence of Bynum and so many more shots floating around without Lamar. But instead Kobe played a fairly controlled game and as a result, the Lakers got legitimate offense from another 3-5 players on this night. Can they contend with this team? With a healthy Bynum, of course they can, but I don't think you can yet predict what the right mix is for this Lakers team. Should Artest come off the bench? Should Kobe maybe start at 3 allowing Ebanks to speed up their aging back-court? Or does Steve Blake take Fisher's starting spot? People have been quick to dismiss the Lakers this preseason, but somewhere in this roster I believe there is still a team to compete for the title.
Last but not least, we come to the Mamba. Nursing a wrist injury, Kobe started gingerly but once his short started falling he looked no different to the Kobe of last season, or the season before. Well, apart from all the turnovers. But I'm sure people will forget everything that happened for the first 47 minutes of this game, instead choosing to focus on the last minute Lakers collapse, culminating in Kobe's last-second shot that was blocked by Deng which could have given the Lakers the win. Nevermind the fact that Derrick Rose made an incredibly difficult floater a few seconds before (really, a shot that was much much harder than it looked). It will all be about Kobe, as it always is.
Did he make the wrong decision on that last play? I was shocked actually, that he didn't pull up for the jump shot. Every other famous Kobe buzzer-beater ends that way. Add to that his aging legs and I'm even more perplexed he didn't settle for a J. And by choosing to take it to the rim, drawing the second and third defender, Kobe made me think that just for a moment, albeit a very fleeting moment,  that he was planning to dish to Fisher in the corner or across court to Steve Blake on the perimeter. Neither of those things happened of course and he was cleanly rejected.
Was I surprised? Of course not. You always know what you're going to get with Kobe. You live by the Kobe or die by the Kobe. Phil Jackson, and now it seems Mike Brown too, will put the ball in the hands of their best player and roll the dice. Statistically some have proven this formula doesn't work very well. Others will rightly point out that this formula has been good enough for five championships, two in the last three years. But I just couldn't help but smile when the buzzer did sound today, because despite all the question marks and personnel changes and injuries and new coaches and divorces… it's good to know some things never change.
Kobe is still Kobe. And for that reason, it was a good Christmas for everyone.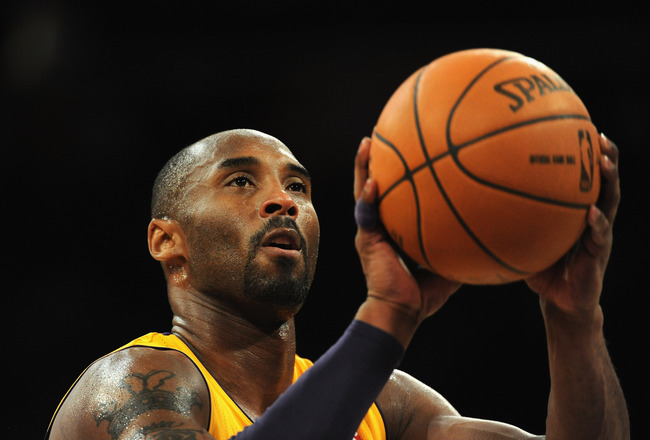 Tags: Chicago Bulls, Christmas, Derrick Rose, Dwight Howard, Kobe Bryant, Los Angeles Lakers
« « Previous Post: Post-Lockout Doozies: Part 3
» » Next Post: 7 Thoughts From The First Two Days