It's been a funny offseason. A long offseason. The craziest offseason I can remember, which is saying something after Lebron's free agent drama last year. But we can now put it all behind us and look forward to some kick-ass NBA basketball ahead, because I really do believe the 2011-12 season will be one to remember.
It is probably the last season the likes of the Spurs, Lakers and Celtics have a decent shot at the title. It is probably the first season the Bulls and Thunder are realistic championship contenders. Throw into that mix a vengeful Miami Heat, a still threatening Dallas side, the new-look Knicks, the new-look Clips, the unpredictable Zach Randolph and the looming cloud over everything that is Dwight Howard's pending(?) trade, and you've got one incredibly intriguing and wide-open NBA season that is 150% excitement crammed into 70% of a normal-length  schedule. It's going to be nuts.
Before we get into our Round Table look at 2011-12, I wanted to say a couple of quick things about the state of the blog. Loyal NBAMate followers will note that my contributions have stalled over the last few months, and slowed in general over the past year or so. Unfortunately other life commitments have started to take up more of my time (welcomely so), which means I've had to slightly let go of the reigns. Thankfully, taking a firm grasp of those reigns has been the rock solid JT, who is now officially co-editor of the blog along with myself and promises to keep churning out quality content from here on. His What's Doin pieces have kept a steady stream of readers coming in despite an abnormally quiet 4-month patch in the NBA calendar. And he was instrumental in setting up the Andrew Bogut interview we did last month. So I can't wait to see what JT's got in store for the site in the future.
I will still be involved and contributing from time to time. No matter what I do, NBAMate is like one of my children and I always find it very hard to let go. The Sunday Six Pack will likely become a monthly affair, and I'll be organising Round Table posts such as this on a regular basis. And of course, I'll kick it up a gear when our Playoff Diary rolls around – without doubt my favourite time of year. Ash will also be along for the ride, sometimes sober, sometimes not, but always entertaining (or grossly offensive, but I suspect those people haven't bothered coming back). Other guests will join us from time to time, such as today, and I'm sure Tizzle and the Frustrated Suns Fan will surface at some point depending on the Knicks and Suns fortunes.
On to the Round Table then. Welcoming our special guest contributors, we're very honored to be graced with the presence of Mookie from A Stern Warning – one of the very few Aussie NBA bloggers (in fact, the only one I'm aware of) who has been blogging longer than we have. From the veterans to the upstarts, we also welcome SP from Hoop Downunder, a fairly recent addition to the Australian basketball blogging scene, and a quality one at that.
The only thing left to do is wish everyone a Merry Christmas. Our present to you is the first NBAMate Round Table of the season. Enjoy!
1. The biggest move of the extended off-season was obviously Chris Paul joining forces with Blake Griffin in Lob City. Where do you see them finishing out West in 2011-12? Are they real contenders?
JT: If they can stay healthy, a fourth or fifth seed. Are they contenders? Not yet. They need more depth upfront behind Griffin and Jordan (although Reggie Evans was a good pick-up), and a lock-down defensive wing to counter the likes of Kobe and KD in the post season.
Mookie: Whilst the Clippers have a very impressive backcourt and two super-athletic big men up front, they also have a stack of question-marks attached to them. Will Chris Paul's body hold up? Can they achieve with a super-small backcourt rotation of Paul, Mo Williams and Chauncey Billups? Will Caron Butler return to form? Is DeAndre Jordan the answer inside, or just a highlight machine like his teammate Blake Griffin, without the substance? I think the Clippers will certainly do well and rank around fourth in the West, but I don't think they are serious title contenders, yet.
Ash: Assuming the Clipper Curse doesn't blow out their ACLs? I think they can definitely be a top-4 seed in the West and a Finals contender. Chris Paul took a pretty terrible Hornets team into the playoffs last year and pushed the Lakers harder and closer than anyone realised. For the first time in his career, he gets to play with another elite player, and a pretty nice supporting cast to go with them.
SP: While Chris Paul is considered one of the best point guards in the NBA, I don't think anyone has truly seen his best yet, and that is mainly due to the supporting casts he's had to work with throughout his career. But after seeing what CP3 could do with a relatively talentless Hornets roster in the playoffs last season, it's scary to think what he could do with this new look Clippers team. They are serious contenders, but now that the Thunder have had a few years to gel and mature they are slightly more serious contenders out West. I think CP3 will have a career year, his scoring numbers will probably stay around 15, but I'm expecting his assists to be at a rate we've never seen before.
Robd: Yes, I do think they are real contenders, but more because of Blake Griffin than Chris Paul. Paul can lead any mediocre team to the playoffs, he's proven that before. But this time he's playing with a guy who may lay claim to the title of Best Power Forward this season. I'm gambling on Blake really starting to pull it all together in '11-12, showing his rounded game (it's more rounded than most people think), showing a commitment to defense, and showing a little more maturity now that he's got a season of dunks out of his system. If that happens, the Clips will be toying with a Top 2 or 3 finish out West, and that makes then contenders.
2. Shawn Marion feels that the Mavs aren't getting the respect they deserve as reining champions. What are their chances of a repeat and how do their off-season acquisitions (and losses) affect them?
JT: In my opinion they're done as contenders; Chandler's departure saw to that. Heck, they've said it themselves, they don't win that title without Tyson Chandler anchoring the middle. This new group resembles the Mavericks of old; a vast collection of interchangable parts, but with no defensive heartbeat. And don't underestimate Mark Cuban, he knows this. In essence, he's drawn the curtain on a repeat run, in favour of a crack at the pot of gold that is 2012 free agency (see my answer in question 9). And personally, I think he's made the right move.
Mookie: The Mavs will be one of the intriguing stories once again this season. Tyson Chandler is a huge loss for them, as he gave them legitimacy inside on defence — something they had been accused of lacking in the past. However, the losses of Butler and JJ Barea can be covered for. Lamar Odom's signing is huge. He is one of those guys who makes a team bigger than the sum of its parts, with his do-it-all play and championship experience. Look for him to win games for the Mavs. Vince Carter and Delonte West will prove to be nice bit-players, substituting for the losses of Butler and Barea. It's worth remembering that the Mavs won the title despite injuries to the likes of Roddy Beaubois, who should be a valuable contributor again this season. Dirk Nowitzki will be there again. Will we finally see a decline of Jason Kidd? Can Brendan Haywood have a career year in the middle? They certainly are one of the best placed teams to pull in that hardware again.
Ash: I don't think so. They'll make the playoffs and probably the second round, but I don't see them as a title team. Lamar Odom is a nice piece, but where does he fit on this team? I'm assuming Dirk will be getting minutes at center. Losing Tyson Chandler will really hurt them defensively and force Dirk to work more on that end – while he has improved his defense over the years he's still not an elite defensive PF, let alone a center. Cuban's made his plans pretty obvious – clear cap space to sign Deron Williams or Dwight Howard in the off-season. Will he do it? I don't know yet.
SP: Everyone said the Mavs window had shut before last season, and everyone was wrong. But losing some important locker-room/morale-boosting guys in JJ Barea and Tyson Chandler will make it hard for the Mavs to re-establish that winning culture which they found last season. I also doubt that Brendan Haywood is ever going to be the starting center on a championship contending team, just saying.
Robd: I really struggle to see them backing it up this season. I just don't think they'll be hungry enough. Tyson Chandler was what put them over the edge last season, and we all know "defense wins championships". His departure alone (plus Puerto Rican Guy) killed their chances for me. Don't let the Lamar Odom and Vince Carter signings fool you – they only serve to make them more marshmallow than they already were. Their chances of a repeat? Slim to none.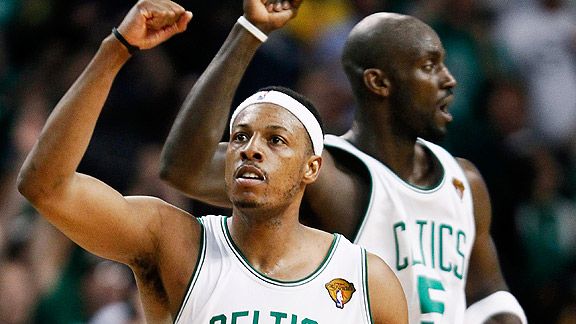 3. The Lakers and Celtics have both faced some off-season adversity and are no longer the feared teams in their respective Conferences. Do they have anything left in the tank? Can they taste championship glory again?
JT: As currently constructed, no chance. Both teams are old and slow and have zero depth behind their core players. In fact, I can see a first round fizzle.
Mookie: As a non-Lakers fan, I worry about Kobe Bryant. I always have. Only now, I worry about him for the sake of Lakers fans. I fear this this year will see a decline in his play — one that will be heartbreaking for those that have followed him for so long. We've seen the same thing for Celtics fans with Kevin Garnett and Ray Allen. Both teams will cause their fair share of trouble and be in the mix deep into the playoffs, but my feeling is that the loss of Odom for the Lakers and the continual decline of the Celtics' core (along with Jeff Green's terrible health predicament) means that neither will be present come Finals time.
Ash: No to both questions for both teams. More than anything, the ultra-compressed schedule is what's gonna kill them – playing three games in three nights is going to be terrible for the aching bodies and knees on both squads. Both have younger players (Rondo in Boston, Bynum in LA) who can theoretically cover for them, but Bynum is the most likely of anyone to break down and Rondo can't carry a team.  As constructed, I don't think either side can make a run at another title. If the Lakers can swing a Dwight Howard trade, all bets are off, but I wouldn't count on it. Speaking of which…
SP: The Celtics title hopes were gone when they failed to land David West. I think Rondo will play with a chip on his shoulder this season, which will benefit the Celtics, but they simply don't have the pieces to make a serious run in the East. The Lakers still have Kobe, and people tend to forget that he really is one of the best players in the world, but without Lamar Odom and Shannon Brown, their bench is average at best. Expect Bynum to be injured, Kobe will miss some games, and noone knows which Pau Gasol is coming out to play this season. The Lakers will more likely end up in the lottery than the finals.
RobD: If there's two things I've learnt over the last few seasons, it's 1) never bet against Kobe Bryant, and 2) never bet against this Celtics team. There is too much pride and talent still left in those veteran camps, and they know how to get it done. Unfortunately for the Celtics, the East is just too damn strong and even an MVP-like season from Rondo wouldn't be enough to see them through to the Conference Finals. For the Lakers, they need their stars to be healthy, and now that Kobe has to play an entire season with no ligaments in his right wrist, I'd say their chances of hoisting the trophy again are slim. Of course, there's the chance Dwight ends up in LA, but even then the Lakers will be too shallow in depth to make it all the way to June.
4. Dwight Howard – will he stay?
JT: Logic says no, but we're talking about Otis Smith here so be prepared for the nonsensical (i.e. not trading him in the hope that he will stay).
Mookie: Nope. The Mavs are clearing space with a view to picking either Howard or Deron Williams up next season. The Lakers are doing everything they can to make a deal for him. The Nets would like to prove themselves a worthy ticket in the Big Apple by pulling Superman in too. The Magic know that they need to trade Howard in order to recoup some value — and they will.
Ash: If you believe he'll stay you also probably believe that they hid "Sex" in the night sky during The Lion King. (Obligatory Disney/Orlando reference done). However, I remember Otis Smith from his GSW days and he hasn't gotten much smarter in Orlando, it would seem. I honestly think he's dumb enough to believe Dwight will stay and maybe even try making another trade to get talent to keep him.
SP: No. It's hard to keep track of all the "sources say this", "sources say that", but last time I checked, Dwight Howard stated that he was still hoping for a trade. He'll probably end up with the Lakers, in terms of trade assets it's the only destination that seems to make sense for the Magic. I don't think the Magic will deal him until they realise that they aren't going to win a championship this season, which might not be until the deadline. Dwight's trade probably won't affect anyone until next season.
Robd: No. I think he'll go to the Lakers, and I think there's a chance they won't be any better after he goes there. Interestingly, it may also depend on the form of Andrew Bynum early in the season. If he looks healthy and reaches career-best form (certainly possible from all accounts) AND the Lakers are top of the West, they might be less likely to pull the trigger.
5. Who will be the surprise team of 2011-12?
JT: Can I say the New York Knicks? If they reach the playoffs in one piece, and that's a very big IF,  I can see them in the Eastern Conference Finals. Let's not forget, big front lines win NBA titles, and in Chandler, Amar'e and Melo, they don't come much bigger or better than that.
Mookie: Oklahoma City will be dominant, but I don't think that is a surprise to many. One team that I think will surprise a lot of teams, will be the Indiana Pacers. They won't be a contender, or even "successful", but they will win at a much better clip than they did last season and will have nights where Roy Hibbert, Danny Granger, David West and Darren Collison will be on song, giving opponents red faces.
Ash: Am I allowed to say the Warriors? Do I really believe it? No? Fine…I'm going to say the Pacers. After the Heat, Bulls and probably Knicks, the East is short on elite teams with the Celtics declining. Some team is going to make a home-seed push this year. The Pacers played the Bulls really tough last year, they've only improved over the off-season and their youth will help with the compressed schedule. I don't think they're title contenders but I do think they can go into the playoffs and give some teams a real scare.
SP: The New Orleans Hornets. Coach Monty Williams flew under the radar for coach of the year last season, but he is one of those guys who can make the most out of an average situation, he'll do the same this year, and the Hornets will finish with a much better record than most would expect in the first year of their post-CP3 era.
Robd: So obviously I lose all credibility here, but I'm going to say the Detroit Pistons. Hear me out. They were arguably the most dysfunctional team in the league last season. They had a terrible roster load-up at the 2-guard position, now relieved with the departure of Rip Hamilton. This season they have taskmaster Lawrence Frank at the helm (whom I've always liked), a promising cornerstone player in Greg Munroe (it was a crime he didn't make the All Rookie First Team last season), and an exciting young point/combo guard rookie in Brandon Knight. Add to that the steady improvement of Austin Daye and Jonas Jerebko (a shining light for the Pistons the last two years), and the overpaid yet still handy Ben Gordon/Charlie V tandem, and you've got all the ingredients for a team wanting to prove themselves and get the bad taste of last season out of their mouths. It might not be a playoff team, but they'll do much better than the 25 wins y'all penned them down for.
6. Your predictions for 2011-12 award winners:
JT:
ROY – Derrick Williams
COY – George Karl
Most Improved – James Harden
DPOY – Dwight Howard
Scoring Champ – Kevin Durant
6th man – Taj Gibson
MVP – Kevin Durant
Mookie:
ROY – Kemba Walker
COY – Frank Vogel
Most Improved – Troy Murphy
DPOY – Dwight Howard
Scoring Champ – Kevin Durant
6th Man – Serge Ibaka
MVP – Kevin Durant
Ash:
ROY – Kyrie Irving
COY – Frank Vogel
Most Improved – Big Baby Davis
DPOY – Dwight Howard
Scoring champ – Kevin Durant
6th man – OJ Mayo, if he becomes a full-time 6th man this year
MVP – Kevin Durant
SP:
ROY – Derrick Williams
COY – Vinny Del Negro
Most Improved – DeAndre Jordan
DPOY – Tyson Chandler
Scoring Champ – Kevin Durant
6th Man – Mo Williams
MVP – Chris Paul
Robd:
ROY – Derrick Williams
COY – Scott Brooks
Most Improved – Eric Gordon
DPOY – Dwight Howard
Scoring Champ – Blake Griffin
6th man – James Harden
MVP – Chris Paul
7. Who comes out of the East and West to meet in the 2012 Finals?
JT: Miami and Oklahoma City
Mookie: Miami Heat v Oklahoma City Thunder
Ash: East is easy. I don't see anyone stopping Miami. If the Bulls had come up with a better solution to their 2-guard issues than a possibly washed up Rip Hamilton, and if the Knicks had a coach who was a better fit for this team, and if the Nets make a trade for Dwight Howard…but you see where I'm going. There's far too many "ifs" with every other team. Barring injury…I think the Heat have the East sewn up.
The West, on the other hand, is a mess. The Lakers are declining and may even be fighting to make the playoffs, same with San Antonio. The Mavs appear more focused on the next off-season. Denver and Portland have plenty of nice complimentary pieces but no star to bring it together. The Grizzlies don't have the surprise factor of last year and I don't fully trust Zach Randolph now that he's gotten a fat contract extension, although I like this team enough that I'd like to be wrong.
OKC are the favourites, but…I don't know. Something just doesn't seem right about this team. There's the fact that they often seem poorly coached, that weird Durant-Westbrook battle that rears its head at the worst times, the fact that I always feel like they have a close game meltdown in them…I don't trust this Thunder team.
Fuck it, I'm going all in on Lob City. I don't know how many people realise that we are seeing a guy who is up there with the greatest pure point guards to ever play the game with on the same team as a guy who has the potential to be the greatest power forward of all time. Blake Griffin is more than just a dunker – he's a more effective low post player than many people realise, he's a very good defender and he rebounds well. Combined with a solid supporting cast (DeAndre Jordan, Caron Butler, Chauncey Billups)…yeah, I'm gonna say it. Clippers over Memphis in the WCF. Which means that the NBA and ABC have to figure out a way to ensure the children of America and the world don't have to see Donald Sterling's creepy face for the Clips home games.
SP: Miami Heat (East), Oklahoma City Thunder (West)
Robd: Miami in the East, Oklahoma in the West.  But for something different, I'll say Knicks v Lakers.
8. Who wins the Championship and why?
JT: Oklahoma City. After LeBron's flameout last season I've lost all faith in his big-game chops, and I've seen nothing to suggest that that's going to change. The Thunder are still a bit green, but they have it all – a big defensive front line, a closer, multiple scoring options and an unselfish, team-first squad (I think the criticism levelled at the 23 year old Westbrook last season was garbage). They're depth (and LeBron's shortcomings) will overwhelm Miami.
Mookie: Miami Heat. It's time. They've had a season to put it all together and have added Shane Battier's defensive, steadying presence. When they put the Superfriends together, I immediately proclaimed that they would fail in their quest for a title that season, but would get one the following. I stick by that prediction.
Ash: I'd love to say the Clippers could beat Miami, but these always come down to the best players. Even if Bosh isn't on the level of LeBron and Wade, he's still better than the third best Clipper (DeAndre Jordan? Chauncey Billups? Caron Butler?). So Heat 4-2.
SP: The Miami Heat pretty much have the 2011/12 championship in the bag. They have had time to gel, and if it weren't for their sub-par start to last season they probably would have ended up being a 70 win team. LeBron's game will lift to another level in the post-season, a level we've never seen before. They will outclass anyone they face in the playoffs.
Robd: Though it pains me to say it, the Miami Heat. They were so close last year with the harshest of spotlights on them, and wearing that villain tag must have been exhausting. Now they're a year wiser and less of a story (thanks to CP3 in LA and the Dwight saga), and more importantly, some of their biggest rivals are weaker (Dallas, LA, Boston, San Antonio). They're perfectly equipped to exploit this short season with Lebron, Wade and Bosh smack-bang in the middle of their primes. They're hungry and extremely hurt about the way their last season finished, and that my friends, is the single most important reason why they'll win it all this time round.
9. Predict something that no one else will
JT: With a mountain of cap space next year (roughly $32 million if they amnesty Haywood and decline the option on Odom), the Dallas Mavericks replicate Miami's 2010 heist and land both Deron Williams AND Dwight Howard in free agency, to join Dirk Nowitzki. It's not a topic of conversation yet, but trust me, it will be.
Mookie: People will end this season thankful that there was a lockout. The NBA regular season can often be a long and winding journey, one that can leave you dazed and burnt out before the playoffs have even commenced. This season, with the contracted pre-season and 66 game regular season, fans won't have time to catch their breath and will enter the playoffs refreshed, invigorated and excited. The drama surrounding the future playing locations of Howard and Williams will add to the distraction and by the end of the season, some will be calling for a shortened NBA season permanently in the future.
Ash: I already called one (Indiana to get a top-4 seed) of my crazy ideas, so here's the second – the Minnesota Timberwolves will finish .500 and be competing for a playoff spot. As much as everyone mocks GM David Kahn, he's managed to put together a lot of talent, the centerpiece of which is Ricky Rubio. And they're well coached. I think they're gonna surprise everyone.
SP: The New Orleans Hornets will make the playoffs. Due to my CP3 man crush I watched the Hornets more than any other team last season, and what most people might not know about the Hornets is that they rarely get blown out of games due to their solid team defense. This means if Eric Gordon and Chris Kaman can manage to fill the gaping hole Chris Paul left them with on the offensive end of the floor, they'll still be a respectable ball club and finish 7th or 8th in the West. Potential first round playoff scenario: (2) LA Clippers verses (7) New Orleans Hornets. I can't see how that wouldn't be awesome.
Robd: Dallas miss the playoffs. Sounds ridiculous, but my prediction last year came true so don't bet against me!
Tags: 2011-2012 season, awards, Boston Celtics, Chris Paul, Dallas Mavericks, Dwight Howard, Los Angeles Clippers, Los Angeles Lakers, Miami Heat, Oklahoma City Thunder, predictions, season preview
« « Previous Post: Short Season Preview
» » Next Post: Post-Lockout Doozies: Part 3