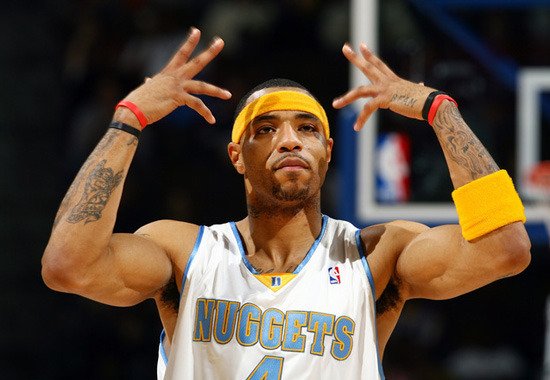 Without further ado, here's the best and worst quotes of the offseason thus far.
I am confident, check that, I am certain more doozies will be forthcoming so look for Part 2 at the conclusion of the lockout. Let's hope there's no need for a Part 3 or 4.
"Talk to the owner. He gave me the deal. When it comes to contracts, the players aren't sitting there negotiating that contract. I'm sitting at home and my agent calls me, saying, 'I got a max on the table.' I'm not going to sit there and say, 'Naw, that's too much. Go out there and negotiate $20 or $30 [million] less.' "
- Washington's Rashard Lewis.
He's right.
"All Haters should catch full blown Aids and Die! Do the world a favor! and rid us of you all!"
- Kenyon Martin on Twitter, in response to some criticism over his lucrative Chinese deal.
K-Mart – you're a bum.
"I wanted to display all of my shoes, so I had this 500-square-foot closet made. I just thought this would be a cool idea, and it would almost look like a museum. I had a fingerprint sensor put on the door to make sure I'm the only one who can get in here. I mostly wear Air Jordans. All of the Jordan guys are selected by Michael Jordan himself. It's kind of hard to tell MJ no. I have 436 pairs of sneakers in here, and they're mostly unworn. I'll wear all of them eventually."
- Atlanta's Joe Johnson.
That's perfectly reasonable.
"I volunteered. I've given both sides very, very specific suggestions on how to get over the hurdle. … I think that I could make this deal in one day, with either party. I really do. I know it sounds egotistical saying that, but I know all the owners well."
- NBA agent David Falk.
I think it's fair to say that power and money has gone to his shiny head.
"We can go years man. We've been preparing ourselves for this lockout for three years now. … It's humbling in a way for you to be able to humble yourself and really learn how to budget and spend your money. A lot of times when you're bringing in a certain amount of income, you spend out of your means. I think now it's going to humble the guys to understand it's very important to save, very important to budget."
- New York's Amar'e Stoudemire on how long he thinks NBA players can go without getting a paycheck.
What a humble dude. Of course, it's easy to be 'humble' when you've already pocketed over $100 million in your career, with a guaranteed (subject to the lockout) $80 million to come.
"He likes the Phillippines a lot."
- Pam McGee, mother of Washington's JaVale McGee, on JaVale's love affair with the Phillippines. McGee has recently participated in a promotional tour through the country after he gained popularity in the Phillippines for his 'dazzling dunk, block and plank display' during a July exhibition.
I bet he does. And so does his bank account.
"By default, we have over half of the teams in the NBA that have a chance to compete for a championship every year, and then another seven or eight teams are within three to five wins each season of making the playoffs. So you're talking about maybe five or six teams that are maybe on the outside looking in. But generally, 22 or 23 teams per year have legitimate chances of making the playoffs and winning a championship."
- Players Association president Derek Fisher.
So he's trying to tell us that below-average teams like Milwaukee, Golden State, Phoenix and Utah had a genuine chance at winning the title last season? Take your hand off it Derek!
"Don't stand up and clap when we're a playoff basketball team, because we won't be standing up and clapping as a team. Our ultimate goal will be to hang a championship banner."
- Golden State coach Mark Jackson, addressing the Warriors faithful at Oracle Arena during a September event.
Come back to us Mark.
"I believe that me being the head coach of the Golden State Warriors is an assignment from God."
- Mark Jackson again.
Oh boy.
"There's more you can do in a bigger place. I'm stuck in a tough position because I feel like right now, where I'm at, I've done so much. And I just don't know what else I can do. I can't live for everybody else."
- Orlando's Dwight Howard on his impending free agency.
You know he's greasing the wheels here (for a departure).
"Stan's a great guy away from basketball. He's passionate. He loves the game. I have no problem with him off the court. The only thing I had a real problem with was the way he coached."
- Dwight Howard on coach Stan Van Gundy
Er, that's a problem, no?
"We're not allowed. I mean, everybody has their own opinion. You hear people talk here and there. But nobody comes out and says what they really want to say. That's just the society we live in. Athletes today are scared to make Muhammad Ali-type statements."
- New York's Carmelo Anthony on the player's relative silence during the lockout.
That's an outrageous comparison and it reinforces the belief that today's athletes are out of touch with reality.
"I think people fail to realize that teams and organizations have been stacking teams since way back in the day. The Lakers had the Showtime era. Boston had six hall of famers on one team. You had Detroit, the New York Knicks, and now the Miami Heat. They were stacking their teams back then, it just fell off over the years and now it picked back up. Boston did it first, then LA. I was fortunate enough to play against them when they had Shaq, Kobe, Rick Fox, Gary Payton, Karl Malone… that's five hall of famers on one team! So you can't get mad at Miami for doing what they did. A lot of people don't agree on how they did it, or how LeBron did it."
- More wisdom from Carmelo Anthony.
Rick Fox a Hall of Famer? Stick to one liners Melo.
"People forget how awful the basketball was that year. Not only people were injured, but no practice time. The training camp was two weeks and two exhibition games. The basketball was horrible. … The playoffs were a good thing. The regular season was an abomination of basketball."
- ESPN analyst Jeff Van Gundy describes the lockout-shortened 1999 season.
He nails it like only a Van Gundy can.
"As of right now, everyone is unemployed. You have to re-evaluate [your situation]. At the end of the day, you're unemployed right now and you have to find a job in order to feed your families or whatever."
- Charlotte's Corey Maggette.
C'mon Corey, you didn't learn from the infamous Latrell Sprewell comments ("I've got a family to feed")? For someone earning $10 million per year to use the words 'unemployed' and 'feed your family' is just moronic.
"There will always be great players in basketball. There's always going to be guys who win championships in the NBA. Except LeBron. Don't be mad."
- Magic Johnson addressing a crowd in Albany, New York.
Ouch.
"Well I think it can only get worse for both of us. If somebody is pointing a gun at my head, I'm going to point one back at him. That door doesn't swing one way. It's not just the players that are going to suffer if there are games lost."
- NBPA head Billy Hunter, in response to Stern's rhetoric that the owners future offers will worsen over time because of the losses.
Clearly, Billy subscribes to the notion that 'you don't bring a knife to a gun fight'.
"Let's just take the owners and the NBA saying we want every team to be competitive. We want every team to have the same chips to start with. You tell me that corporations and business around the world that every is equal one and I'll show you a lie. You have some up here, you have some down here. That's the game. We have some huge markets. We have some small markets. To me, it's not about who has the most chips, I think it's about who manages their chips the right way. That's why I think we have a management problem. Small markets have won championships. San Antonio is a very small market and they have four championships in the last 10 years or whatever the case may be. So I don't know how you ever fix it unless you have realistic goals. It has to get a little more realistic and right now, it's not."
- Miami's Dwayne Wade chimes in on the labour negotiations.
Well said. Why the union doesn't hammer this point home I do not know.
"I have lived in a different country and with a different culture in Russia. And Russian girls are just incredibly pretty."
- DeJuan Blair on Twitter, describing his short stint in Russia.
It's good to see he got something out of it.
"The only way I would come back to the league is if I get to play with Kobe Bryant. There's nobody who thinks like me but Kobe Bryant. I just get criticized for what he used to get criticized for because I tried to establish myself the same way he did. I was just on a bad team."
And this:
"The two worst teams in the league I played on in my whole career, and I was the bad guy because I was the only one who cared about winning. I had the attitude. I was the only one mad about losing every game by 30."
And this:
"I have been blackballed for two years, so these guys are making a big thing out of the lockout. They don't know what locked out is."
And this:
McCants said he wants to be considered the "best player in the world not playing basketball" and is content if he doesn't make an NBA return.
- Former NBA player Rashard McCants.
So why is this guy out of the league?
Tags: Carmelo Anthony, Derek Fisher, Dwayne Wade, Dwight Howard, Jeff Van Gundy, Joe Johnson, Kenyon Martin, Magic Johnson, Mark Jackson, NBA lockout, Rashard Lewis
« « Previous Post: The Stars Are A Comin'
» » Next Post: Lockout Blues: Fixing The System