I am a positive thinker (not really I am just bored) so when the lockout ends sometime around mid January, the free agency period promises to be a pretty dull affair. It's short on big names and teams with cash to spend. But like always, if you know where to look you can find what you need.
With that in mind I'll examine the free agent market and identify two players that each team should target.
I've based my decisions on two criteria; 1) team needs, and 2) considering their current cap position, what they realistically can afford. I'll say that again folks, what they REALISTICALLY can afford.
With a new CBA on the horizon things are gonna be a changin, so a fair bit of guess work was involved here. Therefore, I made the following assumptions:
The 2011/12 season will be operating under a similar cap figure to last year ($58m). Whilst there will be some big changes in the new CBA, the consensus is that these changes will be phased in over several years.
Although it will be more restrictive, the new CBA will not include a hard salary cap – the owners had already caved on this during the first round of talks. And there will be a similar mechanism in play that allows teams to retain their own players (Bird Rights and the right to match for restricted free agents).
The Mid-level Exception (MLE) as we know it will not exist in the new CBA. Under the MLE, once a year teams were able to sign a player to a contract averaging about $7m per year, even if the team was already over the cap. In the new CBA the MLE will either be eliminated, or replaced by a new version worth about $2-3m per year.
Note: The figure provided for each team is the amount of salary already committed for the 2011/12 season, excluding their rookie obligations.
*Free Agents (R – restricted; U – unrestricted; P – player option)
Atlanta Hawks ($65.8m)
1. Joel Przybilla (U) 2. Kwame Brown (U)
If you're familiar with my work you'll know my thoughts on Josh Smith; he's the cancer on this team that needs to be removed. But assuming these dopes stand pat with the current group (likely) they'll need some more beef upfront, and Przybilla or Brown offer defense and rebounding at the pivot, which would allow Horford to slide over to the four.
And as far as I am concerned Jamal Crawford can walk. He's an overpaid chucker who is clueless on the defensive end.
Boston Celtics ($72.4m)
1. Jeff Green (R) 2. Kwame Brown (U)
If you can lock up Jeff Green to a reasonable contract ($5-6m per year) you would be wise to do so, because his speed and athleticism are sorely needed on this creaky squad.
It's the last go-round for this group so if they're serious about contending they will need another veteran to man the middle. The best available is Kenyon Martin, Joel Przybilla or Kwame Brown (Dalembert would be nice but I can't see him accepting the minimum).
But considering their injury history with veteran bigs over the last few years (Garnett, Perkins, Wallace and the O'Neal's), they would be smart to go for the healthiest body, which is Brown.
Charlotte Bobcats ($47.4m)
1. Jason Smith (U) 2. Aaron Gray (U)
They're not winning anything with this group so commit to the future; aim for a high pick in the loaded 2012 draft and preserve your cap space.
Their only center under contract is DeSagana Diop. Yikes. Ignore the vets and go young with Smith or Gray (or both), either of whom may turn out to be a keeper.
Chicago Bulls ($61.6m)
1. Chris Douglas-Roberts (U) 2. JR Smith (U)
They seem unwilling to part with the necessary assets in trade to acquire a legit two guard, so they'll need to hunt the bargain bin for a shot-creator. CDR is the safe bet and he could be a nice compliment to former college team mate Rose.
JR Smith is the high risk, high reward option. He's a head case and would surely clash with coach Thibodeau, but he's a lethal scorer when dialed in.
I wouldn't bother with a hack like Vince Carter, who will be bought out by the Suns. Ditto for Jamal Crawford and Jason Richardson; there's no future in these guys and neither are likely to accept the minimum.
Marcus Thornton or Nick Young could have been a good fit if they had some money to spend (they don't).
Cleveland Cavaliers ($55.4m)
1. Jason Smith (U) 2. Al Thornton (U)
Like the Bobcats Cleveland must look to the future, aiming for another high pick in the 2012 draft and keep their future salary commitments to a minimum.
Signing their rookies will take them over the cap so their options are limited. Jason Smith shows promise as a pick and pop 4/5, and being thin on the wing there's no harm in taking a flyer on Al Thornton, who is yet to reach his potential.
Dallas Mavericks ($63.1m)
1. Tyson Chandler (U) 2. J.J. Barea (U)
If they lose Chandler they're done as contenders, so expect Mark Cuban to pony up. J.J. Barea is a keeper if they can re-sign him at a reasonable rate ($3-4m per year).
Denver Nuggets ($28.8m)
1. Nene (P/U) 2. Arron Afflalo (R)
They just can't afford to let these two guys get away.
Detroit Pistons ($48.2m)
1. Carl Landry (U) 2. Rodney Stuckey (R)
They need some muscle on the front line alongside Greg Monroe and Carl Landry should be in their price range. Kris Humphries or Big Baby Davis would be another option if Landry goes elsewhere.
The drafting of Brandon Knight has cast some doubt on Stuckey's role, but he's too talented to let go, unless someone puts forth an unreasonable offer (unlikely).
Golden State Warriors ($49.1m)
1. Joel Przybilla (U) 2. DeShawn Stevenson (U)
They could really use Chandler, Nene, Gasol or Jordan to lock down the middle, but they don't have the cap space to make a serious run (it didn't have to be this way; they could have dealt Ellis for expiring contracts).
Therefore, I am looking for cheap veteran defenders without compromising the cap going forward. Przybilla and Stevenson could add a dimension that they sorely lack.
Houston Rockets ($47.3m)
1. Jason Smith (U) 2. Aaron Gray (U)
Their strategy is obvious – keep hoarding young talent with the ultimate goal of trading them in for a star (using the Kevin Garnett trade to Boston as an example). But there are some holes in the theory; 1) none of their young guys have star potential (as Al Jefferson did at the time of the Garnett trade), and 2) they don't have an elite player on the roster that would entice others to come (like Ray Allen or Paul Pierce). So I don't like their chances of swinging such a deal.
I say strip it all down (by trading away Scola and Martin), bottom out and then rebuild with high draft picks. History shows that drafting in the late lottery year after year won't get you far.
They're 3-4 deep at every position besides center, so Smith or Gray could fill a need.
Indiana Pacers ($36.9m)
1. Nene (P/U) 2. Carl Landry (U)
They've got the cash to bid high on Nene and if they're serious about making real strides this is the move. They're thin upfront and Nene can play the four or five; he can score, rebound, defend and intimidate.
Carl Landry is the fallback option. Due to injury history and age, I wouldn't risk my money on David West.
LA Clippers ($44.9m)
1. DeAndre Jordan (R) 2. Luc Richard Mbah a Moute (R)
It may cost them a pretty penny but re-signing DeAndre Jordan is critical to their future success. And Mbah a Moute could complete a potentially imposing defensive frontcourt with Griffin and Jordan.
LA Lakers ($91.3m)
1. JR Smith (U) 2. Patty Mills (R)
They're bulging at the seams cap wise, but unless they find a way to speed things up and get more athletic it could turn ugly in tinsel town. If they can entice Smith on a minimum deal he may provide the spark. And surely Kobe could keep him in check?
Patty Mills could also breathe life into a stale backcourt.
Memphis Grizzlies ($52.8m)
1. Marc Gasol (R) 2. Shane Battier (U)
They just can't lose Gasol and retaining Battier would go a long way towards keeping them in the playoff picture.
Miami Heat ($65.3m)
1. Mario Chalmers (R) 2. Kenyon Martin (U)
Mario Chalmers should be a competent starter for them going forward, so he's priority number one. In terms of big men, with Dalembert likely out of their price range I would target Kenyon Martin in the first instance (because he gives you some offense), then Joel Przybilla or Kwame Brown.
Milwaukee Bucks ($51.8m)
1. Carl Landry (U) 2. Luc Richard Mbah a Moute (R)
If they can add a starting calibre power forward to this group they might have something. Carl Landry would be a tremendous fit alongside Bogut, and if they can re-sign Mbah a Moute, that's a pretty stingy frontcourt right there.
Minnesota Timberwolves ($48.3m)
1. Joel Przybilla (U) 2. Kwame Brown (U)
Interior defense (or lack thereof) is a serious concern, and unless they can bring something to the table here they're going to struggle. I would have a sniff around MarcGasol, but both he and the other big names are likely out of their price range. Przybilla or Brown would be a good stopgap and go some way towards helping out the youngsters.
New Jersey Nets ($39.8m)
1. Nene (P/U) 2. Arron Afflalo (R)
The Nets are in a precarious position. Stink it up this season and fail to land a big fish before 2012 free agency (it's Dwight Howard or bust in my opinion), and D-Will walks, leaving them in tatters.
So they must begin the process of putting pieces in place. Nene should be the primary target but I wouldn't overpay (no more than $10m per year). He can help on several fronts: 1) his presence would instantly make them a better team, thus appeasing Williams; 2) they would become more attractive to prospective free agents; and 3) he could be used as a chip in trade (ex. Lopez/Nene for Howard). If they swing and miss on Nene I would consider David West, but ditto on not overpaying (no more than $7m per year).
Arron Afflalo would fit nicely into the vacant two guard spot and could form a brutal offense/defense partnership with Williams.
New Orleans Hornets ($42.0m)
1. Nene (P/U) 2. Arron Afflalo (R)
Chris Paul has one foot out the door so I see no need to pony up for the aging/injured West.
Nene and Afflalo are a pipe dream (who wants to join an organisation that might be contracted?), but they can at least try.
New York Knicks ($60.6m)
1. Joel Przybilla (U) 2. Reggie Evans (U)
I know, neither of these guys fit the D'Antoni 'system', but maybe that's the problem here. A coach who deliberately starts a small forward (Shawne Williams) on Dwight Howard, is perhaps a little (insane?) misguided in respect to his philosophy on how basketball is won at the NBA level.
Bring in someone who can rebound and protect the paint (and for D'Antoni to actually play them) or forget about contending.
Oklahoma City Thunder ($53.6m)
1. Daequan Cook (R) 2. Shawne Williams (U)
Not a whole lot needs to be done here. Re-sign deadeye marksman Daequan Cook, and target Shawne Williams as a defensive back-up to Durant.
Orlando Magic ($74.8m)
1. Josh Howard (U) 2. Kwame Brown (U)
Let's face it, things are desperate. So take a flyer on Josh Howard in the hope that 1) he's willing to play for the minimum, and 2) he can recapture his All-Star form (and health). Because short of miraculously adding a star player to this group, Dwight Howard's gone.
Kwame Brown would be a solid back-up for Howard.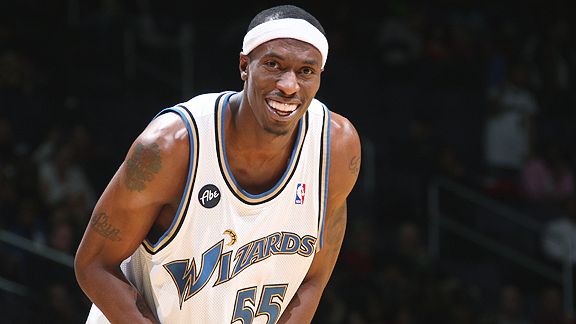 Philadelphia 76ers ($54.8m)
1. Thaddeus Young (R) 2. Glen Davis (U)
They'll have to ante up to keep Thad Young; he's an underrated player and should be viewed as a cornerstone.
I doubt they'll have the cash but it might be worth putting the feelers out on Big Baby, who may be scratching for offers and opportunity.
Phoenix Suns ($35.1m)
1. Arron Afflalo (R) 2. Patty Mills (R)
Assuming they buyout Vince Carter, Phoenix will have some money to spend. But they're in a tough spot here. They're a team without a star (sorry Nash fans but that's reality) or the promise of a star. But that's exactly what they'll need to turn this thing around, and with a new CBA geared towards keeping your own players, it will have to come from the draft. But sadly, and they appear not to realise it, they'll need to get worse before they get better – and that means trading Steve Nash.
The only player worth an investment for the Suns is stud defender Arron Afflalo, at the right price of course. I'd let Aaron Brooks walk (he's not the right guy to rebuild with), and target Patty Mills for the back-up point guard job.
Portland Trail Blazers ($66.3m)
1. Reggie Evans (U) 2. Jason Smith (U)
They need depth upfront and Evans or Smith would be a solid acquisition.
Sacramento Kings ($29.9m)
1. DeAndre Jordan (R) 2. Luc Richard Mbah a Moute (R)
They've got a boatload of cash available so for the first time in years they need to come out swinging in free agency.
Being top heavy with offensive minded players means defense must be the priority. I would set my sights on the younger version of Tyson Chandler, Clipper big man DeAndre Jordan. I know they have DeMarcus Cousins, but he's a loose cannon and can't be counted on at this stage of his career. In Jordan you get a terrific rim protector who knows his limitations. At the very least, make your Californian rivals pay through the nose to keep him.
Mbah a Moute could fill the vacancy at small forward and help balance the roster.
San Antonio Spurs ($73.1m)
1. Josh McRoberts (U) 2. Jason Smith (U)
They're old and capped out so they'll struggle to improve the squad. Josh McRoberts or Jason Smith would bring a nice punch of youth and athleticism to the front line.
Toronto Raptors ($46.8m)
1. Marc Gasol (R) 2. Luc Richard Mbah a Moute (R)
If they want to start winning any time soon they need to fortify their paper thin front line. They might have just enough cap space to make a run at Gasol, and Mbah a Moute could be the versatile defender they don't have, but desperately need.
Utah Jazz ($55.6m)
1. Patty Mills (R) 2. Chris Douglas-Roberts (U)
Follow through on the rebuild and go young (and cheap) at all costs. Patty Mills and CDR fit with this theme and could fill some holes in the backcourt.
Washington Wizards ($40.6m)
1. Arron Afflalo (R) 2. Luc Richard Mbah a Moute (R)
To right this ship they will need a culture change and a focus on defense. For that reason I target and bid high on Arron Afflalo over re-signing Nick Young (R), and make a run at Mbah a Moute to toughen up the front line.
To read more of JT's stuff, check out his blog at NBAozblog
Tags: 2011 free agency, lockout
« « Previous Post: Lockout Blues: Of Teams And Man
» » Next Post: The All-Head Case Team