It's that time of the month folks, when I chime in with 10 observations from the previous month's action. Let's get straight into it.
1.         It's All On LeBron
Dirk was legendary and the Dallas team was collectively brilliant, but let's be realistic. If LeBron James shows up, or even just matches his averages, the Miami Heat bury the Mavs.
The stats don't lie. LeBron averaged 17.8 ppg in the Finals (that's an 8.9 ppg drop off from the regular season), attempted only 20 free throws and scored 18 fourth quarter points combined. I was pro LeBron all year but I can't defend that; it was a meek performance, a meltdown, a good old-fashioned choke job. And quite honestly, his passivity in the clutch was one of the strangest things I've witnessed in sports.
Robd wrote a brilliant piece on LeBron's performance so I won't cover the same ground here. And I think we can all agree on this – he performed far below his capabilities and he's got issues between the ears.
But the fact is the Miami Heat were two games shy of winning an NBA championship on their first go-round, so talk of blowing it up or predicting LeBron's demise is premature to say the least.
The history of the NBA tells us this: you lose, you learn and if you're good enough you eventually overcome. If LeBron James has one ounce of mental fortitude he will come back next year better and more determined and eventually win titles. However, if he's not wired in this way and can't become the ferocious competitor that's required in order to win on this level (like Dirk evolved into), then he's headed for heartbreak and endless ridicule.
I am betting on the former, but one thing's for sure, it will be fascinating to watch going forward.
2.         The Dallas Win Was Good For The NBA
First off, let me address the notion that the Dallas victory was just because they did it the 'right way'. Utter nonsense. Can someone please explain to me how exceeding the salary cap by $33 million (with a $20 million luxury tax bill) is considered the honourable way to build a team? In comparison, the Miami Heat came in on budget and got there through several years of precise planning and something unheard of in today's sports, convincing top level players to accept far below market value. That should be applauded, not maligned.
However, the Dallas triumph did represent a win for the NBA product and basketball in general. It debunked the well held belief that you need more than one All-Star to win a title, it demonstrated that skill and effort can trump speed and athleticism, and it emphasised the importance of playing cohesive team basketball.
And they probably delayed for one year the seemingly inevitable Miami Heat run of success. If they had claimed the title in year one the collective groan from around the league would have been palpable, as teams would have known deep down that for the next four years they would be fighting a losing battle. In terms of parity, that would have been disastrous for the NBA. But this turn of events gives hope to the rest of the league that would have otherwise been difficult to muster (except for appealing to the injury gods) had Miami won big from the get-go.
The Dallas championship produced some feel good story lines. Dirk established himself as an all-time great, whilst exercising the demons of 2006; veterans like Kidd, Terry, and Marion finally broke through after years of toil; and Mark Cuban, the flamboyant owner and media darling, got his well deserved day in the sun.
But with the lockout in play and a high probability that the Miami Heat will eventually figure things out, I say enjoy it while it lasts.
3.         Mark Jackson Needs To Shut His Trap
Jackson had this to say upon accepting the Warriors head coaching position:
"The Bay Area will never be the same"
"Sorry it took so long, but now we're at the party"
"You might as well hitch onto the bandwagon because things gone be a changing"
The Warriors will make the area "New York City West" in NBA circles.
"Put it in bold letters, the Golden State Warriors to be a playoff team next year"
Who does this guy think he is? Having to listen to his over-simplistic, cliché ridden commentary over the years was bad enough, but now to hear him make these fanciful proclamations is downright cringe-worthy.
Confidence can be a good thing, but when you have no coaching experience and you're talking about a perennially inept franchise and fundamentally flawed team, one should pull their punches. This kind of talk can get a man fired when he doesn't deliver, or at the very least, make him look like a fool. And Jackson certainly doesn't need much help in that department. See below.
Question: What are the pros and cons of a backcourt with Monta Ellis and Stephen Curry? Jackson: 'I don't see any cons, other than size'.
Okay then.
4.         Quality Over Quantity Please
I spend a few hours each day reading through NBA articles (sad I know) and I am continually amazed at how much junk gets tossed out there by the so-called reputable sites.
So, being the spiteful individual that I am, I thought it would be fun to shine a light on these perpetrators.
Let's shine away.
'There has been internal discussion about trading for Phoenix Suns All-Star guard Steve Nash to mentor Rubio, but at this point that seems a bit far-fetched. If the Suns do decide to trade their star guard it seems more likely that he would land with a contender. Still, if the Timberwolves were willing to offer up Kevin Love, who isn't particularly happy there, and the #2 overall pick, you have to believe the Suns would listen.'
Hoopsworld (2/6)
Two potential superstars for a 37 year old point guard? That's the most preposterous trade proposal I have ever seen.
'Kupchak has been resilient thus far in moves landing Pau Gasol, Trevor Ariza and Shannon Brown along with dumping unneeded players like Kwame Brown, Vladimir Radmanovic and Sasha Vujacic (although Vujacic might have been the difference against Dallas).'
Hoopsworld (6/6)
He's kidding right? Whatever this guy's on, I want some of it.
'They're done. Miami's Big Three — LeBron James, Dwyane Wade and Chris Bosh. Add Erik Spoelstra and front-running Heat fans, too. Toast. All of them…..It's over. Wade's brainchild and Pat Riley's free-agent coup is a failure. The right thing to do is to blow it up before it dies as a result of friendly fire.'
Foxsports (13/6)
Bear in mind that this is the same clown who wrote a feature article for his website titled, 'Heat are no match for Bulls', emphatically declaring, and I quote, there is "no way" that Miami win the series. So he clearly knows his stuff then…
Enes Kanter picked to go first in NBADraft.net's mock draft.
NBADraft.net (10/6)
Enes Kanter will be a good player but to put him ahead of Irving and Williams at this late juncture was just plain silly (trying to create headlines?). Under this scenario Cleveland would have missed out on both of these guys. But within a few days they came to their senses and shifted Kanter back a few spots. A 'well respected site for the NBA community' – I think not.
'The Magic's top priority this offseason is re-signing shooting guard Jason Richardson'
Hoopsworld (16/6)
Really? Having committed franchise suicide by taking on the albatross contracts of Arenas and Turkoglu, and given the current situation with Howard (likely a goner), I find it very hard to believe that Otis Smith is eager to pay an aging, one-dimensional shooting guard at the price it will take to keep him (especially with Redick on the books at $6m per).
'That's why there are any number of directions the Rockets could be headed in by the time they get around to draft night and the Nos. 14 and 23 picks in the first round of a draft that is generally regarded as deep, but lacking a superstar. '
NBA.com (20/6)
It's deep alright, deep with D-League level talent.
'How good were these playoffs, with the Thunder and Grizzlies emerging, with Derrick Rose winning the MVP and tearing up as he thanked his mother, with the Hawks making a name for themselves, with the Mavericks crushing the Lakers, and a terrific Finals, with five down-to-the-wire games?'
NBA.com (21/6)
One line clearly doesn't belong here and I shouldn't need to tell you which one.
'the bogus "Monta Ellis for Andre Iguodala" swap, which makes no sense for the simple reason that Monta Ellis is better at basketball than Andre Iguodala.'
Grantland (22/6)
Really Bill? Why, because he scores more points? Ok, let's ignore the fact that he plays no defense, is a black hole on offense, doesn't win and is a lousy teammate. I know which player I'd rather have.
'Almost nobody had him pegged to end up in Toronto, but Bryan Colangelo must've been on the same wavelength as those who think so highly of the Lithuanian big man, even though on the surface they really don't seem to need another center.'
Hoopsworld (25/6)
Sure, they have centers on their roster, but not one of them even remotely resembles an NBA quality pivot. The starter is Bargnani who can't defend, rebound, block shots or intimidate to save his life, and he's more suited to play 'power' (I use that term loosely) forward. And Ajinca and Alabi are dead wood. So yeah, they're stacked…
'Each player has his strengths, Landry being the better rebounder and defender while West has the more polished offensive game, but the Hornets have to go with one or the other.'
Hoopsworld (29/6)
Wrong, and it's not even close. West averaged 7.6 rpg last season and Landry 4.6 rpg (and he's a notoriously poor rebounder at his position). Do your research.
5.         Draft Day Winner
Utah Jazz
I really like what the Jazz are doing here, although I wish they would go full tilt on the rebuild and stop sitting on the fence. Jefferson, Okur and Harris should all be dealt for future assets.
I am drooling over the potential of this front line – Hayward at small forward, Favors at power forward and Kanter at center. All the components are there: length, toughness, skill and scoring. It will take some time to develop (3-4 years) but if Utah remains patient it could be their meal ticket back to contention.
Alec Burks at pick 12 was another good acquisition that fills a need and could turn out to be a productive player down the line.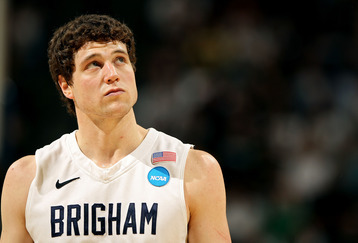 6.         Draft Day Loser
Sacramento Kings
So let me get this straight. Sacramento traded back from pick 7 to 10 AND took on John Salmons' hideous contract, for the right to draft the one-dimensional Jimmer Fredette? You know what this reminds me of? When Memphis signed Allen Iverson in 2009 to boost ticket sales and lift their downtrodden franchise (how did that turn out?).
I am in no way comparing Jimmer to Iverson in terms of talent and personality, but the acquisition of a player purely for marketability and one that makes no basketball sense for a struggling team.
Can they not see the problem here? Most of their key players (Evans, Cousins, Jimmer, Thornton and Salmons) are black holes on offense and absent defenders. That's not a recipe for success.
They would have been better served staying at pick 7 and drafting a more rounded point guard in the form of Walker or Knight.
7.         Who Reached
Cleveland at No. 4 (Tristan Thompson)
Taking a raw, undersized power forward with the fourth pick in the draft is risky. Valanciunas would have been the smarter pick (whilst keeping Hickson) and the fact he can't come over until 2012/13 may have actually worked in their favour for the long term. Time will be lost this season due to the lockout so while everyone goes half speed playing pick-up ball, Valanciunas will be playing high level Euro competition. And more importantly, ensuring they stink next year will guarantee the Cavs another high pick in 2012, in a draft that will be packed full of potential stars.
Charlotte at No. 7 (Bismack Biyombo)
Due to his non-existent offensive game, if he can't become a defensive stud 'The Business' will be useless. Think Saer Sene.
Portland at No. 21 (Nolan Smith)
Using a first round pick on a guy that will never be anything more than a back-up point guard (and that is the best case scenario for Smith), shows the dearth of talent in this draft. This pick and the Felton acquisition do not bode well for Patty's future with the Blazers. It's probably best for him to move on.
8.         A Win-Win Trade?
A straight up swap of Chris Bosh for Josh Smith (which is doable under the current system)
Smith's a head case I know but he's also just a good 'arse-kicking' away from being a perennial All-Star, and the discipline laid down by Pat Riley and Erik Spoelstra could be the answer. Smith offers more interior defensive than Bosh, which is sorely needed, and he can score on the block (but he should be flat banned from taking three's and long two's).
As for the Hawks, with Bosh and Horford at the 4 and 5 (they could switch defensively depending on the match-ups) the center position should be more than covered.
9.         Quick Hits
* The words 'Dirk' and 'soft' should never again be used in the same sentence, no matter what the context. It's an insult to his greatness.
* The Houston Rockets apparently offered Hasheem Thabeet and Jordan Hill for Andris Biedrins, but the Warriors declined. My advice: if some fool offers something (anything) for this overpriced stiff, you take it and run. No questions asked (especially for two guys on rookie contracts).
* Minnesota finally has a good foundation in Rubio, Williams and Love. But until they can turn their mish mash of spare parts (i.e. Beasley, Johnson, Randolph etc.) into a starter-quality shooting guard or center, they're not getting near the playoffs.
* Oh how I love the hypocrisy of college sports. The University of Kentucky has given men's basketball coach John Calipari an extension that makes his contract worth $36.5 million and will keep him coaching the Wildcats through 2019. A college player can't accept gifts or tickets to a ball game, and even a freakin tattoo, while clowns like this rake in millions of dollars on a lifetime contract to coach a bunch of kids for a handful of games each year. Only in America!
10.       Quotes Of The Month
"I feel I know what's most important to me and that's Glen being Glen. I can't perform the way I need to perform if I'm not Glen Davis. I need to be in a situation where I'm going to be Glen Davis. If it's here with the Celtics or with somebody else, I just want to make sure I'm Glen Davis, whatever I do, wherever I'm at. That's all I'm really concentrating on, being Glen Davis, and being a complete player. I can be Glen Davis wherever. It depends on the system, the people around the system, who is going to let Glen Davis be Glen Davis, not let Glen Davis be something they think he should be."
Free agent to-be Glen Davis on Glen Davis – in case you're wondering, he mentioned his name 10 times.
"But I'm not going to take after him on the defensive side."
Houston draftee Marcus Morris, comparing himself to Carmelo Anthony. Dead man walking.
"I don't think [Jimmer's business appeal] played any part, to be honest with you."
Kings co-owner Gavin Maloof on drafting Jimmer. I wonder if he said this with a straight face?
"He took his talents to South Beach and left his hairline in Cleveland."
Dwight Howard on twitter. Out of all the criticism levelled at LeBron, this one may have stung the most. Brutal (but hilarious).
"This will go down in history. When someone points to what a city should be like when it celebrates a win for any professional sports team, Dallas will always be the poster child and we should all be proud of that."
Mavs owner Mark Cuban, slightly delirious after the team's championship parade in Dallas.
"And how devastated I was after losing the Finals in '06, so I had to go on a three-week drinking binge just to forget everything."
NBA champ Dirk Nowitzki. You've got to love the honesty of ze Germans.
"Then in Portland at the Hoops Summit, my teammates were calling me all kinds of nicknames! They called me "Big Mac" and I was like, "What? What is this, Big Mac?" Then one guy was like, "We want to call you 'Big Smack.'" So I said, "OK, you can call me 'Big Smack.' I can roll with that." They had all kinds of nicknames for me, a different one every day. Kevin Pangos, the Canadian, one time he said during practice, "Dude, you're the fuckin' 'Business,' man. That's your new name." I asked why. He said, "Dude, when you're on the floor, you're all business. We're gonna call you 'The Business.'" Soon everyone was calling me "The Business." It's amazing how fast you can get a nickname. When I'm in the League, I think I'll have no choice. People will call me something, and I'll just have to go with it."
Bismack Biyombo on possible nicknames in the NBA
To read more of JT's stuff, check out his blog at NBAozblog
« « Previous Post: 2011 NBA Mock Draft
» » Next Post: Lockout Blues: The System Has Failed