1. Which team was more impressive in finishing off their opposition 4-1 in the Conf Finals – the Mavs or the Heat?
Ash: Heat. Mavs were impressive, but OKC blowing Game 4 and 5 down the stretch was what really won it for them. Miami dominated Chicago throughout.
Ant: Impressive? Heat, as the Bulls are a better team than the Thunder. Mavs have definitely surprised me more though.
J.O: Tough Q first up. Both made insane comebacks in crunch time- Mavs in G4, then the Heat in G5. I'd have to say the Heat. They got smashed in G1 against the Bulls, then made the necessary adjustments and never allowed Chicago that much latitude again. Squeezed them hard particularly at the defensive end.
Joel: The Mavs have been more impressive in playing inspired team ball with Dirk leading the way. In contrast, the Heat are riding their two superstars of Wade and LeBron who take turns when the other is struggling along with a bunch of role players.
Tizzle: Tough question to answer, but I will go with the Heat because Chicago looked so strong this season and yet the Heat walked out 4-1.
JT: Both were impressive but let's not over-analyse it, they beat teams that they should have beaten. Chicago had one guy who could create his own shot, and the Thunder are a bunch of kids.
Robd: Beating your Conference Finals opponent 4-1 is impressive, no matter who it is. Both teams are in red-hot form. But I predicted the Heat to finish off Chicago in 5 games, while I thought the Mavs would take 6 or 7, so Dallas were slightly more impressive in my book.
2. Does the result of the 2006 Finals have any bearing on this series? Do the Mavs use it as fuel or is it ancient history?
Ash: Damn straight the Mavs use it as fuel. Dirk and Terry are still carrying the scars from that series, and the rest of them surely know by now just how deep it cut the team then. The fact that they're getting a shot at a rematch will drive them.
Ant: It's got to, but I'm not sure it actually helps the Mavs, particularly if they try to force things or play too angry.
J.O: Not really. Only for Dirk and Jet since they were the losers from that series. But that was 5 years ago and Dallas is a far better team now.
Joel: I think the Mavs will use it as inspiration in getting it done for Dirk and Jet who have lead their team this season. Jet's championship tattoo made some waves within the team. However, the Mavs couldn't stop Wade then, albeit it was with a little bit (alright, a lot) of help from the officials. What's to say they can stop Wade, and this other guy named LeBron this time around?
Tizzle: I don't think it will have any play in this series, as that Miami team was a very different team. The only chance that series will have an impact on this series is if the Mavs go up 2-0, then we will all stroll down memory lane.
JT: It adds fuel to Nowitzki's and Terry's fire (the only hold overs from 2006), but that's about it.
Robd: I think it will have a bearing, though the Mavs will deny it (just like LA denied seeking retribution against Boston in '10). The entire Mavs organisation was cut very deep after that series. It officially marked the start of a 4-year period of gross under-achievement for a team this good. This is where they will try and right that wrong.
3. The Mavs have a lot of depth while the Heat are heavily reliant on their starters. How important are the benches in this series?
Ash: If the Mavs win, it'll be because of their bench. They're gonna need Jet and Puerto Rican Guy in particular to be able to carry the offense for stretches when the Heat are resting their starters. Miami, well, anything they get from their substitutes is a good thing, although I suspect they're gonna rely on Haslem to cover Dirk a fair bit
Ant: Don't think the benches will decide the series, but the Mavs need to continue getting good production from theirs to give themselves a shot.
J.O: Udonis Haslem & Mario Chalmers will be the reason Miami wins the ring. Say no more.
Joel: The bench is more important for the Mavs as they are the older team of veterans. Dirk, Kidd, Marion, Jet, Chandler, Haywood, Peja and Stevenson have all played at least of 10 seasons without winning a title. The Mavs were built to be deep and versatile. As the Finals go on with an expected amount of physicality and speed of the Heat, the Mavs bench could be decisive in winning games.
Tizzle: This is the very thing that confuses me. Common sense suggests the best 'team' will win, and therefore the strong Mav bench should be the deciding factor. But LeBron & Wade appear to be the exception to the rule.
JT: Dallas are deeper obviously, but in Haslem, Anthony, Miller and Chalmers, the Big 3 have enough support to get the job done.
Robd: Miami's perceived lack of depth hasn't mattered thus far, but the Mavs are one team that can expose them there. The longer this series goes and the more physical it is, the better the Mavs will be equipped to handle it.
4. Does the outcome of this Finals mean more to Dirk or Lebron? Who's legacy is greater impacted?
Ash: Dirk to both. I've said it before – if he wins, he becomes a top-15 all time player and possibly even move ahead of Malone in the all time great power forward rankings. If he loses, he becomes just another great player who never gets a ring. I don't think he gets another chance after this with the rise of OKC and Memphis, who've both learnt hard lessons from this year's playoffs. LeBron will have plenty more chances to win.
Ant: James is in a lose-lose situation because if he wins, he was always expected to win. If he wins and Wade gets the MVP, he's just a sidekick. If he loses, he's a choker. Nowitzki, on the other hand, has a chance to really cement one of the great playoff runs in history if he manages to guide the Mavs to an upset win, and in the process shed the idiotic tag of choker once and for all.
J.O: More so for Dirk because of his supporting cast are in their twilight. Hard to see Dallas getting another crack if they don't pull it off this time.
Joel: So far they've both lost in the Finals. I'm assuming that LeBron will win at least one before he retires. If he somehow can't manage to win one then LeBron's legacy is eternally tarnished along with all his indecencies. For mine, Dirk will always be known as the 7-foot-jumpshooting-German with or without a ring.
Tizzle: It would be the icing on the cake for Dirk, something that he has earnt with a brilliant career. If LeBron loses, it builds up steam for the 2011-12 season like nothing before, but will beg the question, does he have it in him? If LeBron and co win, take cover, because once that bubble is burst, he might win the next 4.
JT: They both need it for different reasons. Dirk to validate his greatness, and LeBron to get all these whining losers off his back (and the recognition he deserves).
Robd: It matters more for Dirk. He probably won't get back here whereas Lebron almost certainly will. Plus, Dirk will be doing it as the unquestioned superstar of his team with a decisive lack of "sidekick" – MJ had Pippen, Shaq had Kobe, Duncan had Parker/Ginobili, Kobe had Gasol, Dirk has… a 38-year old Jason Kidd? Really? The Mavs winning would completely rewrite Dirk's chapter in history. Lebron's chapter is too early to be re-written, no matter what the outcome.
5. Who is the X-Factor player in this series? Who will be the unsung hero?
Ash: X-Factor will be the afore-mentioned Mavs bench players – Jason Terry and Puerto Rican Guy. Unsung hero will be Shawn Marion – he's still able to cover the best wing players in the league as he showed with Durant. LeBron is gonna have his work cut out for him.
Ant: Bosh is the X-factor. If he can do a good job guarding Dirk – and I believe he can – Heat will have this thing in the bag. And if Miami win, not sure there'll be any unsung heroes, all their heroes are pretty well sung! If Dallas can get up, Carlisle will be my pick for unsung hero – he's done a terrific job with this team.
J.O: Refer to question 3.
Joel: Mark Cuban is the X-Factor.  He will be on the officials like a hawk for any dubious calls (who doesn't believe that Miami has already been the recipient of some shady officiating these playoffs?). Don't forget Cube's tirade on Stern after Game 6 of the 2006 NBA Finals where he was fined $250 000. Chandler is already the unsung hero for the season. He has received minimal recognition for his defensive effort. Miami will certainly struggle with Chandler's strong interior defense, shot-blocking ability and around-the-rim athleticism that they have yet to face these playoffs.
Tizzle: X-Factor – Tyson Chandler, really impressed me this year, or Mike Miller. Unsung hero, Jason Kidd.
JT: X-Factor: Chris Bosh – If he shows up on offense and defense, Dallas are sunk. Unsung Hero: Holger Geschwindner…….
Robd: Chris Bosh, just as I said before the playoffs started. He can be a double-edged sword for the Mavs because not only can he hurt them offensively, but he will have a big hand in trying to stop Dirk Nowitzki (which no one has been able to do thus far). If he's up for the task defensively, then the Heat will cruise.
6. Who wins Finals MVP?
Ash: Mark Cuban after he rushes the court Game 5 and punches a ref in the face.
Ant: Wade.
J.O: LeBron.
Joel: Dirk.
Tizzle: Dirk or LeBron, depending on the outcome!
JT: LeBron James.
Robd: LeBron James.
7. What will Puerto Rican guy do?
Ash: Puerto Rican Guy things. He'll have at least a couple of really hot streaks off the bench.
Ant: Annoy the hell out of Miami. But in terms of actual output, not sure he can do much against them, they're much better defensively against guards than any team Dallas has faced.
J.O: Hopefully bring his Mrs to all the games.
Joel: Hopefully, his aggressive play will drive Chalmers and Bibby mad.
Tizzle: Annoy LeBron to the point of a technical.
JT: Pick and roll. But more importantly, have you seen his bird?
Robd: I think he can win a game by himself, probably an OT game where he scores 8 points in the extra period. Including the buzzer-beating game winner.
8. Scottie Pippen recently said Lebron James can be greater than Michael Jordan. Is there any truth in that statement? Has Scottie lost his mind?
Ash: Certainly, he can be. Will he be? I don't think so. I still think his going to Miami to team up with Wade has hurt his legacy.
Ant: I tend to think LBJ will slow down quicker than Michael did as he's more reliant on the physical side, and so won't have as great a career, but in terms of comparing their best years there's not too much between them. Jordan better by a whisker for me, with a big gap to the next best wing.
J.O: Dare I agree. In terms of ability- spot on. Accomplishments, probably have to check back again in 10years. But no one is more qualified to make a call like that than Pip. As much as the general basketball population will despise James and his "Takin My Talents to South Beach" saga, at least he won't be retiring twice and coming back like MJ did. That part of the LeBron journey I will enjoy.
Joel: I'm not even going to justify this with a response. Pippen's statue should be torn down like the Berlin wall.
Tizzle: We definitely have to consider that happening. People get so defensive about MJ, but the fact is, at one point he wasn't the greatest.
JT: Without Scottie Pippen by his side (or another player of comparable talent), how many titles would have MJ won? I say zero. Well, that's the position that LeBron was in with Cleveland. But in Miami he's finally got the talent around him, so let's see what he can accomplish now. To answer the question: no, Scotties' perfectly sane.
Robd: Scottie might be right, and I'll tell you why – Lebron James is such a different beast to Michael Jordan. Different physically, different position, more of a play-maker than scorer, not as good a shooter, more brute than beauty, and less of a ruthless prick. He can be the greatest player of all time without anyone having to downgrade MJ's talents, because he excels in other areas (rebounding & passing namely). This is why Kobe will never get as much love. He's too damn similar to MJ. The thought of putting him #1 is an admission that he does all those MJ-things better than MJ did, and that doesn't sit well with a lot of people. Lebron doesn't have that problem.
9. Who wins the championship?
Ash: Mavs, 4-2. Let me explain why – these series, in my opinion, almost always come down to which team can do a better job stopping the opposition's best player. We know from their last series that Dallas can contain wing players these days, so LeBron and Wade won't have it all their own way. I don't see who is going to stop Dirk on the Heat. Haslem is their best big defender, but he doesn't have the length to trouble him. Dirk can eat Joel Anthony alive. They might end up having to put LeBron on him, which will limit his ability on offense.
Ant: Miami 4-2.
J.O: Miami in 6.
Joel: Mavs in 6.
Tizzle: Mavs 4-3
JT: From Day 1 of 'The Decision' and through all the irrational hate surrounding it, I predicted multiple titles for the Miami Heat. And that included this season, on NBAMate's preseason predictions. I repeated in my writing all year that an injured Udonis Haslem was their only barrier to success, so needless to say, with Haslem back and firing my prediction stands. BUT, you can't ignore what's happening in Dallas and they're going to be a bloody tough out. They're deep, cohesive, hungry and Dirk's unguardable. And with Miami still a work in progress, they're slightly vulnerable to an elite opponent. But, as I've said all year, how can any team contain LeBron and D-Wade over a seven game series? I just don't see it. Miami in 6.
Robd: Miami in 6. I picked them to win it all before the playoffs started and I've seen nothing to change my mind. Dirk has been absolutely phenomenal and honestly, I just don't think he can keep playing at this level. The Heat meanwhile are still saving their best till last, in my opinion. They wiped the floor with Chicago with Wade playing at about 75% capability. Their bench is stepping up. They've got the late-game stuff down pat. And Lebron is playing the best ball of his career. Dallas are a great team, and I hope they make this a contest, but I can't see them stopping this train.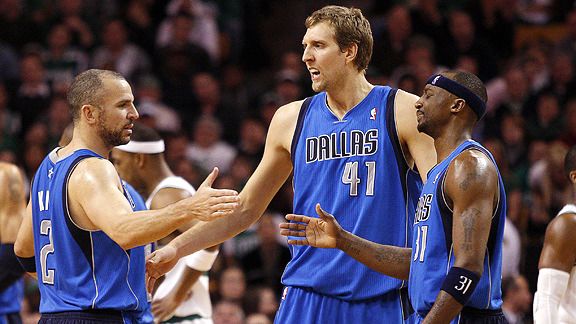 10. Who will you be rooting for?
Ash: I'm not a Heat hater, but I want Dirk to get his ring.
Ant: Usually I'd root for whoever I'm betting on, but my funds are depleted due to the Bulls' choke job. So I'll just be hoping for a good 7-game series.
J.O: Dallas. Guys like Dirk, Kidd, Matrix, Tyson, Jet, Peja and Rick Carlisle have been at the top a long time and paid hefty dues respectively. A case can be made for why each deserve a ring. Lots of sentiment there. But LeBron & Wade just won't be denied. Surely the beginning of a long- loooooong Heat dynasty……
Joel: Let's go Mavs!
Tizzle: As the closing bitterness directed towards LeBron choosing Miami over New York last off-season, I shall be cheering on Dirk and the Mavs.
JT: My wife's German and I've always liked Dirk so I would love to see him get a ring. But, I've been disgusted all year at the amount of crap heaped on LeBron (most of which was ridiculous), so for the majority of NBA 'experts' to be proven dead wrong, I would find that quite satisfying. Go Heat!
Robd: Dirk and the Mavs, if only so everyone can stop whining about the officiating in 2006.
Tags: 2011 Finals, Dallas Mavericks, Dirk Nowitzki, Dwyane Wade, Lebron James, Miami Heat, Q&A
« « Previous Post: Day 39 – Sixteen Again
» » Next Post: 2011 Finals Game 1 – Heat strike first