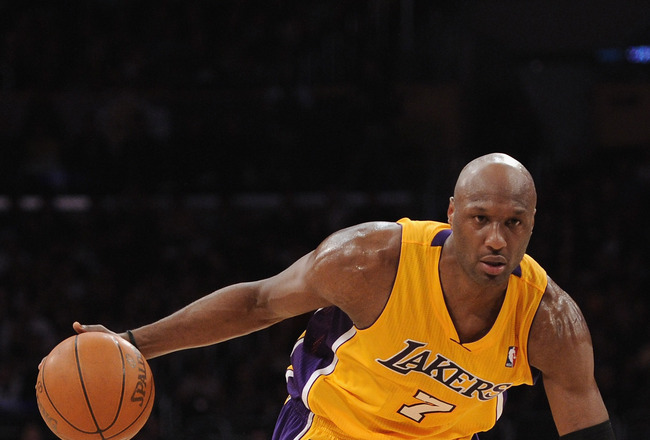 After the craziness of the first couple of days of this playoff series, today was a return to normality, where the top seeds re-established their dominance over the upstart lower seeds and won games they should have in LA and San Antonio, while the Team Formerly Known As The Sonics jumped out to a big lead over Denver (who I clearly jinxed) and never let up.
Here's the votes for the day.
3 Points – Lamar Odom. The NBA's new Sixth Man Of The Year showed exactly why he deserved the award again by putting in a sterling, game-winning performance off the bench. His stat line (16/7/7), impressive as it is, doesn't tell the whole story – the Hornets had no answer for him and Bynum (to be covered later) which was the main reason they lost. Robd recently tweeted the question – how will we as basketball fans remember Lamar Odom? I sent him a response at the time – don't remember what exactly it was and CBFed looking – but I doubt it was too different from what I got now. That is, he was an extremely talented, multi skilled player who's early career immaturity and lack of obsessive drive stopped him from being listed with the true greats, but nonetheless had a pretty good career as a major contributor to a championship team.
I've watched Lamar for many years, and for a long time I couldn't shake the feeling that basketball was more a means to an end (the end being money and fame) than an end in itself to him. This isn't a criticism, just a statement of the fact. That now he has the money and legitimate celebrity status (although being married to a Kardashian, even the least-hot one, helps there – my mum and sister don't follow basketball at all but they know his name and face) he's able to fully focus on basketball and his and his team's game is benefiting from it. Of course, he'll probably go 1 from 13 in the next game and mail in his entire defense. That's the flaw in the gem that is Lamar Odom.
2 Points – Manu Ginobili. Few NBA players annoy me more than Manu, for the same reasons he probably annoys you if you're not a Spurs fan. Nonetheless, his return proved the difference for San Antonio as they squared their own playoff series with Memphis. Once again, the basic stats don't tell the whole story – while Ginobili only shot 5 from 13 from the field, he got to the free throw line 13 times and was a constant thorn in the side of the Grizzlies. I found myself noting the similarities between Lamar and Manu as I wrote this, and both players are worthy of the same question – just how good are they, and how will they be remembered?
Certainly, we'll probably remember Manu as a better player. He provides a bit of everything on the court on both ends, has the ability to come through in the clutch, was vital to the two champion Spurs teams he played on – but you'd never say he was ever a superstar, would you?
For mine, I don't think we'll ever be able to full judge Manu's career simply because he's never played on a bad, or even an average team. The Spurs have been perpetual championship contenders since he's been in San Antonio. Sometimes a truly great team (especially one with the best power forward of all time) doesn't always show your players in living colour. Nonetheless, he gets my 2 points.
1 Point – Andrew Bynum. As we discussed in the Playoff Preview thread, Bynum is the key for the Lakers. If he's fit, he gives them two 7 footers who can score inside and destroy most teams' frontlines. Well, on the basis of this game he's fine and ready to go, top scoring for the Lakers with 17 points and 11 rebounds. With Gasol still in a funk, the Lakers need big production from Bynum more than ever and he brought it tonight.
Honourable Mentions
Chris Paul – Not quite the virtuoso performance of Game 1, but still a masterful game by any other PG's standards. As long as he's playing to his best, the Hornets are a shot in any game. The fact that so many (including myself) thought this series would be a Laker cakewalk just shows how much we'd forgotten that CP3 is a pretty damn great player.
Kevin Durant and Russell Westbrook – Can't separate them and have no need to anyway for this game. While the Nuggets mostly shot themselves in the foot, the one-two punch of the Zombie Sonics saw them home easily. With Kendrick Perkins anchoring the frontline, this team is shit-scary. I'm almost wondering if they could beat LA in the WCF about now.
Marc Gasol – Turned in a gallant performance on a losing team, with 12 points and 17 rebounds. This series is so far the best of the playoffs (with LA-NOLA a close second). All eyes are on the Grizz during their two game homestretch. If they can win both games, then well…
Playoff Retro Diary
2009 Day 5 – The Second Renaissance of Mr Big Shot
2010 Day 5 – Where a bit of Vince happened
Tags: Andrew Bynum, Lamar Odom, Manu Ginobili
« « Previous Post: Day 4 – Where near enough is still 0-2
» » Next Post: Day 6 – Where Dwyane Wade Happens