I don't know if I've told you this before, but man, I love the playoffs.  I really love em.  And you all know how much I love my NBA. I can't wait till the regular season rolls around, to see how prior champions respond, to see the new cream rise to the top. To follow the long and winding emotional roller-coaster that is an 82-game NBA season. But the playoffs? It's a different ball game. Literally.
It sorts the men from the mice, the pretenders from the contenders. It exposes the very essence of players and teams – vulnerabilities and fragilities are exploited, resilience and pride shine through. It can make a year's worth of hard work worthwhile. It can completely undo a year's hard work.
The playoffs are also exhausting – on both the players and the fans. It's a two-month journey where teams can play up to an additional 28 games on top of the regular season. Think about that – an NBA team can play more games in the playoffs than an AFL team will in an entire season. When people say the  "real season" starts in the playoffs, they're not kidding. It's not a throwaway line – it really is an entirely new season. Coaching strategies, game-to-game adjustments, depth and rotations matter a lot more when you're facing the same opponent 4-7 games in a row. That's not something you have to deal with during the regular season. A completely different ball game.
—————-
There seems to be a lot of uncertainty clouding our minds on the eve of the 2011 playoffs. I cannot recall a recent postseason where the race was seemingly so open, where each and every contender had so many question marks above their heads. The Chicago Bulls finished with the league's best record yet very few are willing to pick them as the title favourites. The Spurs who looked like the #1 team for 90% of the season are in a similar boat – most people doubt they'll even escape their conference. The Heat are an enigma because it's their first time, because of their lack of depth, and because deep down inside few of us really want to entertain the thought that Wade, Lebron and Bosh could be hoisting the trophy come June. The Lakers are a rollercoaster that usually levels out in the postseason, but thanks to Bynum's recent injury they're not leaving us convinced. And the Celtics, well, similar to last season they're not exactly inspiring us with confidence coming into the playoffs. But because of last season, no one wants to write them off.
Then you've got the Magic who are experienced and playoff battled-tested. Why should we count them out? The Thunder have been rebuilt for playoff success thanks to Perkins. The Nuggets are playing out of their mind. The Blazers are a popular pick against the Mavs and have been beating everybody the past month. This isn't wishful thinking to try and spice up the playoff race – all these teams have demonstrated they are capable of beating anyone on their day. The gap between the first-tier contenders and second-tier contenders doesn't seem that big.
With so many questions on the eve of the playoffs, we put our heads together and tried to make sense of it all. We threw in our first-round predictions to boot. Enjoy.
First Round Predictions
EASTERN CONFERENCE
Chicago vs Indiana – No surprises here. All 6 of us tipped the Bulls, split pretty evenly between 5 games and a 4-game sweep. Only Joel thought they'd need 6 games to put away the Pacers.
Miami vs Philadelphia – Again Miami was the unanimous selection, with most of us tipping the Heat in 5 games. Ash was the only outlier who tipped this series to go the full seven.
Boston vs New York – Tizzle predictably picked his Knicks to win in 6 games. Celtics in 7 was the group consensus, while Joel tipped them to cruise in 5 (lets remember he's a Celtics fan folks).
Orlando vs Atlanta – We all picked the Magic here. Orlando in 7 games was the consensus, with Ash and myself tipping them to finish off the Hawks in 6.
WESTERN CONFERENCE
San Antonio vs Memphis – Two of us predicted an upset here – Tizzle saying the Grizzlies can outlast the Spurs in 7 games, and Ash tipping the Grizz will only need 6 games. The rest of us tipped the Spurs in either 5 or 6 games.
Los Angeles vs New Orleans – A unanimous Lakers selection, ranging from sweep (Joel) to 6 games (J.O).
Dallas vs Portland – Amazingly, we all tipped the Blazers to win this series, in either 6 or 7 games. This was almost enough to make me change my tip to Dallas – I just don't think we can afford to dismiss them this lightly. But it's hard to argue with recent form. I'm sticking with the Blazers.
Oklahoma City vs Denver – Only Ash tipped the Nuggets (in 7), the majority of the group picking OKC in 7.
Q&A with the Team
1. What is your tip for an upset in the first round?
J.O: Portland to beat Dallas in six games. I see the series unfolding this way. The Trailblazers will get a split in Dallas, before heading home to win two straight. The Mavs will win Game 5 at home before Portland comes back to the Rose Garden to close out the series in 6.
It'll be the same old story for Dirk's Marshmallow Mavs in the 1st round. Portland's young studs in LaMarcus Aldridge, Wesley Matthews and Nicolas Batum, along with the hardened, experienced vets in Andre Miller, Gerald Wallace and Marcus Camby and a 'pinchhitting' Brandon Roy, will cause matchup headaches all over the shop for Dallas. Eventually Portland's versatility in all positions, its youth and overall spiritual toughness will wear down the Mavs- yet again. Ask yourself and count them up, out of Dallas and Portland, which team has more aggressors or agitators in their line-up?
Ash: Got three – Portland over Dallas (the Blazers are surging, they play good defense and Aldridge is playing out of his mind right now), and Denver over OKC (they can stop Durant and Westbrook when they're not tanking, and because I want them to). I'm picking the big one of Memphis over San Antonio. I see shades of Dallas/GSW in 2007 – the Spurs are limping into the playoffs, their main guys all have niggles (esp. Duncan and Manu) and Memphis are genuinely good. They can score inside and out, defend the paint and the perimeter and force more turnovers than any other team in the league.
Ant: Have gone with Portland, as I think they have a really tough small-ball line-up to throw at Dirk's Mavs, which has traditionally troubled them a bit. Their best chance is going with Aldridge at C and Wallace at PF – if they revert back to Camby at C and Wallace at the 3, I like them a lot less.
Tizzle: The Grizz have played superb ball lately, and their scrappy team defence is very underrated. The Spurs are old, and possibly without Manu, ripe for the picking! Look for Tony Allen, Z-Bo and co. to give them a real go. The Spurs window has been closing the past few years, but by NBA law, a team with Timmy D should never be counted out. Yes it still came as a surprise when the Spurs jumped out to such a fast start this year, but did they peak too early? Probably not, but this upset would be mammoth if it comes true.
Joel: The Thunder-Nuggets series has 7 games written all over it and it's possible the Nuggets will win. However, I wouldn't consider it as much an upset as Portland over the Mavs. The Mavs are the perennial chokers of the NBA (re 2006 Finals and 2007 First round vs. Golden State). The Blazers are, well, blazing with confidence right now. Blazers have won several big games in the last month defeating the Mavs twice at home as well as victories against the Lakers, Thunder, Spurs (home and away) and Heat (at Miami). They will be riding on house money. They have a nice young team with a solid bench that will give the Mavs fits. Coach Nate McMillan has several line ups to alter with the option to go big with Aldridge at the four and Camby at the five, or small with Aldridge at the five and Wallace at the four.
Robd: Blazers over Mavs is becoming such a widespread consensus that it's almost non-deserving of the "upset" label. I feel like the Mavs winning would be the upset. I don't see any other lower seed having a chance. People are calling Nuggs v Thunder to be close, but I think OKC wrap that up far more easily than you think.
2. Who is the most important player coming into these playoffs?
J.O: Andrew Bynum. I've said this all season long, but he is at the top of the list in difference makers of all the playoff teams. You just can't teach 7-foot, 290 pounds. Without his knees near 80%, the Lakers will fall short of a 3peat.
Ash: This may see surprising, but I'm going to say Andrew Bynum.  If Bynum isn't completely fit then forget about a three-peat.
Ant: Have to go with Rajon Rondo. If he's confident and aggressive, he should average huge numbers in the first round against NY and could carry that into the match-up with Miami. If he plays like he has in most games post All-Star break, Boston are looking at an early exit.
Tizzle: Carmelo Anthony (just ahead of Andrew Bynum). Will he be worth the big bucks and the lop sided trade? Only time will tell, but I believe so.
Joel: Andrew Bynum, Dwight Howard, Kevin Durant are essential in determining how far their respective teams go into the playoffs. Joe Johnson's performance will be scrutinized along his 6 year, $119 million contract. With that type of moolah, it's time to prove his worth.
But without question, Rajon Rondo is the most important player in determining how far the Celtics can go. Rondo is the engine (as Chuck says, that stirs the drink). It is no coincidence that the Celtics have struggled, particularly Ray Allen, since Rondo's form slipped this last month. But when he is aggressive, the Celtics are almost unbeatable. Just look what he did against the Spurs last week, or even the first 3 minutes of the Miami game last Sunday where the Celtics raced to a 13-2 lead. He simply penetrates the lane at will, either scoring at the rim or finding an open teammate. It's still about the Big 3, but they need a kick-start from Rondo.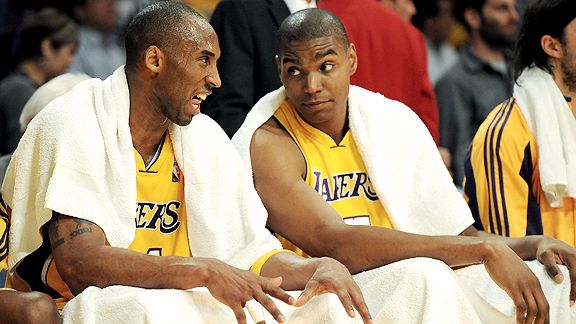 Robd: My instinct is to say Bynum, but truthfully he's worn that difference-maker tag every playoffs for the last three years. So for a different spin, I'm going to say Chris Bosh. I think we know what we're going to get from Wade and Lebron, but Bosh holds the keys to how far they can go. He needs to be a hard-working, rebounding defensive-minded power forward throughout these playoffs. No soft shit. I've seen glimpses of Bosh doing this throughout the season, but he needs to bring it consistently now. I'm talking averaging a double-double. If he can do that, Miami can win the title.
3. The series you'll be following most closely, and why?
J.O: Oklahoma City v Denver. Man love for both teams! Young, talented, deep and full of more weapons this side of a porn flick. Denver's exciting makeup mirrors that of the '94 squad led by that guy who has 7 names. The irony in all this is the Thunder were the Supersonics, and George Karl is still around, albeit marshalling the Nuggets this time. Oklahoma City though won't repeat history, they'll advance in 6 and have too much class with Kevin Durant and Russell Westbrook running rampant.
Ash: All the West playoff series, even LA/NO (I haven't seen enough of Chris Paul this year).
Ant: Lots of good first-round series this year. Boston – New York the pick of the East, San Antonio – Memphis the pick of the West.
Tizzle: New York versus Boston. Melo, Amar'e and Chauncey have the massive task of taking on The Big 3 + 1, but they are some of the most talented offensive players in the league right now, and could do some special things (expect some 35+ pts from Amar'e and some clutch plays by Melo). As a Knick die-hard, I am super pumped. Luckily I have the next week off work with school holidays still so I can solely focus on the games. This series could really shape opinions on the trade, as it has looked quite negative due to a few backwards steps by the Knicks.
Joel: Apart from the Broadway theatrics of Celtics-Knicks, the Thunder-Nuggets series could be as good as Celtics-Bulls of 2009. The Thunder won both games against the Nuggets earlier this month but the Nuggets will give it a good shake with Kenyon Martin in early-career form. I just can't imagine how high octane these games are going to be. The new look Nuggets and Thunder play unselfish-team-first basketball that is highly entertaining to watch. I'm thrilled that I can watch this series as a mutual fan removed from the intensity and anxiety as a supporter of either team. It'll be fun-pure and simple.
Robd: NY vs Boston. For so many reasons, but mainly, because we get to see these two proud franchises go to battle in the playoffs again. MSG, Boston Garden, Amare, Melo, KG, Pierce, Ray… just so much potential for epic drama and history-making moments. I can't recall a first-round series I've ever been more pumped for.
4. Looking ahead, who faces off in the East and West Finals?
J.O: East- Chicago v Miami, Miami to advance to Finals in 6. I would have easily said Boston, but Danny Ainge changed all of that didn't he?
West- LA Lakers v Oklahoma City, LA to advance to Finals in 7. This particular Laker outfit is one of the few teams in NBA history that I can legitimate say, can 'flick-the-switch' when it sees fit.
Ash: I didn't make that $20 bet on a Blazers/Nuggets WCF after all. The West is pretty open as far as I'm concerned – I really think that any of the top-6 seeds can make it. At a pinch, assuming Bynum's fit, I'll go LA-Denver. The Nuggets are just playing too well right now to pass up. Lakers in seven, with a not-clutch Kobe winner.
As for the East, this one's easier – Chicago and Miami, with Miami in six. Think about it. It's pretty much pre-ordained from the heavens (or at least the Commish's office). Derrick Rose is the best player in the league at this moment (advanced metrics be damned) but ultimately, all it takes for Miami are three freakish games from LeBron and Wade each, the other supporting them, Bosh doing his bit and everyone else getting out of the way. You seriously want to bet against that?
Ant: I like the Bulls and Heat to make the ECF pretty easy, and I'm taking the Bulls in 7. Thibadeau's defense is ridiculously effective against star wings, so James and Wade won't be able to drag Miami over the line. And I'm not game enough to bet on Chris Bosh.
On the other side, I like Lakers and Spurs, with the Spurs winning in 6. Would have said Lakers a few days ago given Bynum's form coming in, but I get the feeling that he bone bruise will make him a bit hesitant, which might just be enough daylight for the Spurs. Really though, think this is a flip of the coin.
Tizzle: Chicago vs. New York, with the Bulls winning 4-2. I believe the Knicks will beat the C's, which would then match them up with Miami. Anyone who's followed the Knicks knows that Miami home games are essentially Knick home games, and not many teams can come so close to counteracting LeBron (Melo ain't on his level, but he's the closest SF in the East) and Amar'e solves Bosh, so really we just lose at at Fields vs. Wade, but significantly win the PG battle. The confidence the Knicks will be riding should they beat the C's will be huge, where as the Heat are supposed to beat the Sixers 4-0 so they will retain the pressure placed on them.
Lakers vs. OKC, with the Lakers winning 4-3. I'd love to tip OKC, but I think the lack of experience hurts them. But with Durant, Westbrook and now Perkins, who knows how well they will go. The Lakers may have finally awoken come the Conference Finals, so they should be all good by this stage if they can get there.
Joel: In the East, expect a Celtics-Bulls series. As a staunch supporter of the Celtics it's difficult for me to tip against them. The Celtics are battle-tested. They are loaded from top to bottom with plenty of scoring and a defense-first attitude. But if I have to, I would pick Bulls with home court advantage in the 7th game proving decisive.
As for the West, the Lakers will beat the Spurs in 7 games. The Spurs are built specifically to compete against the Lakers. They have a strong line-up and deep bench with shooters to spread the floor on offense as well as Popovich's focus on defense. However, the Lakers have too much size with a frontcourt of Bynum, Gasol and Odom. They have won the last two Finals and until they are knocked out, they are expected to come out of the West.
Robd: In the East its Miami and Chicago, and I'll take the Heat in 6. I have a lot of respect for the system the Bulls run, but I just cannot tip them over a super-motivated Lebron and Wade, and a Miami team that is starting to round out nicely. I know the Bulls are the league's #1 team, but I would be genuinely surprised to see them make the Finals.
Out West I'll tip the Lakers against the Spurs in 6. I think the Spurs are wearing down at the wrong time, and if they survive the Thunder in Round 2 (no mean feat), they'll have done their dash.
5. Who wins the 2011 Championship?
J.O: Lakers three-peating in 6 games. Too much Kobe, Pau, experience, depth, size and class. Yes, as a unit they've sleepwalked through the season. Yes, they haven't beaten Miami yet. Yes, other teams will expose the fragilities of their bench at various stages. But when its all said and done, the hunger is still there and they'll only face 4 teams to get to that ring again. That's a hell of a lot easier than dealing with random challenges from 29 other teams on different nights. The travel will be a lot less. Their preparation more meticulous. Yes, the caliber of the opponents will lift, but so will the champs. Hard to bet against.
Ash: If my predictions up to here right, Lakers in 5, with Gasol and Bynum eating Bosh and Big Z (or whichever scrub the Heat are trotting out at C) for lunch. The giant Spanish llama will get the Finals MVP he should have won last year.
Ant: Bulls in 7 against whoever makes it through. Both the Spurs and the Lakers have a really tough time guarding scoring point guards, and the Bulls have the best scoring point guard in the NBA. And with Asik, Noah, Thomas and Gibson all capable of playing good defensive minutes, I don't really think the Lakers front-line intimidates them at all.
Tizzle: Chicago 4-2 over LA, Derrick Rose will outplay anyone right now, including Kobe. I was going to predict LA, but hanging onto the old ways is dangerous. Could be a dream run for the Bulls. I'm hoping not, but it's hard to tip against them right now.
Joel: These playoffs are completely open. It could be the Bulls coming out of the East but I'm predicting a Celtics-Lakers Finals again with the Celtics exercising their demons from last season and win in 6 games despite not having home court. Without Perkins, the Celtics still have the size, pending health, to compete with the Lakers. Jermaine O'Neal has shown encouraging signs since returning. Shaq will be ready to go for one more dance on the big stage. As much as that has been made about the trade, Jeff Green allows the Celtics to go with several line-ups. Green will show his worth in the playoffs as he can play at either the three or four, as well as Delonte West who can play both the one or two. The Big Three know this is their last run. It is their time to cement their legacy.
Robd: As anyone who reads this blog knows, I've been saying the Lakers all season long. Which is why I'm going to shock you and pick the Heat to win it instead. Why? It's a hunch. I don't like what I've seen from LA the past few weeks, and I've also watched Kobe struggle with balancing team-play with his one-man show (he's made far too many puzzling decisions over the past 5-10 games). They've flicked the switch off and on so many times this season that I think it will hurt them, the same way it hurt my beloved Pistons during the 2006 and 2007 postseasons.
Miami on the other hand is starting to get their balance right and their bench doesn't seem like a liability anymore – I like what I've seen lately from Joel Anthony inside, and Bibby has been shooting the lights out. Then there's these two facts – 1) Lebron is playing the best ball of his career (scary), and 2) He and Wade have figured out this late game situation, with James willingly deferring to Wade as a creator. If they get through three-rounds of playoff battles, they'll have this even more down-pat. Plus, someone from the Heat, I don't know who yet, is going to make a name for themselves by stepping up in big games. Maybe Eddie House, maybe Mike Miller. Think Leon Powe in Game 2 of the 2008 Finals. The Heat are going to get performances like that throughout this postseason because of the focus on Lebron, Wade and Bosh. Yeah it's a hunch, but one that I can very easily see unfolding before our eyes in June.
Unfortunately.
Tags: 2011 Playoffs, Boston Celtics, Chicago Bulls, Dallas Mavericks, Denver Nuggets, Los Angeles Lakers, Miami Heat, New York Knicks, Oklahoma City Thunder, Portland Trailblazers, San Antonio Spurs
« « Previous Post: 2011 NBA Playoffs on Australian TV
» » Next Post: Day 1 – We begin where we left off