Following the new Knicks
…not to be confused with the New York Knicks of the past!
We continue to focus on the new look Knicks, and boy was December a good month if you are a supporter of the Blue n' Orange, or just basketball in general. The Knicks hot streak of 13 wins from 14 games has fuelled hope for basketball in New York city, and captured the attention of all of the major media players (Yahoo!, ESPN, NBA.com) alike. It has been such a long time coming that the little bit of respect thrown the Knicks way was well received.
There was a fair claim that the Knicks had an easy run in late November, so to put up wins against CARMELO ANTHONY and Denver, the inform Chicago Bulls and the Thunder was a good way to beef up our respect. December saw the rise of Amar'e Stoudemire, but also the effects of heavy minutes eventually wear down Ray Felton who's dropped back to Earth finally. With two games versus Miami, as well as Orlando and Boston, the Knicks faced some of the NBA's elite, and although they didn't collect any dubs in those 4 games, they did show a lot of grit and determination, fighting back in 3 of those 4 games to keep it close until the end… the VERY end in the case of the Boston Celtics matchup.
Dec Record 9-5
(including a win from November which I didn't include in the previous write up, due to the time difference between Aus and US. My bad.)
Overall Record 18-14
6th in the Eastern Conference
Monthly Migraines
- Ronny Turiaf's injury woes have kept him out of several games, which is something we don't want lingering.
- The disappearance of Toney Douglas' ability to shoot the three… where the hell did it go?
- The Cock has gone ice cold. How cold? So cold, he is freezing himself out! Gallo's FG attempts have dropped dramatically and although he is playing a great supporting role to Amar'e and Felton, I just always want more from him. Being our top pick a few years back, I want him to succeed so much. Perhaps the pressure of being on NBAMate's Wall of Fame has gotten to Gallinari?
- The inability for Mike D'Antoni to rest Felton and Stoudemire for extended minutes. We are so dependent on these guys, that we would rather not play Toney Douglas, Andy Rautins, Anthony Randolph and Timofey Mozgov than give some of our key guys rest. The only value those guys have right now is filling out a CARMELO ANTHONY trade.
- The late 3 pointer (check out Spike Lee giving it to the C's just a tad bit early). The basketball God's messed with my head that day. I was watching the play-by-play at work, and it was 118, 116 with 0.4 seconds left. When I refreshed my browser, it listed the Knicks as 119. I quickly scrolled down to Amar'e and he had gone from 39pts to 42pts. I promptly went ballistic, and called over this kid I teach named Dusko who I had made a bet with on the game. I showed him the score, yelled out "give me my Mars bar!" and got on with the celebrations. Firstly I called my mate Azza, started declaring this the greatest moment in my life, then I called my wife Alex, did not tell her what I told Azza, but said this was the 2nd greatest day in my life… when all of a sudden my browser refreshed and Amar'e was back to 39pts, and the Knicks were back to 116. I went to the front page only to read 'Amar'e was a fraction of a second too late'. Never before in my life have I transformed from one extreme to the other. Good news was Dusko still brought in my Mars bar the next day because I never told him they waved off the shot. He was an entertaining but hard student to work with, so I thought swindling him out of a Mars bar was fair game!
- We can't stop opposing big men, at all. Cosmo Kramer would drop 20 and 10 on us right now.
- The 13 of 14 game streak being rolled into a 3 game losing streak. After the tough Boston loss, and a solid first half, we were no match for the cHeat (shout out to Marty!), but losing to the Cavs was just a result of how spent we were from that week. We were at a family Christmas dinner when that happened, and my wife and I kept pretending to go to the toilet to check the scores. When I slammed my iPhone down on the table and shook my head, she just started laughing at me. Where is the love?
- Facing the Magic after they had a chance to get in a groove with Arenas, Richardson and Turk, unfair. Seeing Q Rich glued to the bench, kinda makes things better.
Monthly Miracles
- By FAR the miracle of the month was the fish and chips I just ate the emergence of Shawne Williams. He barely snagged the 15th spot on the roster, ousting Ewing Jnr in the process. This move made many die-hard fans question Donnie Walsh and Mike D'Antoni's passion as Knicks. But now it is clear, they made the move based on a basketball decision, not nostalgia. I'm glad they run my team and not me (because I'd also sign Ewing SENIOR up for a roster spot as well, get lost Mozgov!) Williams stepped it up for 3 games in a row, each time in the fourth quarter. He went 10-11 from 3pt land in his first 3 games with significant minutes, and jumped ahead of Randolph, Mason Jnr and Walker in the rotation. D'Antoni even admitted he had been wanting to throw Williams into the mix a month earlier, but just felt to cautious in taking such a risk. Williams has been lights out in training, and finally got a chance to prove it. Although Williams has had some off court issues in the past (was ex-room mate with Redman, Method Man and I.Need.$) he has vowed to take advantage of his skills and opportunity. Walsh drafted him in the first round back at Indiana, and obviously saw the talent that lay dormant. My wife has even begun the "trade Gallo" chant in our house due to Williams' unexpected form. Williams shot an unbelievable 64% from 3PT land in December, proving his worth to the Mike D offence.
- Knicks remain #1 in scoring in the NBA at the close of December. This is so important because this is the first time as a D'Antoni coached team, we are actually doing what he is asking of us. Scoring the ball. The past two years we have been a D'Antoni team who didn't even score the ball all that much. Offense is not an issue, and our scoring load has been well spread among the starting unit, ala the Phoenix Suns back in the day. We lead the league in 3 pointers made, are second in the league in free throw percentage, as well as coming first in Russian stiffs. I'm pretty sure Mike D'Antoni is a happy man these days.
- The positive press we have received has been great. After the CARMELO ANTHONY concert at MSG, where his 31pts weren't quite enough, the Knicks punctuated their 8 game winning streak. Even after the Celtics loss it was quite clear, the Knicks are no longer a joke. You know what rhymes with joke?
- We dropped 116 points on the best defensive team in the league (Boston), more than 25 points more than the average. Amar'e scored an individual high against the Boston defense (39pts, 4 more than LeCon's 35pts).
- Our shot-blocking numbers have decreased, but this probably also had a bit to do with Turiaf and Mozgov playing less minutes in December. We remain the #1 shot-blocking team in the league, something we were not close to in the past decade.
- Knicks have lost 3 games by double digits (Portland, Miami, Philly) by the end of December. By this stage last year, the Knicks had lost 11 by double digits. There is a lot more effort from this team, and everyone seems to be comfortable in their role, well, accept for the 7 guys who never step foot on a court. CARMELO ANTHONY has played the same amount of minutes for the Knicks this season as Eddy Curry has. True story.
- Landry Fields won Rookie of the Month honors. Again.
- It really is a miracle that ex-Knick Nate Robinson didn't split his head open whilst celebrating at the Garden.
- CARMELO ANTHONY has not yet been traded to the New Jersey Nets!
Amar'e Rant
Amar'e amazed me so many times this past month, his effort and efficiency have been mind boggling. At one point Amar'e became the first Knick player since Stephon Marbury to string together 5 straight 30+ point games. But in order to prevent any of you saying, "well if Marbury did it that means it doesn't mean that much, besides the Knicks were terrible so this achievement is obviously useless," I want to share this extra information:
The Knicks record during Marbury's 5 game hot streak: 1-4
The Knicks record during Stoudemire's 5 game hot streak: 5-0
Shove that in your pipe and smoke it!
But knocking off Marbury wasn't enough. Amar'e went on to equal, and then set a new Knick record by stringing together 9 straight 30+ point games. Considering he had only been a Knick for 24 games before breaking a 50 year old record, we should all tip our hats. Amar'e joined the elite company of His Airness, Shaq and Moses Malone by leading his team to an 8-1 mark during 9 straight 30+ point games, and would have been the only player in NBA history to go 9-0 if it weren't for .2 of a second.
Amar'e was a dominant force in the second half of last season, and the Knicks could have only hoped he could recapture a fraction of this form, yet somehow, just like mexicrinkles from Salsas, he has upped his game time and time again. STAT has been the leading scoring in the NBA for the past 25 games or so, and has worked his way up to being the 2nd leading scorer in the league. My prediction of 30 a game is not so crazy after all, as is my prediction STAT, not Durant, would lead the league in scoring. You other clowns claimed it wouldn't even be close? And I believe Rob may have even gone in for an after hours edit to slip in Amar'e into his prediction too, busted mate! After his slow acclimation with his new team mates (especially Ray Felton) NO ONE in the entire NBA has been as lethal as he has. He even leads the league in fourth quarter scoring with a 7.4 point average. Honestly, he deserves MVP consideration for his efforts thus far.
He received his second NBA Player of the Week award, and became the first Knick to receive the award twice in a single season since… Patrick Ewing. Look out! I coulda sworn Michael Sweetney snatched a few of those awards way back when :S
Amar'e closed out December averaging 29.9ppg (53.6% FG), 9.7rpg, 2.5apg, 2.7bpg, 1.1spg, and MANY facials. Amar'e gained so much respect for the Knicks during that stretch, with the Celtics-Knicks game being called a "classic" by ESPN. He is still behind KG in All Star voting, but I would think it's a safe bet to say he will be playing in Feb either way.
December Heroes
Amar'e Stoudemire – Needs to come first in any positive Knick related article right now. As he goes, we go. He has set the tone, and all the NY journalists repetitively speak on how professional he has been this season.
Shawne Williams – Came alive and provided the Knicks with a 4th quarter 3-point assassin in three straight games after riding the bench for so long, what a surprise story in this young season.
Wilson Chandler – A very sneaky 19 & 7 average for the month of December. Yet to show any emotion, we will keep you updated though.
Raymond Felton – Put up nearly 18 and 10 for the month of December, and when you add 18 and 10 you get 28, which happens to be how old I am turning this year. Coincidence? Me thinks not.
Gallinari (good version) – As you saw in the 2nd half against Denver (16 pts), the 2nd half against Boston (20pts) and the 1st half against Miami (21pts) Gallo can flick the switch and light it up (I once scored 73pts on 2k11 with him, MVP?). When he's switched on, or rather, when he's playing CARMELO ANTHONY, he is a treat to watch.
Landry Fields – Held down the #2 spot on the Rookie Ladder for December, and leads all guards in the NBA in rebounding. ALL guards, not just rookie guards.
The Toronto Raptors – If we played them every game we'd go 82-0.
December Villains
Toney Douglas – Can't string together consecutive good games, but we still love you because of your incredibly vicious defense TD.
Gallinari (crap version) – Where did he go? Oh that's right, he disappeared… again!
Masai Ujiri (Denver Nuggets GM) – Just hurry up and admit you have to trade CARMELO ANTHONY to us won't you. No one is buying this New Jersey Nets garbage. CARMELO ANTHONY wants to win now. Obviously I'd rather see CARMELO ANTHONY play out the season in Denver, because NO ONE stands a chance except the Knicks if he hits free agency. With our team showing lots of improvement and with Amar'e locked up, CARMELO ANTHONY must be licking his chops at the chance to play with Kris Humphries in Jersey come join us.
Timofey Mozgov – Is scared to play now. Thanks Blake.
Knick Nuggets (like the team CARMELO ANTHONY plays for)
This section will be added to keep you up to date with the latest news and gossip.
- Anthony Randolph has been linked with trade rumours to the TWolves for Sebastian Telfair and a 1st round pick. The Knicks are in need of a back-up point guard, and a few more draft picks for a potential CARMELO ANTHONY trade, so although you should never trade big-for-small, this may happen.
- Not only did the Knicks find a needle in a hay stack with L Fields, we also have big man Jerome Jordan (44th pick, acquired from the Bucks on draft day) tucked away overseas. He recently popped in to visit the Knicks, and touched base with Donnie Walsh. First time in a long time, the Knicks have had talent improving overseas (ala the Spurs and their old scheme).
- Not much is happening on the CARMELO ANTHONY trade front, basically the overall thinking is that the Nuggets aren't ready to talk to the Knicks about a package. With Chandler playing quite well, perhaps that will change. Yahoo! Featured an article stating they want 5 first round draft picks for him, but let's get realistic. The most concrete thing is, Denver will not lose him for nothing, as their GM came from Toronto where they lost Bosh for nothing. He will be moved before Feb 24th, which means the Knicks will have to lose some young talent to get him. But because we did not extend Wilson Chandler last season in hoping to preserve cap space, we are going to have to pay a decent amount of coin to keep him, so trading him in the CARMELO ANTHONY trade is a win win for us, and although we have to give up talent, it means we don't have to perhaps over-pay in the off season (The dilemma the Magic faced with JJ Reddick although he's playing well now).
- Kelenna Azubuike remains off the court and it does not seem that he will join the team on court in the near future, if at all. The Knicks are being very patient, so it may not be until around the All-Star break, but he could be jettisoned by then.
- Besides a PG the Knicks are desperately looking for a big man who plays D. If you know one please call me asap. Must have own transport. Non-smoker preferred.
Until next time, keep supporting the Knicks, and start believing in the revolution, it is happening right before our eyes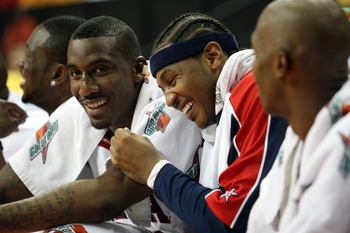 Tiz
P.S I hope you all noticed the subconscious message in this piece, my fingers are crossed!
Tags: Amare Stoudemire, Carmelo Anthony, Danilo Gallinari, Mike D'Antoni, New York Knicks, Shawne Williams
« « Previous Post: 10 Things We Learned In December
» » Next Post: Sunday Six Pack: Patty's PB, Record Ray and the Amare Show