It's that time of the month folks, when I chime in with 10 observations from the previous month's NBA action (in no particular order). Let's get into it.
1. No Haslem, No Title?
LeBron's been too passive, Wade looks lost and Bosh has no presence on the inside. All this can and will be rectified, but what can't be overcome is the loss of Udonis Haslem. I would liken it to the Lakers losing Lamar Odom; he plays a similar role (especially on the boards) and is critical to their success. With Haslem gone they have lost their depth on the front line, and more crucially, their only blue collar guy. This will be exposed against elite competition in the playoffs.
Wade's absence in the preseason and the complexity of trying to mesh two ball-dominant alpha dogs, is reason for the slow start. Expect them to start clicking after the All-Star break, but the loss of Haslem may have ultimately sealed their fate.
2. Blake Griffin Is For Real
There's no doubting it, if he can stay healthy Blake Griffin is going to be a monster. Just how beastly he becomes is up for debate, but I am picturing a better and more complete version of Amar'e Stoudemire. And I don't think that's too far off; a year or two perhaps (if not already).
Along with Griffin the Clippers have a terrific group of young players to build around, but there are some issues on the roster that need to be resolved. They must find a way to remove the toxic Baron Davis, and I can't see the value in keeping Chris Kaman. He's injury prone, too expensive and he needs the ball, which takes shots away from Griffin. He does have value in the league so I would look to deal him for a more defensive-minded, less shot-happy big (in the Varejao mould) to partner Griffin upfront.
The poor record doesn't concern me; it is irrelevant to what lies ahead. Blake Griffin is the Clippers future and he offers the best chance yet to finally escape their wretched past. But then again, they are the Clippers and they're run by a cretin, so you never know what bad luck or mismanagement (or both) will be bestowed upon them.
3. The Lakers Are Home And Hosed In The West
Don't even mention another Western Conference team in the same breath as LA. The competition has flaws, LA does not (except regular season boredom). The Thunder lack size and experience; the Mavs are short on firepower; the Nuggets must deal with the 'elephant in the room' prior to the deadline; and the Spurs would need their Big 3 in their prime to bring down this group.
I would take the recent losses with a grain of salt. No ones beating the Lakers in a seven-game series out west (barring injury to a key player), and that's as good a guarantee as you'll get. Ok, Jerry Sloan re-upping for his 24th season at the helm of the Jazz (that's insane) is a pretty safe bet also.
Laughing all the way to the Finals?
4. Drew Gooden Still Thinks He's A Scorer
This guy has bugged me since the 2007 NBA Finals, when he shot the ball every time he got his hands on it. Not much has changed. I honestly believed that Scott Skiles would sort him out, but he continues to fire away with reckless abandon. It's quite comical actually (unless you're a Bucks fan); he's limited with his moves, he gets blocked easily due to his short arms and he is not a good shooter, but he doesn't hesitate. With Jennings and Bogut steering the ship, and Salmons and Maggette the hired guns, Gooden has no business taking 10.2 shots per game. To put that in perspective, Bogut only takes 10.4 shots (not nearly enough), and Chris Paul 11.3 shots. There is a reason he's played for nine different teams in nine seasons.
5. Orlando Are Not True Title Contenders
Don't get me wrong, the Magic are an elite team, but they're lacking in one key area. They need a closer; someone who can create their own offense when the game is on the line. Dwight Howard improving his free throw shooting would solve the problem, but that's a long way from happening. And please don't tell me Vince Carter is that guy. He's a fraud and the ultimate example of style over substance. Unless he gets a heart transplant he will continue to disappoint (and annoy) when it matters most.
I've said it before and I'll say it again, the Magic must consider an Arenas for Carter swap, because despite what you've read no ones gifting them Melo or CP3.
Can the Magic depend on Vince and Dwight in the clutch?
6. Buyer's Remorse
Giving Brendan Haywood $55m was laughable at the time, and with averages of 3.5 ppg and 4.8 rpg on the season, it looks even more ludicrous now. Mark Cuban clearly has more money than sense and you just know he will be shopping him as early as this season (especially with Chandler's emergence).
Some of the other signings look just as bad. The $120m man Joe Johnson is still masquerading as a franchise player on a B-Grade team; On the hook $102m for Salmons, Gooden and Maggette (via trade) will ensure the Bucks remain the Bucks; And Al Harrington, he of the 5-year $34m contract, is putting up decent numbers now, but we all know he'll turn toxic when Melo bolts and the team rebuilds.
7. Gator Duo Locked Up At A Bargain Rate
In Al Horford and Joakim Noah you have two All-Star quality bigs who are yet to hit their prime. In years gone by that would have guaranteed you a near-max contract, but not this year as teams and players focus on the impending lockout. Both guys received 5-year $60m extensions, which is an absolute steal in my book. Versatile young bigs who excel on the defensive end are a precious commodity in the NBA. But in their rush for security I fear they sold themselves short. Teams like Indiana will have big money to spend next year, and they are desperate to land a frontcourt partner for Roy Hibbert. They may have cost themselves $10-15m.
8. Boston's Fourth Quarter Junk Offense
Throughout last season the Celtics showed an alarming tendency to stink it up in the fourth, and it ultimately cost them the title in game 7 of the NBA Finals. Despite their strong start this year their fourth quarter offense is still horrid, with everything on the perimeter. This is my eternal frustration with the NBA; why so many teams settle for 3's when they have good post players. It appears the Celtics would rather a contested off-balance Ray Allen three in the last few minutes of a close game, than a Garnett/Pierce post move. To me that's dumb basketball. If they don't sort this out (unlikely), it will bring them down again.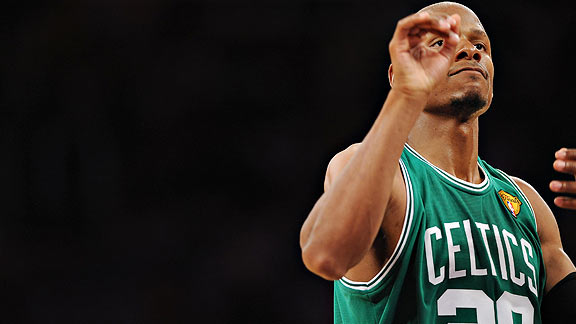 Ray Allen
9. The Blazers Are Cooked
What a shame. This team truly had the potential to be a perennial contender over the next decade, but when you build around injury-prone players it can go wrong in a hurry. Just ask the Houston Rockets; although it appears they didn't learn their lesson by taking on the brittle Kevin Martin. As far as reaching his potential is concerned, Greg Oden is done, and it appears Brandon Roy will always battle knee issues. They still have some good young talent on the roster so they're not going to fall apart, but the championship potential is gone.
10. The New Tech Rules Are Good For The Game
Sure, they've been too quick on the trigger at times, but in the main it's working. You can't verbally harass officials in other sports, so why should the NBA allow it? It's about time they brought this in; grown men whining and bitching when they don't get their way is not a good look, nor an acceptable example for the youngins.
To read more of JT's stuff, check out his blog at NBAozblog
Tags: Al Horford, Blake Griffin, Boston Celtics, Drew Gooden, Joakim Noah, Los Angeles Lakers, Miami Heat, Orlando Magic, Udonis Haslem
« « Previous Post: The New New York Knicks – Oct/Nov Edition
» » Next Post: Fantasy Island