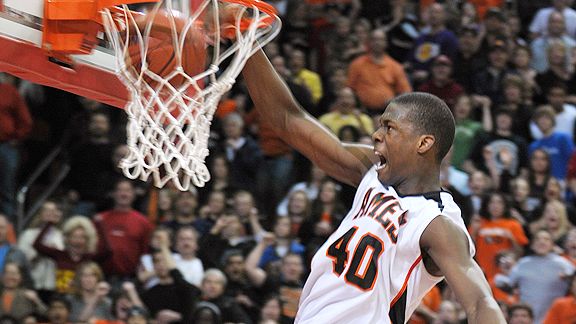 Greetings, gentlemen and ladyboys.
Today's column from your intrepid and recently unemployed columnist (I got shit-canned for eating a piece of leftover cucumber) is something a bit different from my usual style.
You see, the awesome and sexy (almost as much as me) Rob D has allowed me to write a semi-regular column this season about the potential members of the upcoming Class of 2011. That's right, I'm writing about the guys who could be the piece that makes your team go from a cellar dweller to a championship team…or a wasted draft pick. That's the beauty of the draft – it's such a crapshoot you need luck as much as anything.
However, any team that lands the subject of this column is likely to have already received a fair dose of luck (after what one can only assume was a pretty bad season). Today I am writing about North Carolina freshman Harrison Barnes.
Player Profile
Barnes is a 6'8" swingman who's equally adept at either wing spot. For a 18 year old kid, he's already a great defender who uses his length advantage over most guys at his position effectively.
His outside shooting game, including from behind the arc, is solid but could use some improvement, although given the sweetness of his stroke that should come with time and practice.
At this stage, he's still pretty skinny and looks injury prone (then again, I said the same thing about Kevin Durant) – if he can build some muscle while in college and start developing a post up game that takes advantage of his height and length advantage over undersized wings, he's got all the tools to become a great – not just good, great – player at the NBA level.
Barnes clearly has a high basketball IQ – he always knows where to go on the court with or without the ball, he passes well (proving that he doesn't have the selfishness so predominant in many AAU guards) and knows how to create for others as well as himself.
However, in this post-Decision world, sometimes what a guy has upstairs and does off the court is as important as his game. Barnes is, from all accounts, a very grounded kid from a good family from small-town Iowa – not traditional basketball country, which speaks for his love of the game (although, admittedly, a kid with his physique wouldn't be great for American football either). I read an ESPN article about him where they discussed his passion for academics – apparently he's enrolling in a stack of business and finance courses while he's in college. Always a good sign for a guy who could be making $5 million in a few years.
If LeBron James is one end of the Arrogant Young Star scale and Kevin Durant is the other, Harrison Barnes appears much closer to Durant than LeBron.
How Likely Is He To Declare?
Unless he has a bad injury, count on it. Most experts are hyping him as the No.1 overall pick for 2011 – while he's probably not as sure a thing now as John Wall was this time last year or Derrick Rose two years ago, it's highly unlikely he drops out of the top 3. These days, no one passes that opportunity up.
Back in the day talented but not quite polished kids like Barnes would stay in college for two or three years at least and enter the NBA better players for it – but that's another story. However, while he's in college he's in a good UNC program and recruiting class (if not as good as Kentucky or Duke) which should give him plenty of opportunity to shine.
NBA Comparison
The first that comes to mind, obviously, is Kevin Durant. While Barnes doesn't quite have his freakish length or scoring ability – yet – he can certainly develop it over time. And he's certainly as athletic and as good as (probably even better) a defender than the Durantula.
Who Could Use Him?
Frankly, I don't think there's a team in the NBA that couldn't use a 6'8" athletic swingman with great basketball sense, a sweet shooting touch, great defense and massive upside.
Part of me really wants to see him go to Cleveland, just so that Cavs/Heat can be a real rivalry as opposed to the pseudo one it is right now – there's plenty of hate from Cleveland, but Miami will beat them 99 times out of a hundred so who cares?
My guess, however, is that David Stern would love to have a young star in Toronto to keep his only Canadian outpost relevant. Plus, who knows…maybe the Raptors fans will strike it fourth time lucky with Barnes and he'll stay once his first extension runs out? (In case anyone was too thick to get it – I'm referring to T-Mac, Vince and Bosh).
Tags: 2011 Draft, Harrison Barnes, NBA Draft
« « Previous Post: Previewing our viewing: 3 must-watch November games on One HD
» » Next Post: Kevin Garnett, still a douche