A new feature here at NBAmate, we look at three of the most intriguing games  on free-to-air Australian TV in the upcoming month. Preference will be given to teams that don't usually get an enormous amount of exposure.
Friday 5th of November 1:30pm Thunder @ Blazers
With two of the very best young teams in the league up against each other for the first time this season, this is a must-watch.
Who and what to watch and why
Kevin Durant, SF#35, Thunder: You may have heard of him, he's kind of a big deal. Still has these lovely moments once or twice a game where he holds the ball 20-25 feet out…looks confused for a second…then remembers he's Kevin Durant and buries a swished jumper right in his defender's face. At these moments I heartily encourage yelling out any of his fun nicknames – Kid Delicious! Durantula! Big Kev! – to enhance the experience.
Brandon Roy, SG, #7 Blazers: One of my absolute favourites to watch. His stylings are somewhat dampened when paired with the ball-dominant Andre Miller, but when he assumes lead ball-handling duties Roy is a pleasure to behold. A rare player who legitimately gets better in the 4th quarter – mainly because of a greater willingness to throw his body around in the 4th – his best stuff is initiated from top-of-the-key Isolation plays where he can use his terrific ball-handling, clever passing and creative finishing to punish entire team defenses.
Russell Westbrook, PG, #0 Thunder: Probably the second-most explosive point guard in the league – behind only rookie John Wall – Westbrook mightn't be the polished product that Durant and Roy are, but he'll make a play or two a game that will make you gasp. Whether it's flying down the court to set up his boy Durantula for an easy dunk, or skying up over 7-footers for an impossible offensive rebound, Westbrook's athletic superpowers make him a must see, at least once or twice a season.
Serge Ibaka, C, #9 Thunder: Everybody loves a shotblocker, and Ibaka's a good one on the rise. Ibaka comes from the Ben Wallace School of Swats, in that he's probably undersized to be playing centre but makes up for it with good timing and great ups. Unlike Ben Wallace though, he's not a brooding surly asshole. Plus, screaming I-BA-KA!  when he swats a shot is terrific fun.
Match-up of the night
Russell Westbrook against Andre Miller:  There are plenty of others we could have picked out, but this classic test of wily veteran against young athlete will be the most intriguing. Miller is terrific at creating separation with his body, so Westbrook's long arms and athleticism don't really bother him as much as one might think, and his ugly shot mechanics don't prevent him from being a reasonable mid-range shooter and a strong finisher at the rim. Last time Miller dropped 22 and 7, in the process setting up Marcus Camby for an unreal 30 points, so Westbrook will want to get his revenge. Having spent the summer playing against against international guards who bump and scrag at every opportunity, Westbrook may well be better equipped to step up this time.
Potential sources of ugliness
Despite their youth, both teams have coaches that like a slow pace. In their past 4 meetings, the combined score has been well below 200 on each occasion, so don't expect a shoot-out. Also, note that Marcus Camby's jumpshot resembles some sort of medieval catapult, and is about as accurate as one, so expect a few clanks from him.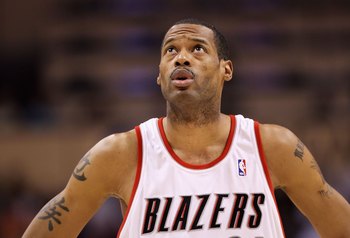 Sunday 7th of November (Delayed) Hornets @ Bucks
The Hornets aren't on TV a whole lot, which is a shame, so make sure to catch their trip to the House of Bogut if you can.
Who and what to watch and why
Chris Paul, PG, #3 Hornets: Perhaps, still, the best-kept secret of the NBA. His appeal cannot be described in conventional terms. Paul's influence and dominance over a game is akin to the dominance of a small red chilli, seeds intact, over a plate of food. He infuses everything and everyone with his unrivalled competitive fire that emanates from his compact unNBAish body. The boyish smile serves only to distract from the sinister sparkle in the eyes of a player always looking for a new way to vanquish whatever stands in front of him. The precision of his dribble, the space-bending arc of his passes, the bodily contortions at the rim – all carefully crafted weapons to serve this sole aim. To watch Chris Paul is to understand the competitive drive in its pure form.
Andrew Bogut, C, #6 Bucks: This man should need no introduction to NBAMate readers. However, in a league that, by my count, can boast only four Centres that could be classed as "very good" or better, each chance to watch one of these four should be cherished.
Brandon Jennings, PG, #3 Bucks: There is something about Brandon Jennings that reminds me of 90′s basketball every time I watch him. Something other than the hi-top fade he often sports, I mean. His waterbug quickness is unlike the explosive athleticism of today's point guards. His shot mechanics deviate from the textbook style, his shot selection is still erratic. His passing is brilliant but overstylized, an out-of-favour approach in an NBA that is ever more hellbent on restricting turnovers above all else. Somehow, Jennings has retained an ability to play with a simple joy in the NBA's professional arena, and he is worth watching for that alone.
Match-up of the night
Corey Maggette against Trevor Ariza: Other than the Paul-Jennings battle, this may prove the crucial encounter. Maggette especially is an interesting dude. A bull of a player with a quick first step, he is arguably the league's best wing at drawing fouls – a really valuable attribute! And yet, over the last couple of years, he has been a popular whipping boy for NBA fans who accuse him, often justifiably, of being a selfish one-dimensional player. When Maggette comes off the bench for the Bucks, it will be Ariza's job to stop him. As a tall and athletic player who can move his feet, Ariza is well equipped to do so, and the winner of this match-up will undoubtedly give his team a big leg up.
Potential sources of ugliness
Unfortunately, there are plenty. The Bucks are currently starting both Drew Gooden and John Salmons, two guys that would comfortably walk onto the All-Bonehead team, despite both being quite talented. They will no doubt cause you to utter an "UGH!" or two during the game; as will Emeka Okafor for the Hornets, who often resembles the Tin Man, both in his mechanical style and his questionable passion for the game.
Friday 26th of November 2:30pm Kings @ Clippers
Unlike the other two games, this one will feature two teams likely headed for the lottery. So why should we watch? Well, no other game boasts as much intriguing unmapped talent. If you want a glimpse into the future, this is the game to find it.
Who and what to watch and why
Blake Griffin, PF, #32 Clippers: Watching Griffin will be a treat for new and old NBA fans alike. Having succumbed to a season-long injury last year, Blake unleashed himself on the Blazers in his NBA debut with a lazy 20 points and 14 rebounds, including two absolutely insane dunks. Like Shawn Kemp of the early 90′s, Griffin jumps – or I should say erupts – almost exclusively off two feet, which adds a quality of surprise to each elevation. Not to mention he plays phenomenally hard, diving recklessly after any rebound or loose ball in his vicinity. The Clippers are rarely on TV, so don't miss the chance to experience this beast of a player in High Definition.
Tyreke Evans, SG, #13 Kings: The reigning Rookie of the Year has the chiseled 6″5 body of Dwyane Wade with the creative spirit of a young Manu Ginobili. His ability to angle into lay-ups, to finish with little flicks and underhand scoops and to impose himself physically on the other team's back-court makes him a must-watch player. He's still a long way away from figuring out the nuances of NBA basketball – and this is a 20/5/5 player already! – but the occasional bad shot or wayward pass is easy to stomach given the rest of his game.
Carl Landry, PF, #24 Kings: Whenever a football or rugby fan labels basketball "soft", I urge them to check out Carl Landry. After all, this is a dude that was took a bullet in the leg in 2009, and was back on the court in just over two weeks. Then last year, he had a bunch of teeth knocked out by an errant Dirk Nowitzki elbow and hardly flinched! Dirk and his elbow, meanwhile, were out for weeks. That toughness is evident whenever you watch this former 2nd-round pick play; his hustle and effort is unrelenting throughout every minute of the game, and it makes for great watching.
Eric Gordon, SG, #10 Clippers: There are some player who are just really pretty to watch. Eric Gordon is one such player. With an effortless long-range shooting stroke reminiscent of Gilbert Arenas before he was crazy, and a cannon-ball physique that crashes into opposing bigs when he attacks the hoop, Gordon just makes any game better to watch. He doesn't yet have the mentality to consistently put up big numbers, but his flashes of brilliance make him a worthy entry on this list.
Match-up of the night
Blake Griffin against Carl Landry: As was said in the write-up, it's tough to find two more tenacious guys anywhere in the league. Neither is a particularly good defender, but you can bet on there being plenty of fighting for position, lots of diving for loose rebounds, and the intensity raised to "11″ for the whole game. If that wasn't enough, Griffin should also see some time against Landry's rookie partner DeMarcus Cousins, who was unlucky not to make the list above in the first place. Cousins is still getting used to the pace of the NBA, but he's the best pure low-post talent to come into the league for half a decade, so if you're a sucker for a smooth, traditional low-post game, keep an eye on him.
Potential sources of ugliness
Well, both teams are still very young and inconsistent, which means you aren't guaranteed a high-quality basketball game. Particularly since the only real veteran on either squad, Baron Davis, has sort of given up on life. Also, there's the issue of seeing Chris Kaman in all his glory on a large screen. But stick with it, and both teams will reward you with with some exciting passages of play from guys who are only going to get better.
Tags: Los Angeles Clippers, Milwaukee Bucks, must-watch games, New Orleans Hornets, Oklahoma City Thunder, One HD, Portland Trailblazers, Sacramento Kings, TV Schedule
« « Previous Post: Sunday Six Pack: Back for 2010-11
» » Next Post: The NBA Draft Class Of 2011 – Harrison Barnes