July 8, 2010, 0928 hours, Ash's bedroom. LeBron James is announcing his Decision.
Jim Gray "The question everybody wants to know. LeBron, what's your decision?
LeBron: "This fall…ah, this was very tough. This fall, I'm going to take my talents to South Beach."
Ash: "What?"
0929 hours
Ash: "Wait a minute…LeBron not going to New York means that the Warriors will get David Lee!" *starts singing Sick Mate Sick Subwoofer*
Even after a day where I took my own talents to South Beach three times (or twice if you use the defecation metaphor) my euphoria had not died down. Still hasn't.
Then I checked the internet and realised that I was far from in the majority with my excitement.
While Golden State fans aren't exactly known for their inherent optimism (hell, our team's main beat writers have made careers out of slagging off every move the team makes – yes I'm looking at you, Kawakami, you little piece of shit) to me this made no sense. If you had only read the internet buzz after the trade went down you'd have thought we'd just traded Jesus Christ for the rights to Buddha's redheaded stepson.
All the talk was of Anthony Randolph's potential and how being in New York would bring the best out of him and losing role player/high character guys in Ronny Turiaf and Kelenna Azubuike.
Just for Tizzle and the rest of the Knicks' fans benefit, I'll cover what you guys are getting.
Turiaf and Azubuike are both terrific human beings (I've met both of them and know this to be true) who can be valuable role players to a team. Ronny with his defense and hustle, Buike with his shooting and passable perimeter defense (although the fact that he was our best perimeter defender the past two seasons says more about the Warriors' lack of D than his own abilities). But that's it. Other than the odd super hot night by Buike (which doesn't happen that often) neither of them are game changers or the difference between the playoffs and the lottery.
And then there's Anthony Randolph.
Other than Benji Marshall, no other athlete has caused me to lose as much hair as AR. (The two of them are the reason I shave my head these days).
Let's cover the good about Randolph first. Yes, he's a freak athlete. He's got great ball-handling skills for a guy who's nearly seven feet. He protects the rim well. And…that's about it.
Defensively, his skinny frame really hurts him as he can't defend power forwards who play in the low block. Nor does he have the lateral quickness to guard PFs who can spread the floor, which is another reason why he can't play small forward.
Offensively, well, most of the hair I've lost due to him comes from his perpetual belief that he can beat anyone one-on-one, and when he can't, launching a jump shot that misses on account of him not being a very good jump shooter. His post game is non-existent, he doesn't pass the ball and he has the basketball IQ of a garden gnome.
And this is why Anthony Randolph will never be a great or even a very good NBA player. Basketball IQ isn't a skill that you develop on the job – you either have it or you don't. When guys like Kevin Garnett and Tim Duncan came in to the NBA, you knew they would be superstars because they played as smart as they played hard. AR plays hard, but very rarely does he play smart.
Plus, he's more than a bit immature. His feud with Don Nelson over minutes in his rookie year was well-documented – while Nellie himself is losing his mind more and more by the day, the fact that he was a 19 year old rookie picking a fight with his coach should say it all. Being in New York with the bright lights of MSG and the notoriously tough Knicks fans will break him soon enough and Spike Lee will start slagging him off in the press.
So basically the Warriors exchanged two role players and a bust in waiting for a 20/10 All-Star.
In what way is Lee not an upgrade over Turiaf/Randolph in the frontline? Well, we probably lose a bit of defense – however hopefully Gadzuric can fill the Turiaf role this year. And let's be realistic – how much D were we playing before anyway? Not fuckin' much.
Now let's look at what DLee brings to the table. The biggest upgrade over Turiaf and AR is his rebounding. Lee is probably a top-5 rebounder in the NBA on both offense and defense, and last year the Warriors were the worst rebounding team in the league. With Andris Biedrins (if nothing else, a good rebounder and shot blocker) back to full fitness and (hopefully) confidence after his horror last season, we have a starting frontline who should at least grab plenty of defensive boards (vital to Nellie Ball) and second chance points.
Now let's look at Lee's offense. I could make a case that he's one of the more underrated offensive forwards in the NBA. He can score both in the post and hit the mid range jumper. In New York he was deadly on the pick and roll with scrub PGs – how's he gonna go with an All-Star in waiting like Stephen Curry? We could easily be one of the best offensive teams in the league just running pick and rolls with Lee/Curry and iso plays for Monta Ellis.
Speaking of Monta, DLee brings one other vital quality to the Warriors – leadership. Last year Monta felt the need to shoulder the leadership role and failed miserably in the task. This isn't a knock on him as a player, it's just saying he's not cut out to lead a team. With Curry in his sophomore year and a locker-room presence with gravitas like Lee, Monta will be able to return to the guy who was scoring 20ppg at 50%FG in 2007-08 while not having to handle the ball for more than short stretches.
Then comes the question. Can David Lee help carry the Warriors to the playoffs?
(Warning: Blatant fanboyism starts here)
Obviously there's a few caveats here – Curry doesn't get the second year blues, Monta behaves himself/doesn't whinge his way out of town, Biedrins remembers how to shoot free throws (he was a 60%FT guy before last season), our limited bench depth doesn't hurt us – but I truly believe it is possible.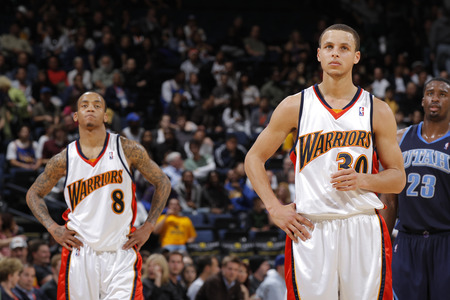 Does this look like a playoff backcourt out West?
Many people like to point out that the Curry/Monta backcourt is somewhat limited defensively. I'd first like to point out that it's not the worst defensive backcourt in the league anymore (assuming Byron Scott really plans to use a Ramon Sessions/Mo Williams pairing this year) and that the Warriors team that made the playoffs in 2007 had a backcourt of Baron Davis and Jason Richardson, neither of whom are sterling defensive players. In fact, I would argue that Curry plays better D than Baron and while J-Rich has a height advantage over Monta, Monta plays the sort of hustling D that can trouble many bigger 2s (see the final Warriors/Lakers regular season game last year where he nearly shut down Kobe). If we can find our offensive form of the We Believe year, Lee and Biedrins can pull down boards all day, we can make the playoffs.
Cause you gotta remember as well that the West has fallen back. The Suns (sorry Chucko) won't be anywhere near as good this year without Amare. The Jazz will probably fall away as Al Jeff struggles in their offense and Gordon Hayward busts while getting even whiter (if that's even possible. Seriously, is there a whiter guy in the NBA today than Hayward? Even Kyle Korver isn't that white). San Antonio are only getting older and Tony Longoria seems to be trying to force his way out.
That leaves three potential playoff vacancies – you'd have to assume Houston has one of them sealed up with Yao Ming hopefully back to fitness, leaving two open. While I can see plenty of other teams fighting for those potential openings (the Hornets, Kings and Clippers all come to mind) I reckon the Warriors have a real shot at a 7th or 8th seed this year.
(And the fanboyism ends here).
So in short – Warriors win this trade, DLee pwns in Golden State, Anthony Randolph busts in New York.
Now if you will excuse me, I'm off to the beach.
Tags: Andris Biedrins, Anthony Randolph, David Lee, Golden State Warriors, Kelenna Azubuike, Monta Ellis, New York Knicks, off season, Ronny Turiaf, Stephen Curry
« « Previous Post: Jim's Decision
» » Next Post: Andrew Bogut is like a bouquet of flowers, apparently