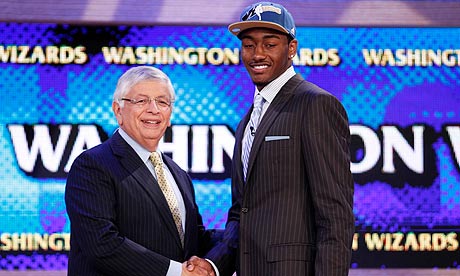 Welcome to Ash's Recap of the 2010 NBA Draft.
I had promised Rob a full draft diary, but Ekpe Udoh going at 6 kind of shit-canned that plan. More on that later, but needless to say I was too depressed to write more.
This can be a problem, because when I get depressed, I hit the liquor. I had an exam today at 2:00, which I did not sit fully sober. And I got yelled at by my mum for drinking.
However, a bit of food and a few hours later, and I've sobered up enough to write a recap of the draft.
OK, let's start with the easy one – which teams drafted the best?
I never thought I'd say this, but…I genuinely think the team that drafted the best overall was the Clippers. They managed to fill their main hole at small forward (Al-Farouq Aminu), got a future replacement for Baron Davis in Eric Bledsoe and managed to steal Willie Warren with the 55th pick – if Warren can keep his head straight, he's going to be a solid rotation guard in the NBA.
Just think about this for a second – the Clippers starting lineup next year as it stands is Baron Davis/Eric Gordon/Al-Farouq Aminu/Blake Griffin/Chris Kaman, with Eric Bledsoe, DeAndre Jordan, Willie Warren and Free Agent Combo Forward X to come. That's a lineup with both young talent and experience (Boom Dizzle and Caveman Kaman) which, playing in the right style (i.e. up tempo, pushing the ball in transition) could conceivably be a playoff contender in the West next year and a real title contender in a year or two.
Yes, you read right. Of course, since this is the Clippers we're talking about, this theory is heavily based on a) no freak injuries and b) Sterling's desire to penny-pinch not getting the best of him. That old bastard has started to open his wallet a bit more in recent years, however, once all these guys need contract extensions, we'll see if he's for real.
The other team that made out like bandits were the Kings. While you could argue they got lucky, especially with grabbing Hassan Whiteside with the 33rd pick, you've got to admit that there's something interesting brewing in Sactown. Whiteside and DeMarcus Cousins could, in time, become the next Gasol/Bynum. Or they could become the Sacramento Jail Queens. Who knows.
Oklahoma City and Portland also deserve mentions for their savvy trading. While I'm not wild on the Bledsoe for a future first trade made by Presti, getting Aldrich was a master move as he provides the Thunder with what they need most – a guy who can bang on both ends, grab rebounds and defend. Another savvy pick by the Mutant Sonics. Portland managed to dump Martell Webster on the Timberwolves for Ryan Gomes (a hustle/energy guy who's the ideal 9th/10th man on a contender) and the rights to Luke Babbitt, who, quite frankly, is better than Martell Webster for less money.
OK, who screwed up?
A three way tie here – Knicks, Timberwolves and my not-so-beloved Warriors.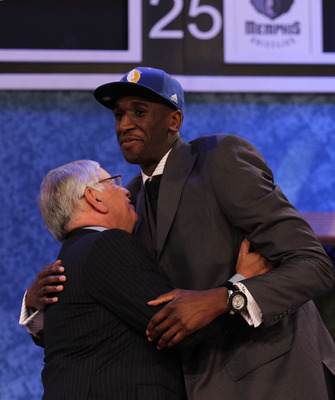 I've finally given up. The Ekpe Udoh pick was the last straw. I'm becoming a Kings fan for good now. Fuck you, Chris Cohan. Fuck you, Larry Riley. Fuck you, Robert Rowell. I'd also say fuck you to Don Nelson but he clearly didn't have a hand in this pick as Udoh is not a Nellie player at all.
I have just one question. Surely after rolling the dice with two project forwards who eventually busted for two successive years (Ike Diogu and Da Notorious POB) less than five years ago, you'd think that they'd learn right? Udoh is going to be Ike Diogu 2.0. No question about it. Meanwhile, I'm looking for my old Jason Williams Kings jersey.
While the Warriors definitely made the biggest mistake in the draft, the Knicks' screw-up may hurt them even more. With the 38th and 39th picks, they had a chance to add a couple of solid rotation players – the kind of guys you need on a championship team, which the Knicks want to show themselves to be to free agents.
Instead, they went for a guy described as a poor man's JJ Redick – not the sort of player you want to be trying to lure free agents with. And if the silly season busts for the Knicks, good luck trying to sell Andy Rautins as your shooting guard of the future to Spike Lee and co.
As for Landry Fields, I'm a Stanford guy so I hope he has a good career…but once again, he's a career 10th man. Not the sort of guy you can build around if it all goes pear-shaped this off season.
The Knicks could do worse than see what the Heat did with their two consecutive second round picks. Using the 41st to select Jarvis Varnado (a middle class man's Ben Wallace) and the 42nd to select Da'Sean Butler (a future rotation player who isn't afraid to make big shots) shows what the Knicks should have done. Grab a couple of role players and make room for the stars, not just assume that grabbing the stars and throwing them in will solve all ills.
As for the Timberwolves…if David Kahn hasn't earned the title of NBA's Village Idiot GM from Chris Wallace (and if Larry Riley hasn't taken it first), he's surely got it now. At least Wallace picked fairly smart with this draft (while I'm not sold on Greivis Vasquez as a first round pick, Xavier Henry will be a solid replacement for Rudy Gay once he leaves skid marks going out to New York/New Jersey/Miami/Chicago).
In fact, I think David Stern should make a rule that as long as David Kahn is the Timberwolves' GM, they can not have more than two picks every draft.
In case you didn't know, Kahn once again picked three players who all play the same position (small forward) in Wes Johnson, Luke Babbitt and Lazar Hayward. If that wasn't enough, he went and traded Babbitt to Portland (along with Ryan Gomes) for Martell Webster! Martell Freaking Webster! Why would you trade for a guy who not only plays the same position as your number 4 and 30 picks, but plays exactly freaking like the 4th pick only not as well and is a career backup?
Seriously, once I finish covering the Free Agent Summit I suspect I might have to drop into the Atrocious GM Meeting of 2010. Kahn, Wallace and Riley will all be there – Isiah Thomas and Kevin McHale will be the MC and convener respectively. I suspect Donnie Walsh might also be joining them when all is said and done.
Who went too high? Who slipped?
The answer to the first question is Ekpe Fucking Udoh. There are probably others, but that's about it. I guess you could also make a case for Gordon Hayward, but since his sister won the "Beer Goggles of the Year" award (I was drinking when I saw her interviewed so I thought she was kinda hot. Once I saw it again after sobering up…no. Although I probably would, but that's cause I'm a man whore.) I'll count that as an achievement of his and say he deserves his spot. Although he was clearly drafted as either a friend for Mutant Ashton Kutcher (if he stays) or as his replacement for the hearts of teenage Mormon girls in Utah.
As for slips, there were a few, particularly later in the draft. Ed Davis dropping to Toronto at #13 surprised me, as did Babbitt falling out of the lottery to #16. And the second round was such a mess it became almost impossible to predict. Guys who I had predicted as potential late first rounders (like Stanley Robinson, Gani Lawal and Willie Warren) fell down or almost fell out of the draft altogether, while some guys who hadn't even been on my radar (like Trevor Booker and the previously-mentioned Andy Rautins) shot up the board. Further proof that the draft is a total crapshoot.
Who's gonna be the biggest bust?
You mean, other than Udoh? (By the way, I'm calling him Homer from here on out. Both for the 'Doh! factor in both his name and the way the entire GSW fanbase felt when they heard his name announced, and because you'd have to be a total homer to not hate this pick).
To be honest, no one else really stands out as a bust in that way, unlike Thabeet last year (you could tell he wasn't going to be worthy of a No.2 pick). The only possibility is that Derrick Favors has a freak run with injury (And never gets to touch his potential). Or if you buy into the hype that DeMarcus Cousins is a baby Shaq when he's really closer to Zach Randolph but more committed on D.
Otherwise, no one really.
Does anyone know any good hitmen in the Bay Area?
Now I'm asking the question. Does anyone?
Until I get an answer, I'm gonna drink myself into oblivion.
Tags: 2010 draft, Ekpe Udoh, NBA Draft
« « Previous Post: Idiot's Blog Guide to the 2010 NBA Draft – Draft Eve Edition
» » Next Post: Free Agency Flights