Now that the NBA Finals are over, NBAMate's Draft Dude is back. Or should we say Draft Dudes.
Jobba, famous across the Internets for his Idiots Blog Guides to the NBA Draft, is joining forces with NBAMate's new recruit Ash (also of Bleacher Report fame) to lay down the greatest Mock Draft you will ever see. We figure two heads are better than one, right?
#1 – Washington Wizards select…

Jobba – John Wall
The worst kept secret in the NBA from year to year is always the number one overall pick in the draft. This year isn't any different with a clear number one prospect in John Wall. The other worst kept secret might be the apparent wishes of the Washington Wizards brass to move Gilbert Arenas. Even if they decide to keep him, Arenas would move to the other guard spot and really be on his last chance to behave himself. Its a win-win situation for the Wizards.
Ash – John Wall
Let's put it this way. The only way John Wall falls out of the No.1 spot is if we find out he killed a hooker and snorted coke off her butt before burying her in the desert.
Even then, I wouldn't count on it.
#2 – Philadelphia 76′ers select…

Jobba – Evan Turner
There has been some talk regarding Derrick Favours at this spot, but with new coach Doug Collins coming into the head gig, I would have to assume that he would want to start with a solid team. Whilst Favours has the better potential, Turner is a low risk/ high reward guy that could slip into a line-up with Igoudala, and also allow some time for last years pick Jrue Holiday to mature.
Ash – Evan Turner
Even though there's a rumour going around that the Sixers may be looking to move this pick or maybe even take Derrick Favors, don't be fooled. Turner is too good to pass up with the second pick. A backcourt of Jrue Holliday and Turner with Iggy Hop at the three is going to be a hell of a 1-2-3 punch in a few years.
#3 – New Jersey Nets select…

Jobba – Derrick Favours
This is the pick that could set up the entire draft. The Nets lucked out on the Wall and Turner sweepstakes, and now must make the tough decision. Do they go with a guy like Wesley Johnson, a guy that could have an immediate impact; or do they go with Derrick Favours, a player who has the highest upside in the draft? That question will inevitably be solved after some free agent discussion in the coming days.
Ash – Derrick Favours
Don't completely lock this one in. The Nets are bringing in Favors and DeMarcus Cousins to work out together on the 21st—whoever impresses them the most will probably be their pick. However, at this stage the raw but more stable Favors looks to have the inside running.
#4 – Minnesota Timberwolves select…
Jobba – Wesley Johnson
The Timberwolves and Wesley Johnson are almost a perfect fit. Firstly they have their tall timber in place with Al Jefferson and Kevin Love, and with three picks in a draft stacked with bigs, they can get good value later. Johnson fits a need, playing on a wing opposite Corey Brewer, plus with starting point guard Johnny Flynn coming from Syracuse as well, there is some familiarity there.
Ash – Wesley Johnson
All the buzz seems to be that the T-Wolves are very keen on Wes Johnson and want to take him at No. 4, and even though I don't trust David Kahn to not screw up he would definitely be the safest pick here. Johnson can come in and start contributing right away—if Rubio does come and play for the T-Wolves, he would be his ideal compliment.
In the meantime, if you can find a place to bet on it, put a $20 on Johnson being Rookie Of The Year.
#5 – Sacremento Kings select…
Jobba – DeMarcus Cousins
Cousins is probably the best skilled big in the draft in terms of footwork and finishing ability. However, there has been some questions raised regarding his psychological and mental stability which has seen him unable to take over Derrick Favours as the number 1 big in this draft. However, the Kings could get a steal with Cousins and add a different big man look to help Tyreke 'Roy' Evans.
Ash – DeMarcus Cousins
…before trading him and Andres Nocioni to the Detroit Pistons for Tayshaun Prince and the seventh pick.
The reasoning for this trade is simple. The Pistons need an inside presence like nobody's business right now. The Kings are OK up front, but they need some help at the 2 and 3 who can fit with Tyreke Evans. Rumour is that the Kings are interested in Prince—this seems like a fair deal for both sides. The Kings dump Nocioni's contract and get one of the league's most underrated players in return.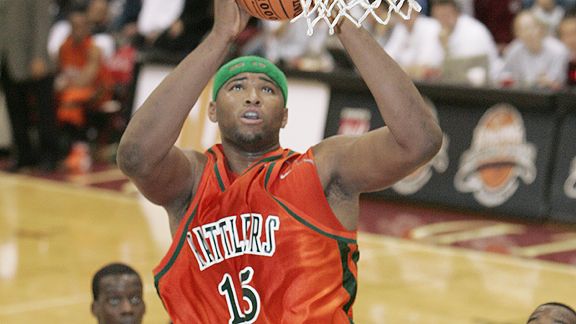 #6 – Golden State Warriors select…
Jobba – Al Farouq Aminu
Golden State really could use another stable big, and the result has been early rumours regarding a trade with the Timberwolves, Anthony Randolph for Kevin Love. Regardless, they do have some talented bigs. Andreis Beidrins is a solid player, and Ronny Turiaf is solid off the bench. The key to their draft is how they see Brandon Wright's future. Either way, I think Air Al is the pick here; a SF/PF who can run the floor and grab rebounds – a perfect player for Nellie-Ball.
Ash – Al Farouq Aminu
Aminu may not be the best player available, but he fills areas of need for the Warriors right now. He's an excellent defensive player and rebounder who can play small forward and is ideal for an up-tempo, transition style.R ight now his offensive game is still a work in progress, but keep an eye on this kid. He's got more than a whiff of Josh Smith about him, only less of a head case. He will be a future DPOY contender and maybe even an All-Star.
#7 – Detroit Pistons select…
Jobba – Cole Aldrich
Our of every player in this draft and with every team in this draft, nothing marries up quite as well as the Detroit Pistons and Cole Aldrich. Aldrich just looks like that blue-collar, solid worker, tough as nails player. And he is. He will bring in defence, shot block and rebounding prowess straight away, and not step on Villenauva's toes on the offensive end.
Ash – Xavier Henry
…before trading him and Tayshaun Prince first rounder to the Sacramento Kings for Andres Nocioni and 5th overall pick DeMarcus Cousins.
Henry's been projected to go all over the place in recent mocks, however, he's a near ideal fit for the Kings backcourt with Tyreke Evans as he's a pure shooter who doesn't need a lot of touches to be effective. He can simply wait on the three point line and have Tyreke pass him the ball when he's open and Reke sees him or he's double teamed. Therefore, I can see the Kings trading down for him.
The Pistons, in return, get an extremely talented big man (albeit one with a few question marks) and a tough, scrappy, defensive-minded player in Nocioni—this Pistons side could really use some toughness right now.
#8 – Los Angeles Clippers select…
Jobba- Greg Munroe
The Clippers need a small forward more than anything. Remember, the draft that gained them Steve Blake and Travis Outlaw wasn't a bad one at all – plus you have last years number 1 overall draft pick Blake Griffin yet to play a game. Xavier Henry could be the pick here, but if they go for the BPA (best player available) then Munroe is the guy. A guy who can be the third tall, play either power forward or centre, make Chris Kaman and DeAndre Jordan expendable and play at any position.
Ash – Ed Davis
..before trading him and Steve Blake to the Memphis Grizzlies for the 12th overall pick, the 28th overall pick and cash considerations.
The Clippers actually have quite a nice nucleus right now, with Baron Davis, Eric Gordon and Blake Griffin. Get a coach who has them playing in the right (i.e. up-tempo, Phoenix-lite) style for this team and you have a playoff contender in the West. Their main hole is at small forward, however, with no obvious player for that role at this stage in the draft, it makes sense to trade down.
With Zach Randolph in his last year of his contract, Memphis might need to look to the future and develop a young PF to go with the nice little core they've got going there with OJ Mayo, Marc Gasol and (if resigned) Rudy Gay. Davis, who could use a year or two of development, could be that guy—he certainly has the potential.
#9 – Utah Jazz select…
Jobba – Patrick Patterson
The big question for the Jazz is whether or not Boozer will stay. I'm going to say that he doesn't and that the Jazz will pick the best post player available. To me that would be Patrick Patterson. However if Greg Munroe is still available they may go in that direction. If not, the other possibility would be Ed Davis.
Ash – Greg Monroe
While the Jazz were a playoff team this year, with Carlos Boozer most likely to leave a hole opens up at power forward. Monroe and the Jazz are an ideal match, as Monroe is the kind of high-IQ big man who Jerry Sloan loves and he can also run the pick and roll very well with Deron Williams. The Jazz, meanwhile, have the kind of coaching staff and support structure to ensure that Monroe's game develops and that his conditioning (a question mark over his future) doesn't become a problem.
#10 – Indiana Pacers select…
Jobba - Xavier Henry
Indiana are probably on the look out for a point guard, but Eric Bledsloe and Armon Johnson are too big of a reach here. With Granger obviously being the man for the Pacers, and a potentially solid front court (however slow) with Hansbrough, Troy Murphy and Roy Hibbert, the Pacers could look at a two guard to play along side Granger. Henry is that guy.
Ash – Luke Babbit
…before trading him, TJ Ford and Mike Dunleavy to the New Orleans Hornets for Darren Collison, James Posey and a future first round pick.
The reason for this trade is simple. The Pacers need a point guard. Darren Collison has the potential to be a very good one, however, he currently sits behind a future Hall of Fame PG in Chris Paul. Hence, the trade. The Hornets most likely will not give up Collison unless the other team takes on one of their bad contracts—hence, Posey comes with the deal.
The Hornets, in the mean time, get a couple of very handy expiring contracts (Dunleavy and Ford) as well as a guy in Babbitt who I feel could become one of the best players in the draft. His offensive game is very well rounded and he's a good rebounder. The Hornets need to start building for the future to show Chris Paul that they're committed to winning so he doesn't bolt for free agency in a couple of years—Babbitt is a part of that.
#11 – New Orleans Hornets select…
Jobba – Ed Davis
The Chandler – Okafor swap really didn't work for the Hornets. Which could see them look in the way of another big. However, they do need some help on the wing. Peterson and Stojackovic aren't getting any younger, and whilst Marcus Thornton shows promising signs, he isn't the full answer to the problem. However, a big must slip to this pick, and whilst Paul George or Xavier Henry will be available, going with the BPA and the possibility of some activity in trades may help them.
Ash – Patrick Patterson
As I mentioned in pick #10, the Hornets need to start rebuilding their team around Chris Paul and quickly. With David West off contract at the end of next season (cause there's no way he takes his player option unless his game falls off a cliff this season) and possibly facing a big payday elsewhere, Patterson could be a more than adequate replacement.
He's a tad undersized for the 4, but he plays bigger than his frame—in fact, his game does remind me a fair bit of a slightly smaller David West. He's a good offensive player in general, rebounds well, bangs in the paint and does all the little things nicely.
#12 – Memphis Grizzlies select…
Jobba -  Paul George
There are strong rumours of Rudy Gay being targeted by teams with cap room. They would ideally like to get another point guard, and whilst Avery Bradley, Eric Bledsloe and Armon Johnson are available, Paul George might be too good to pass up. They have some players who can fill in for Gay (Carroll and Young) but certainly none that can bring the upside and athleticism that George can. The perfect insurance if Gay were too leave.
Ash – James Anderson
…before trading him, the 28th overall pick and cash considerations to the Los Angeles Clippers for the 8th overall pick (Ed Davis) and Steve Blake.
Anderson, in my opinion, has been pretty underrated over the course of the pre-draft analysis—he may not be a freak athlete and could use a bit of bulking up to play the 3, but the kid can play. He's a highly efficient scorer in most situations (getting to the hoop, mid range jumpers, a 35 percent 3-point shooter), a passable defender, reasonably athletic and mobile. The Clippers have a hole at SF, hence the trade down.
The Grizz also get a good backup PG in Blake, and since they really need a decent point guard who can create for their scorers (OJ Mayo ain't gonna be it) they may just get the better of this deal.
#13 – Toronto Raptors select…
Jobba – Hassan Whiteside
Toronto could be in a bit of a state. It is hard to see both Turkoglu and Bosh being with the Raptors at the end of the season. However, that should mean they will have some good trade pieces. Whiteside has enormous upside, a triple double candidate every night for Marshall in Conference USA, but is weak physically, and raw skill-wise. The Raptors are the best team in a position to take a high risk/ high reward player with a late lottery pick.
Ash – Ekpe Udoh
Bryan Colangelo, needing something to keep Chris Bosh in Toronto (and his job) will probably be grinning like a fool at his luck at Udoh falling to 13. Best case scenario, Udoh brings some defensive steel to a team desperately needing some and becomes a third rotation big to Bosh and Bargnani. Worst case scenario (i.e. Bosh leaving), he becomes a starter and provides said defensive steel from the start of the game. Really, the Raptors are pretty lucky here. Now if they can find takers for Hedo..
#14 – Houston Rockets select…
Jobba – Ekpe Udoh
I think Houston are in very good shape, and they simply overachieved this year. Ariza started to emerge as a legitimate threat. Aaron Brooks won the Most Improved Player award for a reason. Kevin Martin is close to the most efficient scorer in the NBA, and Louis Scola is all heart mixed in with some post play. They lack length. However, Yao Ming's return next season will help that a great deal – but it is unfair and unrealistic to think that he will come in and be ready to play right away. The Rockets could use some back-up. Udoh is a guy they could select and let him develop.
Ash – Cole Aldrich
…before trading him to Miami for Michael Beasley, the 41st overall pick and a 2018 first rounder.
The reasons for this trade are simple—Miami want to get rid of Beasley, Houston have a hole at power forward. The Heat, in their quest to re-sign Dwyane Wade and obtain another free agent, would probably rather have a solid role-player center like Aldrich over a potential time bomb like Beasley.
Houston, on the other hand, get a fair bit back for Aldrich as well as Beasley. This is a draft loaded with rotation players well into the second round—with the 41st pick, you still have a fair shot of drafting a guy who can contribute to your team. I also specifically added in a 2018 first rounder, because by then Wade will be 36 and any team the Heat puts together this year will be on the decline by then.
#15 – Milwauke Bucks select…
Ash – Avery Bradley
..before trading the pick to the New York Knicks for cash considerations and the 38rd overall pick.
With the "Fear the Deer" era in full swing 'round Milwaukee way, the main priority for the Bucks will probably be re-signing John Salmons, the acquisition of whom at the trade deadline kicked off the winning streak that brought in the new era. However, Herb Kohl isn't Larry Ellison—he has financial pressures to think about. So selling this pick isn't beyond the realm of possibility. The Knicks, who don't have a first round pick this year but could use some young talent to try and attract the big name free agents they're pursuing, would be obvious buyers.
Bradley would also be a great fit for Mike D'Antoni's system. While he's pretty undersized for the 2 guard spot, he's a good shooter both off the dribble and coming off screens—in fact, he does some of his best work off the ball. Defensively, he also stands out. While he may stand only 6'3″, he has the length to bother taller guards and the lateral quickness, tenacity and defensive IQ to guard them. Within a year or two, he could well become a go-to-guy for guarding the opposition's best player—a useful skill to have in a defenseless system like D'Antoni's.
Jobba – Larry Sanders
#16 – Minnesota Timberwolves select…
Ash – Paul George
Just like last year when he doubled down on point guards, I see Kahn reacting in a similar way to the T-Wolves lack of wing depth this draft. George is still a bit raw at this stage—he turns the ball over too much and occasionally takes too many bad shots—however, he's oversized for the wing positions and has rare athleticism combined with a nice jump shot. The T-Wolves could do worse than give him a month or two in the D-League to start before bringing him into the main team.
Jobba – Gordon Hayward
#17 – Chicago Bulls select…
Ash – Gordon Hayward
…before trading this pick to Boston for cash considerations.
Basically, this is simply Chicago trying to clear cap space for LeBron/Wade/whoever. The Celtics, however, need to start looking towards the future – the window is closing on the Big Three as a championship-level unit. It's time for Danny Ainge and the Celtics to start looking at a future built around Rondo.
Ignoring the obvious Larry Bird parallels (a white guy who's a good shooter and plays mostly small forward), Hayward could develop into an ideal complimentary player for Rondo. He can shoot, rebound, defend adequately and function as a secondary play-maker. While he's never going to be a superstar, he could well become a third or fourth option for a contender.
Jobba – Avery Bradley
#18 – Miami Heat select…
Ash – Damion James
James, the Texas senior, is another guy who will probably never be a star in the NBA. However, he's a big-hearted bloke who gives it his all every game he plays. W hile he's a bit undersized for the 4, he's a tough defender both in the paint and on the perimeter. Offensively, his ball handling needs to improve, but he's a decent spot-up shooter and hustles hard for offensive rebounds.
The Heat are hoping to become contenders next year through free agency. James is a near ideal role player for a contending team—a guy who will come in off the bench and give you good minutes. Kinda like what Big Baby Davis has done for the Celtics in the Finals so far.
Jobba -Daniel Orton
#19 – Boston Celtics select…
Ash – Hassan Whiteside
Once again, looking towards the future. Right now, Whiteside is very raw offensively to the point of being a near liability. Currently he primarily functions as a defensive center and has been very effective in that role for the Marshall Thundering Herd (God I love that name).
With the Celtics, he'll get the opportunity to learn from one of the masters in Kevin Garnett. Let him spend a year or so in the D-League—call him up occasionally when you want his extra length/defensive presence off the bench—but if the Cs are patient with him and allow him to develop, he could become quite good. At the 19th pick, he's worth the risk.
Jobba – Luke Babbitt
#20 – San Antonio Spurs select…
Ash – Kevin Seraphin
A typical Spurs Euro pick—they'll select Seraphin, maybe give him a year or two to develop in Europe before bringing him over.With Father Time beginning to catch up with Duncan, however, Seraphin could be being groomed as his replacement.
He clearly has the talent—while he's only been playing basketball for about five years, coaches rave about his basketball IQ and general coachability—so the Spurs might be better served bringing him over now, letting him spend a couple of years on the bench and refining his offensive game in the gym while learning at the knee of the master.
Jobba – Devin Ebanks
#21 – Oklahoma City Thunder select…
Ash – Solomon Alabi
The Zombie Sonics surprised a lot of people this year with their run to the playoffs for the first time since their sleazebag owners stole the team from Seattle and convinced my dad that there is no God left in this world. Along the way, they even managed to snatch the "Team of the Future" crown from Portland.
However, to be true contenders, they need more height and a couple of guys who can bang in the paint alongside Serge Ibaka. Alabi is 7'1″ and plays tough, grabs boards on both ends and knows how to use his size and length to his advantage defensively. Offensively, he's still a work in progress, but his pick-and-pop mid range jumper is decent.
Jobba - Solomon Alabi
#22 – Portland Trailblazers select…
Ash – Eric Bledsoe
…before trading him and Martell Webster to the Orlando Magic in a sign-and-trade for J.J. Redick, the 29th pick and a 2012 second rounder.
After a horror injury run that killed their chances last year, Portland are now faced with losing their "Likeable Team of The Future" title to the Zombie Sonics, increasing questions over Greg Oden's durability and a general sense that they have to look to become true contenders sooner rather than later. The Magic, meanwhile, flamed out big time in the Eastern Finals this year, however they're still pretty stacked across the board.
However, with White Chocolate probably leaving at the end of the year they'll be needing a new backup point guard. And with their cap status well over the luxury tax along with Redick's play this post-season surely earning him a nice payday, it's unlikely they try too hard to match any offers he gets.
Hence, this sign and trade. Orlando get a young PG who tends to shoot first and is probably a backup for the next few years, and a streaky 3-point shooter (Webster) who is cheaper than Redick will be. Portland get a great shooter in Redick who has consistently improved almost every facet of his game since he entered the NBA to the point where he can almost be a starting 2 guard for a good team. While he wouldn't be a starter for Portland, he'd be your ideal sixth man.
Bledsoe himself, as I mentioned earlier, is a young PG who tends to look to shoot first (but is a decent shooter) and probably needs some development. On the Magic, he can be a rotation player for a few years and provide offense off the bench.
Jobba – Kevin Seraphin
#23 – Minnesota Timberwolves select…
Ash – Elliot Williams
…before trading his rights to the Los Angeles Lakers for cash considerations.
I can see the T-Wolves trying to move this pick, as they've used their first two to plug their holes at the wing positions. Therefore, the Lakers, who need some extra bench assistance but don't have a first round pick this year, would be natural buyers.
With Shannon Brown and Jordan Farmar leaving, Williams—a combo guard who can create for others as well as himself—could soon find himself playing a major role on the Lakers bench.
And with Kobe possibly retiring in a few years, who knows? Williams and Bynum could yet be the future of my least favourite team. If this did happen, I'd have to start hating him already. Although I don't think I could hate him as much as Sasha Vujacic.

Jobba – Damion James
#24 – Atlanta Hawks select…
Ash – Daniel Orton
…before trading him to the Cleveland Cavaliers for Delonte West.
The Hawks management will be going all out to re-sign Joe Johnson this off season. While we've learned conclusively that having J.J. as your main guy doesn't get you past the second round of the playoffs (in the East), for a franchise that has Atlanta's lousy history a few second round exits doesn't look so bad.
Therefore, this trade is a purely money-saving exercise—the Hawks can buy out Delonte's deal and get more cap space to re-sign Johnson while staying under the luxury tax limit. Meanwhile the Cavs need a new center, with Big Z most likely retiring (unless LeBron stays and convinces him to come back for another year) and Shaq most likely either retiring or leaving.
Orton is a project right now, but at the least he has the frame and strength to block the lane. As his game develops, he could either become a future franchise big for the Cavs (if LeBron leaves) or the sidekick the Man who Would Be King needs if he stays.

Jobba -Armon Johnson
#25 – Memphis Grizzlies select…
Ash – Quincy Pondexter
The Grizz need an insurance policy if Rudy Gay walks. Pondexter is said insurance policy and could prove to be the steal of the draft. An excellent all-round swingman, Pondexter can shoot, drive to the rim, defend and rebound. While he may never be a superstar or your number 1 contender on a championship team, he'll be your perfect second or third best guy when all is said and done.
Even Chris Wallace has to get the odd one right.
Jobba – Eric Bledsloe
#26 – Oklahoma City Thunder select…
Ash – Jarvis Varnado
I have to admit, this pick was a hard one because I'm really hoping Varnado falls to the Warriors at No. 34 like some projections have him doing. I love watching him play and he'd be ideal for the defenseless Warriors.  However, Sam Presti is a shrewd GM. He knows that Varnado allows him to plug his team's last major hole —namely, that they don't have a truly intimidating defensive presence who can protect the rim. Varnado, the leading shotblocker in NCAA history, can be that guy.
Jobba - Terrico White
#27 – New Jersey Nets select…
Ash – Larry Sanders
…before trading him and the 31st overall pick to the Golden State Warriors for the 34th overall pick and Kelenna Azubuike.
OK, blatant homerism here—I like Sanders, I believe he would be a great fit in the Bay Area (given his defense, which the Dubs need, and his ability to run the floor, which he needs to survive the GSW offense), ergo, I had to find a way to make it happen.
That said, this trade isn't a bad one for the Nets either. In a very deep draft, the 34th pick still has value—there are plenty of guys around who will be useful to the Nets. And Buike gives them a three point threat for cheap, not an easy task these days.
Jobba – Elliot Williams
#28 – Memphis Grizzlies select…
Ash – Dominique Jones
…before trading him and the 12th pick (James Anderson) along with cash considerations to the LA Clippers for the 8th pick (Ed Davis) and Steve Blake.
With Eric Gordon on the Clippers, Jones' role will be to primarily come off the bench as a backup combo guard, especially with Steve Blake included in the Grizzlies trade. He can play both positions (although you wouldn't want him as a starting PG for a contending team), defend capably and provide slashing offense.
He needs to improve his jump shot, which is why he isn't ready to be a regular starter, however, on a Clippers team that is starting to look as good as any Clippers team in memory (Baron Davis, Eric Gordon, Blake Griffin, Chris Kaman, DeAndre Jordan plus James Anderson from this trade), he'll have a role to play and could become invaluable.
Jobba – Dominique Jones
#29 – Orlando Magic select…
Ash – Stanley Robinson
…before trading him, a 2012 second rounder and J.J. Redick to the Portland Trailblazers for the 22nd pick (Eric Bledsoe) and Martell Webster.
The reasons for this trade were documented when I discussed the Portland pick—they get a backup PG and a streakier, probably cheaper version of Redick. In Robinson, Portland are getting a natural replacement for Juwan Howard, who may be leaving this season. Robinson is not only far more athletic than Howard is (age really does count for a fair bit) but he's capable of playing both forward positions comfortably and has the game to match, as he's a good (if slightly inconsistent) shooter, a solid defender and will be a more effective slasher once he improves his ball handling.
For a senior, Robinson also still has considerable upside, although his bball IQ is questionable—I suspect he may be a poor man's Anthony Randolph when all is said and done. The main queries seem to be his reputation for being inconsistent and a bit of a head case—especially dangerous to a city just getting over the Jail Blazers era. However, on a team like this current Portland side—all good guys with a team-first mentality—Robinson would have the right people around him to keep him in check if he needs to.
Jobba – Stanley Robinson
#30 – Washington Wizards select…
Ash – Mikhail Torrance
…before trading him to the New York Knicks for cash considerations.
The Knicks have no first round pick this year thanks to Isiah Thomas or Scott Layden (don't remember which one of them traded the pick to Utah—Knicks fans, just thank Jimmy Dolan instead), but if they hope to make a splash in free agency, they need to show LeBron, Wade and co. that they're going to surround them with legit talent.
Torrance is legit talent. A 6'5″ combo guard in the truest sense, what I'm hearing about him makes me think of Brandon Roy with a less reliable jumper. He can create for himself and for others, play both on and off the ball and shoot pretty well too. Defensively, he does seem to have a bit of a way to go, but in Mike D'Antoni's system defense is irrelevant anyway.
Jobba – Gani Lawal
Tags: 2010 draft, Al Farouq Aminu, Cole Aldrich, DeMarcus Cousins, Derrick Favours, Ed Davis, Evan Turner, Greg Munroe, John Wall, Luke Babbit, NBA Draft, Patrick Patterson, Wesley Johnson, Xavier Henry
« « Previous Post: 2010 NBA Finals – Game 7 Retro Diary
» » Next Post: Idiot's Blog Guide to the 2010 NBA Draft – Draft Eve Edition