Ash is the newest writer to hit the pine for NBAMate. He is a shameless Golden State Warriors fan, and therefore an expert on failure, the draft and voodoo. But it's his allegiance to the West Tigers that makes him unmistakeably Aussie.
The point guard lives.
Not that it ever really died.
However, for a while in the early part of the decade it was in serious threat from a wave of hybrid tweener guards.
You know the type I mean – guys who handled the ball all the time, but looked for their own shot first and second before considering setting up their teammates. One and a half guards, if you will.
Allen Iverson, Steve Francis, Gilbert Arenas, Dwyane Wade even…in the old days, they would have been called ballhogs. Nowadays, we call them superstars.
However, the point guard is a resilient breed and it would not be deterred by these usurpers to it's rightful position.
The revenge of the point guard began in 2005, which saw the drafting of two young men at the third and fourth positions of the draft. Deron Williams and Chris Paul would succeed in ignoring the overtures of the one and a half guards and resurrect the true art of the point guard. The following year they received some help from a diamond in the rough named Rajon Rondo, who had been pulled out of the draft at 21 by the Phoenix Suns before being sold to the Boston Celtics.
2008 saw us being gifted with Derrick Rose and Russell Westbrook, two young men who have managed to make admirable changes from converted shooting guards into true point players, although both still have a way to go.
The return of the point guard arguably peaked in 2009, with the consensus four best players from the draft playing the point for their respective teams.
While Tyreke Evans is a prototypical one and a half guard, Stephen Curry and Darren Collison are everything that true points should be – masterful conductors of their offensive choir, while being capable of performing violin solos when called upon to do so.
The fourth star point guard from this draft, Brandon Jennings, still remains at the crossroads. Whether he takes the path of the pure 1 or the 1.5 remains to be seen.
And of course, one mustn't forget the 2010 Draft, aka the John Wall draft. With his freakish athleticism combined with great passing and ball playing instincts, Wall could yet go on to become better than all of these guys.
Nor should we forget the claims of the veterans, specifically Steve Nash and Chauncey Billups. Billups managed to transform his game from a shoot-first PG into a genuine passer, something that isn't always easy to do. And while the league was dominated by shooting points, Steve Nash kept the classical PG role alive, first with the Mavericks and them most notably with the Suns. In Mike D'Antoni's system, he went from being a very good point guard into a truly great one.
Which leads us to the question. Who is the NBA's best point guard at this moment?
Poll a bunch of NBA fans and you're unlikely to get a consensus answer. Most will be evenly split between Paul and Williams, with more and more clamoring for Rondo to join the table and a few grizzled old voices claiming Nash is still the man. Each certainly has his own claim to be first.
Nash, at 36, just keeps on keeping on. Every year is supposed to finally be the year when he drops off, and every year he continues to conduct the orchestra like the maestro that he is. Without Nash, that Phoenix team isn't touching the playoffs in the West. Forget about the WCF.
I love Steve Nash, I really do. He was one of my favourite players in school and I still love watching him play. However, there's two knocks on him. Firstly, and most obviously, dude couldn't defend a primary school point guard. Secondly, it's open for debate just how much of his success is down to the fast-paced, transition offensive style of the Suns and whether he would be as effective in a half-court.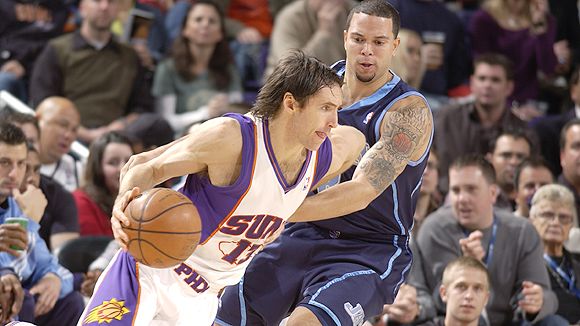 Out of the four, Rondo is the only one who is a consistent triple-double threat every night, one of the rare stat-fillers who's game truly outweighs his numbers. Plus, he's the only one out of the three with a ring, however, the flipside of that coin is that he won that ring as a role player next to three Hall of Famers.
The main flaw in Rondo's game is still his shooting, both from the field and free throw line. I really would not want my team's main ballhandler to be a 63% free throw shooter, especially if he drives with the frequency that Rondo does. And while his jump shot is improving, it's still a work in progress.
So Rondo is the third best – a head ahead of Nash and the rest of his competition, but about that far behind the two leaders.
D-Will vs CP3. It's a debate that frequently rages amongst basketball fans. I'm going to add a bit more fuel to the fire by making this statement: Deron Williams is the most complete point guard in the game today, however, Chris Paul is the best.
"But that makes no sense," you say. Give me a minute.
One could make an argument that this past season was Deron's coming out party. Despite the Jazz being swept by the Lakers in the second round, Deron was brilliant all season as he carried a team which was wrecked by injury all season to the point where they had to start an undrafted rookie at shooting guard in the playoffs.
It's hard to argue that his game has little to no flaws. He's an excellent passer, reads the game as well as anyone in the league, can take over a game by scoring and, unlike Paul, can do more on defense than gambling for steals.
However, do something for me. If you have a lot of games on record, like I do, watch a late regular season game from this year with Deron Williams and the Jazz. Then find a game with the Hornets from last year or the year before and Chris Paul at full fitness. Then come back to me and tell me who the best point guard in the game is.
Unlike Williams, Paul isn't quite perfect. Defensively, he struggles to mark stronger or taller guards, and despite his incredible speed can sometimes be caught out laterally.
Moreover, Paul hasn't had the success that D-Will has had in his career. Individually, while he's received more accolades, he hasn't won as often or as consistently as Williams' Jazz teams, and he also hasn't carried a team to the Western Conference Finals. Admittedly, part of this is due to the fact that outside of himself and David West, the Hornets would be a sub-.500 team. Still, had to be said.
However, go and watch those two games like I suggested. You'll see what I mean.
Williams has very good point guard skills and instincts. Paul is truly great in both categories.
Watch them in transition. Both will look to pass to a man first. However, Deron just needs a second more to find his guy and his pass may be just a couple of centimeters less accurate than CP3's. It may not seem like much, but those seconds and centimetres can be what stands between an easy transition bucket and a harder one with less chance of going in.
Watch them on the pick and roll. Deron runs it very well with Boozer, but Paul runs it even better with West and could even get good screens out of Tyson Chandler and Emeka Okafor.
Just watch them both. And if you aren't a Jazz fan, try telling me that you wouldn't want Paul just a bit more than Williams as your team's point guard.
As per usual, I turned to my uncle for help with this one. He's a die hard Celtics fan who loves Rajon Rondo so much that I'm seriously worried that he's going to divorce my aunt and go offer him his hand in marriage. I asked him whether he would trade Rondo for either Paul or Williams.
"Would I trade him for Deron?" he repeated the question while taking a sip of beer."Straight up? No, probably not. The Jazz would have to offer a pretty good package with him as the main piece if I were the Celtics GM and they wanted Rondo. But would I trade him for Paul?"
He took another, faux-dramatic sip of beer. "In a goddamn second. Hell, I'd give them Perk or Big Baby and be thankful they offered."
Tags: Brandon Jennings, Chris Paul, Deron Williams, Derrick, John Wall, point guard, Rajon Rondo, Russell Westbrook, Steve Nash
« « Previous Post: Game 5 – Boston on the Verge
» » Next Post: Short Shorts the Sequel: The Game 7 Wishlist