They're finally here. The 2010 NBA Playoffs. The second season. The reason we play 82.
On the eve of Day 1 of the playoffs, Ant and Rob break down each series the old-fashioned way, position-by-position, as well as telling you what really matters. You know, like what beer to drink, who you should be rooting for, and your best bet at the TAB. What more do you need in a Playoff Preview?
Read on for Ant's look at the West. Rob will be chiming in with the East as soon as he gets over his hangover.
4th Denver Nuggets vs. 5th Utah Jazz
Hi kids! Do you like violence? Wanna see me stick nine inch nails through each one of my eyelids?
OK, so maybe you won't be driven to the point of gouging your eyes out, but this series certainly won't be pretty. I realise it won't seem like it at first – these are, after all, two of the highest-scoring teams in the league – but this won't be a shootout in the traditional sense, for one reason:
Free throws.
And I don't mean that in a 2002 Conference Finals kind of way. Quite simply, there will be a fuckload of free throws in this series, from both sides. How many? Well, since the Billups-Iverson trade, these teams have played each other 7 times. On 5 of 7 occasions, the teams have combined for over 73 free throws.
Not that it's particularly surprising, given these are the best two teams in the league at drawing fouls, and amongst the worst at giving them up. Just don't say you weren't warned! Onto the match-ups;
Chauncey Billups vs. Deron Williams: Ugly match-up for Utah here. Deron Williams is the better player obviously, but Billups is the one guy at his position who matches him for size and strength and makes him work the other way. If Chauncey can get Williams into some early foul trouble in one or two of the games, it would go a long way towards Denver winning. The one bright spot for Utah is that Billups' shooting stroke has deserted him for the last month and a half (38%FG, 29%3PT), so they'd be hoping that continues in the playoffs.
Aaron Affalo vs. CJ Miles: Miles has a pretty lefty jumpshot which doesn't go in nearly as often as it should. Plus, I've always thought highly of these abbreviated first names. As for Affalo, I like his hustle. That's about as much as needs to be said about these two. Suffice to say, neither is deciding the series.
Carmelo Anthony vs. Wesley Matthews: This is obviously the match-up the Nuggets will look to exploit. If Matthews, aided by his team-mates, can force Carmelo into contested jumpers or baseline drives, he may be able to force Carmelo into some average shooting nights. But if Melo manages to establish his post game early and often, the 6"5 Matthews won't be able to do a thing, especially since the Jazz have no shotblockers to help him out. On the other end, Matthews has a solid all-round game, and should look to attack whenever Carmelo's concentration wanders.
Carlos Boozer vs. Kenyon Martin: Martin is only just coming back from injury, so it's unlikely he'll be in top form. On offense, he'll look to punish Boozer in the transition game, and will occasionally shoot the open jumper out to 20″. In all likelihood, Boozer will let him have it, as would I – it's one ugly shot. At the other end, I actually think the Nuggets will switch Nene onto Boozer, and have Martin hounding Okur on the perimeter. Boozer won't be able to just power through Nene on the low block, so will have to shoot that little fling jumper he likes a fair bit this series, and use crafty fakes and bumps when he does attempt to execute his post moves. In any case, if Utah is to win this series, they need Boozer to get the thin Nuggets frontline in foul trouble as much as possible, whilst avoiding cheap fouls himself. He's certainly capable of it; when he's on, there are very few tougher guys to stop on the low block.
Nene vs. Mehmet Okur: With Nene likely to pick up Boozer on D, it leaves Kenyon Martin on Okur, and K-Mart won't have any problem getting out to the 3-ball that Okur uses so effectively. So in turn, the Jazz must post up Okur on Martin as much as possible. Although the big Turk isn't exactly a low-post specialist, he can get pretty hot with his turnaround. Also look for some side pick-n-roll action with Deron Williams, which isn't easy to stop at the best of times. In terms of Nene's offense, it's hard to know what to expect – as Doug Collins will remind us at least three times each game. Nene's no slouch in the post obviously, but with the Nugget's other options he doesn't get a ton of touches.
Key Bench guys: J.R.Smith is capable of catching fire, and I expect him to be given plenty of opportunity to do so this series. He's especially dangerous if he's not just settling for fade-away threes, since Utah don't have a real shot-blocker to stop a guy of his athleticism at the rim. For Utah, Paul Millsap will look to expose a Nuggets bench bereft of big guys, and will also play some minutes against the starters. Nene and K-Mart are both prone to lapses of concentration occasionally, so I wouldn't be surprised to see Millsap pick up 4-5 offensive boards in a couple of these games.
Injury cloud: Word is that Kirilenko is going to miss another two weeks with his calf injury, which rules him out of this series. This is costly as AK was one of their big defensive weapons against Melo. Kenyon Martin is coming back from a prolonged absence and won't be 100%, but should get better as the series goes on. Boozer missed the last game with a twinged muscle, so you wouldn't expect him to be too restricted.
Prediction: This is a funky series. I would pick Utah against 4 of the 7 Western Conference teams. Unfortunately, I think Denver is one team they just don't match up well against, especially considering Denver also has home-court. Denver in 7
I'm a neutral. Who should I root for?
Very hard to split. Both are veteran squads, both have some fun-to-watch guys. Really, it just depends on whether you prefer the chaotic fun of the Nuggets or the clinical execution of the Utah system. I'm going to root for the Nuggets, mainly because I think they'll give the Lakers a better series in the next round, and also because I'd love to see George Karl have some good luck go his way.
What are we drinking?
Tooheys Old. A gritty, physical series deserves a no-frills dark ale.
I bet…
Staying away from betting the series, as $1.59 seems too short for Denver. But Over 209 for Game 1 looks reasonable value to me.
Which player will make a name for himself?
Really, the only relatively unknown that I can see impacting this series is Ty Lawson. Everyone else we've already seen on the playoff stage.
3rd Phoenix Suns vs. 6th Portland TrailBlazers
I'm travelling at the speed of light
I wanna make a supersonic man of you
Don't stop me now I'm having such a good time
The Phoenix Suns have been one of the more enigmatic teams this season. In the pre-season rankings, they were widely tipped to miss the playoffs altogether for the second year running. They responded by jumping out of the blocks, winning 14 of their first 17, and everyone was soon back on the bandwagon. So they decided to start sucking again, and everyone jumped back off. Unfazed, the Suns went on to be the best team in the West over the second half of the season, winning 28 of their last 35 games – an incredible 66 win pace had they sustained it over an entire season.
As it is, despite being very patchy in the middle of the season, they've still ended up with a very respectable 54 wins, good for third in the west. Their opponents are a Trail Blazers team that has also played very well in the weeks leading into the playoffs, getting it done despite a barrage of injuries. Unfortunately, the injury news just gets worse for PDX fans, as Brandon Roy has been ruled out of the series after injuring his knee in the third-last game of the season.
Interestingly, this Portland team is dead last in the league for pace under Nate, and we all know how fast Phoenix plays, so each team is going to try to impose their style on the other. Whoever succeeds will be on a path to victory.
Steve Nash vs. Andre Miller: This should be an absolute pearler of match-up. Two of the best point guards to watch in the entire league and a contrast of styles that mirrors that of their respective teams. Nash has traditionally had a bit of trouble playing against aggressive, big-bodied guards over the years (Billups comes to mind), and Andre Miller fits that mould. In fact, in their last two meetings, Miller outplayed Nash both times. Still, if the Suns can keep working the pick-and-roll with Nash and Amare as well as they've been doing the last month, Nash will simply have too many good spots for Miller to be able to do much about it. And if Miller gets too feisty on offense, the Suns do have the option of switching Nash onto the 2-guard now that Roy's out to keep him from taking a pounding.
Jason Richardson vs. Rudy Fernandez: Rudy is a hell of a talent, but is an absolutely terrible fit on the Blazers plod-squad. In fact, I'd go as far as to say that in Phoenix's system, Rudy would be a better player than Jason Richardson in a year or two tops. Unfortunately, he is where he is, and as a result this match-up is a comfortable win for Phoenix, who love to get Richardson open threes in transition, and he loves to shoot them. That said, Richardson is very vulnerable defensively, so if Rudy can find some confidence (a few glasses of sangria might do it) and attacks, he will get rewarded with some easy points.
Grant Hill vs. Nicolas Batum: Two more really likeable guys here. Batum just does his job, whether that means using his length to disrupt the opposition, or knocking down his much-improved 3-ball. Grant Hill is obviously a guy that you just have to get behind, given he's overcome some horrific luck with injuries to become a solid veteran these last few years. His best move these days is the one where he brings the ball up the floor, pretends to look completely disinterested, and then drains a mid-range J right in the grill of whoever's guarding him. He'll get Batum with it at least a half-dozen times this series. My only criticism of Grant Hill is that he's become the worst flopper in the league, continuing the fine Phoenix tradition established by Raja Bell and Steve Nash; most guys flop by exaggerating contact, the Phoenix guys flop before contact is even made.
Amare Stoudemire vs. Lamarcus Aldridge: This is a match-up that could get really ugly for the Blazers. I'm not the biggest Amare fan, but when the form he's displayed ever since the trade deadline has been breathtaking. It's almost as if he took the offers of 'Hickson + late 1st rounder + cap space' as a personal insult, and has proceeded to seek revenge against every single team in the league. He's still vulnerable against taller physical guys who can take advantage of him on the boards, but this won't be an issue against LaMarcus Aldridge, who is an appalling rebounder for his size and avoids contact like I avoid New Jersey Nets games. Aldridge should still be able to go for 20 or so a night in this series, but I expect Amare to get into the 30's routinely if he maintains his current form.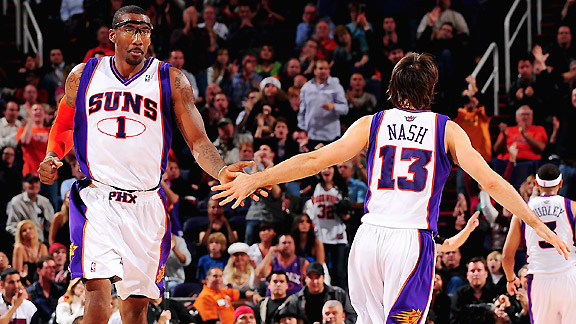 Channing Frye vs. Marcus Camby: Another match-up that I'm not sure the Blazers would be terribly keen on. Camby loves to roam the paint and block shots, but Frye requires constant attention at the 3-point line. Portland could, of course, switch Camby onto Amare, but that only improves things marginally since you can't sag off Amare either so the paint is still unprotected. And when the Blazers have the ball, Camby isn't capable of punishing Frye the way most centers can. I honestly don't know what the answer is, so I look forward to seeing what sort of set-up Nate McMillan goes with in the opener.
Key Bench guys: Jared Dudley comes off the Suns' bench and gives them hustle and toughness as well as yet another reliable shooter. In a series not overflowing with blue collar guys, his physicality could prove influential at times. For the Blazers, it has to be Martell Webster. Although he has a penchant for disappearing completely in certain games, when he's playing well he combines terrific perimeter defense with a superb 3-ball. The Blazers need him to play to his potential to give themselves a chance.
Injury cloud: Brandon Roy is obviously the really big one, and is not expected to be available at all this series. Robin Lopez is the guy missing from the Phoenix rotation with back issues, but to be honest, they don't really need him against a Portland frontline that lacks any true post scorer.
Prediction: I know we really shouldn't count out Portland given how much heart they've shown this season, and I know they have a 2-1 head-to-head with Phoenix this season, but still…I've watched a half-dozen Suns game over the last few weeks, and I can't see them losing this series now that Roy's out. They're just playing really well right now. Suns in 5
I'm a neutral. Who should I root for?
I don't think there's a wrong choice here. If you root for the Suns, you're rooting for the guy who tops everyone's "dudes that deserve a ring" list, plus you get to cheer as the Suns make transition three after transition three. If you root for Portland, you're taking the side of a heavy underdog, the side of teamwork and determination over star power, and that's always a fun ride as well. Personally, I'm rooting for the Blazers to win one of the first two games so that this goes longer than the 5 games I've predicted.
What are we drinking?
Kirin or Asahi. Something light and crisp, to go with the run-and-gun philosophy.
I bet…
I can't shake the feeling that the Portland guys might struggle in the opener, away from home, without Roy etc…so I'm taking Phoenix at the line of (-7.5) in the first game.
Which player will make a name for himself?
Watch for Louis Admunson off the Phoenix bench. He's a very limited player, but is nonetheless a super-athletic white dude that will provide some insane highlights during his time on the court in the form of blocks and the occasional put-back. I can already hear Charles, surprised by a white dude with hops, yelling "AD-MUN-SON!"
2nd Dallas Mavericks vs. 7th San Antonio Spurs
Things you can do, some can't be done
Of all the first round series in this year's playoffs, this is the one that really has me tingly in the pantaloons. Naturally, it has all the elements required for a potentially classic series – these guys are not only division rivals with playoff history between them, but they're also the only two teams in the NBA to have broken 50 wins every single season for a decade. Point blank, neither of these teams is used to losing in the first round all that often.
But it's more than that. I'm expecting something special from this series because it features some absolutely unique players – and for me that's precisely what basketball is about. I'll let Woody tell it;
Basketball has emerged as the most beautiful of sports. In basketball, more than in virtually any other sport, personal style shines brightest. It allows for eccentric, individual play.
– Woody Allen 1977
And in no other first round series – perhaps even in no other potential series this year – will we have two teams so well-endowed with guys that just ooze style. I'll touch on them as I go through the match-ups, but know that I mean every word of praise that follows quite literally.
Jason Kidd vs. Manu Ginobili: This match-up virtually personifies everything I was blabbing about above. Jason Kidd, even in his advanced age, robbed by time of what was once blistering court speed, is still able to come up with some mesmerizing stuff. Bounce passes that tease the defender, only to break one way or the other and end up right on the tit of his team-mate (to use footy parlance). No-look heaves from behind half court that lead a cutter right to the hole. Only you have to look closely, or you'll miss it. Manu takes it a step further. His one-handed passes are truly in the realm of the ridiculous – it doesn't matter whether he's in the middle of a cross-over or trying to break out of a double team, he'll manage to contort that left arm and fire off a bullet pass. And as a scorer, he has to be the only player with a hop-back (yes, it's a hop, not a step) flat-footed 3-ball. When I think about guys like Kidd and Ginobili, it almost seems to me that basketball is essentially a creative outlet for them; an expression for their style.
As far as the match-up goes, Manu should be able to take Jason Kidd off the dribble at will and make plays in the lane. I actually think the Spurs might run less high pick-and-rolls against the Mavs than usual as their guards have a notoriously hard time guarding dribble penetration, and in pick-and-rolls Timmy's man would be able to slow things up. Kidd, meanwhile, will simply try to get the ball to Dirk early and often in half-court sets, and then camp out behind the three-point line where he's shooting above 40% for the second straight year (using his own version of the flat-foot shot).
Caron Butler vs. George Hill: This match-up, on the other hand, goes against the grain a bit. Butler is obviously a quality player, and George Hill has been hands down the Spurs' third best guy this year, but both might as well have been created from a textbook. I can guarantee we will see players resembling Butler and Hill in the near future, and so from that perspective players like these are of far less interest, even if they do jump higher or run faster etc…
In this one, I anticipate the Mavs will try to run some isolation sets for Butler. He likes them against anyone, but against a 6"2 defender, he would be licking his lips. That said, Hill's played on guys as big as Durant this year, and has rarely disgraced himself, so it won't be a walkover. On the other end, Hill's developed a reliable corner three to go with ability to get to the rim. I do question whether Hill will be aggressive enough when he sees Dampier or Haywood in the paint, particularly as he's coming back from an ankle sprain. If he is aggressive, the Spurs become a much better team.
Shawn Marion vs. Richard Jefferson: I used to love watching Marion fling the ball at the basket from range back in his Phoenix days, but unfortunately he's cut that from his game. Nevertheless, we can still enjoy his crazy high dribble and early-release floater, to go with consistently solid D. Considering Richard Jefferson's form this season, I imagine Carlisle might even be tempted just to stick Marion onto Ginobili and have Kidd mind Jefferson – a much easier task. From Richard Jefferson, I have learnt over the course of the season to expect nothing at all. His main function in the team right now is to keep Keith Bogans off the floor, and anything he can provide in the form of offense is a bonus.
Dirk Nowitzki vs. Antonio McDyess: I know Pop's been starting Bonner, but I have a feeling McDyess will get the most minutes against Dirk, even if he doesn't technically start. Dirk's function, of course, will be pretty basic. Catch ball at elbow; throw a head-fake or two; turn-around jump shot; swish. The thing I love about Dirk's game is that the defense is almost irrelevant if you're playing him straight up. Sometimes, you can even see a defender get visibly angry at the fact that a slow white dude is hitting shot after shot and there's nothing you can do about it. Often, they just foul in frustration. McDyess will try to keep the floor spaced by taking 17-19" jumpers when he finds himself open, but he hasn't been terribly efficient with that shot over the course of the season.
Eric Dampier vs. Tim Duncan: Dampier is one of the stronger bigs in the league, so usually does a good job of denying Duncan good post position. That said, Duncan's facing up more and more which tends to expose E-Damp's lack of foot speed, so they may go with Haywood more as the series progresses. On defense, Duncan will be able to help off of Dampier a fair bit, although in their last meeting Dampier made him pay with 14 points on 6-for-6 in 25 minutes (that said, Duncan had 31 & 12 himself).
Key Bench guys: Jason Terry is the main man for the Mavs off the pine, and at 33 minutes per game, he's essentially a 6th starter. His pick-and-roll on the wing with Nowitzki is almost impossible to stop if Terry's knocking down the outside shot. For the Spurs, Tony Parker is obviously the key guy. At his best, he's one of the best half-dozen point guards in the league. However, he's been below his best the whole season, and he's looked downright average with the second unit since coming back from a hand injury. If he can get back near his best he'll carve Dallas up with his ability to knife through the lane.
Injury cloud: George Hill is not a certain starter with a dodgy ankle. Tony Parker, though back, is still finding form after his hand injury. Dallas seem good to go.
Prediction: If they play their best ball, I believe the Spurs are the better team. The injuries to Parker and Hill have me worried about the chances of us seeing their best, but I'm going to stay optimistic about a really good series and take the Spurs in 7
I'm a neutral. Who should I root for?
This one's easier. If the Spurs win, there's a high likelihood of us seeing a Spurs-Phoenix series, and that's the grand-daddy of all current playoff rivalries. So cheer on the Spurs. Unless, of course, you're a Suns fan.
What are we drinking?
The usual. This series will have more than enough flavour on its own, so just grab whatever's in your fridge and go for it.
I bet…
It's hardly easy money as this really could go either way, but I'm taking the 2.30 for the Spurs to win the series.
Which player will make a name for himself?
George Hill. He's not a no-name, but he's going to be playing real minutes in the playoffs for the first time, and it's hard not to be impressed by him. Expect to hear "oo-ee-poo-ee" (UIPUI is Hill's alma mater) to be mentioned roughly 127 times throughout the series. Commentators just love saying it.
1st Los Angeles Lakers vs. 8th Oklahoma City Thunder
Got a foot in the door
God knows what for
And it'll cut me down to size
Stupidity tries
The Los Angeles Lakers' season was branded a failure by Phil Jackson because they didn't win over 60 games (their pre-season target). Everyone involved with the Thunder, on the other hand, are giddy to have made the playoffs with the youngest team in the entire league, in just their second season since moving from Seattle. So the two squads are certainly coming into this series with different mindsets.
And yet, there is certainly some optimism around the Thunder's chances to at least make this a series. After all, the Lakers have won just 4 of their last 11 games, including a convincing 16 point loss to the Thunder. Meanwhile, OKC will essentially be playing with house money, knowing that all the expectations are on the Lakers, and for a group led by two 21-year-olds, that's a hell of a an attitude to have.
Combined with one of the strongest team chemistries we've seen for years and a very talented young coach, the Thunder certainly won't allow the Lakers to just cruise into the playoffs the way a no.1 seed may be accustomed to doing.
Derek Fisher vs. Russell Westbrook: This is the nightmare match-up for the Lakers. Westbrook is just about the most athletic point guard in the entire league and will be able to get to any spot on the floor against Fisher. In addition to being a menace in transition, Westbrook has added a nice mid-range pull-up this year, and has also improved his decision-making and passing out of sight. The Lakers' staff will no doubt know that April has actually been Westbrook's worst month, so they will look to keep him out of rhythm in the first couple of games as much as possible. If he can regain something like his January form (19ppg/10apg), he will give the Lakers serious headaches. As far as Fisher goes, he just doesn't have much left in the tank anymore. He'll still shoot when he's open and provide on-court leadership, but not much beyond that.
Kobe Bryant vs. Thabo Sefolosha: Thabo's a high quality wing defender, but will obviously have his hands full with Kobe. The Lakers will look to get Kobe in a lot of pick-and-roll situations with Gasol, the screen usually giving Kobe enough separation to elevate and shoot, or whip it to a cutting Gasol. The Thunder will be hoping that Kobe's finger will keep bothering him as much as it did the last three games (21-for-70 shooting combined) and that in response he tries to shoot his way out of trouble. I actually don't think the Lakers necessarily need anything special from Kobe this series, but they do need him to avoid those 11-for-31 type shooting nights, which kill the team.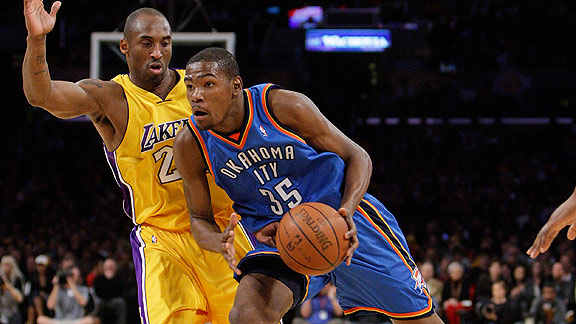 Ron Artest vs. Kevin Durant: This will be a nice test of Phil Jackson's theory that Durant gets a lot of "easy" calls. Artest will look to body up Durant as much as possible, forcing him to take a pounding just to get open. If the refs choose to penalise him when he gets sloppy (and he does get sloppy often), then Ron will have to lay off a bit more, which will give Durant some great looks. If not, the bruising Durant will take over the course of the series is bound to wear him down, especially if he's forced to guard Artest on the low block at the other end. Another key for Durant will be minimising turnovers, which can be a problem against Artest's quick hands. If he can keep them below 3/game for the series, whilst still scoring 30+ per game, the Thunder will be in with a chance.
Pau Gasol vs. Jeff Green: This is where the Lakers can really exploit the Thunder. Pau Gasol is superb against players his own height, but matched up against Jeff Green (a small forward playing the 4), he should be able to go to town. Fortunately for the Thunder, Jeff Green is one tough bastard, and if the refs allow him to get physical with Pau, he could force Gasol to get frustrated. Scott Brooks is well aware of his team's lack of size in the frontcourt though, and will look to front both Gasol and Bynum at every opportunity. This has actually worked very well against Gasol in the regular season (13ppg/8rpg), but I expect he'll work out how to exploit it as the series progresses, especially with Bynum back alongside him. On the other end, Green will obviously have a foot-speed advantage over Gasol, and should look to drive at his body as much as possible, in the hope of getting Pau in foul trouble.
Andrew Bynum vs. Nenad Kristic: Tough know what to make of this one. When in form, Bynum presents much the same problems as Gasol with his combination of length and soft hands. However, he tends to play very tentatively coming back from injury, and perhaps that will allow Kristic to more or less keep him from having a big influence. The toughest part for the Thunder, of course, will be keeping the two 7-footers off the offensive glass. On offense, Kristic will set some nice screens and look to hit the mid-range jumper when left open, which he can do at a reasonable clip.
Key Bench guys: Lamar Odom is perpetually underrated by Lakers fans, but he's a terrific player who is yet another rebounder with length for the Thunder to counter. Essentially plays point-forward for the second unit, and does it really well, and may also get some stints guarding Durant when Artest is off the floor. For the Thunder, I'm going to go with Eric Maynor. Although not as talented as his fellow rookie in James Harden, Maynor is a good all-round player in his own right. He tends to be more comfortable running the team than scoring, but he'll have to get into attack mode and exploit the Lakers' problems at point guard.
Injury cloud: Bynum is due back from an Achilles' tendon injury, although he may even miss a couple of games early on. Kobe's finger's been bothering him more of late supposedly, so that's one to watch as well.
Prediction: I don't necessarily believe that experience is necessary to win in the playoffs. There have been plenty of young teams who've knocked off former championship teams in the past. But, size does matter, and the Lakers frontline should be able to impose its will on the Thunder, particularly on the offensive glass. Lakers in 5
I'm a neutral. Who should I root for?
Absolute no-brainer.
If you're not a Laker fan and you're rooting for the Lakers this series, you are fundamentally evil. The only way the Thunder could be any more likeable is if they were still in Seattle.
What are we drinking?
James Squire Golden Ale. If nothing else, this will be a fun series to watch, so go with a fun beer.
I bet…
Thunder (+10.5) in the opener are paying $1.65, which is pretty good value. I can't see the Lakers just blowing them out from the first game considering their form leading in and the concerns over Kobe and Bynum.
Which player will make a name for himself?
Russell Westbrook. If he plays well, he will have a field day against Derek Fisher, and put his name right alongside Derek Rose's as the most exciting young point guard around.
Tags: 2010 playoffs, Beer, Dallas Mavericks, Denver Nuggets, Los Angeles Lakers, Oklahoma City Thunder, Phoenix Suns, playoff preview, Portland Trailblazers, San Antonio Spurs, Utah Jazz
« « Previous Post: 2010 NBA Playoffs on Australian TV
» » Next Post: The only Playoff Preview you'll need – Part II