J.O is the newest writer here at NBAMate. His mantra is "If it's not NBA, it's not BASKETBALL". The owner of over 200 NBA 'video-taped' games, J.O. lives n breathes NBA on a daily basis, reads it, watches it, writes about it and challenges anybody to a game of NBA 2K10! This guy really does need a life….
Playoff bound teams know there is little margin for error, particularly if they've spent the previous summer topping up their roster. Players know opportunities during the postseason pale in comparison to the regular campaign. The experienced ones know that the chance to cover themselves in ultimate glory fades fast. They also know fans are habitually impatient and will constantly ask, 'What have you done for me lately?' Blah blah blah…
For these established stars the ramifications of another postseason meltdown will see them plummet faster than you can say 'Iverson'. Not quite the drop of say D-League proportions, but enough to ensure their salaries procure use-by-date status. Their production will have huge bearings on how deep their teams will go come April, May, perhaps June.
Mike Bibby PG- Atlanta Hawks
Let's face it, Bibby's best was 8 years ago when he was dropping bombs on the Lakers and the rest of the west. So what can Hawks fans hope for? A last second, series-clinching shot? Nope, that's Joe Johnson's to take. Finishing the fourth quarter of games? Jamal Crawford now has that role. No, what Atlanta fans really need is a Mike Bibby running hot early and spearheading his team out of the blocks. His minutes are down from 34 to 27 this season with the arrival of Crawford, so Bibby must start games off by unleashing a steady supply of threes (he's still top 40 with a 38% clip) and upping his dime count (only 3.9apg), which basically means he really needs play his damn position. Even masquerading as a poor-man's Mo Williams would suffice.
Hedo Turkoglu SF- Toronto Raptors
The warning signs were already apparent for a Raptors team noticeably thin up front when it inked Hedo to a 5-year, $50 million cash cow. Chris Bosh is no such cow, nor is he a beast and never will be. But unlike Turkoglu, the fans love CB4 and won't be spitting the dummy if he decides to go Vinnie Chase on the town. Turkoglu's laconic production of 11.7ppg, 4.4rpg and 4.1apg are his lowest in six seasons and at age 32, he may have already past his prime. There will be no Steve Nash-like renaissance here and Turks will need a massive postseason to divert attention away from an inconsistent year, not to mention his nightly antics. The guy's got a hot wife anyway- stay at home son.
Shawn Marion SF- Dallas Mavericks
The growing list of past-their-prime stars continues with Marion, who just hasn't been the same player since Phoenix sent him packing three seasons ago. His 11.9ppg and 6.4rpg are the lowest of his 11-year career, and on a talented Dallas team that's yet to win a championship, simply being just a bit player won't cut it. Owner Mark Cuban knows the window is closing with Dirk Nowitzki at the peak of his powers and Jason Kidd a fading force. We know Marion's best work is done off-the-ball, but stats certainly don't lie, (he's struggling to even average a steal or a block this year) which seems to suggest Shawn has fallen off-the-ball completely. A more than serviceable postseason can erase those doubts.
Richard Jefferson SF- San Antonio Spurs
Are fans being too critical of RJ in his first season as a Spur? Rightly so. Jefferson wasn't signed on to be the Spurs cornerstone of the future, he is (or was) a gun asked to reload an aging squad on its last legs. For a guy that will earn close to $30 million in the final two years of his current deal, a paltry return of 12.3ppg in 76 games is dismal. Jefferson is capable of much more, but a loss of confidence and form on both ends of the floor has seen him fall out of favor with Coach Gregg Popovich. RJ is a rhythm scorer, exciting when on song, but this season he's gone impotent. For Tim Duncan, Tony Parker and Manu Ginobili to experience championship pedigree again, Jefferson needs to come to the playoff party.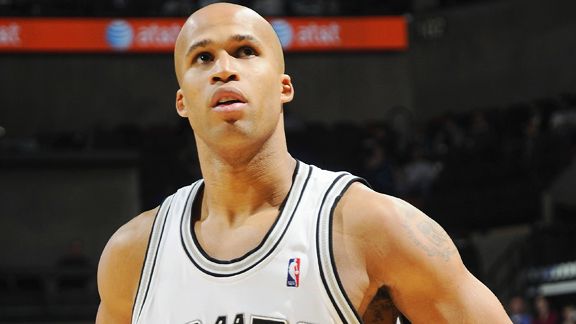 RJ hasn't lived up to expectations in SA so far – can he make up for it in the playoffs?
Carlos Boozer PF- Utah Jazz
We say the same thing every single year. As Boozer goes, so go the Jazz. Deron Williams runs this team no question, but it's Boozer who will ultimately decide their fate at the upper echelons of the west. The guy is a legitimate fantasy stud, illustrated again by this season's numbers- 19.7ppg, 11.3rpg at a 56% clip, the latter two have him ranked 6th overall in the Association. So what the hell is wrong? Simple- DEFENSE. How often has this guy been mentioned in the discussions for altering opponents' offensive sets? Never. Teammates Mehmet Okur, Andrei Kirilenko and even Paul Millsap all rank ahead of him in swats per game. You can't win titles stat-stuffing at one end of the floor, and until Booze proves he can shutdown his direct opponent and scare visitors entering the paint, the Jazz can't and won't be mentioned in the same sentence as the Cavs, Lakers, Magic, Celtics. It's that simple.
Vince Carter SG- Orlando Magic
Raise your hand if you think Carter takes more ill-advised shots than efficient ones? It's no wonder why as a starter he only averages only 31 minutes a night. Carter's stats remain relatively on par, if not marginally better than what Hedo Turkoglu produced last season if points (16ppg), rebounds (4rpg), assists (3apg) and shooting percentages (42%fg, 36%3fg & 83%ft) are anything to go by. Surprisingly, even less turnovers have been committed than the guy he replaced. However, it's his penchant for launching awkward shot after shot that have ultimately kept Carter on a short leash. The nursing-through-injury excuse won't apply here. Head coach Stan Van Gundy will be hoping the acid test of a playoff series will somehow summon the return of Vinsanity. Though no one should hold their breath. Stan's probably out of breath as we speak. At least get to the line Vince!
LeBron James SF- Cleveland Cavaliers
It's a bit unfair to put the King in this category, primarily because he makes us grown men jealous. But when you are a transcending superstar, free-agent-to-be and every franchise is truncating its salary cap to land your services, plus a hometown faithful trying to surround you with enough influential talent to make you reconsider, it places you severely under the pump. The popular theory is, a championship this year will make all of this disappear, thus keeping the Chosen One in Ohio. Then again, a ring might just have the King pondering a much larger throne inside a bigger kingdom. Cleveland though, remains in the box seat as it can snuff out any opposing offer a team makes by maxing out the NBA's leading scorer and shoe-in for the MVP award, again. Who are we kidding? LeBron will always be under the pump. He's too great. We expect too much. We are a bloody greedy bunch.
Fringe Pass outs- Antawn Jamison & Mo Williams (Cleveland Cavaliers), Ron Artest (LA Lakers), Jason Kidd (Dallas Mavericks), Ray Allen (Boston Celtics), Mehmet Okur & Andrei Kirlenko (Utah Jazz)
Tags: 2010 playoffs, Carlos Boozer, hate Lebron James, Hedo Turkoglu, Mike Bibby, Richard, Shawn Marion, Vince Carter
« « Previous Post: 2009-2010 Fantasy Wrap-up
» » Next Post: You can see me on the TV… well, hear me anyway