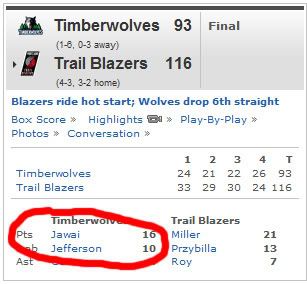 That ain't no photoshop folks (well, the red circle is). Tonight in the NBA something completely unexpected happen – not only did Nathan Jawai get serious minutes, but he outscored everyone on his team. The 23 minutes Jawai had today almost doubled his total minutes so far this season. His 16 points on 7-11 shooting exactly doubled his total output so far this season. It was a massive game in the scheme of things for the massive Aussie who is trying to make a name for himself. And making a name for himself is exactly what he's done. The Interweb is alive!
The ABC reports from local shores:
He was in the thick of the action almost immediately with a field goal attempt, an offensive rebound, two lay-ups and a free throw within his first three minutes of court time.
As does the Sydney Morning Herald:
Jawai is hoping to establish himself as an NBA regular after being traded from Dallas to the Timberwolves, but had only managed 12 minutes on court in the first six games of the season before the match against the Trail Blazers. But his impressive display at Portland's Rose Garden would suggest he's on the verge of greater opportunities for the Timberwolves, who have now lost six straight.
The Bleacher Report is glowing with praise:
He missed his first shot but quickly snatched his own rebound, drew contact from Joel Przybilla and made the layup.  He converted the ensuing free throw to complete the three point play.  It was the beginning of a strong night for the young Timberwolf as he scored in a variety of ways and often negated Greg Oden's powerful inside presence.

Jawai muscled inside for all of his field goals while also flashing the uncommon quickness rarely exhibited by men of his size that first caught the attention of NBA scouts on their excursions to the land down under in 2007 and 2008.
One Wolves blogger even thinks he should be starting power forward:
He kept his head up while he was posting up, he looked to have very good footwork, and I can see Nathan Jawai getting some minutes against Golden State if Jefferson is continuing his inefficiency.With Oleksiy Pecherov, it's hard to say what he can do. Ryan Hollins has shown very little promise, and with Love gone, Jawai could possibly start at PF. Why not? He can't be any worse than Pecherov.
And here are some words from the man himself:
It's good to get a career high, but a win would have been better.  I just wanted to get the win and improve as a group and individually. We just need to make each other better and keep trying…we're a team that doesn't give up."
Good to know it hasn't gone to his head. As I said a few days ago, Jawai is in a position where he has to take his chances. It's quite easy to get buried down the end of an NBA bench when you're a project big man. So I'm absolutely ecstatic he was able to play like that today, and as you can see, just one decent performance starts generating hype all over the basketball world. To have it happen so early in the season exceeds all my expectations.
From watching him in the NBL and in international competition over the last few years, us Aussies knew what Jawai could do on a basketball court. I think the rest of the world is now starting to see that too.
Tags: Australian NBA players, Nathan Jawai
« « Previous Post: Sunday Six Pack: Suns go to #1, Kobe goes inside, AI goes home
» » Next Post: BYNUMITE