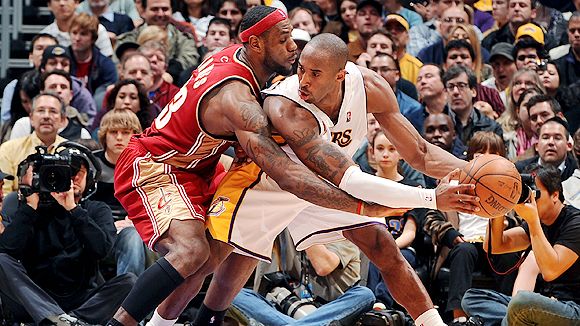 I was just young enough to remember the significance of a regular season Lakers vs Celtics game in the eighties. It carried no more weight than any other regular season game – it was just another W. But it was a chance to see Magic vs Bird and everyone understood how precious these days were. Two of the greatest players ever facing each other only a few times a year – you figured you'll be lucky to see maybe 10 of those games in your life, right? I get the same feeling watching Kobe and Lebron today. They might only play against each other another 8 or 10 times. Ever. These days are numbered people.
We got all the typical "lets hype it up and quote Kobe and Lebron not hyping it up to hype up the game even more" treatment leading up to this one, and despite looking like a blowout on the scoreboard it was still a damn entertaining game. Both players took on the Danny Glover role* early – Lebron because he's so unselfish and just a really good bloke, and Kobe because his finger popped out and was forced to defer to his teammates while channeling his inner Mamba for a later strike. Vujacic finally showed up (remember that guy?) for his three-point bombing, sooky glances and trademark full-court press that makes him look more desperate than a homeless guy at a buffet (which is what you want in your backup guards). Despite his 3-3 long range shooting, Gasol's 4-4 shooting, and Bynum's 6-10 shooting, the Lakers were still down by one at the half (didn't seem possible looking at those numbers). Kobe had six assists and spent the whole half trying to out-Lebron Lebron, and was still losing. With the very likely possibility of LBJ going thermonuclear in the second, I went to make myself a cup of soup and almost wrote the game off.
Almost.
But on this day Kobe wouldn't let his troops lose. You won't read about it, but Kobe played really REALLY good defense against Lebron James in this game – an assignment Kobe demanded himself. His ball-denying was superb and was used to similar effect to mute Dwyane Wade a couple of weeks back (and yes, these days you can still "mute" Dwyane Wade and have him score 27 points). And when Lebron did have the ball his extra two inches in height and forty pounds on Kobe counted for nothing. Why? Because Kobe has probably watched more game tape of Lebron than anyone on the planet and knows every single tendency the guy has (a bit of help defense didn't hurt either). So effective was Kobe that when Lebron found a Kobe-less path ahead of him twice in the fourth quarter on the fast break he lost the handle on the ball – maybe he was in shock? Lebron James more than any other player in the league manages to dominate teams with his mere presence. I do admit that even defensively Lebron is now getting to that Jordan-esque level of omnipresence – Lebron James consumes you.  But on this night, it was Kobe's presence that was all-consuming. And while watching the whole game live buried under his pile of stats and paper, John Hollinger cried. Like a little girl.
Any one who subjects themselves to Hollinger's sometimes informative but mostly number-fed horse shit knows how much he loves Lebron. He wants to be his boyfriend. In early 2008 after a meaningless regular season game he concluded Lebron was the game's best player. Before this season started he was at it again calling Lebron James "hands down, the best player in basketball" . Even when asked a completely different question a couple of weeks back he still managed to fit it in: "The Cavs will have the best player in the league". And only a few days ago he was practically blushing during this emotional outpur:
At 32.09 going into Friday's games, James is on pace to put up the best PER of all time. Yes, better than any of Michael Jordan's seasons (his 31.70 in 1987-88 is the current gold standard). We're halfway through the season now, so we can't just write it off to a hot start — James has a serious shot at setting a new mark. "
John Hollinger actually wet his pants when he wrote that. For a guy obsessed with numbers, Lebron's current season is the ultimate basketball wet dream. It cannot be topped. If Lebron James finishes with a PER of above 31.7 John Hollinger will spontaneously combust with over-excitement. I can only wonder what was going through his mind while watching his boyfriend get hounded and pounded by Kobe yesterday? Probably not the numbers. Kobe's 20-12-6 stat line gave him his third 10+ assist game in a row, and because I know Hollinger would dare show some stats to make Kobe Bryant look good (seriously, he has never done that) I thought I'd point out that this ain't the first time Kobe has put a little more Glover in his glove box.
He had three straight 10+ assist games back in February 2002 against Washington (triple-double), Seattle and Atlanta
He had three straight 10+ assist games in February 2004, during a stretch where had had five 10+ assist games out of six
He had four straight 10+ assist games back in December 2004, a month that saw Kobe average 29pts-8ass-7rebs (including three triple-doubles)
Of course I must be careful not to fall guilty to the same grand delusions drawn from one game as Hollinger himself. I'm not in any way suggesting that yesterday's game proves Kobe is the better player. For the record, I don't bother entering that argument, for several reasons, but perhaps the main one being there are two hundred million people having the same argument every day. Free Darko weighed in recently in his own inimitable style (you'll need ten minutes to read it and three hours to read all the comments, many of which are well-informed) and Macca over at NBA.com thankfully brought an often-lost fact to our attention:
The thing everybody forgets is that there is a seven-year gap of NBA experience between these two "peers." Bryant had a slam dunk title, three rings, five All-Star appearances and 10,658 career points on his resume before James even played a preseason game."
Thank you Macca. The Lebron vs Kobe debate is fun but futile, for the same reason we don't have Magic Johnson vs Michael Jordan debates any more. It's pointless. They're totally different players, born out of different basketball generations that just happened to overlap. One played in the mid-nineties, the other will own the 2010-20 decade. Just be thankful you get to see them on the court at the same time.
These days are numbered.
*A role that typifies all the qualities displayed by a sidekick or lesser light, usually in Mel Gibson movies
Tags: Cleveland Cavaliers, Danny Glover, John Hollinger, Kobe Bryant, Lebron James, Los Angeles Lakers
« « Previous Post: Bogut Watch and our All-Star Ballot
» » Next Post: The First Sunday Six Pack