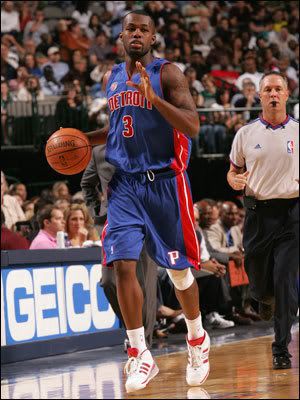 Since Rodney Stuckey moved into Detroit's starting lineup the Pistons have gone 12-3. Since Stuckey became a starter he has averaged 18.8 points, 6.4 assists, 4.0 rebounds and 1.7 steals. Since becoming a starter just twelve games ago Stuckey has exploded for a 40 point game and a 38 point game, already the two highest scoring efforts of his career, and both closely fought games where he carried his team to victory. Since becoming a starter Stuckey has been the Pistons leading assist getter, steal getter, FG% shooter 3PT% shooter and is only 0.25 points per game shy of being their leading scorer. There are no two ways about it: since becoming a starter, Rodney Stuckey has been the best player on this Pistons team.
I have been a huge fan of Stuckey since he came into this league, and I've been telling people for over a year that he will definitely be an All-Star one day. He had one of the more impressive rookie playoff performances I've seen last season, showing poise and maturity beyond his years. A few weeks back I said that Stuckey's awesomeness is directly proportional to the amount of minutes you give him. Now he is getting those minutes, and instead of people having to hear it from me, they are seeing it with their own eyes. Stuckey is not only living up to the lofty expectations Pistons fans have set for him – he is exceeding them.
The one thing I really love about Rodney Stuckey is somewhat of an intangible quality, and it's something every superstar in this league needs to have (note how I said "superstar" and not "all-star"). I love the guy's attitude. I love how humble he is, how modest he is, even after torching the opposition for 38 points. Just watch yesterday's post-game interview with Stuckey, courtesy Need4Sheed. He never talks himself up, it's all about the team, it's all about defense, and it's all about getting better. Sure, that is the usual cliche garbage NBA players spew after most games, but I have heard Stuckey speak like that in every single interview I've seen of him – even when he's getting career-high scores. The guy is no more or less excited when he scores 40 points or 5 points – it's all about the team. The other thing you'll notice about Stuck is that he barely smiles, even when being told how awesome he is. May sound silly but it does point to the fact that Rodney Stuckey's goals are team-based, not individual. Watch that clip again. The only hint of a smile he gave during the interview was when he mentioned "winning a championship".
Having the right mindset and attitude is one thing, but the real reason Stuckey has become the Pistons best player is because the guy can really play. Like I said back in June, he is probably the best one-on-one player the Pistons have had since Jerry Stackhouse back in 2000. Sure we got AI now, but from the Pistons games I've seen this year I'd say that Stuckey's strength, quickness and hops combined make him a more dangerous one-on-one player than Iverson right now. The stats don't lie – Stuckey is scoring on the inside on 45% of his shot attempts, whereas AI is doing it 26% of the time and relying on his jump shot a lot more. And if you want to talk about jump shots don't think Stuckey doesn't have one – he's shooting it at a better clip than Iverson, Prince and even Hamilton this season. Wanna talk about the three-ball? Since becoming a starter Stuck has connected on 8-19 shots from downtown which is good for 42%. On the season he's shooting the three-ball at 35.7% which is better than D-Wade (24.4%), Lebron (29.5%) and even Kobe (34.0%). So much for the "next Dwyane Wade comparisons". The guy is already a better three-point shooter than Wade will ever be.
But let's not focus on scoring. Stuckey is the best distributor of the ball on this Pistons team, and I believe what allows him to be such a great passer is his patience – he's very similar to Chauncey in that he'll hold onto the ball for a second or two longer than he probably needs to, sizing up the play before choosing the best option. It's a measured change from the Rodney Stuckey of last season who at times, was trying to play at 100 miles per hour. It's no coincidence a few of Chauncey's traits have rubbed off on him (more on that later) after playing with him for over a year, but it is rare to see a second year player with the smarts and poise to actually execute it. For the record, Stuckey is 15th in the league in assists per 48 minutes.
Defensively Stuckey is no slouch either. He is usually bigger and stronger than his point guard counterparts (just like Chauncey was) and he's quick and athletic which all makes it very hard for his opponent to score on him. He completely shutdown Beno Udrih yesterday – the guy averages over 11 points a game but against Stuck he didn't score a single bucket. Stuckey gets in the passing lanes quite often which goes to show how well he reads the play for a young guy. Offense comes pretty naturally to Stuckey, but with more starting minutes his defense will really improve.
And then we move onto the one aspect of Stuckey's game that I love the most. He is clutch. Against the Celtics in last season's Eastern Conference Semi Finals he wasn't afraid to take (and make) the big shots in the fourth quarter, even when guys like Billups, Hamilton and Sheed were on the floor. This season he's carried that over and is getting even more of a green light to shoot down the stretch of a game. Yesterday against the Kings he scored 13 points in the fourth and it won't be the last time this season Stuckey has a double-digit fourth quarter performance. I don't think I've been this impressed with a young player's poise down the stretch of close games since Ben Gordon (in the days they used to call him "Air Gordon", not the hopeless excuse for a player you're watching now). What a luxury it is for Detroit, having lost Chauncey Billups who is one of the clutchest player in the franchise's history, to have a young star who looks in every way capable of filling those shoes. He's not there yet, let's not get ahead of ourselves, but give this guy starting minutes in a playoff series and you watch him build his clutch legacy.
Am I placing too many expectations on the guy? Am I overhyping him a little? The answer to both these questions is yes, of course I am. But sometimes that is necessary to open everyone's eyes up. Rodney Stuckey is the complete package. He has the skills, the physical tools and the right attitude to go very far in this league. "I knew last year what Rodney could do, just from the times I saw him. He just needed an opportunity to show everyone", said Iverson after yesterday's game. Now he is getting those opportunities, on a regular basis.
For years people have applauded the Pistons well-rounded team, a group of players collectively better than their individual parts. That team has changed a little in the past few months and while the championship ingredients still appear to be there, there are many who doubt whether Detroit can get back to their title-winning ways. Rip is still the perpetual scoring machine, Sheed is still the brilliant enigma, Prince is still the quiet floor general and Allen Iverson would die for a ring. Sure, doubt them all you want, but be aware there's a young rising star to add to the mix. And he's better than all of them.
Tags: Detroit Pistons, Rodney Stuckey
« « Previous Post: 2008 Beer of the Year Awards – the NBA Edition
» » Next Post: The Kobe Bryant Big Game Quiz