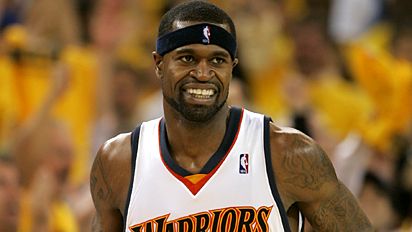 Lots happening around the L the last few days. Time to sit back in your underwear and take stock.
The Warriors-Mavs-Nuggets playoff battle is undoubtedly the most intriguing sub-plot in the NBA this past week, and it reached fever pitch today when the Nuggs knocked off the Warriors in a typically high scoring affair 119-112. With this win the Nuggets have pushed themselves into 8th out West, half a game clear of the Warriors and only half a game behind the struggling Mavs. I find it funny, that for the last couple of weeks the two big questions around this three-way wrestling match have been 1) "Is it possible the Mavs could miss out on the playoffs?!" and 2) "Can Denver claw themselves back into the playoff race?". At no point did it seem like a possibility that out of these three teams, the Warriors could be the ones to miss the boat. Everybody assumed they'd be ok. I did. They cleaned up the Lakers in LA then barely lost to them at home, prompting everyone (myself included) to start getting aroused (somewhat sexually) at the prospect of a Lakers v Warriors first round match up. They are the giant killers. They sneak into the playoffs and beat high seed teams that try to outscore them. That's what they do. But quicker than Stephen Jackson can say "I make love to pressure", the giant killers find themselves on the outside looking in. Luckily for them they can make their own bed because they get to play Dallas (tomorrow), Dallas again (2nd April), and Denver (10th April). The equation is quite simple: win those games and they make the playoffs. Lose 2 or 3 of them, and come late April the Warriors may find themselves killing time instead of giants.
Before moving away from this story, can we take a second to acknowledge the play of the Denver Nuggets. About two weeks ago they looked screwed. They were three games out of the 8, and a 115-113 loss to Philadelphia seemed, to me, to signal the beginning of a late-season downward spiral. I just didn't see how a team with so many egos (K-Mart, AI, J-Smith, Melo… that is enough ego for 7 normal humans) and a tendency to self-destruct could get it together with only 15 games left in the season. To their credit, they've done exactly what they needed to do since that loss to Philly, that is, not losing a game. Their five straight wins makes them the hottest team in the league not named San Antonio, and with Melo in career-best form (averages over his last five: 26ppg, 7.6rpg, 5apg, 2.2spg shooting 56%) they are starting to get people's attention and make me think George Karl is not such an idiot after all. The funny thing is, and seriously if this happens I would laugh for a good ten minutes, is that if they continue their hot streak and overtake Dallas for 7th seed (which is quite plausible), their reward as it stands today, would be a first-round meeting with the San Antonio Spurs. If you're a Denver fan and you didn't just poop yourself after reading that sentence, then you're either living in denial or have selective memory loss. Go remind yourself of this and this, go back and read the sentence again, and you'll definitely poop yourself.
Just when I go a say the Lakers are back they find a way to make me look stupid, or should I say make Phil Jackson look stupid. After the Lakers easily accounted for the Sonics a little over a week ago, Phil Jackson said this regarding the playoff race out West:
"I think we're the front-runners. I mean, if we had a healthy roster, I'd be much more comfortable saying that. But at this point, given our schedule, I think we have a real good opportunity."
I guess when Phil said "given our schedule" he was referring to the easy upcoming home games against Charlotte and Memphis, two teams who collectively haven't won as many games as the Lakers. Well, the Lakers proceeded to make the Zen-master look like a turd-master after serving up a steaming pile of it in successive losses to both those teams. Kobe did his MVP chances no favours by self-imploding late in the game against Charlotte and getting ejected, and in typical Kobe fashion almost re-staked his claim as outright MVP with a ultimately futile 53 points against Memphis. He had 23 at the quarter in that game and with the Lakers trailing, I thought the 80-point mark was in range. As it stands, the Lakers have dropped to 3rd in the Western standings and Kobe has slipped further behind CP3 in the MVP race. I'm not gonna say they're in trouble or else in four days time I'll be writing another blog explaining how I was so wrong.
Can't talk about the state of the league without addressing the MVP race. As I said above, the Lakers struggles have done nothing to bolster Kobe's MVP chances. The ejection against Charlotte didn't look good, and the 53 points with 1 assist didn't look so good either – 1 assist! How a player can touch the ball that much throughout a 48 minute game, enough to take 37 shots, but fail to get more than 1 assist astounds me. If anyone still wanted to argue that Kobe is a ball hog, this is the perfect fuel for the fire. It goes against everything that has put him into MVP contention, and reminds me that hiding behind the team-orientated facade that Mamba has painstakingly built all season long, is the same old Kobe who likes to score a lot of points. Contrast that to Chris Paul, who when struggling to find his shot against the Cavs a few days back manages to win the game for his team with 20 assists. Combine that with his nicknaming skills and you have a serious MVP right there. I know what the Kobe fans are thinking: "But Robd, Dirk said Kobe is the MVP". Well let me give you a few reasons why he might have said that:
1) Here's one
2) Here's another
3) Oh and don't forget this one
4) There's this one too
5) And this one is still fresh
You know the whole imprinting thing I said about Dirk and the MVP? Well the same applies to Dirk and Kobe. When Dirk hears the words "Kobe Bryant" he poos himself. So of course he thinks Kobe is the MVP. He is in awe of Kobe. He wants to be his boyfriend.
A bit of love for our Aussie boy, the Bogey man himself. His 27 points against Atlanta was two points shy off his season high, but of course, in what has become the norm, the Bucks lost. The Bucks are really bad, and watching them against Orlando on Saturday was damn painful. Painful because I think if they surrounded Bogut with some decent talent I think they are good enough to be a playoff team in the East. I get angry when I hear people say stuff like "Bogut has clearly not lived up to his #1 draft pick expectations". What a load of crap. He has been extremely solid in his brief career so far, and as one blogger recently wrote, at 23 years of age, only two of the other top 15 centers in the league are significantly younger, Andrew Bynum (20) and Andris Biedrins (21). He is well ahead of Biedrins defensively, and while he can't match Bynum's athleticism and power, he is by far a better passer. Andrew Bogut is one of the best all-round centers in the league and I think the Bucks suckiness this season, combined with their general all-round lack of coverage, has shielded a lot of people from seeing the strides Andrew Bogut has taken. With Redd hopefully injury free next season, another year of experience under the belt of Yi, and a good outcome in the 2008 draft the Bucks should win a lot more games and Bogut might start getting some of the credit he deserves. I'd like to think that next year Bogut gets higher than 16th on John Hollinger's list of the best international players. Until then, let's just enjoy Bogut in all his self-high fiving glory and for being one of the real characters of the league. That clip is priceless, as one blogger put it:
Andrew Bogut has never been one to fear alienating himself, after incidents in the past such as deeming the majority of NBA players as being obseesed with "bling" (for which he was right), and after growing a seriously weird pony tail (for which he was oh so wrong). And seemingly his alienating worked, for not one teammate tried to touch his hands or his arse after this made free throw versus Atlanta, which is normally an automatic gesture of affection, comaraderie and slight homosexuality after every free throw, made or missed."
The Celtics rise to the challenge once again by beating down another West contender, this time the Hornets. Don't know what more I can say about these guys. Simply, they're the best team in the league. I can't remember who it was, but some NBA commentators were debating the playoff race out West when one of them said "It's all for second place". That couldn't be more true. Doesn't matter what happens out West, the Celtics will still have home-court and they are simply better. The way I see it, there are only three things that can get in the way of the Celtics winning a title right now:
1- Lebron erupts in the semi-conference finals. I don't mean the 30-8-8 kind of Lebron we're seeing now. I'm talking 40-15-10 every night kind of Lebron… ok maybe not every night but like I've said before, he only needs to have two classic game-5-like games in a series for the Cavs to win it. Chauncey Billups said with a wry smile a week or so back "They can wrestle that bear", referring to the Celts having to go through Lebron and the Cavs. Detroit already knows what Lebron can do. In a month's time the Celtics will be experiencing that first hand
Likelihood: 11%. Lebron will be Lebron, but ultimately they need another Booby-like performance from someone else on that roster if they are going to beat the Celtics. I'm looking at you Wally.
2-The Celtics meltdown in Motown. Surviving Lebron will be scary sure, but facing a playoff battle-tested team with three All-Stars and a superior bench is a whole different proposition. When it comes to those tense playoff moments, those dying seconds when experience and composure count for everything, I give the Pistons the edge over every team in the league not named San Antonio (I seem to say that a lot). Mark my words, there will be a moment in the Pistons v Celtics series (if it happens), when it becomes painstakingly clear this Pistons team has played in 100 more playoff games together than this Celtics team. I can see playoff pressure getting to Rondo, or Big Baby, or Perkins in those tense moments. And it's those moments that Detroit will seize, just like they did against the Bulls last year when a supposed closely contested series became a cakewalk. Something else to remember – in their five year reign at the top of the Eastern Conference, Detroit's real weakness at playoff time has been against teams with superstar players who can singlehandedly carry a team down the stretch. Wade did it in '06, Lebron in '07. The reason it happens is the Pistons have no individual player who can respond and carry the load themselves – they rely on execution and team play. That is all well and good, but sometimes you really just need one of your players to say "F–k this, give me the ball and get out of the way". The Pistons do not have that guy, and they have trouble playing teams who do have that guy. The Celtics? I'm not sure they have that guy. Pierce is the closest thing they have, and as I've been saying since the very day KG landed in Boston, Pierce will be the deciding factor come playoff time for this Celtics squad.
Likelihood: 17%. The reason why this scenario won't necessarily play out, is that the Celtics have responded to every high-pressure situation this season in perfect fashion. When Ray needs to hit a ridiculous three to win the game, he does. When Pierce needs to take over in the fourth, he has (see recent Mavs and Hornets games). When KG needs to score 30 to prove Amare is no match for him, he does. They have been so good in these big games and big moments, and importantly, against the Pistons, that they have no reason to fear Detroit in an Eastern Conference Final. Let's contrast that to say, the first round match up last playoffs of Dallas vs Golden State. The seeds of doubt had been planted during the regular season. It gave us plenty of reasons to think GS could pull of the upset. With Boston, we've really got nothing to go on.
3- The Lakers become a new beast. The single biggest threat to Boston's title hopes is quite simply, an unknown one. Unknown because no one knows what the Lakers are capable of if and when Bynum and Gasol come back. It really is strange that the best team in the league this season is one that has solely existed on paper, and with barely 10 games left, might not be seen till the playoffs. If Phil Jackson is successful in integrating Gasol and Bynum back into the starting lineup, if Lamar is happy to slide back to that three-spot and keep playing at his career-best level, and if Kobe can pull them all together while sacrificing his own scoring load, then I don't see how the Lakers can be beat this post-season. Like Bill Simmons said, "This team has everything you'd ever conceivably want in a playoff contender — a superstar, two more scoring options, a low-post player who has to be double-teamed, a shotblocker, multiple 3-point shooters, a bench that can effect games, a superior coaching staff and, most importantly, a scorer who's going to get every borderline call in a close game because he's Kobe Bryant." You think Kendrick Perkins and Glen Davis can handle Gasol/Bynum? Cos KG sure can't by himself. You think a wobbley-ankled Ray Allen can stay with Kobe Bryant? And if you tell me Pierce gets the job on Mamba, who the hell is going to guard Lamar Odom? And let's not even get to comparing benches, it's not even close. The only thing in the Celtics favour? The odds of all this happening.
Liklihood: 21%. I don't think the Lakers can pull it off. I don't think they'll finish with the #1 spot. I don't think Gasol or Bynum will be 100% healthy when coming back. And I certainly don't think you can settle them back into the squad during a first round series that could be against the likes of Utah, Houston, San Antonio or Phoenix. My prediction is that the Lakers won't have fully gelled (Gasol has NEVER played with Bynum before and they're supposed to share the block?) and Kobe will have to revert to his old Kobe ways by taking over and shooting a lot. I could be wrong, but basically I won't believe this Lakers team can pull it off until I see it. If they reach the Finals they will have been playing A-Grade ball together for barely a month – the Celtics have been doing it for seven months.
Games to care about tomorrow:

Rockets @ Spurs: Needless to say, big game for both teams. Expect the Spurs to whoop them hard and secure the #1 spot.
Sixers @ Cavs: No one wants to finish 7th or 8th out East and that's what the Sixers are playing for. Meanwhile, a loss for the Cavs here would have them struggling to hold their 4th spot. In fact, I just had a horrible thought that I will share with you all very soon…
Mavs @ Warriors: Obviously the game of the day. Dallas will lose and the Warriors will sneak back into the 8. Like I said earlier, the Warriors make their own bed. If they lay a turd in this game, they will have to sleep with it. And no one wants to sleep with a turd in their bed.
Wizards @ Lakers: If Kobe Bryant doesn't rescue the Lakers recent skid tomorrow with a hero performance then officially count him out of the MVP race. Three home losses to non-Western playoff teams would be unforgivable at this point of the season. In plain english, that sentence means "the Lakers would be @%#ed".
Comment posted by
at 3/30/2008 6:41:49 PM

[…] Read the rest of this great post here […]
Tags: Andrew Bogut, Boston Celtics, Denver Nuggets, Dirk Nowitzki, Golden State Warriors, high five, imprinting, Kobe Bryant, MVP, Phil Jackson, Stephen Jackson
« « Previous Post: Mamba.. just killed a man…
» » Next Post: CP3 is the MVPOATWTBRITWC! and Hoopcity Touches Down