The season has just passed the midpoint and All-Star weekend 2008 is just around the corner – I can't wait for it just as I'm sure you can't either! The world of NBA Fantasy has had a lot of twists and turns this season with some players raising their games to 'stud-like' levels such as Hedo Turkoglu and Chris Kaman. The down side is that many players have also had steady declines in their production such as Kirk Hinrich and *gasp* Shaquille O'Neal. While lots of NBA analysts have put forth their midseason awards for MVP, DPOY, ROY, etc., I thought I'd give out my own midseason awards but from a fantasy perspective. These awards have nothing to do with the actual awards of course – I'll reward players even if they are on a losing team but are still raking in the numbers. There will be two different categories for each award. First, the overall winner and then the spin-off "On The Cheap" award, given to the player that may have been picked in the later rounds as a fantasy steal.
MVP
Baron Davis: This was pretty tough as many people could have taken this award but I'm going to go ahead and give it to the currently top ranked fantasy player across 8 categories. Baron, unlike LeBron James, Chris Paul and many other contenders for this award has played every game for Golden State this season and that is why I am giving him the award. He is currently at 22 points per game, 4.8 rebounds per game, 8.1 assists per game, 2.5 steals per game, .5 blocks per game, he is shooting 2.3 3's per game. His percentages aren't that impressive at 42.3%, 35% and 75%. Another big reason I am giving Baron this award is because he performs well in many categories that are hard to fill, 8.1 assists, 2.5 3's, 2.5 steals… they are all quite hard to come by. He also gives owners great value from that PG position, 4.8 boards and .5 blocks per game from your point guard is extremely nice. Hopefully the Baron can keep this up and stay healthy for Golden State. He should have been an All-Star…. but that's another topic
On The Cheap… Jose Calderon: With T.J Ford being sidelined for much of this season, Jose has got the start in 33 of Toronto's 46 games and is putting up great numbers. He is at 12.4ppg, 3.2rbpg, 8.7apg and 1.1spg. The percentages this guy is shooting is insane, get this: 52%, 44% and 92%. Those are Steve Nash type percentages! Jose is all upside, he doesn't hurt you in any category.
Defensive Player of the Year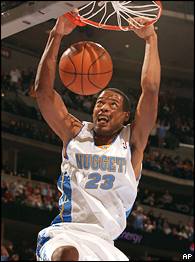 Marcus Camby: This was not a very hard choice, Camby has just been a beast this season. I would have liked to have seen him START in the All-Star game this year but you can't outnumber those Chinese voters (Don't get me wrong, Yao is also deserving of the starting role). Camby is at 14.2 rebounds per game (2nd in NBA), 3.9 blocks per game (1st in NBA), 1 steal per game (5th among Centres). Camby has pulled some monster stat lines this year including one game where he triple doubled with 10 points, 11 rebounds and 10 blocks. Although that was a Triple Double, his biggest game this season no doubt vs. Utah on January 17th when he went for 8 points, 24 rebounds, 1 assist, 2 steals and 11 blocks! Are you kidding me?! Camby is always an injury risk but this season so far he has played 44 out of Denver's 45 games which is great to see from a guy that has only played an average of 56 games per season for his career.
On The cheap… Brendan Haywood: This award was Andrew Bynum's, but with the eight week injury I had to go find someone that has played a large amount of games. Haywood is 7.6 rebounds per game with 1.7 blocks and .4 steals. He has been solid defensively as a result of the extended minutes with the absence of Gilbert Arenas. Good numbers from someone that would have gone undrafted in many leagues.
Most Improved Player
Chris Kaman: Chris Kaman's game has escalated to beast like status this season. He has been raking in stats like there is no tomorrow. He is at 17.2 points per game, 14 rebounds per game, 2 assists per game, 3 blocks per game and .5 steals per game. His percentages are also very impressive, he is shooting 48% and 72% from the field and line respectively. 72% FT from a centre is very decent. He is currently the 31st best player over 8 categories and is the 5th ranked centre overall only behind Yao, D.Howard, Camby and Stat. It will be interesting to see what happens to his numbers once Elton Brand returns to the lineup. I couldn't imagine that he would be able to keep up the 14 boards and 3 blocks a game average.
On The Cheap… Mike Dunleavy: Nobody talks about this guy! Last year in most leagues he was someone that you would be adding and dropping every now and then depending on how he played. This season he is the 28th best player overall. He is at 18ppg, 5.9rbpg, 3.3apg, 1spg and .3bpg. He is shooting great this season, 48%, 40% and 86%. He is also knockin in just under 2 3's per game. All this from a guy that may have gone undrafted in many shallow leagues.
Rookie of the Year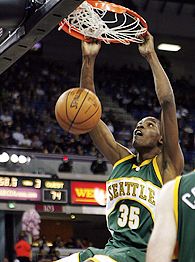 Kevin Durant: I was so incredibly close to giving this award to Jamario Moon and Al Horford, but I just couldn't go past a rookie putting up 20ppg, 4.2rbpg, 2.2apg, a block and a steal. He puts up a horrid 40.5% from the field and 28% from 3 which are probably his only downsides. I would like to see more rebounds though, but maybe he isn't getting as many as he should because he is playing SG? Who Knows? Would have liked to have seen 6 boards a game. But, anyway, Durant is obviously the first ranked rookie across 8 categories, he is also ranked 65th overall which puts him ahead of the likes of Tracy McGrady, Tyson Chandler and Tony Parker.
On The Cheap… Jamario Moon: Moon has come out of nowhere this season for Toronto. He would not have been drafted by virtually anyone except some rare die-hard Toronto fans that just drafted Raptors players. Moon gives nice numbers across the board, he is at 8ppg, 6.2rbpg, 1.1apg, 1.5bpg and 1spg. Those defensive stats are nice, he is also giving owners a 3 every two or three games.
6th Man Award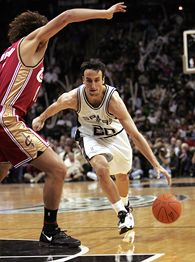 Manu Ginobili: This is obviously not going to surprise anyone, Manu was even considered for the "On The Cheap" MVP Winner but I wanted to pick someone even cheaper. Manu has been puttin up insane numbers, on the season he is at 20ppg, 4.8rbpg, 4.2apg, 1.7spg, .4bpg, all of his percentages are solid at 44%, 40% and 83%. He is ranked 24th across 8 categories. Manu has been great this season, giving owners production in basically every category. There were a few games too where he had to carry a Duncan-Less Spurs team and had monster games. Unless he happens to unfortunately suffer a major injury, the 6th man of the year award is his.
On The Cheap… Andres Nocioni: This was one of the hardest ones to choose. Currently Noc' has come off the bench in more games then he has started and is therefore eligible for the 6th man award. Nocioni has probably been one of the most consistent Bulls this year. He is at 14.6ppg, 4.9rbpg, 1.3apg, .6bpg and .3spg. He is knockin' in just under two 3's a night also. Nocioni has been a surprise as he was not considered as much of a solid performer before the season began.
Biggest Fantasy Surprise

Hedo Turkoglu: First of all let me first say Hedo should be in the All-Star game this year, he has come up big so many times for Orlando and has been the reason behind many of their W's. Anyway, Hedo has been such a fantastic all around Fantasy performer this season that mostly everyone expected to decline from last year with the addition of Rashard Lewis to Orlando. Last season he was ranked 90th across 8 categories, this put him behind players such as Kyle Korver, Charlie Bell and Jarret Jack. This year those players do not even compare to Hedo, this is how far this dude has come. On the season he is bagging 20ppg, 6.2rbpg, 4.3apg, 1.1spg, .4bpg while shooting 44%, 37% and 84%. All of that equates to Hedo being ranked 18th overall. This is all from a guy that probably was drafted in around round 9 or 10 in most standard twelve team leagues.
Biggest Fantasy Disappointment

Gilbert Arenas: He is ranked 121 across 8 categories. What more is there to say? At this point you would have been better off drafting Cat Mobley, Carlos Delfino or Josh Childress. I felt a bit weird about giving this "award" to someone that has been injured and so I'll note that Luol Deng (ranked 110) and Ricky Davis (ranked 90th) would also be pretty notable disappointments.
My All-Fantasy First Team
G: Baron Davis
G: Kobe Bryant
F: Caron Butler
F: Shawn Marion
C: Marcus Camby
That wraps up my midseason awards. I'll be back at the end of the season to hand out the real Fantasy silverware. Catch you then.
Tags: awards, Baron Davis, Chris Kaman, fantasy, Gilbert Arenas, Hedo Turkoglu, Kevin Durant, Manu Ginobili, Marcus Camby
« « Previous Post: Gasol to the Lakers
» » Next Post: Fat Men Can't Jump